The goop Entertaining Cheat Sheet
These are the tips and tricks we try to abide by while entertaining over the holidays to keep the crazy to a minimum. We use two of our holiday meals, Hanukkah Dinner and Christmas Breakfast, as a guide, explaining how we would prepare for each starting a week out.
First: For a special occasion, it's nice to have your menu designed and printed out for the table. We asked our bespoke stationery friends over at Romeo + Jules to set ours into the beautiful menus below.
A Week Before
Finalize your guest list. If you're having anyone other than immediate family, it helps to know exactly who's coming at this point so you can start planning.

Make your playlist. Now's a good time, before the storm, to choose your music.
Music to Entertain
Three Days Before
Plan the table. If you're using linens, make sure they're clean and pressed. Or if you'd rather skip all the posh stuff, roll up your napkins and tie them in a piece of twine, which you can also tie nametags to. Figure out which cutlery and dishware you're going to use for the occasion (if you have more than one option) and set them aside so you won't have to wash them last minute. Make sure wine glasses are intact, there are enough seats for everyone coming, and whether you'll have a centerpiece.

Polish the silver. If you have some silver from your grandmother or your wedding and it's been sitting in a drawer for the past year, now's a good time to bust out the polish.
Some Shortcut Tabletop Ideas
We're obsessed with these disposable cotton napkins, which you can also wash and re-use. For a more casual dinner—or something that involves messy hands like lobster or ribs—put two rolls in the middle of the table in paper towel holders and let people take them as needed.
Cake Vintage makes clever disposable placemats and napkins with old-fashioned inspiration. On the Elephant Placemat pictured, you can write the name of your guest on the banner.
These porcelain fortune cookies from Australian homeware site, Society Inc., are kind of brilliant for entertaining.
Short bouquets bring a lot to the table (literally) without getting in the way of conversation. Check out our full arranging tips here.
Two Days Before
Finalize your menu. You probably have a pretty good idea of what you're making, but two days before the event, your menu should be set so you can start planning your shopping.

Make a list. Write down very ingredient you'll need for each course—and then winnow it down to a shopping list. Don't take anything for granted (i.e., check to make sure that you have enough olive oil).

Order groceries. I rely on grocery delivery to make my shopping easier and keep the running around to a minimum. Ocado in the UK is great, and if you're in the States, check out Fresh Direct or Instacart. It's also a good idea to figure out now which items you'll have to get from a specialty store, as you don't want to be standing in the middle of Whole Foods on Christmas Eve realizing they don't in fact carry Herbs de Provence salt. (Nightmare).

Get the Wine. Now that you know what you're cooking, you can buy your wine. Get some pairing tips here.
The Day Before
Shop. Now's the time to get anything that isn't going to be delivered. Wash all your veggies and marinate any meat or fish that needs it.

Get your flowers. It's best to pick up the flowers for your table the day before, giving them a day to open up and look their best.

Get organized. Organize all the ingredients for each course in one place. For example, for the Hanukkah Dinner latkes, place the egg, sour cream or crème fraiche and smoked salmon on the same shelf in the fridge.

Then, place the apple, potato and matzo meal together in your pantry. This way when you start to make the latkes the day of, you can just grab and go.
Evening Before
Order pizza. It's best to eat a quick dinner with no clean-up to keep your kitchen and table free for prep.

Set the table. Lay your tablecloth, linens, wine glasses, etc. all out.

The Napkin Situation… We've spent a good amount of time trying to fold dinner napkins. Then we found these. Twine works wonders also.

Prep the after dinner course. While our menus don't include homemade dessert, we usually serve a cheese course, fresh fruit, or chocolate post-meal. Prepare whatever you'll serve now, so you won't be stuck in the kitchen after the meal is through and everyone else is merrymaking.

Make anything you can ahead. If there's anything you can make now, do it.
For Hanukkah Dinner…
Make the Salsa Verde and pop it in the fridge. Tomorrow when the fish is cooked, all you'll have to do is transfer the sauce to its serving dish.
For Christmas Breakfast…
Prepare the Turkey Sausage patties up until the point where you'd cook them. On the day of, you can take the formed patties out of the fridge and sauté.
The Day Of
Work backwards.
For Hanukkah Dinner…
2 hours before: Make Maple-Dijon Roasted Winter Vegetables. Pop them back in the oven before guests arrive or serve at room temperature, which is just as tasty.
Open the wine. Now's a good time to open up your red and let it breathe. Decanting is a nice touch, but not necessary.
1 hour before: Lay out some nibbles, like olives, nuts or small bites for guests to snack on as soon as they arrive. Get inspired here.
Establish the ambiance. Dim the lights. Start your playlist. Light the fireplace if you have one. And definitely light a candle, which sets a welcoming tone and makes the house smell great. The holiday scents from Linnea's Lights are pretty insane.
I'm partial to their Cashmere candle.
30 minutes before: Make the Potato and Apple Latkes with Smoked Salmon. You'll want these pretty fresh when your guests arrive.
20 minutes before: Prepare the Whole Roasted Fish, and get it in the oven. Later, while guests are snacking on the nibbles and latkes, you can ask a friend to help you take it out of the oven.
As first guests arrive: Pour drinks and bring out latkes.
10 minutes later: Take fish out of the oven. Serve everything.
Christmas Breakfast…
As soon as you wake: Make the Spiced Pumpkin & Walnut Bread.
2 hours before: Now's a good time to open up your red wine and let it breathe. Decanting is a nice touch, but not necessary.
1 hour before: Lay out some nibbles, like fresh fruit, nuts or small bites for guests to snack on as soon as they arrive. Get inspired here. Set the mood: Put on some music, light some candles, etc..
40 minutes before: Make Quick Biscuits. Slice pumpkin loaf and lay out on table.
20 minutes before: Fry up your Turkey Sausage patties. Cover and set aside.
15 minutes before: The Sweet Potato & Goat Cheese Frittata, or anything you're making with eggs, shouldn't be made too far in advance, so basically you want it to go in the oven as guests arrive.
As first guests arrive: Pour drinks and bring out biscuits.
10 minutes later: Take the frittata out of the oven and serve with sausage patties.
The Conversation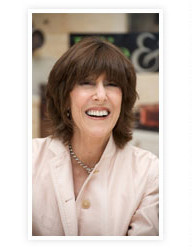 Nora Ephron was
the best dinner party hostess.
Not only was she an unbelievable home cook who put together meals with ease and grace to spare, she was an amazing conversationalist who could really engage the table. During dinners, she'd announce a topic for the evening like, Affair to Remember versus A Dirty Dozen—cue that great dinner scene from Sleepless in Seattle. For those of us who are not Nora Ephron, here are some great ways to keep the conversation going throughout the night, without the dreaded small talk.
Posing a Question
The best questions to ask your guests to get discussion flowing are ones that everyone can relate to and find interesting to talk and hear about. Here are some examples: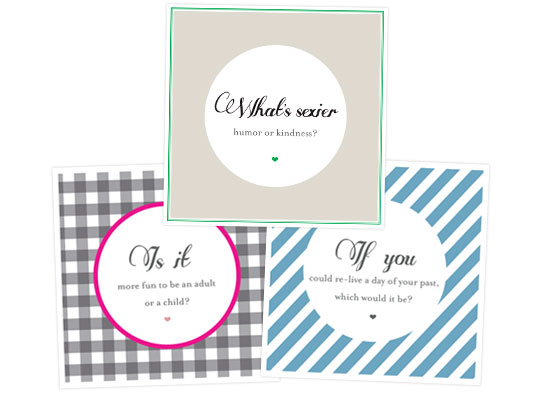 Designed by Romeo + Jules
Or, if you can't think of anything, try…
For when you can't think of something yourself, these little boxes are awesome. The questions cards fuel interesting discussion and get everyone involved. They come in all sorts of themes, like Family, Girls Night, Dinner Party and so on.
What To Wear
…when you're entertaining at home.
Left & Center: A jersey dress that drapes right can look elegant but is light and cool enough to sustain several trips in and out of the kitchen. We like T by Alexander Wang's version and this festive Carven dress (which I recently bought). Both are on sale!
Right: Another fun alternative is this neoprene dress by T by Alexander Wang, which will keep its shape no matter what you do.
P.S. I've gotten really into shopping on Ssense, where we found all these great pieces.
The trouser and loose t-shirt combo is always a good one, as it's comfortable yet put together. Found these vermillion wool pants from Theory and these pink crepe trousers from J.Crew. Pair them with a vintage cotton tee like the ones shown from J.Crew.