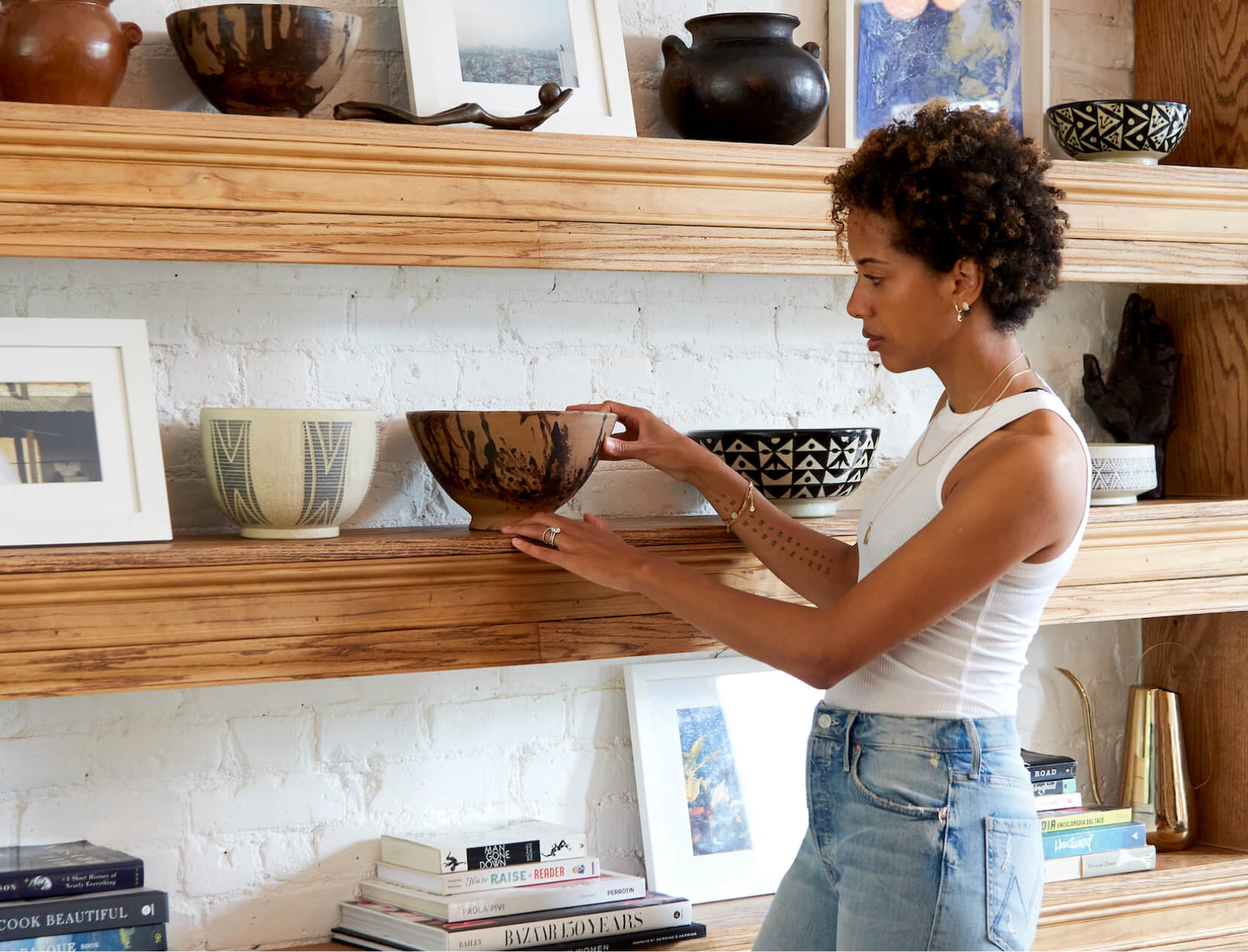 Wear Your Very Best Socks to
Carly Cushnie's Dinner Parties
Chic as hell fashion designer Carly Cushnie knows how to outfit her home as elegantly as she does her customers. (Cushnie cofounded the much-adored global fashion line Cushnie et Ochs in 2008, dressing women like Michelle Obama, Jennifer Aniston, Beyoncé, and Liya Kebede until she closed her business in 2020 and joined the board of directors of the Council of Fashion Designers of America.) The mom of two is now dipping her toe into the world of interiors—she's partnering with the home décor platform Lulu and Georgia to redesign a Tribeca apartment for a client.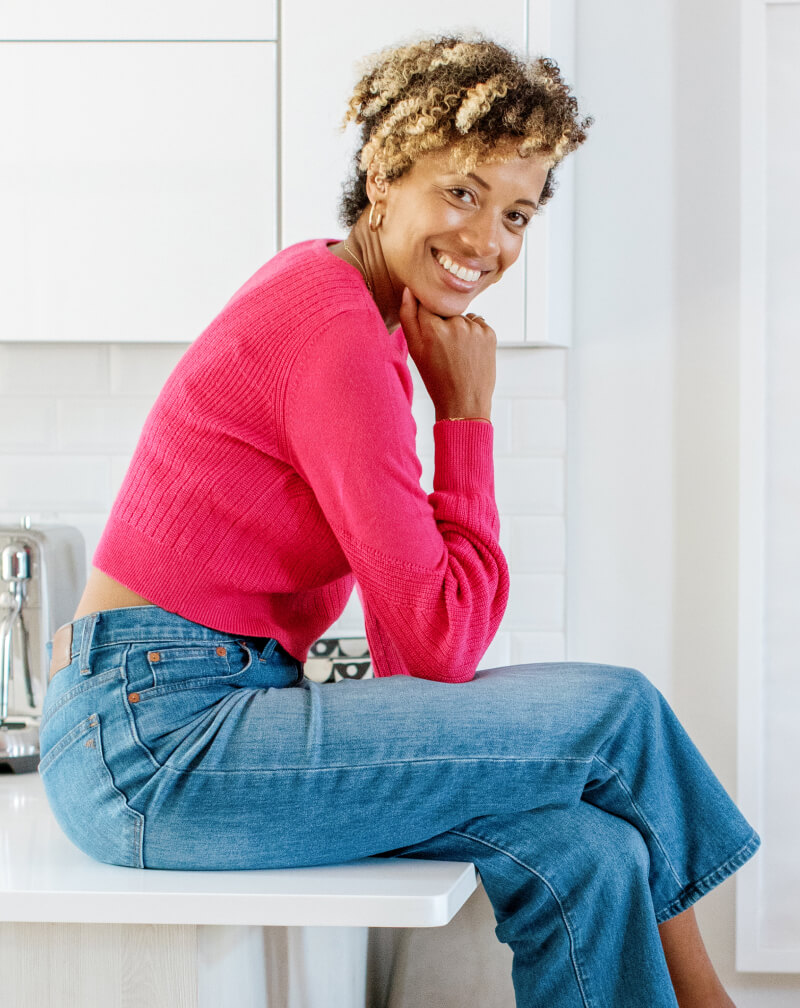 Her Brooklyn brownstone has long been the designated headquarters for boozy friend dinners and intimate backyard Sunday brunches, not to mention more-ambitious festivities. "Before the pandemic and before we had kids, my husband and I hosted a seated Thanksgiving dinner for twenty-seven people!" she laughs. "And I was adamant that it had to be sit-down and not a buffet with paper plates. My husband wanted to kill me."
If their parties have lately been a little less full-on, the self-proclaimed "raging foodies" still cook almost every night and entertain with a vengeance. From what to cook and how to set the table to making sure no one's caught wearing socks with holes in them, Cushnie's tips are next-level.
1
Don't spread yourself thin with too many courses or dishes.
Cushnie most often goes for one-pot or one-pan main courses (she's a fan of Staub cookware). "I love roasting a whole fish because it's so easy but beautiful: a flaky branzino that you just sprinkle with salt, pepper, and olive oil and then put in a pan surrounded by fall veggies like acorn or butternut squash and eggplant. Or my husband makes an amazing oxtail ragout. It simmers for something like twenty-four hours—it's fabulous. Either way, you're relaxed enough that you can pause and have a drink with people as they come in."
2
Make your table fun,
not precious.
Cushnie loves to travel and almost always comes home with a stuffed suitcase. "My husband is Mexican, so we go to Mexico a lot. We got some gorgeous napkins there, then some beautiful bowls and copper serving plates in Morocco," she says. "A friend gave us a vintage green glassware set from the 1930s; another gave us a runner from Brazil as our wedding present. And all that great stuff ends up on the table and makes it interesting."
In the same way her pieces nail the balance between casual and polished, Cushnie combines high and low at home: "I love my plates from Crate & Barrel that look great with my napkins," she says. "I want the table to look eclectic, not too prim or refined. If you set the table with crystal glasses, maybe offset them with woven place mats."
3
Let your obsessed-over cookbook change the way you eat.
"I went on a big Yotam Ottolenghi kick. He's famous for using so many different herbs and spices—things I don't normally have in my pantry. But once you buy whatever the recipe calls for, you've made that investment, so you make your next meals using those new ingredients," says Cushnie. "For my husband's birthday dinner, I made Ottolenghi's celebration chocolate cake and his mushroom chestnut sticky rice. I put a candle in both."
4
The end of the meal should be simple and spectacular.
"Maybe because I grew up in London, I do cheese after the meal, not as an appetizer," Cushnie says. "I love ricotta with toasted hazelnuts, topped with a drizzle of beautiful honey and salt. It's mind-blowing and so simple to throw together." Another favorite involves vinegar: "I got a really great balsamic in France," she says. "You just pour it into a spoon and eat it just like that, or over vanilla ice cream, it's syrupy but a little tart, too—just divine."
When she does bake something sweet, it's never saccharine. "I try to make a healthier version and bake a cake with coconut sugar," she says. She serves it with mint tea, dessert wine, or brandy. "Or cognac," she adds, "if it's a bit cold outside."
5
Trick out the bathroom.
"People are bound to meander to the bathroom," says Cushnie. So make it memorable. "I redid our tiny guest bath off the living room into this little jewel box powder room that's a bit of a surprise compared to the rest of the house," she says of its more-lavish vibe. "The wallpaper has flowers and birds, the floor is marble herringbone, and there's a vintage crystal chandelier that we picked up at a market in Mexico City." Even if a full renovation isn't in the cards, dim the lights, set up a giant black pump bottle of neroli hand wash, plush towels, a chic bath mat, some flickering candles, and a few luxe little beauty indulgences.
6
Stemmed wine glasses are more momentous.
"They just feel sexier when you're entertaining," says Cushnie, who goes stemless for a low-key weeknight glass of wine at home. "I'm a big wine drinker. I was told by someone that in my past life I owned a vineyard, and I was like, That sounds right! Food is such a celebration, and I'm in love with the whole experience—the wine, the food, the coming together."
7

Dress up and feel fantastic.

"It's nice to finish cooking and take a minute to put yourself together before people arrive," says Cushnie, who might slip into one of her own sleek creations. "I often go for a dress, something that looks great but is also easy to move in and comfortable." As for makeup: "I wear a lot less of it lately since becoming a mom. I just want my skin to look fresh."
8
Give advance warning if it's no-shoes.
"It messes up your outfit when you get to a party and have to kick off your shoes," Cushnie laughs. "The thing to do is give people a heads up that it's no-shoes, so you can go in with a pair of quite-cool socks, versus when you're blindsided and get trapped wearing the ones with holes." Her caveat to the rule: "If we're having a big party and everyone's going in and out to the yard, shoes-on is easier."
9
Shift the energy of the room and get people dancing.
Dim the lights—or better yet, deck the table with candles—to encourage freewheeling goings-on. (Cushnie has been known to play British R&B/house/disco group Sault, as well as Afrobeat.) She goes for low candles, eschewing sticks or candelabras that are so high that they block the face of the person sitting across from you. For parties in the backyard, she gets more creative: "We went to Vietnam for our honeymoon and came back and drunkenly bought a bunch of Vietnamese lanterns at a market in Queens," she says. "It mixes it up having those back there."
10
Do a morning-after sage smudge.
"A party involves a lot of different energies that people are coming into your house with," Cushnie says. "Better to take out the smudge stick when they've all left."