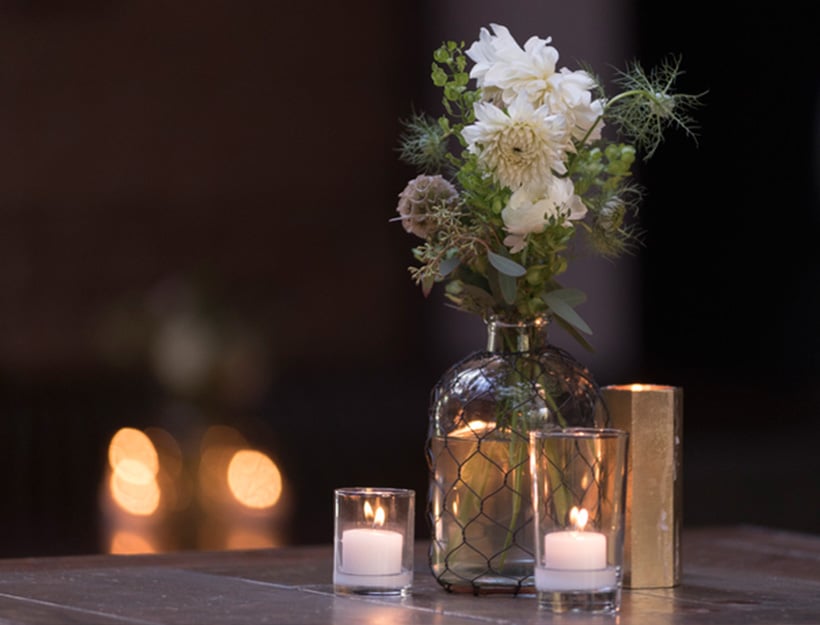 Cadillac Road to Table
We teamed up with our friends at Cadillac over our shared love (and constant pursuit) of great food and invited each area's best chefs to curate five exclusive dinners and share their knowledge of each city's culinary treasures.
New York City

To give the goop x Cadillac Road to Table event series the liftoff it deserves, we hooked up with longtime GP pal Mario Batali to co-host a good old fashioned dinner party—but not before guests got to go on a Cadillac XT5 test drive, which began at the Whitney museum and ended at Batali's newest restaurant, La Sirena. The Batali-curated feast of tricolore salad, handmade agnolotti, and other Italian delicacies was accompanied by wines from The Bastianich Winery and ended with a sweet takeaway from Mast Brothers chocolate. Next stop for Road to Table: Chicago!

Mario Batali is a food-world rockstar (and one of the OG goop contributors, thank you very much), lauded for expanding the Eataly chain of gourmet markets worldwide, creating The Chew, a daytime talk show for foodies, and penning some of the most beloved cookbooks ever—heck, the guy even make Crocs look cool. His family of B&B Hospitality Group restaurants is now 26-deep, the largest cluster of which—including his newest, La Sirena—is situated in New York City. This geographical choice is no coincidence—NYC is home to some of the best restaurants in the world and a wealth of world-class epicurean shops, bakers, cheesemongers, butchers, and more. Here, Mario shares his culinary go-tos.

NYC is known for sprouting new restaurants seemingly overnight, and there have been a handful of summer openings that we're especially excited to test out—along with a few more established spots that we've somehow missed—but we'll fix that soon. Below, the top 10 spots on our to-try list.

Chicago

For the Chicago installment of the goop x Cadillac Road-to-Table series, we did things a little differently: we invited local creatives and entrepreneurs to curate guest lists for a series of four dinners, spanning two nights. Before digging into a four-course menu of marinated yellowtail, Loup de Mer, and Cavatelli—prepared by beloved local chef, Lee Wolen—guests were invited to test drive a fleet of Cadillac XT5s, which conveniently served as rides to Boka restaurant for dinner. Next stop for Road-to-Table: Dallas!

With a wealth of award-winning restaurants and a community of incredibly talented chefs, Chicago is up there with some of the top culinary cities in the world. We asked Chef Lee Wolen, the guy who helped make our most recent goop x Cadillac dinner a huge success, to point us in the right direction for the best specialty shops, farmers markets, and under-the-radar spots to grab a bite in town.

Chef Lee Wolen's food is simultaneously simple and refined, using expert skill to highlight seasonal produce from the local farmer's market. Each dish we had at Boka was full of fresh flavors and more subtle, complex undertones, leaving you wondering what, exactly, was in there. Lucky for us, chef Wolen shared his recipes, which means the secret to that creamy corn pasta (dubbed "the best mac 'n' cheese I've ever had" by the goop staff) is out. Some of these recipes are a little involved (this is Michelin-star food, after all), but the ingredients are simple and the end result is totally worth the effort.

Dallas

For the third chapter of the goop x Cadillac Road to Table series we returned to one of our favorite U.S. cities, the scene of our second pop-up shop, Dallas. As with gatherings past, we tapped resident tastemakers to put together guest lists for the two nights of dinners at FT33, chef Matt McCallister's sleek, Nordic-inspired Arts District restaurant. To work up an appetite for the seasonally inspired menu (Chef was kind enough to reimagine them for the home cook, here), guests got to take Cadillac XT5s for a spin around the city. Next stop for Road to Table: Miami!

The only thing better than exploring a city's culinary wonders on foot is to have an in-the-know local point you in the right direction. Here, we asked FT33 chef Matt McCallister, the man behind our Dallas Road to Table dinners, for his go-to spots (some are outside city limits, but still very much worth the car ride)—it's a pretty priceless list, so bookmark accordingly.

Last week, chef Matt McCallister and the team at FT33 treated the goop gang and our friends in Dallas to a true farm-to-table dining experience. As soon as we walked into the restaurant and saw persimmons drying in the traditional Japanese hoshigaki method—they are peeled, hung to dry, and carefully massaged every day for several weeks—we knew Chef Matt had a real respect for his ingredients. This deference was clearly reflected in the menu, too: each dish simply, yet very elegantly, highlighting one beautiful, seasonal ingredient. To help us recreate this incredible dinner at home, he shared simplified versions (we're busy home cooks, after all!) of four of our favorite dishes from the night.

Miami

For the Miami edition of our Road to Table series, guests cruised through South Beach in Cadillac XT5s to dinner at the Miami Edition hotel's Matador Room. Miami is the only stop of the series where we haven't staged a goop pop-up shop, so each of the dinners (four total, spread out over two fun nights) were full of new friends—chief among them Chef Jeremy Ford of the Matador Room. His gorgeously plated dinner started with a spicy and unexpected shrimp-and-banana appetizer and finished with strawberries served twelve ways. Final stop: LA!

In cities like Miami, where the food scene is largely dominated by hotel restaurants, it can be difficult for outsiders to separate the truly great menus from the more standard hotel-style fare. Below, the talented Chef Jeremy Ford of the EDITION Hotel' s amazing Matador (he 's also responsible for the dishes at our Miami road-to-table event) separates the good from the great, and shares the places he trusts for the best local produce, coffee, Cuban sandwiches, and more.

Chef Jeremy Ford is a character. Incredibly talented and charismatic, the Top Chef alum stole the show at our 4th Road to Table dinner in Miami. His menu, full of beautiful local ingredients like red snapper and seasonal mushrooms (plus some signature Florida heat!) blew diners away. Below he shared the recipes for each dish in our four-course tasting.

Los Angeles

To celebrate the final chapter of our Cadillac Road-to-Table series (in our home city, no less), we switched things up a bit by scrapping the formal sit-down dinner in favor of the kind of casual, laid-back al fresco meal LA does best, served out of some of the city's best food trucks. Over the course of two nights, guests met at the classic hotel, Shutters on the Beach in Santa Monica, then hopped in Cadillac XT5's for a short drive down Main Street to the lawn at the Victorian, which was transformed into a festive backyard party by event designer Stefanie Cove and Oren + Cove Event Production. There, guests dined on options like homemade Guerrilla tacos, classic Dogtown Dogs, and pizza fresh out of Jon & Vinny's oven, topped off with Coolhaus sandwiches and fresh churros.

We've put together a long-overdue update of our classic guide to LA food trucks and the many different cuisines they occupy, from tacos to pizza to artisan coffee. While some old favorites still stand (Kogi, The Urban Oven, Coolhaus), there's a healthy group of new additions to the list, including Guerrilla Tacos and the new NoMad truck, which is teasing the debut of the beloved New York hotel in Los Angeles (they're scheduled to open in late 2017).