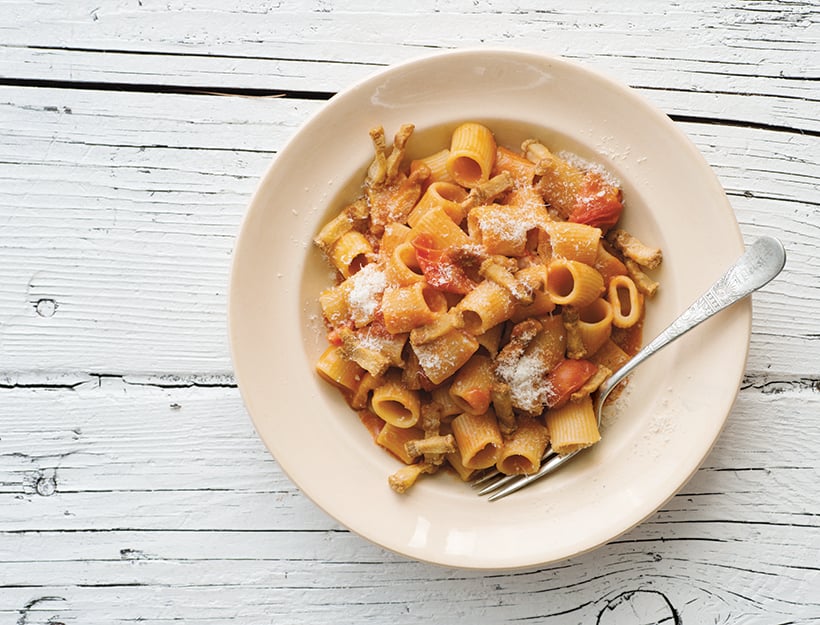 An Easy Roman Dinner Party
Katie Parla and Kristina Gill's Tasting Rome cookbook is more than a collection of Italian recipes—it's an exhaustively researched, gorgeously photographed love letter to the expats' adopted city. You might recognize Kristina's voice from DesignSponge, where she's the food and drink editor; it's her stunning photographs—of both the dishes and some quintessentially Roman scenery—that make the book coffee-table-worthy. Katie, a food and travel writer, has lived in the Eternal City for more than a decade, documenting her experience through travel and food writing (she also happens to be a certified sommelier). Tasting Rome illustrates how Roman cuisine is specifically influenced by the region, and how the city's unique history and culture leave their mark on classic dishes like cacio e pepe, castagnole, and fried zucchini blossoms. Below, they share a few favorite, blessedly easy, recipes in the form of a throw-it-together menu that's perfect for a balmy, late-summer night.
The Menu
From mid-June through early September, the temperatures in Rome soar, and as much as we like being in the kitchen preparing a dinner party, the reality is, most Roman dwellings aren't air conditioned. So, when we want to entertain guests but also want to arrive at the table fresh and presentable, we lean on the city's classic summer dishes. We love cazzimperio (crudité) for its celebratory showcasing of seasonal produce, while amatriciana estiva lets us indulge in a favorite pasta course without heaps of rendered pork fat! Meanwhile pollo alla romana is one of those dishes you can prepare in a big batch and serve throughout the week—it's a crowd pleaser at parties, as well as at the nightly lunch or dinner table—and sorbetto di pesche e vino is a fresh and palate-cleansing sorbet that riffs on the old-school dessert of fresh peaches macerated in white wine. – Katie Parla
Reprinted from Tasting Rome: Fresh Flavors and Forgotten Recipes from an Ancient City. Copyright © 2016 by Katie Parla and Kristina Gill. Photographs copyright © 2016 by Kristina Gill. Published by Clarkson Potter/Publishers, an imprint of Penguin Random House LLC.