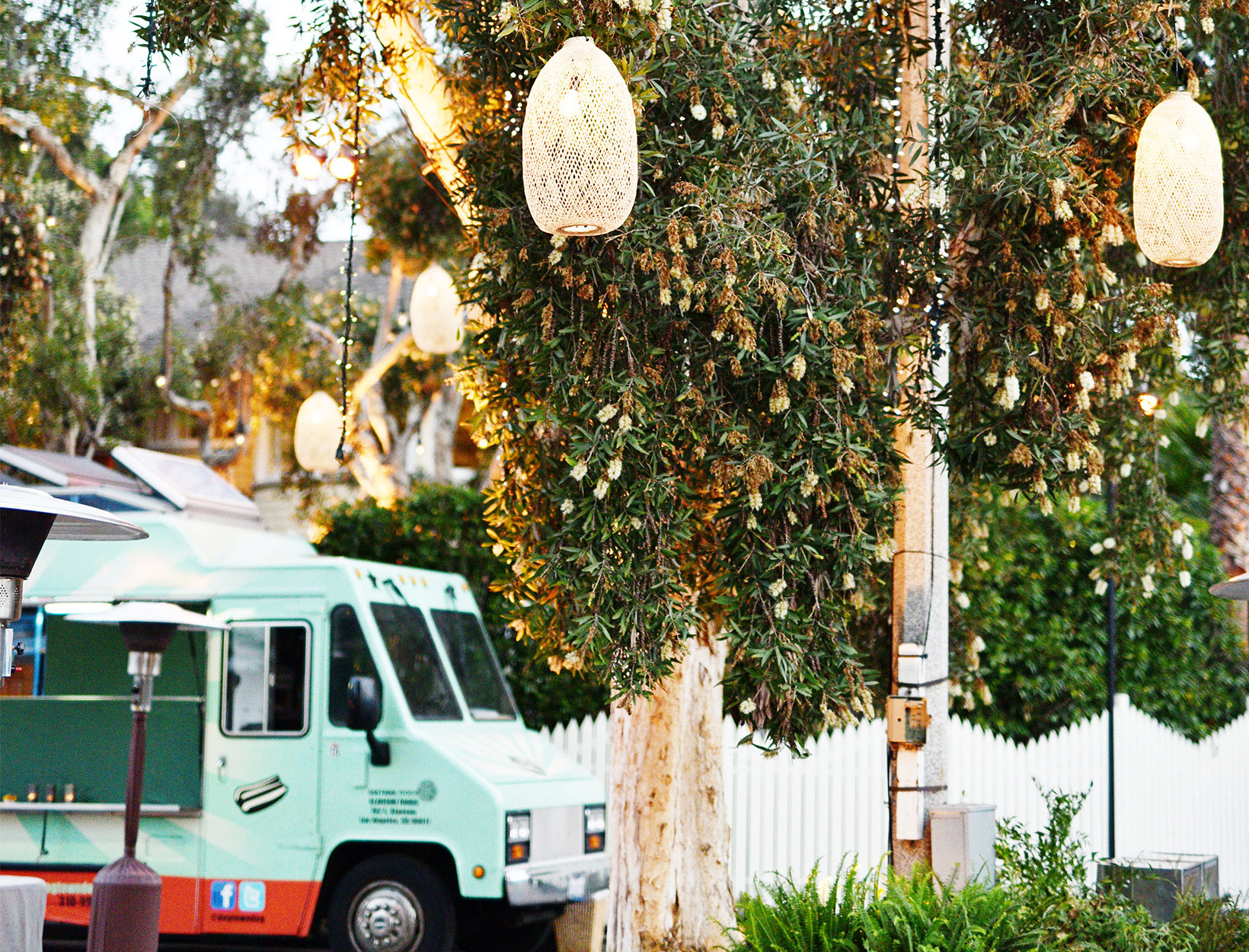 An Alfresco Winter Dinner Party
To celebrate the final chapter of our Cadillac Road-to-Table series (in our home city, no less), we switched things up a bit by scrapping the formal sit-down dinner in favor of the kind of casual, laid-back al fresco meal LA does best, served out of some of the city's best food trucks. Over the course of two nights, guests met at the classic hotel, Shutters on the Beach in Santa Monica, then hopped in Cadillac XT5's for a short drive down Main Street to the lawn at the Victorian, which was transformed into a festive backyard party by event designer Stefanie Cove and Oren + Cove Event Production. There, guests dined on options like homemade Guerrilla tacos, classic Dogtown Dogs, and pizza fresh out of Jon & Vinny's oven, topped off with Coolhaus sandwiches and fresh churros.
A Cadillac XT5 waiting at
Shutters on the Beach
to shuttle guests over to
the main event.
Two of the evening's signature
cocktails: Bourbon on Main
and Cucumber Cadillac.

India Jones Chow Truck, home of the butter chicken.

Night one hosts Amy Blessing
and Katherine Kleveland. 
All the fixings at
the Casamigos
Tequila bar.
Boss lady in her goop Label cocoon coat. 
Dogtown
gourmet
hot dogs.
The most photogenic
tots and
dogs ever.
Co-hosts of night two,
Coliena and Marlien
Rentmeester. 
Florist Pinky Lark
Farnum's appropriately
festive handiwork.
Minnie
Mortimer.
Stefanie Cove, the
brilliant event designer
behind the festivities.
Guerrilla Tacos, worth crossing
the 405 every time. 
DJ Nikki Pennie
on the job. 
Guests Ali Larter, Molly
Sims, and Robyn Casady.

Jon & Vinny's delivery, delivered.

The aforementioned
butter chicken. 

Coolhaus ice cream sammies.

Get the chicken burger from NoMad. Trust.

Guests Jill Willard and
Rosie McNamara, goop
contributor Lauren
Roxburgh, and night two
co-host Crystal Meers.
Churros for
the road. 
Special Thanks To:
Casamigos, Coolhaus, Dogtown Dogs, East Six Invitations, Guerrilla Tacos, India Jones Chow Truck, Jon & Vinny's Delivery, Lighten Up Inc., DJ Nikki Pennie, No Static AV, The NoMad Truck, Lark Farnum flowers, Shutters on the Beach, Stefanie Cove and Oren + Cove Event Production, and The Victorian Santa Monica.