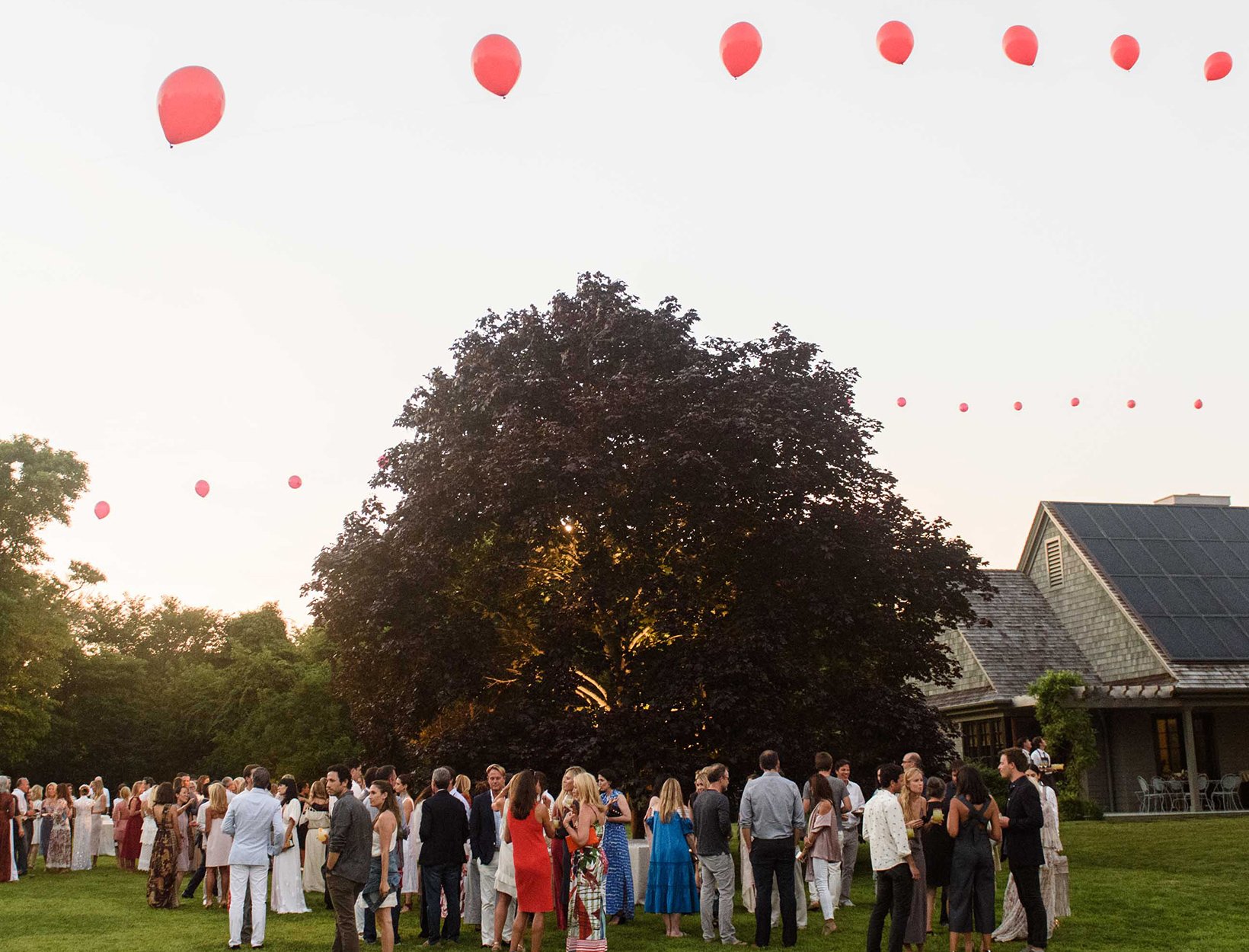 A goop x Net-a-Porter Midsummer Dance Party
Throwing a big party in the Hamptons has become a beloved and much-anticipated summer tradition for us. Like last year, hosting duties were shared by goop and Net-a-Porter, though this year's festivities were approached a little bit differently. Rather than a formal sit-down dinner, the brilliant Stefanie Cove of Oren Cove Productions put together a fun, intimate backyard bash—complete with tarot card readings, a tintype photo booth, an epic balloon installation, and multiple food stations courtesy of our longtime pals and collaborators, Cloud Catering—that turned into a full-on dance party after dark. While the evening closed with a set by DJ Hannah Bronfman, Elan Artists provided a gypsy string quartet to get the party started, followed by a medley of covers by Rhythm Collective—a pretty incredible musical program that went particularly well with the tricked-out Casamigos Tequila bar and rosé pong table.
Stefanie Cove made sure
every seat was the best
seat in the house.
#bossladies, Alison
Loehnis and GP.
Mimi Brown Studio florals in
shades of fuchsia.
Whitney Tingle and
Danielle Duboise playing a
game of rosé pong.
Casamigos tequila cocktails
with ALL the fixins.
A Nick Brown,
Derek Blasberg
sandwich.

Our kind of lineup.

Power couple Rachel and
Neil Blumenthal.
Cloud Catering does It's All Easy.

Seafood on the go.

Accordions never looked so sexy.

The goop girls love a plunging neckline.

Brooklyn Tintype' old-timey photo booth.

Stacey Bendet and
Jessica Seinfeld.
One tequila, two tequila,
three tequila…
Kate Foley and Max Osterweis
gazing into their future.
"the dance
floor is that
way"

Rhythm Collective doing their thing.

Molly Sims and Rachel Zoe.

Midnight snacks.

The one and only,
Tracy Anderson.
Hannah Bronfman
at work.
Joe Zee and
Rebekah McCabe.
Photographs by Hannah Thomson
A Few Favorite Recipes from the Evening's Offering
A Huge Thanks Goes Out To…
The amazing Stefanie Cove of Oren Cove Productions, Cloud Catering, Casamigos Tequila, Mimi Brown Studio, Luminous Designs, Elan Artists, Brooklyn Tintype, Angie Banicki, Patina, Party Rentals LTD., Balloon Chain, Hannah Thomson, and Tuleste and Net-A-Porter for dressing the talent.