Alice Waters & A Dinner for Edible Schoolyard
Behold Alice Waters, (who was just named the Wall Street Journal's Humanitarian Innovator of 2013), and her Edible Schoolyard Project, which we're proud to support in 2014.
ESYP's mission is to incorporate edible education into the core curriculum of every school in the country. From edible classrooms where kids learn about food, to edible gardens, where kids learn how to grow their own food and edible kitchens, where kids learn how to cook the food they grow, ESPY is dedicated to making food education as basic as reading or arithmetic. The demonstration hub for the Edible Schoolyard learning model is in Berkeley, where the one-acre organic garden and kitchen classroom is incorporated into the curriculum of urban public school Martin Luther King, Jr. Middle School.
Edible's first international charter program in London at the Southbank International School.
There is also a growing Edible Schoolyard affiliate presence across the nation, especially in NYC, where ESYNYC plans to expand across all boroughs. With a first location at Brooklyn's P.S. 216, a second Edible Schoolyard is currently being built in East Harlem at P.S.7, also designed by WORKac, the firm who famously designed Diane von Furstenburg's Studio Headquarters in the Meatpacking District and who's newer projects include designing an incredible Assembly Hall in Libreville, Gabon. With many charter schools following suit, including a now new international partner in London, the goodness is spreading.
In 2012, The Edible Schoolyard Network launched as a networking and resource hub for educators, parents, and advocates who practice and promote edible education in their communities. Additionally, it visually maps the movement as it gathers momentum around the world. This network represents a powerful collective voice for change.

goop x Edible Schoolyard Project x MARCH Event
We discovered Sam Hamilton's beautiful home store MARCH in San Francisco—filled with the most dreamy artisan tabletop ceramics, glassware, kitchen accessories, and more. So we teamed up with them to throw a dinner in honor of ESPY with a menu created by goop with Chez Panisse alum Brian Espinoza. All proceeds went to continuing this charity's great work.
The Menu
We collaborated with Brian Espinoza—a laid-back, lovely, badass chef—who has long been part of the Chez Panisse family (Alice gave him his very first job in her kitchen, scrubbing chanterelles, when he was fresh out of UC Berkeley with an Architecture degree). Brian is a master of ingredients and of knowing what's great in the area this time of year, so we wanted to focus on that and create an early winter meal to celebrate the season. Butternut squash, cold-weather greens, figs, sage and persimmons were calling. We found inspiration for our menu in Alice's new cookbook…
The Art of Simple Food II
Following her best-seller, The Art of Simple Food, this second volume celebrates every season of the vegetable—from fresh in summer to pickled and preserved in winter. They made perfect goodie bags for our guests this evening.
Giving Thanks: The Vendors
This evening would not have been possible without the support of the following San Francisco area vendors:
All the wine for the evening was donated by Scribe—a cult winery in Sonoma owned by two young brothers, known for its natural, laid-back, ranchy vibe and small-batch, artisanal wines.
Josey Baker (his actual name) makes these incredible old-world, textured breads with the perfect hard crust and soft inside, using the highest-quality wheat, grains, and seeds.
Veggies + Nuts:
Full Belly, Star Route, Fiddler's Green + Iacopi
We got all our beautiful produce and nuts from these small, organic farms in the area.
These Liberty Ducks from Sonoma County Poultry are named for their slower, less stressful form of rearing.
Olive Oil + Vinegars: Katz
Artisan vinegars and organic olive oils from Napa Valley. We could drink their zinfandel, sav blanc agrodolces and red wine vinegar by the glass.
The Prep
The day before the event, we prepped with Brian at his house in Oakland. Like many obsessed (in the best way) chefs and home cooks, Brian designed his kitchen himself from scratch so it was exactly what he wanted: A wood-burning oven/hearth for a simple, delicious dinners (he grilled a whole chicken on it the night before for friends), two dishwashers for entertaining ease and a large wooden work table in the center of the room with a marble slab on one end and four chairs on the other, where he and his family take most of their meals. Strange noises from the backyard turned out to be hens who provided eggs for our persimmon pudding later on. Brian's two young kids and partner helped and hung out with us throughout the day, making what could have been a stressful task (prepping for an event) feel more like cooking a family meal.
Here's what we made on Saturday and how it went down in Brian's beautiful kitchen. All the recipes below are good for 8–10 people so you can recreate them for a dinner party of your own.
Lunch Break
Brian takes a break from cooking…by cooking. A delicious lunch of tangerines, avocados and arugula from the Oakland farmers market a block away with a day old loaf from The Mill.
A Drink
Not event related – we just needed a drink. Brian's homemade vin d'orange goes down real nice.
---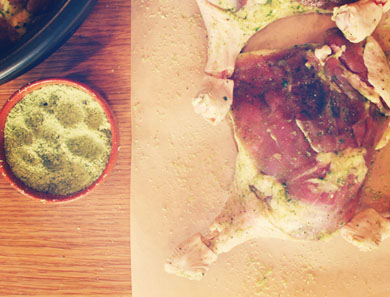 Brian starts the duck confit a week before, but you could go as early as a month prior to let it age in its own fat. The secret to this recipe is the green salt.
You can par-boil the potatoes a day before. Later, cook them in the fat left over in the pan from browning the duck legs.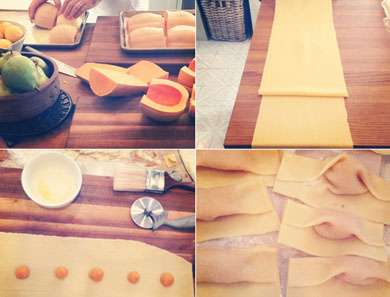 The squash can be roasted the day before, but it's best to make the pasta fresh the day of.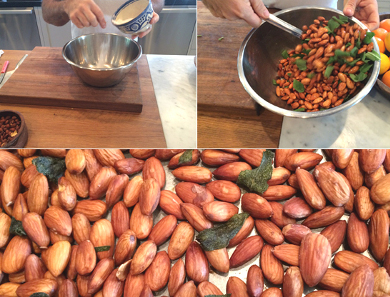 The key is to coat the raw almonds with salted water before they roast so the salt seeps in.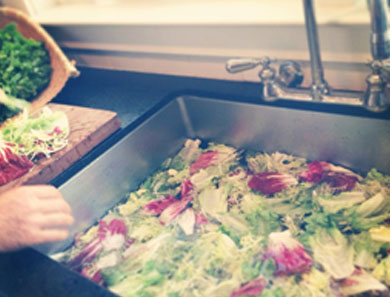 We use endive, escarole, frisée, trevisio and castelfranco for this early winter salad.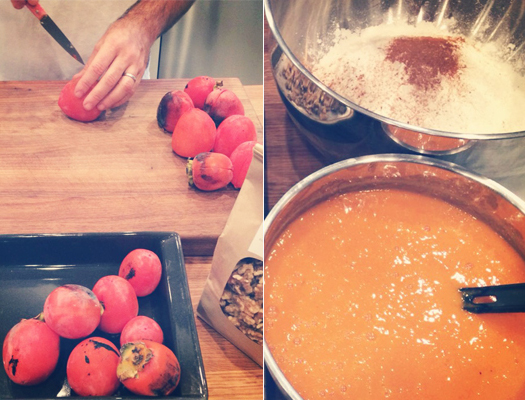 Bake this pudding in a large dish and serve in the middle of the table, family style.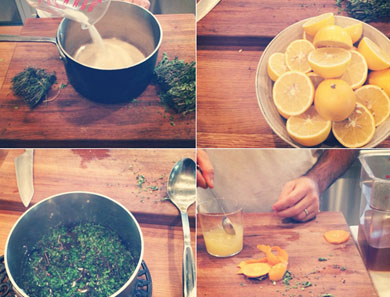 Simple syrup is infused with fresh thyme and a lot of lemons are juiced for this fall cocktail.
The Dinner
Setting the Table
What better a place to set the table than in this covetable home store. For our dinner, we used china, glassware and flatware by Billy Cotton. The large fringed napkins are Boxwood linen for MARCH. The slate/dark grey/orange palette complement the colors of our early winter dishes.
Final Prep
The rest of the cooking happens on the gorgeous cast-iron AGA oven. The oven is the hearth of the space and that it's used in the middle of the room during the event brings much life and live cooking action to the dinner party. Above, some calm prep and final recipe writing.
Cocktail Hour
The first guests arrive. It's one of the first chilly nights in San Francisco and everyone seems happy to be in the warm home store with our Meyer lemon thyme cocktails, spiced almonds nuts, cheese, and more.
The Meal
People take their seats, while we prepare and serve the first course—butternut squash raviolini. We only had room for one pot to boil on the AGA so we had another hot plate outside to accommodate another pot for the many many raviolini. Brian remained impressively calm…
While the duck simmers, Brian makes the dressing for the salad—figs ground with shallots then mixed with Katz vinegar. The chicories are dressed and plated along with a leg for each person and a few duck fat fried potatoes. Swoon. This dish brought a momentary hush to the otherwise buzzy room.
Our persimmon pudding with agave was a crowd favorite this evening, served family style with a side of freshly whipped cream. People spooned up seconds for their neighbors and lingered for a while over Scribe's warming 2010 Cab…
The dinner was a beautiful and delicious success. Thank you to every one of our guests this evening, whose support makes this wonderful cause a reality.
Photos by Angie Silvy