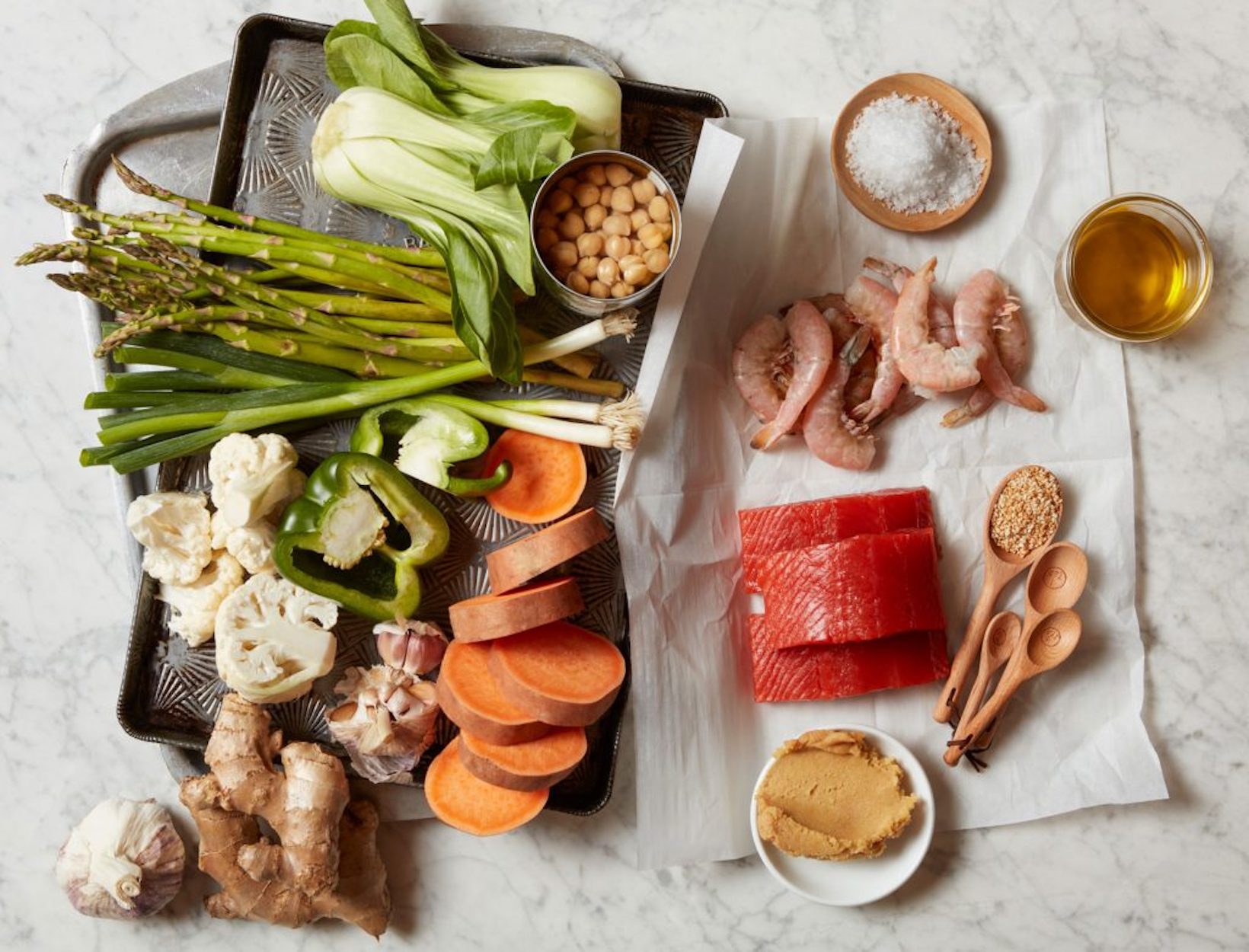 10 Ways to Save Time (a Lot of It)
in the Kitchen
In partnership with our friends at

Calm is a rare emotion in the kitchen, particularly on a weeknight. But a little planning and a few brilliant gadgets (witness the way the PopSockets multi-surface mount keeps your recipe window open and your phone free of flour, grease, and tomato sauce) can save you enough time to make cooking significantly more soothing—even graceful, orderly—even on your busiest night.
PROP UP YOUR PHONE

Being able to refer to your recipe without covering your phone in flour or oil makes cooking so much more efficient, not to mention pleasurable. Situate your phone and phone grip with the multi-surface mount from PopSockets for hands-free recipe referencing and a decidedly more civilized approach to cooking overall (we especially love it for following cooking videos). Perfect your poached egg, tortellini fold, or pretzel roll with speed, ease, and grace.

PREP PRODUCE AS SOON AS
YOU GET HOME

It might be the last thing you want to do when you get home from the grocery store, but your future self will thank you: Take a few minutes to wash and prep your produce. Rinse and chop your hearty greens, like romaine, radicchio, kale, and collard greens; trim the ends off of broccoli and cauliflower and break them down into florets; peel carrots and store them in water.
MAKE ONCE, USE TWICE

Reinterpret last night's dinner into something decidedly different. With a bit of planning, you can use the main component of tonight's sliders in tomorrow's rice bowl.

BUY PRECUT MIREPOIX

When you've got premade mirepoix (diced onions, carrots, and celery) ready to go, there's no arguing with the savings in "time-dollars," not to mention the mental space. It makes preparing a home-cooked dinner after a long day at work totally doable.
BULK UP AND FREEZE IT

When you have free time and feel like doing some serious cooking, double (or even triple) your recipes, then freeze the extra for later. Soups, stews, and sauces freeze beautifully and can definitely get you out of a bind on a busy weeknight. Tip: The smaller the portions, the quicker the defrosting.

DEPLOY THE MULTICOOKER/
INSTANT POT

Use the slow-cooker setting if you've got eight hours to let dinner simmer while you're at work, or the pressure-cooker one if you've got only ten minutes to get dinner on the table right when you get home.
STOCK UP ON CONDIMENTS

A well-stocked pantry is the best way to make dinner on the fly quick, easy, and actually doable. Condiments make particularly great shortcuts to deliciousness: Sriracha and vegenaise for a spicy aioli, Dijon and red wine vinegar for quick dressings, sambal oelek and tamari for easy marinades, and harissa and yogurt for sauces to serve with roasted root vegetables. (Honorable mentions go out to oil-packed anchovies, za'atar, and curry paste.)

GET THE ESSENTIALS ON INSTACART

We like to use Instacart.com to load up on essentials we need every week—rice, eggs, almond milk, frozen fruit, canned tomatoes, and olive oil. Skip the fresh produce—go grab that yourself (a trip to the store or farmers' market for fruit and vegetables alone takes a fraction of the time of a full-on-everything shop).
THROW IT ON A SHEET PAN

Sheet-pan dinners—the kind where you toss all of your dinner ingredients on a single sheet pan and throw it in the oven or broiler—will change your life. They're incredibly easy to make with just about anything you have on hand, and cleanup is brilliantly fast (it's just the lone pan).

SOAK YOUR OATS

Soaking oats overnight cuts down significantly on cooking time. Prep this recipe in a Mason jar, then toss the whole thing in your bag before you head to work.