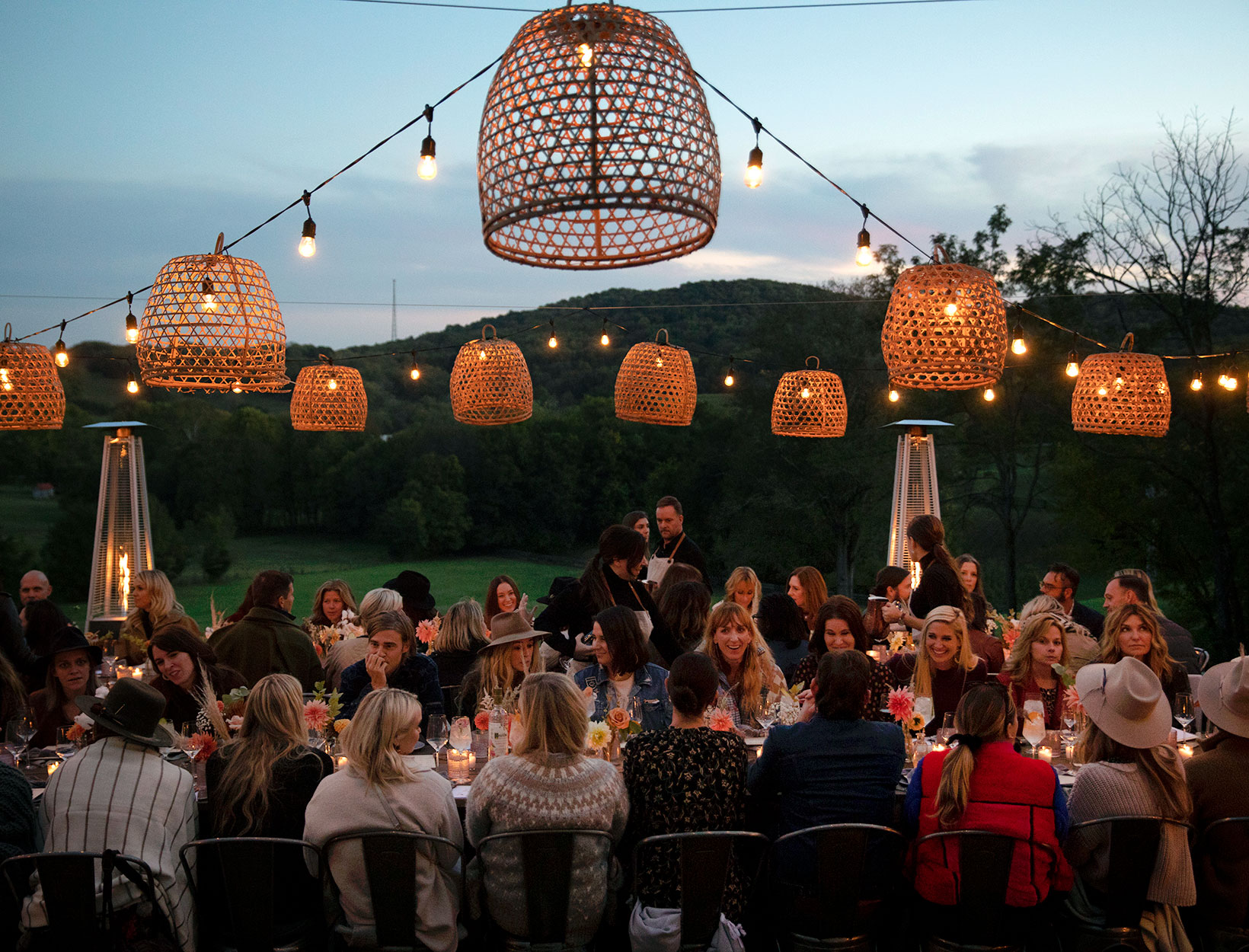 Why Lily Aldridge Wanted to Host a Farm-to-Table Party in Nashville
In partnership with our friends at

Our love of Nashville is well-documented. And when Lily Aldridge agreed to host a dinner with us, we were thrilled—not just because she's Lily Aldridge—but because we got to plan a party in the city she's made her home.
Nashville, in case you hadn't heard, has completely outdone itself in the past couple years. It's always been a key player in the music scene, drawing in some of the most creative people anywhere. But recently, the Tennessee capital has gone a few steps further, reinventing itself as a formidable food destination in its own right—and it's a trajectory that shows no sign of slowing down. Combine an unparalleled history of music, an emerging art scene, and some of the best restaurants you can find anywhere in the world, and you land in Nashville—a city with beauty, with soul, with more than a little grit.
To celebrate the exploding Nashville culinary scene, we also wanted to honor the people behind it. When we first set foot on Lauren Palmer's farm, land that's been passed down from generations of farmers in her family, we knew this was where we wanted to be. Everywhere on the pastoral 400 acres of Bloomsbury Farm, about half an hour outside Nashville, you can feel her father's motto: "Bloom where you were planted." The farm is organic-certified, with a great CSA program—an ethos we can all get behind—and pure pastoral beauty.
The entire day was magic: It was a study in sustainable harvesting, sage-bundle making, and see-how-spicy-this-pepper-is courage. As dusk settled, the party migrated from garden to farmhouse, where chef Greg Baxtrom (of NYC's Olmsted fame) used the day's bounty to prepare an alfresco lantern-lit dinner of course upon course of creative, seasonal dishes, like ricotta and heirloom tomato schnitzel and roasted duck confit with radicchio, sunchokes, and pecans. As evening turned to night and the temperature dropped to chilly, it was finally time to go home. It's never easy to leave a dinner party, but there was incentive: warm mugs of hot chocolate on the way out.
Hannah Crowell finding the perfect collection of herbs.

Lily Aldridge picks a pepper. (Say that five times fast.)

We were all Sperry prepared.

Exactly what you need for custom sage bundles.

Shear brilliance.

SP2 Life spirulina smoothies, courtesy of our food editors.

Guests Savannah Yarborough, Shelly Colvin, and Johanna Followill.

Possibly the world's chicest farmhouse sink.

The perfect place settings for the perfect place.

Chef Greg Baxtrom in his element.

Hush Kids serenade the crowd.

Cassie Kelley convinces us to get our second Ketel One Botanical cocktail of the night.

Our editor in chief, Danielle Pergament, welcomes guests to dinner (and what she pretends is her house).

Aldridge holds court.

Shelly Colvin (and her amazing hat) listen in.

Lyft rides at the ready.