Tips from a Butler
We asked our friend Oliver Hawthorne, a House Manager and former hotel butler at Claridge's, to share some of his miracle tips for stains, polishing, and special touches for the home. The housekeeping staff at the Plaza Hotel in New York has some ideas for us too:
Difficult Stains, i.e. grass and red wine
---
Oliver's Tips:
Use white wine to get out red wine stains—I think a scientist proved why this works…
For stains on delicate clothing, use soda water and dab with a white cloth. If it doesn't come out, you can use a little bit of salt for abrasion.
---
The Plaza's Tips:
General Stains: Most of the commercial spot removers out there on the market easily remove stains, we are a big fan of these. If you don't happen to have a spot remover at home, we would always suggest neutral soap and plain old water.
Red Wine Stains: Club soda and salt is a great trick. The most important thing is to get to the stain while it's wet because once it's dried, it's very difficult to remove. The first thing to do is dilute the stain with water, club soda, even white wine. Then, take a cloth and blot the stain from the outside in. We've also had very good luck diluting the stain and covering in iodized salt. Let the salt sit on the stain for about an hour or until it's absorbed all the moisture. Then remove away the salt with a vacuum or dustpan and brush. The stain is gone!
Surfaces, pots and pans
---
Oliver's Tips:
For stains in stone, marble, granite or any absorbent, hard surfaces: Make a paste out of baking soda and water. Apply to surface and cover with plastic wrap (so it doesn't dry out). Let sit for 24 hours. If left wet, you can easily lift it and the stain.
For walls: Hairspray removes permanent marker from walls. Spray on a cloth and then wipe.
Cleaning copper: When I worked at Claridge's Hotel in London, we used to mix equal parts malt vinegar, flour, and salt, and used that to clean the copper pots.
---
The Plaza's Tips:
Vinegar and water is one of those traditional yet powerful methods that works like a charm. It cleans, disinfects, and leaves surfaces shiny. Just keep it to a quarter cup vinegar to one gallon of water so the smell isn't overpowering.
Polishing and Caring For Silver
---
Oliver's Tips:
After cleaning silver, it's best to keep it covered which will stop some tarnishing. Silver cloths are the best way to get a good shine quickly if the cutlery is already clean.
A good way to remove tarnish from silver is to make a mixture with hot water, malt vinegar, or lemon juice, salt and a ball of aluminum foil in a ceramic pot, and put the cutlery in. A chemical reaction occurs that removes the tarnish from the sliver—all big hotels do this.
---
The Plaza's Tips: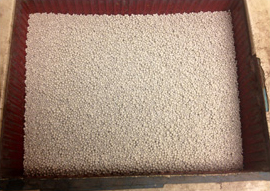 At the hotel: We do a thorough daily inspection of our silver, and two to four times a year we do a mass shining of the silver. Besides having special high end cleaning solution to shine our silver, our silver room is equipped with machines that are filled with special silver cleaning pellets that will clean every part of the tarnished item. When not in use, silver trays, cloches, utensils, terrines, etc. are wrapped in saran wrap to avoid exposure to the air.
At home: The only way to keep silver shiny at home is by shining it every 3 to 6 weeks with silver polish and keeping items not in use wrapped up. Silver gets tarnished when it is exposed to the air and atmosphere; it causes a chemical reaction that creates something called Silver Sulfate, which is basically that nasty black mark that is on your finger when you rub a tarnished silver item. Silver reacts with things like wool, rubber bands, latex gloves, oils from your hands, ammonia, chlorinated water, air pollution, perfumes, hair sprays, and believe it or not, some foods can even make silver tarnish. Foods like onions, mayonnaise, salad dressing, eggs and salty foods can be damaging.
Bathroom Tile Mold and Shower Glass
---
The Plaza's Tips:

Tiles: We wash the tiles on a daily basis which helps keep mold at bay and is probably the best way to keep your bathroom looking spic and span. Spray with tile cleaner or an all purpose bathroom cleaner, let sit for a while, wash down with water, then wipe with a dry cloth. If this seems a little too ambitious for everyday, you can always just wipe down surfaces with the washcloth from your shower and stick it in the wash when you're done. Every once in a while when needed, we do a bleach treatment on our tile. Leave the bleach on the mold and mildew for about 15 minutes then rinse with water and wipe dry.
Glass: Your best bet for cleaning glass in the shower is to quickly wipe down with a glass cleaner like Windex every day. It only takes a moment and if you do it daily, you can keep your big cleanings to every few weeks.
Odor
---
The Plaza's Tips:
For odors that seem to be ingrained in the room, wash down the walls with water and ammonia. A gallon of water to a quarter cup ammonia to keep the overpowering scent of ammonia at bay. Steam cleaners are also a great investment for everything from carpets to curtains.
Must-Have Cleaning Products
Here are some of tried-and-tried products we use at home to clean everything limescale to a brown rice spill.