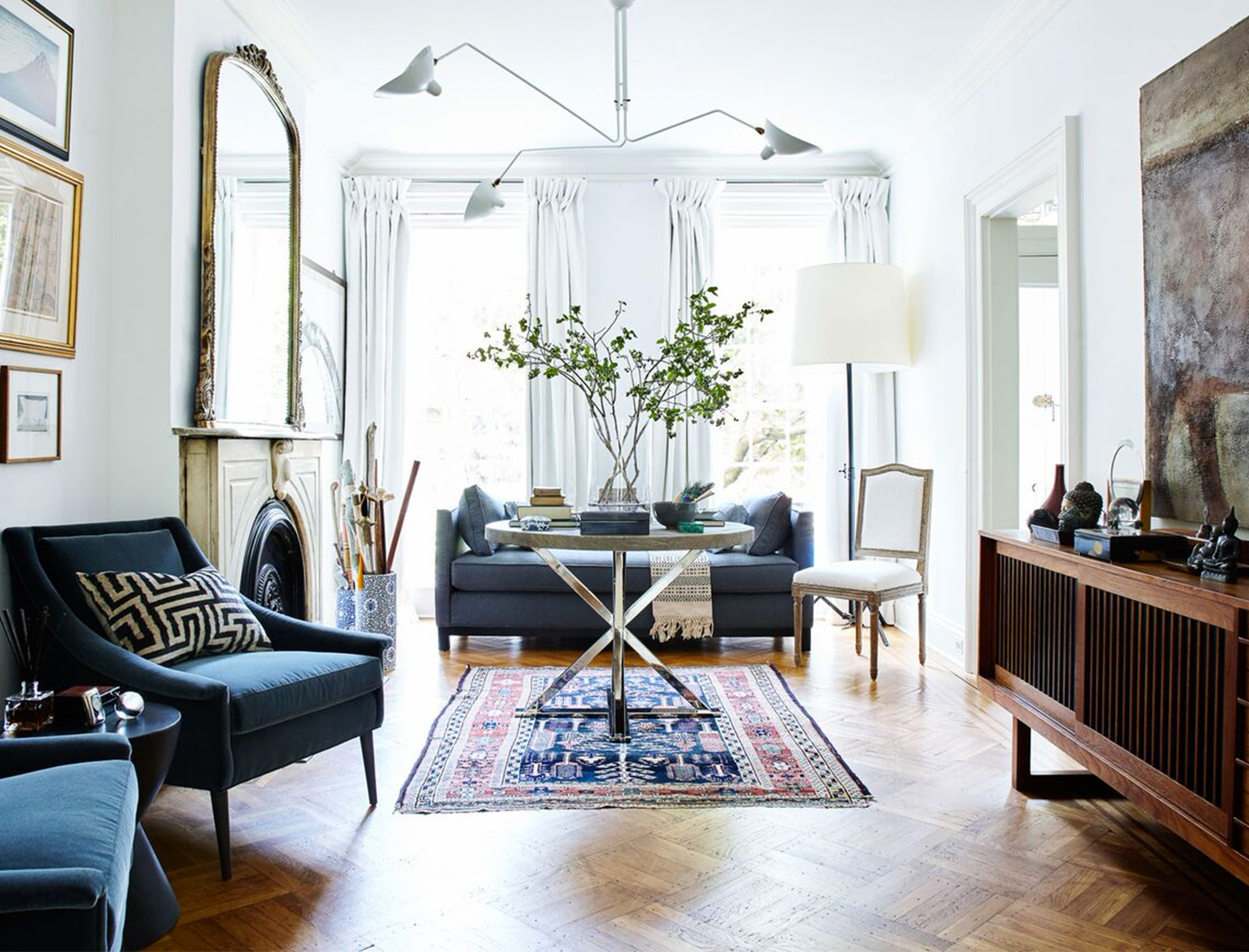 How to Make a Living Room
Feel More Livable

For many of us, a formal living room is a thing of the past. Today's spaces need to be multi-functional, offering a place to lounge, dine, entertain–and even work. For this reason, the modern living room works harder than other rooms: it should be inviting and comfortable, while still looking pulled-together. Below, we asked three Homepolish designers–Crystal Sinclair, Jae Joo, and Haley Weidenbaum–for their tips on creating the ultimate livable space.
Tip 1

seating rules

From sofas to chairs, keep the seat heights all cohesive, as seen in the above space designed by Crystal Sinclair. "You don't want a low sofa paired with a chair that sits high, unless it's an artistic statement. Same goes for coffee tables."

Tip 2

mix & match

Your sofa and chair don't have to match, says Sinclair. "Have fun!" When it comes to the style of sofa, consider your space and needs. "An L-shaped sofa offers more seating and a place to put your feet up and lounge, whereas a traditional sofa is classic, easy to build a room around, and fits neatly in most spaces."

Tip 3

section off

According to designer Jae Joo, creating smaller sections within larger rooms offers more functionality, allowing people to make the most of an open space. "Openness can be really attractive, but I think it's important for there to be a transitional area. Achieving that can be as simple as adding a chandelier above the dining table or by playing around with different sized rugs."

Tip 4

let there be light

Two or three layers of light is the best way to brighten up any room, says Haley Weidenbaum. "The first layer can be the recessed or "can" lighting, the second can be a decorative pendant or chandelier, and, if possible, the third can be a sconce or task light." Also, different lights can add distinct decorative elements to a room, says Joo.

Tip 5

store wisely

Keep only the things you'd actually use in the living room–in the living room. Designer Haley Weidenbaum keeps decks of cards, spirits on the bar cart, and coffee table books out for ease of use.

Tip 6

Make the Most of Rugs

"As a general rule, your rug should be in scale with the room and take up about two-thirds of floor space," says Weidenbaum. "If your room is a multi-purpose space or an open floor plan, try to make all the legs of the furniture sit atop the rug."

Tip 7

find balance

In all three of these spaces, the designers kept the paint palettes simple, careful not to overpower the room's unique details, from the fireplace to the throw pillows, to the art on the walls.