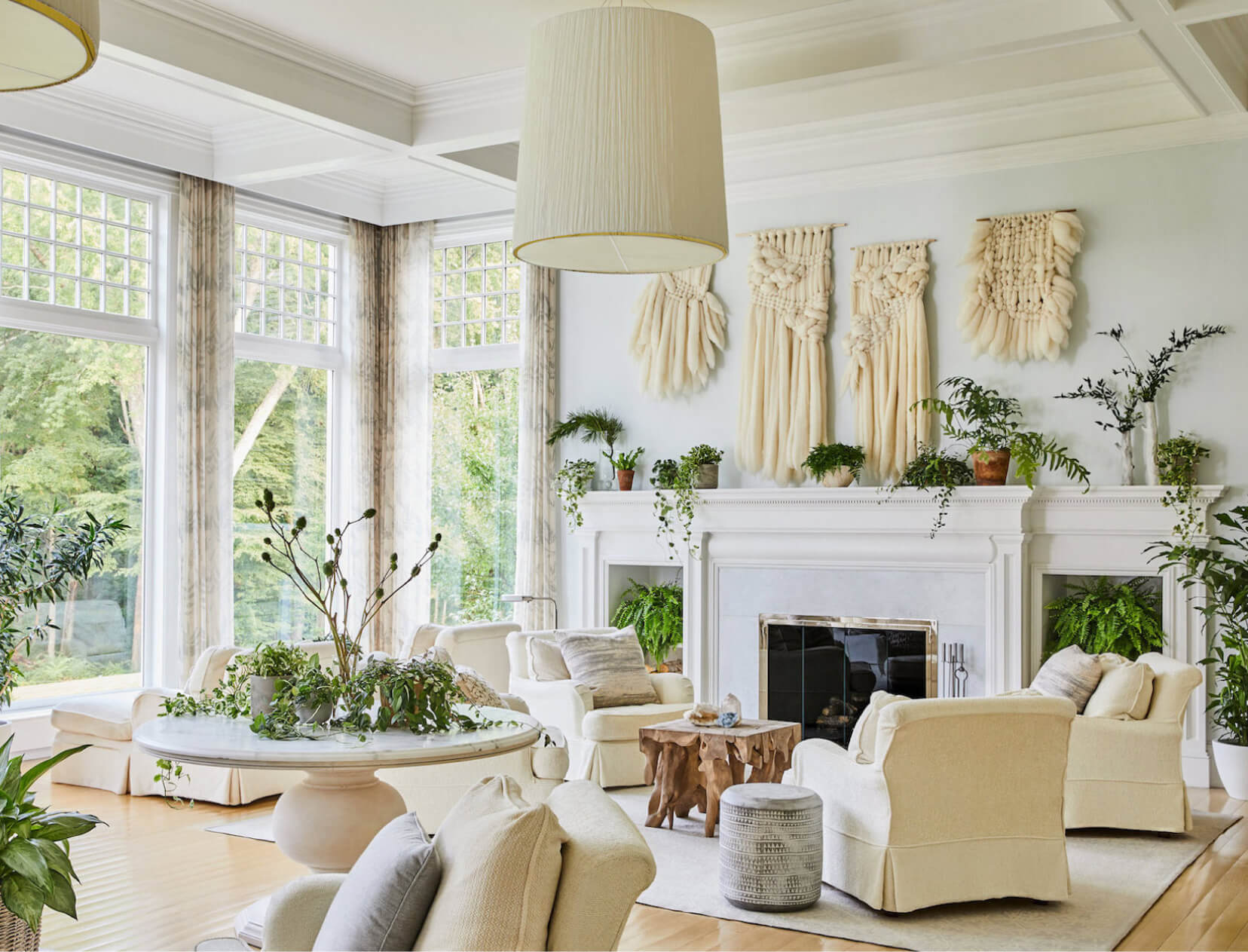 Make Home an
Anxiety-Free Sanctuary
Step into the relaxation room (above) of the new, next-level Well Spa at Connecticut's gorgeously renovated Mayflower Inn, and before you've had a single treatment or even a sip of the epic bone broth, your breathing eases and your stress levels wind right down. In the same way we might eat certain foods to reduce inflammation or practice yoga to calm our psyche, treating the spaces we inhabit to some simple stress-reducing measures can make an enormous difference in the way we feel when we're in them. "When I changed up my home, I changed my anxiety levels overall," says author Quentin Vennie, the founder of the Baltimore-based Greenhouse Tea Company and a father of five, who has written about his experiences with stress and anxiety. From sleep routines and meditation spaces to beautiful scents and gorgeous vegetables, making your home a true sanctuary is easier than you think.
1
Make Yourself Some Tea
The practice of turning an ordinary behavior into a ritual helps us slow down and self-soothe. "Something as simple as making tea has incredible benefits," says Vennie. "For me, it's a naturally calming ritual I look forward to every morning and night. The consistency of that is something that helps me stay calm. Of course, I created Greenhouse Tea around this purpose, so many of our teas are soothing in and of themselves. When I'm making tea, I'm not worrying about my phone or my email—I'm forced to take a moment."
Like a classic teakettle, only so much more contemporary. It's got a wide spout that automatically unseals when you start pouring. And the soft whistling that signals it's boiling can only be described as melodic. Plus, you can count on one pot for multiple refills—it's generously sized like that.

Clyde Stovetop Tea Kettle goop, $99

SHOP NOW

This refreshing herbal blend is infused with hints of chamomile, licorice root, peppermint, and ginger. And the terra-cotta-hued tin canister is simultaneously chic and functional.

Cocoon Tea Artisans 100% Organic Herbal Tea goop, $32

SHOP NOW

Designed at Kaneko Kohyo—a century-old ceramics workshop that originally specialized in Shinto and Buddhist altarpieces—this handmade mug makes every sip feel special. Glazed porcelain mimics the warm, rustic look of hand-formed clay. The curved handle fits comfortably in your hand. And convenient bonus: It's both microwave- and dishwasher-safe.

Roman and Williams Guild Kaneko Kohyo Rinka Mug goop, $50

SHOP NOW
2
Be Strategic with Scent
It's not just that certain scents calm and others energize. "Scent can trigger old memories and old patterns," points out Vennie. "So I love to use scent to create new ones. The candle in my bedroom smells like how I want to feel when I go to bed and when I wake up in the morning. Whether I stay in this house for the rest of my life or not, I want these memories to be the ones I hold on to."
GP collaborated with vitruvi to land on the perfect shade of grey for this exclusive-to-goop edition of everyone's favorite diffuser. It's gorgeous and sleek and a brilliant way to get essential oils and aromatherapy into your life, along with a little humidifying vapor. Use it with the custom essential oil set.

vitruvi x goop goop-Exclusive Stone Diffuser goop, $119

SHOP NOW

Complete with iris, juniper, mandarin, and patchouli, these hand-finished Japanese-style incense sticks are not only incredible-smelling; they're made with precision from an aromatic composition of organic raw materials. Better yet, they're beautifully packaged in a gorgeous glass tube and foil-stamped gift box. What's not to love?

Cinnamon Projects 4 PM Incense goop, $30

SHOP NOW

This has to be one of the prettiest candles we've ever seen—or smelled. The subtle but seriously entrancing scent wafts through the air even before the candle's lit. As it burns, the supremely relaxing Ayurvedic essential oils—chamomile, lavender, vetiver, rose, and geranium among them, all grown on a centuries-old family farm that supplies natural oils for some of the world's most famous fragrances—smell even more gorgeous. Beyond the stunning scent, the botanicals encourage a feeling of blissful calm—no small feat.

UMA Pure Calm Wellness Candle goop, $68

SHOP NOW
3
Carve Out a Meditation Space
At goop, we learned Transcendental Meditation as a group, and many of us practice daily. Vennie's insight helps cement any form of meditation into a habit: "Daily meditation has helped my anxiety enormously; as with any practice, having a reminder helps you stay accountable," says Vennie. "My wife and I took an area right beneath the window in our bedroom and put down two meditation pillows and two yoga mats. It isn't fancy—something that reminds you to do the practice is enough."
Keep your mind clear and your meditation pillow clean. We wanted a meditation pillow with distraction-defying firmness and shape, and we also wanted it to reflect our values, so it had to be consciously made with organic materials. Naturally, we teamed up with Avocado, the company that brings sustainability to more than just sleep. Filled with plant-based buckwheat, the removable cover is easy to wash, so om away.

goop x Avocado Meditation Pillow goop, $80

SHOP NOW

Manduka's GRP mat is a staple in slip prevention (we believe that's a thing). Which means you can focus more on transitioning from crow to handstand—or chilling in down dog—and less on making adjustments just to keep your asana in place. Plus, good cushion provides support and stability for your practice.

Manduka GRP Yoga Mat goop, $128

SHOP NOW

It's as good for someone new to mindfulness as it is for those with a long-held practice. This simple piece of tech helps guide and deepen your meditation session. You choose from the library of practices on the corresponding app, hold Core in your hands, and just follow along. Core guides you with gentle vibrations and easy audio instructions. The built-in ECG tracks your heart rate and heart rate variability to show you how your body responds to each session.

Core Meditation Trainer goop, $169

SHOP NOW
4
Establish a Sleep Routine
"It sounds early, but try starting your evening routine around 5 p.m.," says Vennie. "For many of us who live with chronic anxiety, it takes a few hours for our brain to start to let go of the day. "Around 5, I make a cup of tea and take a hot bath. I light candles and dim or switch off the bedroom lights. As you get closer to sleep, lose the phone—I keep mine across the room, away from my bed, starting at 9 p.m."
A bath with this soothing soak—made with Himalayan pink salt and chia seed oil—takes the edge off during turbulent times (or after a crazy day), centers the body and spirit, and helps relax the neck and shoulders, where stress tends to build up. There are three cups of bath soak in every bag—which means three amazing baths, all for you.

goop Beauty "The Martini" Emotional Detox Bath Soak goop, $35

SHOP NOW

Like a comforting hug, this twenty-pound weighted blanket is designed to simulate the effects of deep-pressure touch, which has been shown to soothe the nervous system and help you unwind (side effects include: sleeping like a baby). It's made from super soft, breathable cotton—meaning it's cool enough to use year-round—and filled with glass microbeads that stay evenly distributed, thanks to genius double-quilting.

Baloo Cool Cotton Weighted Blanket, 20 lbs. goop, $169

SHOP NOW

Occasional difficulty sleeping is commonplace, and its effects extend beyond the next morning. We wanted a solution we'd actually look forward to taking at the end of a long day when a good night's rest is paramount. Each Knock Me Out chew is formulated not only with melatonin but also with L-tryptophan and vitamin B6 to support the body's own production of the hormone.*

goop Wellness Knock Me Out goop, $30

SHOP NOW
5
What's in Your Fridge?
As anyone who's ever watched a group of kids inhale a tray of cupcakes can attest, food can have a huge impact on mood. Eating whole foods and avoiding triggers like sugar, gluten, caffeine, alcohol, and dairy can make an enormous difference, as GP noted after a month following the guidelines in Dr. Will Cole's new book, Intuitive Fasting. Stocking your fridge and pantry with healthy, delicious choices sets up your kitchen as a place of healing rather than stress. "Have lots of fruits and vegetables on hand," says Vennie. "I don't like salad, so I drink mine—my favorite juice is kale, spinach, celery, cucumber, ginger, apple, and ginger."

goop Press Intuitive Fasting Bookshop, $26

SHOP NOW

Most juicers are bulky. Kuvings is not one of those juicers. It's sleek, streamlined, and designed with two pulsating speeds that can handle the whole fruit, so it makes juicing a thousand times more efficient. Plus, pulp haters can appreciate the fact that it's equipped with a built-in strainer. Bonus: The blank strainer is also quite useful, say, for puréeing your own baby food or making homemade nut milks.

Kuvings Whole Slow Juicer goop, $500

SHOP NOW

Clean nonstick cookware is clutch. Even more clutch: that same next-level cookware upgraded in the most beautiful blush pink we've ever seen (made exclusively for us, we might add). That's right, GreenPan's fan-favorite frypan just got a distinctly girlie upgrade: same sears-to-perfection functionality (without the harmful fumes), new palate-cleansing color in two perfect, do-it-all sizes. Oh, and would you look at those gorgeous gold-toned handles?

goop x GreenPan 8″ & 10″ Blush Frypan Set goop, $100

SHOP NOW
6
Keep It Clean
Messy environments are stressful, and the act of cleaning up can itself evolve into a meditative, calming ritual, especially if you can position it in your mind as self-care (as opposed to a hated chore). "Clutter can be a challenge, especially if you have kids," says Vennie. "In our house, we follow the theory of three. If anything—electronics, video games, toys, clothing—hasn't been used within the past three months, it's sold or donated. It's about being intentional about what you have and when you use it and making sure it's not taking up unnecessary space. And the things you do use should all have a place. With five kids, creating the habit of putting something back where you got it has been key."
These multipurpose bins organize your belongings in the chicest way possible. The roomy felt interior stashes everything from seasonal clothing to kids' toys, lasts forever, and is a great alternative to plastic. Wooden lids keep the contents out of sight and make easy work of stacking.

Open Spaces Large Storage Bins, Set of 2 goop, $92

SHOP NOW

The ultimate springboard to get your home squeaky-clean—in every sense of the word—this nontoxic starter kit, which encompasses all the essentials. Complete with dish soap (plus a four-liter refill and a wood brush), laundry detergent, an all-purpose cleaner, and hand soap, it'll set you, your family, and every room under your roof up for a fresh start. Made without any synthetic fragrances, the whole line is designed with reusable, refillable, and recyclable packaging that's biodegradable. (So it's not only a sound choice for you but sustainable for the planet.)

The Unscented Company Starter Kit goop, $65

SHOP NOW

Swap your mismatched hangers for something a little more chic. Made from steel, these slim yet sturdy hangers are designed to save space, with rungs for hanging pants and small hooks for anything with slip-prone straps. Bonus: This set also comes with five removable felt covers for items that need more support, like blazers and coats.

Open Spaces Clothes Hangers, set of 10 goop, $40

SHOP NOW
*These statements have not been evaluated by the Food and Drug Administration. This product is not intended to diagnose, treat, cure, or prevent any disease.
---
This article is for informational purposes only. It is not, nor is it intended to be, a substitute for professional medical advice, diagnosis, or treatment and should never be relied upon for specific medical advice. To the extent that this article features the advice of physicians or medical practitioners, the views expressed are the views of the cited expert and do not necessarily represent the views of goop.
---
We hope you enjoy the book recommended here. Our goal is to suggest only things we love and think you might, as well. We also like transparency, so, full disclosure: We may collect a share of sales or other compensation if you purchase through the external link on this page.