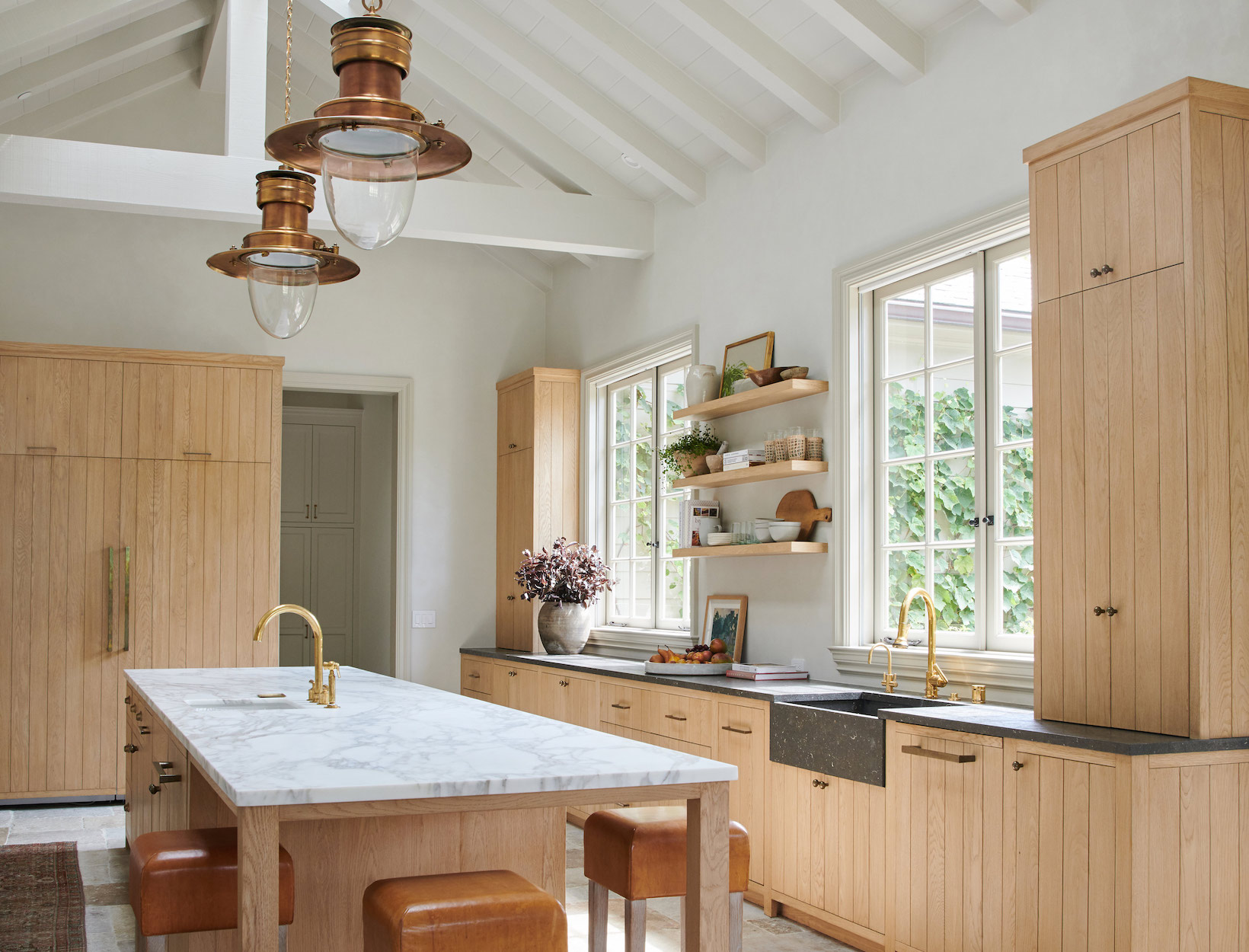 Photo courtesy of Tessa Neustadt. Designed by Amber Interiors.
Easy Tips for a Cleaner, Fresher Home
In partnership with our friends at Kohler
We want our home to be a lot of things: organized, clean, comfortable, functional, happy. Then the dishes start to pile up. The mail doesn't get sorted. Random objects find new hiding spots. The laundry bin keeps growing. And it can be frustrating and overwhelming to know where to start when you want to do a deep clean. The key to making the cleaning process painless, says organizing expert Tanisha Porter, is to begin with decluttering. We were all ears.
Organization leads to cleanliness, but having a clean home doesn't always mean it's organized, says Porter, who is the founder and owner of Natural Born Organizers and a member of the National Association of Productivity and Organizing Professionals. A functional home is one where each room serves a specific purpose, she says, and the goal of a professional organizer is to find a system that works for each client. "A lot of times, when people are trying to create an organizing system, they're building the system for the very best version of themselves," she says. "But we all have our good days and our bad days, so I always try to create a system that is going to be maintainable during someone's worst week." Porter shared advice on how to get started, and we rounded up some brilliant tools that make cleaning—and living—easier and more efficient.
1

Install a touchless faucet

Starting with simple hardware upgrades will put you ahead of the game when it comes time to do a big cleaning. Enter the hands-free Kohler faucet, which is an ingenious way to keep the kitchen spotless and streamlined from the get-go. Installing one is a relatively low-lift process, and the payoff is pretty great: A touchless faucet keeps the kitchen stress-free by reducing high-touch surfaces that need to be cleaned. And it also makes the act of cleaning (and cooking and washing dishes and every other task) easier and, dare we say, more enjoyable than ever.

2

Give each room a purpose

When Porter works with clients, she begins by setting a purpose for each room. "Think about how you want each room to serve you," she says. Then, with that goal in mind, you can go around the room and begin to create categories for your items: things to purge, donate, or relocate to a different room. "Ask yourself: What do I need to do in this space?" says Porter. "That will determine what gets to stay."

3

Declutter your closets

Clutter typically begins to pile up when items don't have a home, explains Porter, so part of the process of organizing is seeking out underused areas. Closets and storage spaces are the most overlooked—and it's where Porter heads first. "Most people think that they don't have adequate space until we empty the closets," says Porter. Once you've sorted your items into different categories, you can see exactly how much space you need for your "keep" pile. Then you can add in bins, trays, and baskets. "You have to know what you're storing, where it's going, and how big the space is before you can get the right products," says Porter.

J'Jute

Edition Round Set of 3 Jute Baskets, Natural

Maisonette, $248

SHOP NOW

4

Dust more efficiently

Cleaning—dusting, washing, and sanitizing—comes only after things are organized, says Porter: "The less stuff you have, the less you have to maintain. The less you have to pick up, the less you have to wash." When dusting, start in one corner at the highest point and work around the room going from top to bottom. This way the dirt lands on the floor, then you can vacuum it up starting from the furthest corner and working your way toward the door.

Andree Jardin

TABLE BRUSH AND DUSTPAN SET

goop, $48

SHOP NOW

5

Choose sustainable cleaning supplies

If you want to be truly mindful about reducing waste, Blueland's refillable glass bottles are the antidote to single-use plastic packaging—the average home tosses out an average of twenty-five hand-soap bottles a year. And don't forget the reusable towels (this pack has fully converted a goop staffer who was hesitant about ditching regular paper ones).

6

Always. Be. Tidying.

Lastly, adds Porter, "don't let perfection stop you from making any type of progress." Maintaining a clean and organized home takes work—that's why there are professionals and smart products to help. But even carving out thirty minutes a day to tidy, she says, adds up to three and a half hours a week and makes the ritual all the more manageable.