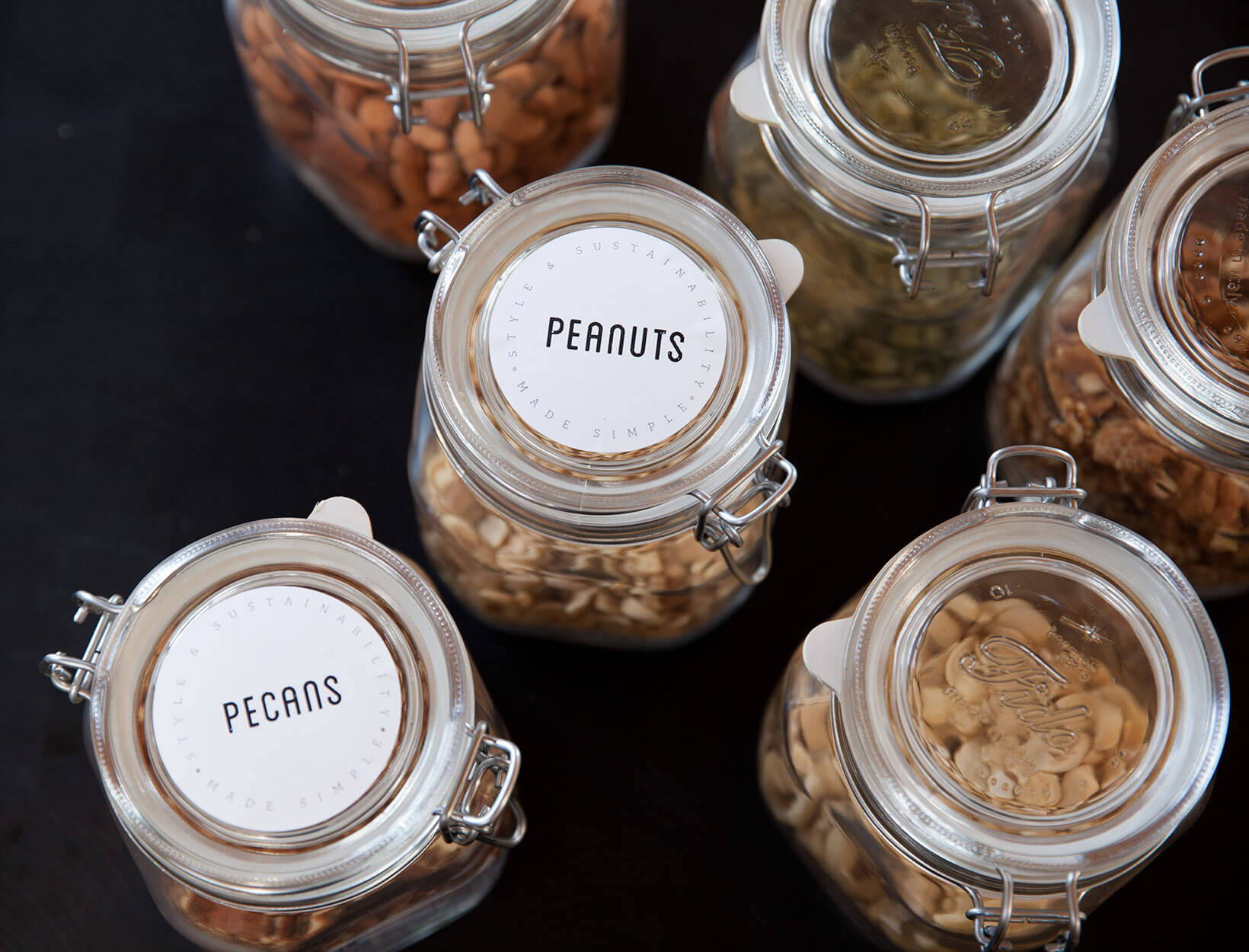 The Pantry Detox: A Brilliant,
Clutter-Free Organizational Approach
We've long been on a mission to cut out plastic packaging in the kitchen, which is a surprisingly tough mandate. For one, it's generally a good idea to avoid BPA in anything that touches your food, besides the fact that single-use packaging is a disaster environmentally, as many food containers are difficult, if not impossible, to recycle, leaving them in our landfills where they'll long outlast our own lifetimes. For all of these reasons, we were thrilled to learn about Blisshaus, an Oakland-based company on a mission to eliminate plastic from every kitchen, via a stunning organizational system that's not only zero-waste, but convenient, gorgeous, and primed to help reticent cooks find effortless flow by zero-ing in on all the essentials. And did we mention that you can save some serious coin by shopping bulk?
So we could experience the full Blisshaus treatment, founder Wiebke Liu (Wiebke grew up in Germany, which helps explain her passion for sleek, streamlined design) trekked down to LA, kit in tow, to fully overhaul the goop kitchen. She started by clearing out all our cabinets and pouring the contents of our myriad plastic containers into her clean glass jars via funnels, labeling each one with its contents and cooking instructions. It's orderly, but also supremely practical, as you can always see how much you have left. For future grocery store trips, Wiebke left us with marked linen bags, which indicate the volume of the jar and allow you to shop from the bulk section, eliminating plastic from the equation altogether. What's better? You can buy the entire kit, tools included, in the goop shop—labels even include the greatest hits from the goop recipe trove. Below, Wiebke's step-by-step guide for building your own Blisshaus-approved kitchen.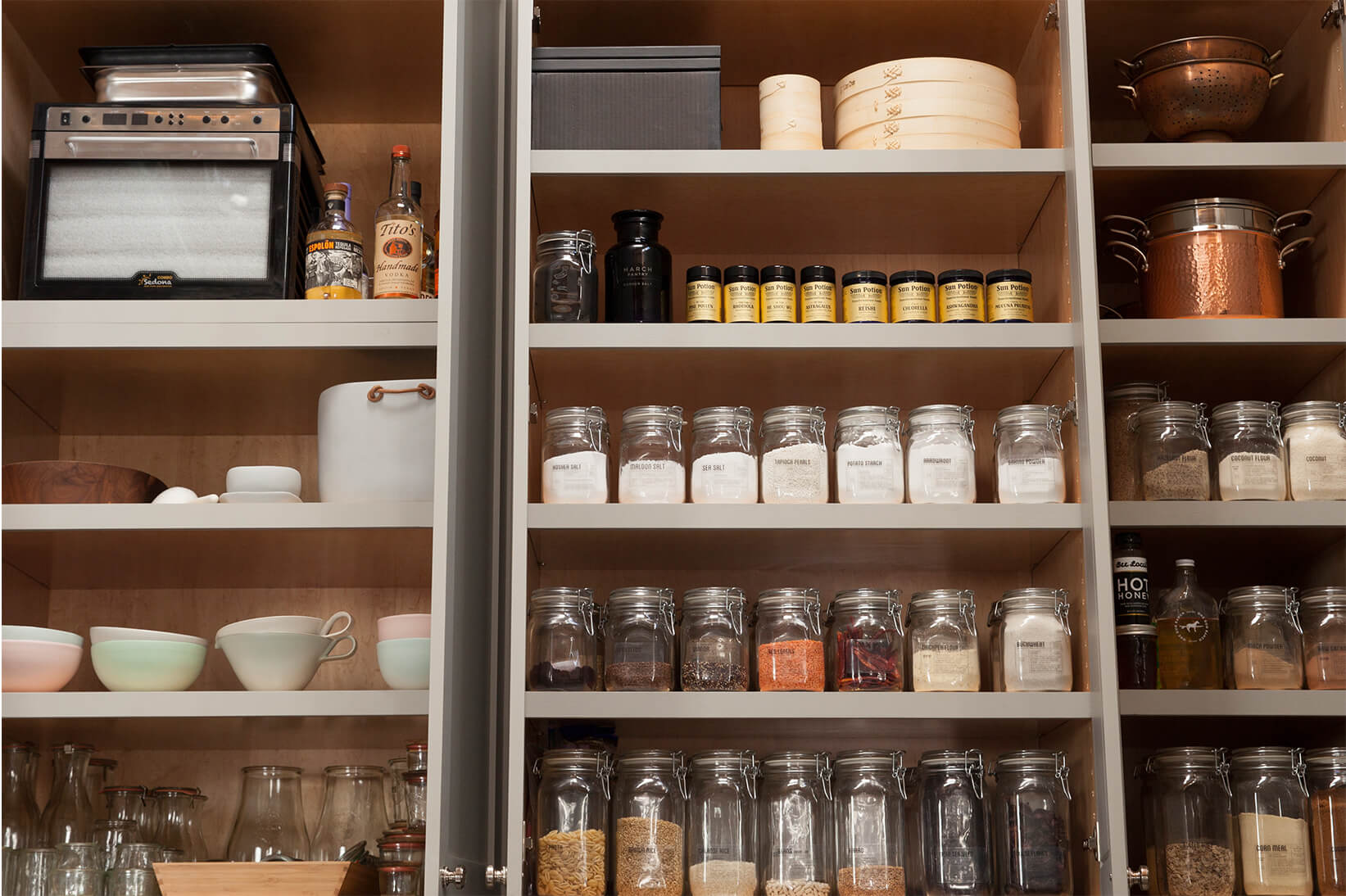 A peek inside the goop pantry. Pictured on the left: Mud ceramics for everyday mixing and lunches, plus glass jars in every shape and size. Center and right: Dim sum materials, the full Sun Potion suite, and Blisshaus-approved storage of every alternative flour we've yet encountered, plus goop pantry essentials like quinoa, almonds, and brown rice pasta.
A Q&A with Wiebke Liu
Q
Can you explain the logistics of shopping in the bulk section? What do you use for dry ingredients and what do you use for things like honey and olives? If you bring glass jars, do you need to know how much they weigh so you're not charged?
A
You can use brown paper bags for your bulk items—and you can write the bulk bin code right onto your bag. That said, if you have Blisshaus grain sacks, just zip on over to the bulk bin aisle and fill them with your favorite ingredients. The Blisshaus fill lines show you exactly how much will fit into your jars at home. The grain sacks are perfect for anything from granola, to nuts, to flours, and even sugars. The sacks can easily be washed in the washing machine—no ironing needed. (That said, we don't typically wash the sack in between runs to the store.)
Most stores ask you to note down the item number of the bulk bin so the checkout clerk can type in the item at the register. Usually, stores offer twisty ties to write the number on, but we prefer to simply snap a photo of the bin label. When you are at the checkout, you can just swipe through your photos.
For special items like honey and olives, bring one or two empty medium jars to fill—just stop at the customer service counter before you fill them to get the jar weight confirmed so that the checkout clerk can deduct the weight of the jar from your total. Blisshaus jars display the empty weight (officially called the tare weight) on the bottom of the jar.
Q
Do many of any of your customers track their cost-savings and plastic reduction? How much are they saving of each?
A
We see amazing cost savings by switching to bulk-bin-plastic-free buying. For example, if you buy Irish steel-cut oats in McCann's (granted, cute) tin, it'll cost you between $7.50 and $9.50. The same amount of steel-cut oats in bulk will run you between $2.50 and $3.00. Most of our customers see cost savings of 30 to 50 percent.
On the plastic savings, it's even better. By buying from the bulk bins, you can cut out between 90 to 100 percent of your plastic bags. The savings that are trickier to track are what you save by not over-spending. Our customers tell us again and again how they shop significantly less after they set up their Blisshaus kitchen. Suddenly, it's so much easier for them to remember what they have at home and to eat those foods first rather than shopping anew. As a result, they finish the foods rather than letting them go stale. Our jars keep food fresher for much, much longer than plastic bags. For example, we no longer toss tortilla chips or cereals since the jars keep them from going stale for weeks and weeks.
Q
For anyone who can't commit to the full Blisshaus treatment right now, what small changes do you recommend to improve organization and reduce waste?
A
Follow our most basic rule: Skip anything wrapped in plastic! It might sound daunting at first, but it's actually quite feasible, with or without Blisshaus jars. The next time you go to the store, pause and see what plastic items you can swap out before checkout. There might be the five pounds of potatoes in a plastic bag—they can easily be replaced with individual potatoes, and your checker at the register will kindly corral them onto the scale with or without a bag. Once you are home, just put them in a wire basket or big bowl inside your cabinet. If you need to buy mayonnaise, pick a brand that sells it in a glass jar. Go for fresh-baked bread in a paper bag from the local bakery instead of the pre-sliced, guaranteed-to-stay-"fresh"-for-the-next-month bread. Bring storage containers to the deli and butcher counters, and ask them to place your meats and cheeses directly into those. Don't feel pressure to be perfect: Even my family isn't 100 percent plastic-tfree. The big exception to plastic-free shipping habits in my house is potato chip bags—we tried to oven-roast chips, but they are just not the same.
Q
For those who have committed, what are your tips and tricks for keeping on track?
A
At the risk of sounding repetitive, there is really just one tip: Skip anything wrapped in plastic. Sometimes this means visiting a few grocery stores. Here in Oakland, for example, there are two different corner stores who carry the most mission-critical items for our family: milk in glass bottles and eggs from pasture-raised chickens. At first it felt like a chore, but by now, my entire family knows and loves the shopping ritual. We always get chocolate at the milk place, and fresh, local fruits and wines at the egg place. And once you push beyond the convenience, you will feel a warming sense of pride inside for sticking to your guns, eliminating waste, and choosing ingredients that are ethically sourced. If we aren't capable of changing our individual behaviors, how can we expect anything to ever change for the better?
Q
What recommendations do you have for applying the Blisshaus method outside the kitchen, for organizing and reducing waste in other parts of the home?
A
By now you can likely guess my answer to this one. Outside the kitchen, we have the same mantra as we do everywhere else: Skip the plastic. It's not always easy, but it is simple. So when you want to bliss your living room, skip the throw pillows filled with cheap polyester and opt for down-filled or wool-filled pillows instead. The same goes for the pillow covers. In your bathroom, swap the shower gel squeeze bottle for a good, old-fashioned bar of soap. Toothpaste can be purchased in glass jars, and if you shave, get an old-fashioned and gorgeous looking razor with steel blades.
Wiebke's Steps to a Plastic-Free Pantry