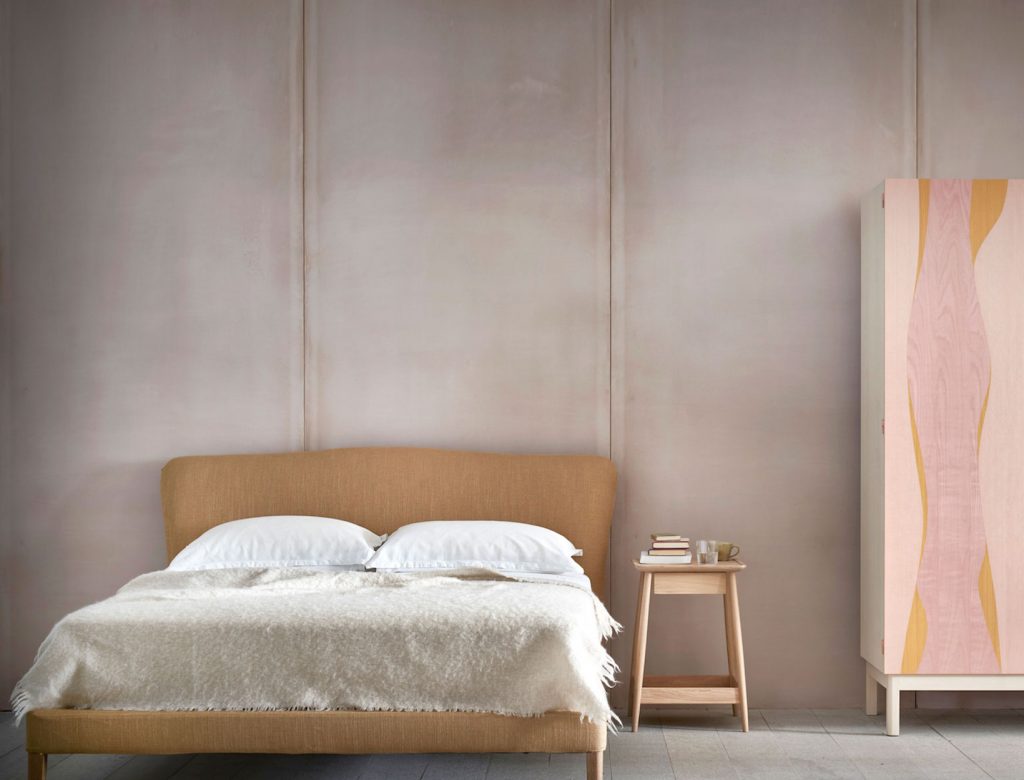 The Gorgeous Furniture Line That Makes Us Want to Lounge Forever
Oona Bannon, a cofounder of the London-based furniture and lighting collection PINCH, dreams of downtime.
"It's my ambition to rush around less, to sit more," Bannon says. Which is why she recently asked her husband and cofounder, Russell Pinch, to create something that would make relaxing easier—a sofa so inviting it "actually keeps me anchored in a spot."
This goal greatly informs PINCH. The organic, pared-back designs illustrate a modern form of creativity that values comfort and experience as much as aesthetic. They're all made of inviting materials, like warm timber wood and natural fibers—exactly the kind of stuff you'd want to lounge on. And they have "human qualities," says Bannon. "They react to humidity, sunshine, rain. You can feel that when you engage with them."
The couple founded PINCH in 2004. At the time, they both had had long careers in design but were growing weary of the industry's intense focus on branding, "rather than how pieces were made or experienced," Bannon says. They decided to set up their own luxury home decor collection, focusing on the process and the impact of the pieces.
The result is a collection with gravitas—and conviction. You want to stare at the perfectly curved lines, the handsome grainy wood, and the plush, cushiony fabrics. There's a quiet confidence in the pieces. They hold their own in any space, whether it's a modern home or industrial warehouse. Or goop London, where gorgeous PINCH furniture anchors the space of our Notting Hill pop-up. Each piece makes us want to lounge in the store—for an entire afternoon. And that's precisely the point.
"We hope it makes people feel," says Bannon. "That it gives them some space and encourages them to linger a little longer."
A Q&A with Oona Bannon
Q
What are the pillars of PINCH?
A
Whenever we design new pieces, we look for three main criteria: strong shape, beautiful materiality, and expert-making craftsmanship. We also want to make sure that our furniture and pieces justify the space. Our world is crowded and intense, and in our minds, the biggest luxury is space, both physically and in terms of space to think. We pare back our designs as much as possible, and in that exercise, we hope we attain a kind of laid-back elegance. We also really work hard to find great makers. So many of our workshops love making our pieces. They enjoy employing the traditional techniques that are often overlooked in the name of efficiency.
---
Q
What led you to create such a pared-back collection?
A
We didn't set out to design simple for simple's sake. It's more that we wanted to respect space and dial up a relaxed elegance. Designing simplicity into product is a massive challenge, because simplicity basically means no extraneous elements, and nowhere to hide an ugly joint or a misjudged ratio. We do obsess about the millimeter, the balance, the rationale—and we are 100 percent consistent in making sure that all these minor details come together to deliver a piece that is PINCH from top to bottom. A chair rail being two millimeters lower than it should be makes me scratchy. But I think this does result in us having a very recognizable design handwriting, because these judgments are mine and Russell's and they extend across the full collection in a united but gentle way.
---
Q
What inspires your designs?
A
Inspiration and design provocations come from all sort of places, some obvious, some less so.
Our Anders light was pinged into life by an image of an undulating underskirt seen in a Lanvin lookbook. The Twig was about how do we bring graphic power and control to a material that is naturally so irregular. Our Joyce started when we thought about traditional optometrist's cabinetry, and our Float tables started when we were looking at fisherman's floats.
But sometimes designs are driven by a feeling. What would I want to feel while sitting at a writing desk: neat and capable or more powerful and elegant? Emotions tend to make quite an appearance and we often describe what we need to do in refining a new product using anthropomorphic references, such as: Where is her waist? Let's trim down those ankles; this feels like she is leaning in too earnestly; she needs to relax her shoulders…
---
Q
How do furniture design and material impact us?
A
I think the majority of people really do react to their environment. And environmental factors strongly dictate how a person feels. If you are sitting under strip lighting all day, that is hard on your eyes and you are bound to develop a tension headache. Similarly, if you sit on a cold plastic dining chair on a winter's evening, you might have a chilly behind. The materials we chose to work with have a depth and warmth to them—we want them to be inviting. Often the material is timber, but our lights are made in banana fiber, and we use chalky Jesmonite that feels wonderfully natural even though it is a (noninvasive) cementile resin. In our upholstery, we make our cushions from natural fiber and feathers, which means they can breathe. We always laugh so much when we do exhibitions and we see people coming up and caressing our furniture. Some people get really into it! So I guess what we are saying is that we hope our furniture makes environments and the people who use it feel welcome, relaxed, and a little nourished.
---
Q
We're so proud to have PINCH at our London pop-up. Can you talk about the synergy?
A
It's a proper curation of things that would make my life better. It's a story of the best in class, be that ridiculously covetable jewelry by the likes of Nak Armstrong, or the refurbished Rolexes in colored stripes, or a very beautiful and affordable bamboo matcha whisk, or the must-have Staub cast-iron cocotte. All these items are created to the best of their creators' ability, and that is always our aim. As long as we design and make these pieces as well as we can, respectful of the resources, the makers, the future, and our clients, I'm happy—and we have done our job well.