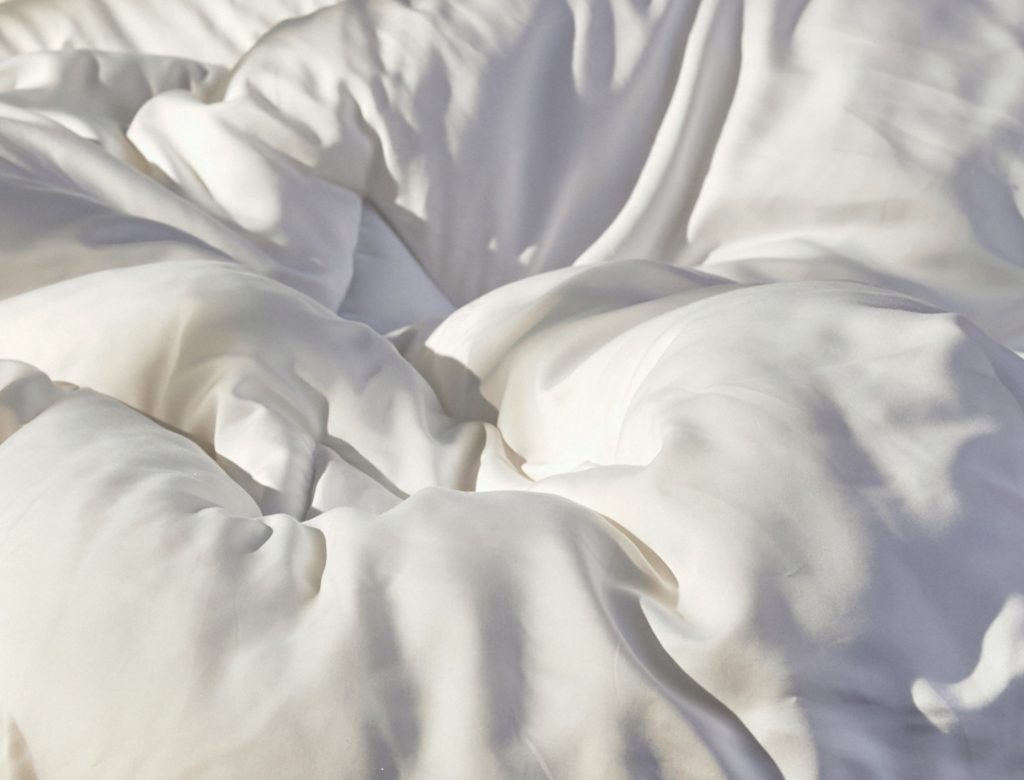 The Cocoon-Like, Sustainable Comforter Reshaping the Bedding Industry
The Cocoon-Like, Sustainable Comforter
Reshaping the Bedding Industry
In partnership with our friends at Buffy
Leo Wang remembers the sound of the looms—lots of them. He especially remembers the constant "ta ta ta ta" of his family's bedding mill in China where he spent a lot of time growing up. Over thirty years, Wang's family built and ran a successful business producing bedding on a large scale for retail giants including Ikea, Walmart, and QVC. It was all he knew, he says, "like water you swim in as a fish."
Going into the same industry himself was a somewhat foregone conclusion. But it wasn't necessarily the way you'd expect. Wang spent his early twenties as a management consultant working on sustainable developments "with clients everywhere from Ethiopia to Saudi Arabia to Pakistan to India." His job was to help them with education and health care. While working in developing countries, Wang started asking himself questions about well-being, comfort, and culture. He wanted to do something more. He wanted to "change people's lives in a way that was sustainable and impacted the comfort they experience at home."
So he left consulting and founded Buffy, a line of incredibly light, fluffy comforters created in his family's mill. But instead of relying on cotton and conventional dyes, Wang used eucalyptus fiber and recycled bottles. Even more impressive: The manufacturing—which Wang calls a "marvel of engineering"—uses significantly less water than cotton manufacturing. The comforters are hypoallergenic, made of earth-friendly materials, and feel as if you're sleeping on air.
Wang's plans with Buffy are to "disrupt" the home goods industry—an industry that has been petroleum-based for too long. The brand is also an auspicious, progressive iteration of a thirty-year-old family craft. Some of Wang's partners today are people his mother and father worked with. "But to be honest," he says, "I never planned on going into [the bedding] space."
The looms might tell another story.
A Q&A with Leo Wang
Q
As you started to build Buffy, what were some of your learnings from the bedding industry that helped you?
A
Honestly, you could say that the bedding industry is lacking. Most bedding today is polyester and cotton. Polyester is a petroleum derivative. We're cocooned in this stuff—in our clothing and our bedding. The common way of dyeing for color is synthetic and chemical-based, which isn't ideal for ourselves, our skin, or the planet. And then there is the cotton. If you're in the textiles industry, you start to realize it's pretty much the enemy. You realize how water- and resource-intensive it is to grow and cultivate cotton and how much of a footprint cotton production has.
You could say that is the problem. The industry was waiting for this direct-to-consumer revolution that we're part of now. My dad and his generation were making products for themselves and Bed Bath & Beyond. For a retailer like Bed Bath & Beyond, or Walmart, or Costco, its whole business model is based on how much traffic it can provide. And the only value is the price competitiveness of the stuff on the shelves. It doesn't allow for much depth. It doesn't allow for a brand to come and tell different stories, actually give people a glimpse into how the stuff that they're buying is made and what's good about it or not good about it. Now we've been able to break free of that and make familiar products as affordably as possible. We've been able to break free of that and tell a deeper story. We're trying to rewrite the way consumers think about these products.
---
Q
And what role does your experience in bedding manufacturing play in this?
A
What really resonates is the way we approach our brand. Growing up in that environment, you become intimately aware of just how many resources and how much energy and human labor goes in and how much material (and waste) comes out. We make 60,000 meters of fabric at our mill every day. That's enough to run up and down Manhattan and then some. My whole point with Buffy was: How can we reimagine that? Our original comforter is made of about seventy recycled bottles out of landfill and the ocean. The company has been able to rejuvenate 7 million recycled bottles at this point.
---
Q
And it's not just recycled materials you're using.
A
Instead of cotton, we use eucalyptus, which needs 90 percent less water to grow than cotton. You have to consider that a comforter is a hundred square feet of fabric; it's not a pair of jeans or a T-shirt. We end up being able to save 4,000 or 5,000 gallons of water for every comforter one of our customers purchases.
The eucalyptus is sustainably farmed in Austria, where another family has actually been perfecting the process to do that for quite some time. They have gotten it down to such a science now they use one natural enzyme to process the raw eucalyptus material into a smooth fiber. Then 90 percent of that enzyme is reused to process more fiber. It's really quite a marvel of engineering. We take that material and move it to our mill in China. The recycled bottles come from landfill and the ocean in South and Southeast Asia, so places like Indonesia, the Philippines, Thailand, India, and Vietnam, where a lot of it tends to either wash up or just pile up. Other companies—like Adidas with their partnership with Parley for the Oceans—source a lot of plastic volume from that region as well.
So that eucalyptus and that plastic basically arrive at our mill, and in that local ecosystem there we take it and turn it into a softer fiber until finally you have this kind of cotton-candy fluff that we turn either into a fabric or the internal fill of our comforter.
---
Q
Why eucalyptus?
A
It's so weird, right? Eucalyptus has been used as a wellness—or at least a natural—ingredient from East to West for thousands of years. My father discovered this material—when people were trying to make something more out of it—about a decade ago. For the longest time it was very expensive. And not only that, but what was produced from it was not very soft or smooth. Over the last several years, we've made an incredible amount of headway into turning this stuff into a really soft fabric. Now you can put our eucalyptus fiber under the microscope, and it looks exactly like a perfect silk fiber. You can put cotton or linen under the microscope next to it, and you'll see there are these natural irregularities and a coarseness on the fiber. We have actually developed a process with our eucalyptus that allows us to shape it into any kind of fiber we want. So of course we chose a perfectly consistent, silky fiber.
---
Q
What do people often misunderstand about conventional bedding?
A
A lot of bedding companies talk about thread count in their sheets. Our comforter has a higher thread count than those premium sheets. We make it this way because it actually prevents microbes and mites and other kinds of foreign organic bodies from living in your bedding. If you think about it, your bedding is a perfect place for microbes and bacteria to thrive. It's got great moisture; your dead skin is collecting in it. It's a bonanza for all kinds of pests that we don't like to think about. We take this pretty seriously. You're breathing into your blanket every night.
The kind of dust mites that collect in down bedding are really quite disgusting and not great for respiratory health, so we want to make something that naturally resists that. Which is why we use eucalyptus: It has these antimicrobial properties.
Also, so many of us sleep in chemically and synthetically dyed sheets. And a synthetic chemical dye is often going to come from a petroleum derivative or substrate, which is the easiest, cheapest, and most effective way to make a lot of this stuff. And so often, we don't even think about it. Maybe we just love the print and we throw it on our beds. And we—along with our loved ones, our babies, our fur babies—are just rolling around in this stuff, wrapping ourselves in this stuff night after night.
---
Q
Will Buffy be expanding?
A
We have a lot of bedding products coming out this year. We're making this sheet set that will be naturally dyed from a host of botanical ingredients that you'll feel excited to wrap yourself in. Things like pomegranate peel and walnut husk and geranium petals. All of these incredible ingredients that just show our customers that they can reimagine what you have accepted for so long. That's the kind of thing we're really after as a brand.