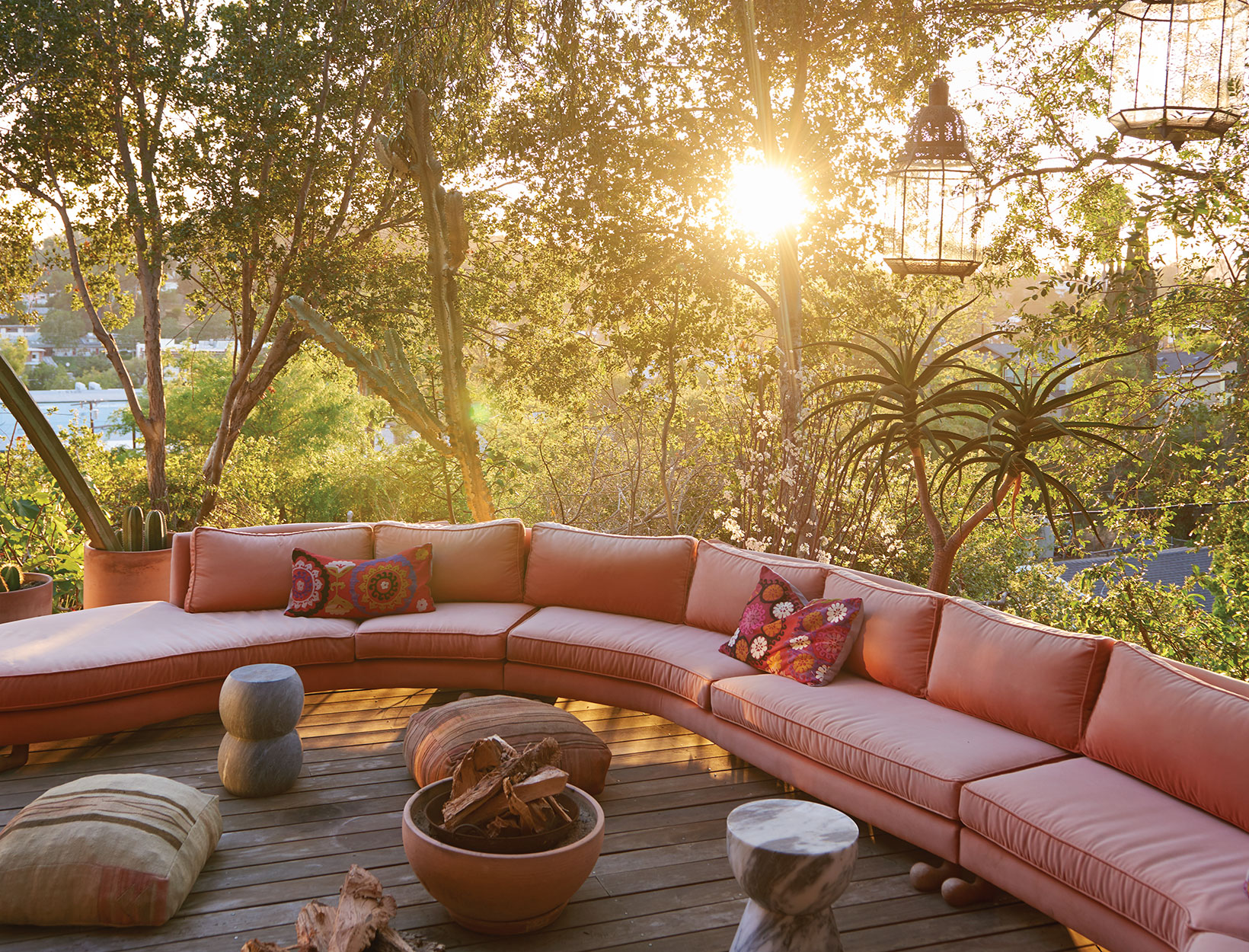 Summerize Your Space
"Summerizing" is a year-round pursuit for top San Francisco designer Darren Brown, and it makes a lot of sense, right now in particular: "Our lives have become increasingly informal as we continue to shelter in place," he says. For Brown, the term "summerize" calls to mind warm-weather tactics used by the Victorians, who slipcovered dark, heavy upholstery with crisp cottons every year as the seasons changed. Brown's summery approach involves working with your current surroundings to make them more comfortably and even luxuriously casual. His tips—along with a few from goop food director Caitlin O'Malley—focus on making time spent at home easier, more relaxing, and above all, delightful.
Tip 1
Lighten up with
color and texture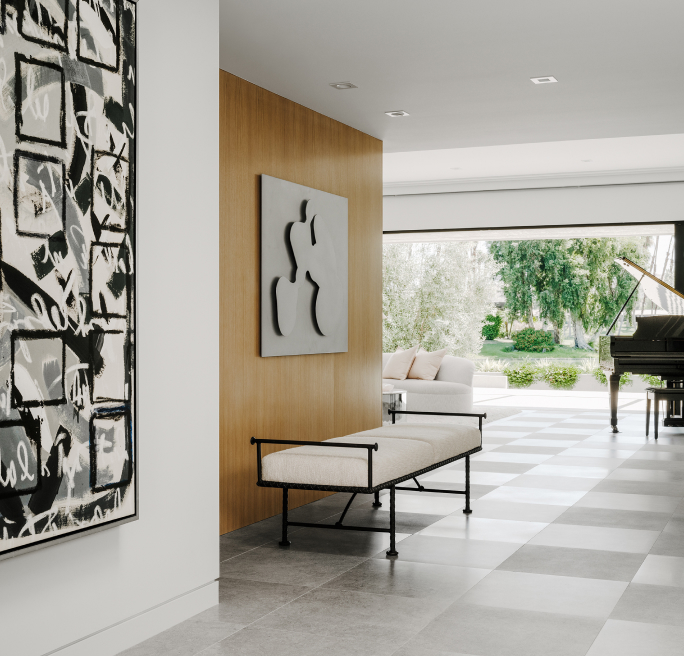 Brown, the former interior design director at Jonathan Adler (he headed up the design of the Parker Palm Springs, a revamped midcentury retreat that's a goop favorite), says that summerizing your home doesn't have to be a major overhaul. "White sofas can do wonders [Brown designed the interior pictured here], but it can really be as simple as changing the bedding and towels to spa white," he says. These Morrow linen sheets are so comfortable, you will pinch yourself every time you slip between them (truly, the sensation of the linen against your skin never gets old). And they always look chic, too—ironed or rumpled and beautifully natural. A stack of fresh towels makes life easier and is visually soothing, too—we love the incredibly soft, 100 percent organic, fluffy but substantial towels from Coyuchi that just feel amazing to wrap up in. Or mix white with stripes for a relaxed, Italian-villa-garden vibe.
Tip 2
Simple is elegant
Along similar lines, O'Malley has put away the goblets and even the standard wine glasses for the time being. "We've all been having a little more wine," she laughs. "All during lockdown, we've been drinking amazing low-sulfite wines made with organic grapes from The Wonderful Wine Co., and everything we've gotten has been incredibly delicious. We've tried reds, whites, oranges, and rosés, and truly, we've never been disappointed. It's also a more sustainable option: The wines are bottled in lightweight glass—which requires less energy and water to produce—and shipped in compact recycled-material boxes." She serves the wines in chic low glass tumblers from R+D Design Lab. "It's not the moment for fussing over different stemware for different varietals," she says. "These glasses are so simple and elegant, and easy feels luxurious right now."
The Wonderful Wine Co.

WONDERFUL WINE COLLECTION

The Wonderful Wine Co., 3-bottle pack for $60

SHOP NOW
Tip 3
Eat outside
Whether you're dining in your backyard, on your fire escape, or in a park, prep for it as you would a picnic, says O'Malley. "Bring out extra water in glass bottles, serving utensils, and extra cloth napkins so that no one has to go back inside for stuff. That always drives me crazy and kind of takes me out of the experience of being outside." Other things to consider: "Are you serving olives?" she says. "If so, bring a little dish for discarding pits. Likewise for watermelon rind and pistachio shells. Don't forget a corkscrew (or bring a screw-top bottle), and bring an extra bag for trash."
Tip 4
Decorate with fresh herbs
"I go through Italian parsley like crazy," says Brown. "So I buy multiple bunches and keep them on the dining table in water as an arrangement." You can do the same with fresh mint for drinks, basil for salads, and so on.
Tip 5
Make your water delicious
O'Malley likes to keep big pitchers of citrus-and-herb-infused bubbly water on hand. "I make this for my husband when he's doing yard work," she says. "I start with this big carafe full of ice, then squeeze half a lemon, half a lime, sometimes an orange or grapefruit wedge if I have it, and then a few mint leaves—which I slap between my palms before adding, to release their essential oils—then I top it with bubbly water that I make in the Aarke. Sometimes I add a pinch of salt; I heard it can help with dehydration. He says it's his favorite recipe of mine, which is both infuriating and charming."
Tip 6
Scent your home with gorgeous essential oils
"Transforming your home's vibe is as easy as changing from, say, a complex amber scent to a more citrusy one," says Brown. If you love citrus, the Orgasm candle from Heretic x goop has your name on it; if you crave something warmer, goop's Orchard candle smells of sun-warmed apricot, fresh hay, and dry earth.
Tip 7
Don't get too comfortable
While Brown has embraced the casual spirit, he continues to keep some routines in place. "I insist we dress for dinner—sometimes in caftans—and I like to make dinner a destination," he says. "For instance, I have coined the term 'pasta Friday'—really as a way to limit pasta to one day a week. A real hit."
---
We hope you enjoy the products recommended here. Our goal is to suggest only things we love and think you might, as well. We also like transparency, so, full disclosure: We may collect a share of sales or other compensation if you purchase through the external links on this page.