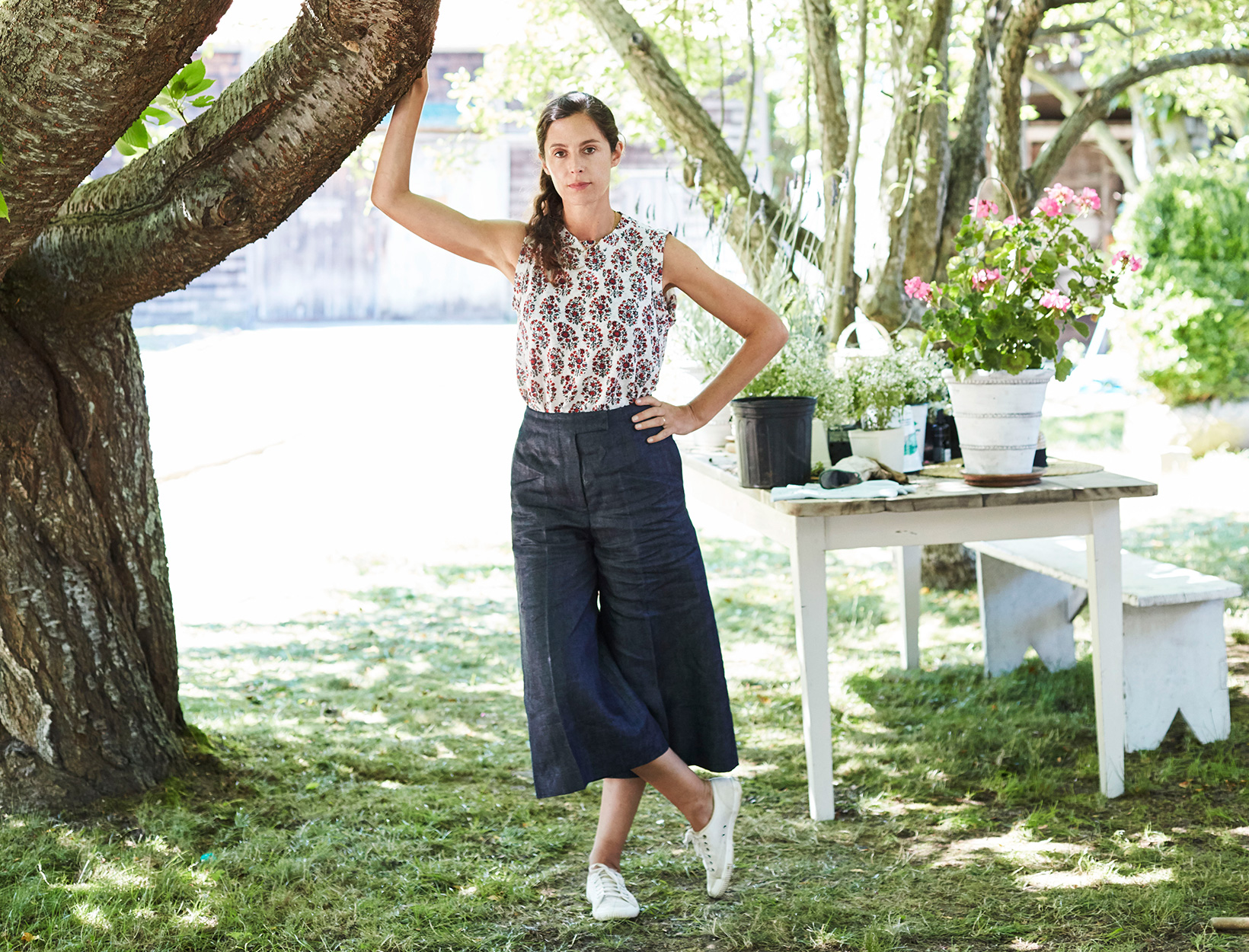 Photo by Ben Fink Shapiro
Simple Gardening Rules
to Spruce Up Your Space
We lucked into a pretty fabulous space for our summertime pop-up store, goop MRKT: The oldest house on the main road through Amagansett, it's sun-scrubbed and quietly beautiful, tucked between a few trees and some charming old (though not quite as old) buildings. Out back, the garden space hadn't been worked in years—so we decided to give it some love.
Enter Miranda Brooks, the Vogue contributor and landscape artist. A U.K. native and a chic Brooklyn mom of two, Brooks is famous for subtle-yet-glorious combinations of formal structure with more freewheeling, naturalistic plantings, with clients ranging from Anna Wintour to the Rothschilds and the Guinesses.
Unlike some of her more-epic undertakings, our space was small—but somehow, Brooks has managed to make it feel both grand and intimate. "It's tiny and lovely, a private space and public one, and luckily it had some mature elements to balance out the new," says Brooks. "The garden's not a pop-up, so it wasn't about trucking in a bunch of annuals—we wanted something that would last."
We couldn't be more pleased with the resulting garden—we've had parties in it and just plain lain about in it—it's pure heaven. Inspired, we asked Brooks to give us her favorite gardening rules, no matter what size your space:
For our garden Brooks started with two large boxes. "That set up a simple structure," she says. On one side of the house she planted a full, walk-through-it bed, screening some not-so-beautiful aspects with native bayberry, then establishing looser plantings, with roses and a few annuals like dahlias. "I love to use native plants—it gives an instant sense of belonging and familiarity," she says.
There are also charming raised beds for vegetables, herbs, and fruits. "It's fun to eat your way through the garden—even more fun than just smelling your way through," says Brooks. "We did lots of herbs because I imagined people picking them and bringing them in for the shop—mint and basil and lavender, that sort of thing, plants that smells great."