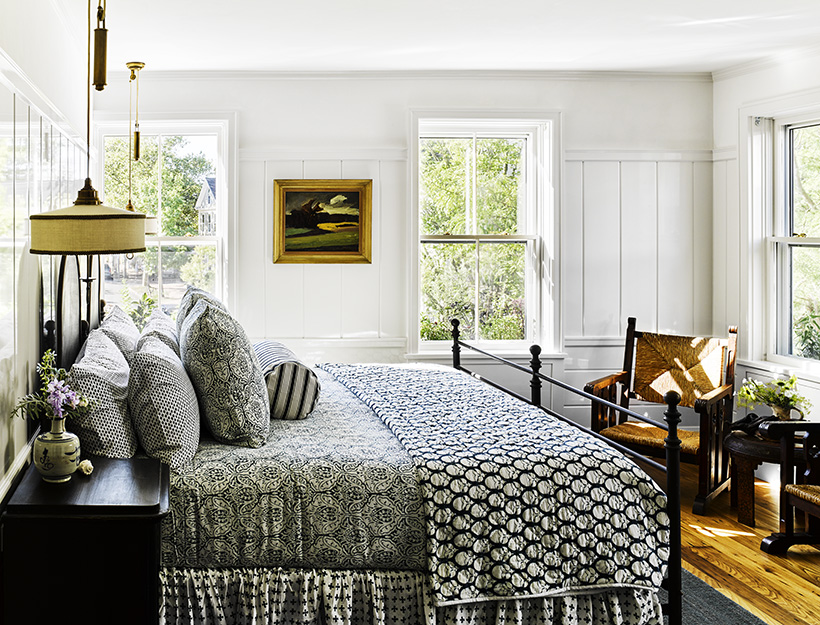 Roman and Williams's Nantucket Venture
One of the closest things to Nantucket, weirdly, is the eastern tip of Long Island. Designers Robin Standefer and Stephen Alesch, principals of the worldwide design phenomenon Roman & Williams Buildings and Interiors, as well as partners in life, have had a home in Montauk for years and were thrilled at the prospect of designing in such a similar—and singular—low-lying Eastern coastal landscape. "It's funny, you can fly from Montauk to Nantucket in under an hour—they're these sisters in the middle of the ocean," says Standefer.
The two pretty much reset the reigning aesthetic in interiors and transformed the hotel industry when they designed the original Ace Hotel. How they've evolved from that success doesn't follow the typical blow-it-up-as-fast-as-you-can American business playbook. If they were movie stars, they'd be picking their projects carefully; if they were a boat (more on this later) they'd be a vintage Chris Craft as opposed to a cruise ship.
"The work we've done with GP, especially her Tribeca apartment, has helped move what we do forward," says Standefer. "The lightness in that space, the textiles, the shiny surfaces—it's been kind of important in the big picture of where Stephen and I go creatively—it's advanced our work and our aesthetic." The project absolutely informs a new, just-opened Roman and Williams design on Nantucket: The Greydon.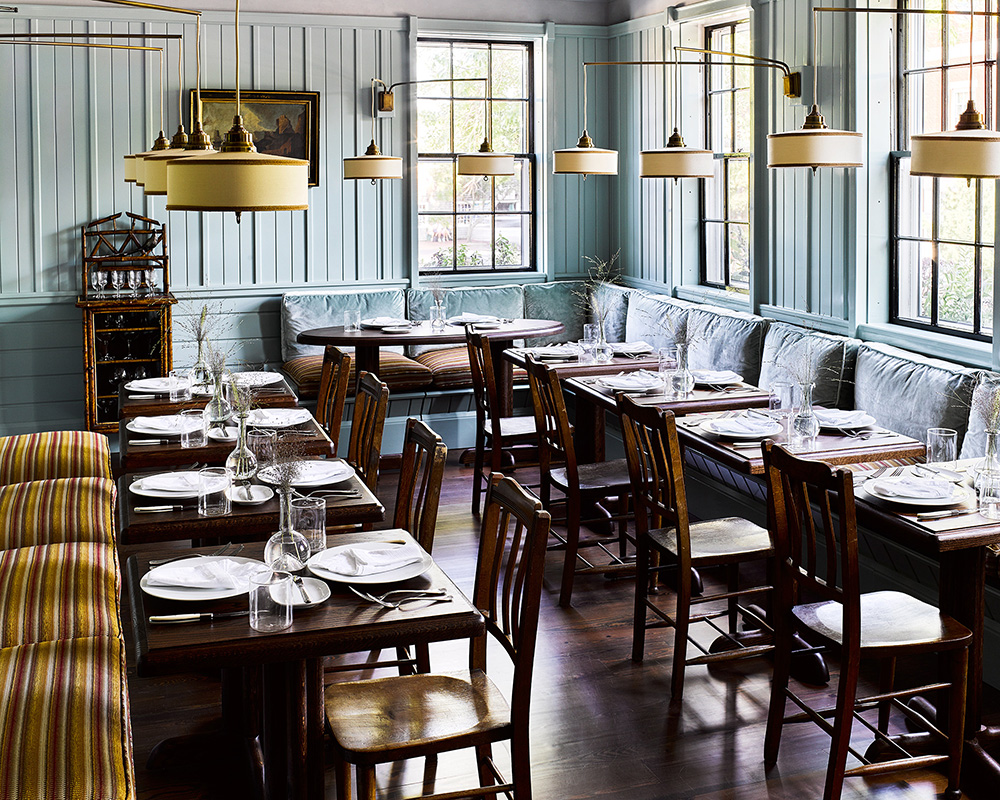 The all-American, 70s-bed-and-breakfast aesthetic of many Nantucket hotels was not something the two wanted to repeat; nor were they interested in the cheerful modernism of "boutique" hotels the world over—or, perhaps the most expected, Ace 2.0.
"You can end up being a product of your own success, and what people expect our Chapter, 2 to be—a supersized or even just a repeat of the Ace in some new place—it's not for us," says Standefer. "So we chose love over money! What we love is making spaces that engage you, tease out a narrative that's contextual to a particular place—and you rarely see outside of residential work."
To that end, the Greydon—an 1850s Nantucket house in the center of town with some serious but Nantucket-approved additions—got both designers, who've been working on a new wing of the Metropolitan Museum of Art devoted to British decorative arts—excited. "Nantucket, in the 18th century, was this huge port—it was a center for the whaling industry, with this unbelievable prosperity: It was about whale oil, and Moby Dick, and shipping, to be sure," says Standefer. "But it was also this global trading empire on many different levels, so there were objects and textiles and spices and influences coming from everywhere: China, India, Africa…" The design team spent a great deal of time at the Peabody Essex Museum in Boston, absorbing everything they could about Nantucket history.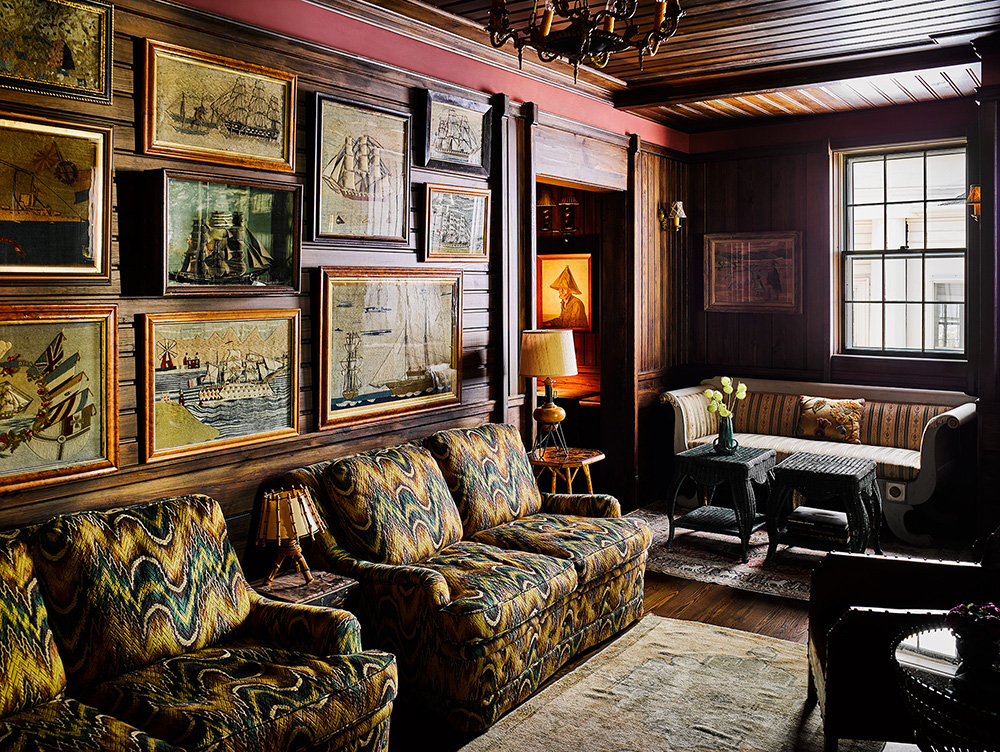 Standefer was particularly intrigued by the women on Nantucket: "I love a lady story!" she laughs. "For years, these women were practically the only people on this island. They'd live alone for years, while their partners were out at sea."
The setting itself, of course, loomed large. "We're very nature focused in our lives, so while the hotel's in the middle of town—not out by the dunes, not out in the windblown, rural parts—we're unquestionably inspired by it. You can't not be—the smells, the tastes, the bounty of the land and sea… oysters, fishing, those masses of deep-red sea roses, the crazy funny blue of the sky…"
As the team dug in the history and the context, "We all went a little mad with it—we always do," says Standefer. "Discovering what texture and colors are relevant, what forces would have informed an interior—it's so much more interesting than 'oh let's just buy a nice light'. With Tanya Jonsson, our incredible director of sourcing, we just all started tripping out, enjoying the ride." Standefer says the sky blue, along with the blue verbena translated to the blue velvets in the dining room, while the island's meadow cranberries, informed a frieze of deep red plaster over the top of the bar: "We were thinking of a slightly old, rotted cranberry, you know? Nantucket's so seasonal—it's about a cycle of life."
When they discovered that the developers' family had an incredible art collection, things started getting really good: "They had all these wonderful paintings, and they also collected these things called woolies—unbelievable embroidered/woven pictures, mostly of ships, that were made by wounded World War 1 soldiers as they languished in military hospitals in both England and America."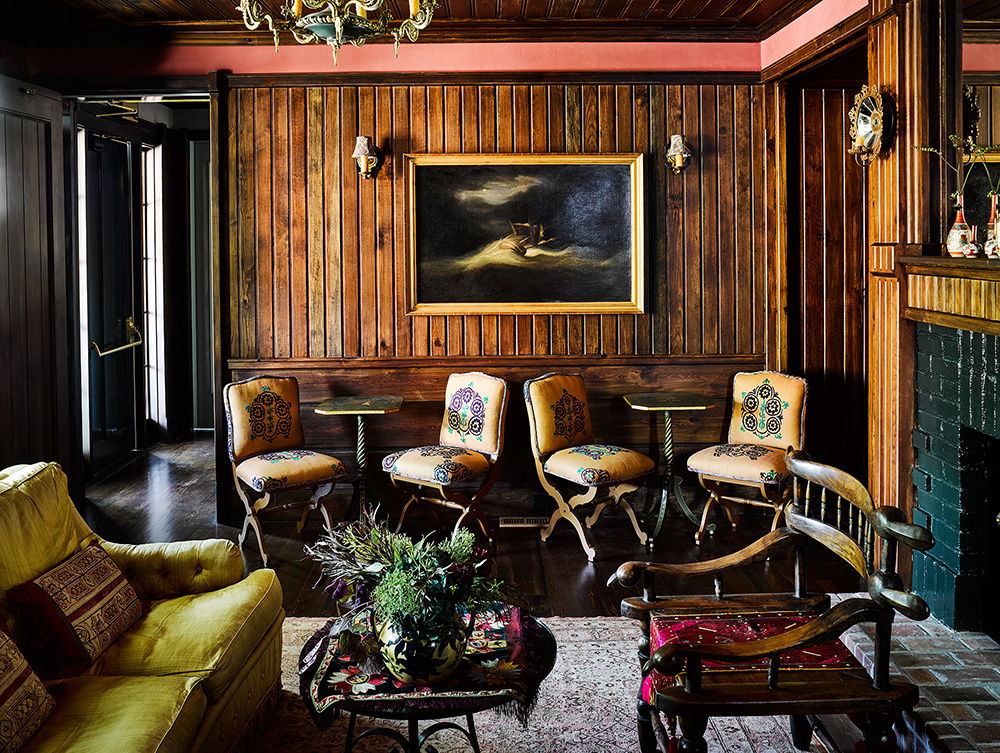 The process of creating most of the interior architecture involved reimagining more than restoring, notes Standefer: "We'd reconfigure something to save some floorboard, but it was really a reinvention." Alesch found old-growth pine that inspired what's essentially the living room, which is tightly paneled like the interior of a ship, then all but wallpapered with gorgeous paintings, including the treasured "woolies." A yellow satin sofa, chairs from Africa, French stools mix easily beneath all the paintings. "We ran wild with the bar, we got Dean Barger to create a mural based on a piece by an unknown painter in the Peabody Essex—that mural is like this gorgeous window to the Eastern world, all those exotic influences," says Standefer.
The depth and smokiness of the living room and bar contrast with the silver-blue-bright dining room. "We love to balance masculine and feminine," says Standefer. "So that room, we brought in all these velvets and the shiny blue paneling for this lighter feeling."
It gets even lighter and brighter upstairs, in the guest rooms, where Standefer got to indulge her "lady story" even more. "I was feeling those Nantucket ladies in the private spaces," she says. "We designed these sort of feminine metal beds for the rooms, and then we worked with Les Indiennes, creating different patterned textiles for every room. In the bathrooms, there are Roman and Williams for Waterworks faucets, "brass so they're a little seafaring," says Standefer. "We're continually using the references from this trade narrative, so we brought in tiles from this Portuguese artisan in the showers, drew a seascape."
On the other end of the private-public spectrum, the exterior conforms to the famously strict Nantucket architectural codes, but it's plotted to blur the lines between indoor and outdoor. "We've got a real porch; and we worked with this brilliant Nantucket landscaper, Marty McGowan, to create layers of florals throughout the property. We were like, it can't just be hydrangeas and geraniums."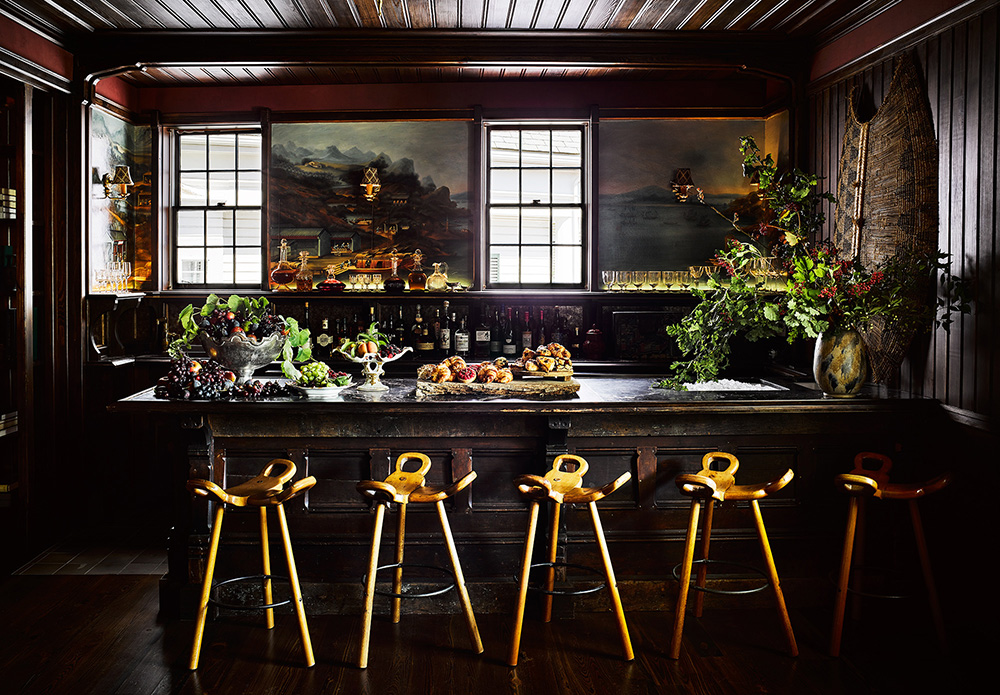 Not that hydrangeas and geraniums aren't a gorgeous part of the Nantucket surroundings; Standefer and Alesch just like to go a little deeper: "We hoisted this challenge onto ourselves: How do we not make this not-obvious, not-too-Americana, yet charming and not afraid of romance and beauty? How do we make it smoky and complicated and awesome? What is our next chapter? (Um. After the Greydon, we hear it's a store, coming next year, to New York: Roman and Williams Guild. "Like everything we do, it's a bit of an experiment, a mix of things and people we love," says Standefer.)
That the projects with GP served as something of a precursor brings everything full circle for Standefer: "All that beautiful femininity," she says, of the Tribeca apartment. "As our practice evolves, you see how everything's connected. It's funny, GP was talking about the Greydon House project, and she was like, 'Oh, Nantucket, I went there so much as a kid, it's so beautiful there,' and it just seemed poetic to me, the way one thing leads to the next."
A few weeks ago, in the final finishing stages, Standefer stayed at the hotel for a couple nights. "We always do that, to see how things really work," she says. "And I had another poetic moment—the kind that never happens to me. I was taking a shower, and I was looking at these scenes of these ships on the high seas painted on the tiles, and all of a sudden it just seemed so cinematic: The water's hitting me, and I'm taking in this simple drawing of clouds and water on tile, and it really took me somewhere. I hope it has that an impact like that on other people."