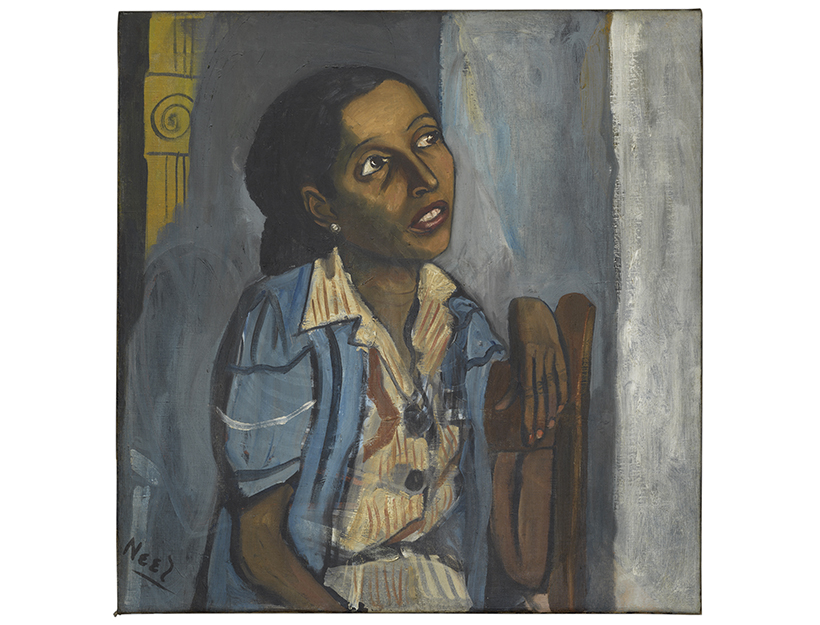 Real Beauty and the Paintings of Alice Neel
The beauty of a portrait—an artist's perspective on a particular person—is especially poignant in our age, where so much of visual culture is about self-perception and definition. But the portraits painted by Alice Neel—a white artist who moved to Harlem in the 30s and broke from the traditions of Western art by painting people of color, from her friends, lovers, and neighbors to prominent political and thought leaders—would speak to anyone, no matter what the time period they were living in.
Especially from the walls of the gigantic and beautiful show, Alice Neel, Uptown, at David Zwirner Gallery in New York curated by the brilliant Hilton Als, whose text, objects and choices illuminate Neel's graceful determination to live her life the way she wanted it.
If you're anywhere near New York City before the end of April, go, to remind yourself how beautiful each individual person (you, for instance) is. While we concern ourselves with the minutia of our faces and bodies—is this concealer completely erasing my breakout? is that a wrinkle??—what everyone else around us sees is our essence, our whole. Walk around that gallery for even a single minute and you'll get it: Food for the spirit, the soul, the confidence.
After you take that in, wander further and get the full incredible context of Neel's life, as beautifully told by Als: That life, and the art it resulted in, reminds anyone—everyone—that doing things your way is really the only way forward.
Alice Neel, Uptown runs through April 22, 2017
Above: Mercedes Arroyo, 1952
Oil on canvas
25 x 24 1/8 inches (63.5 x 61.3 cm)
Daryl and Steven Roth Collection. © The Estate of Alice Neel. Courtesy David Zwirner, New York/London and Victoria Miro, London