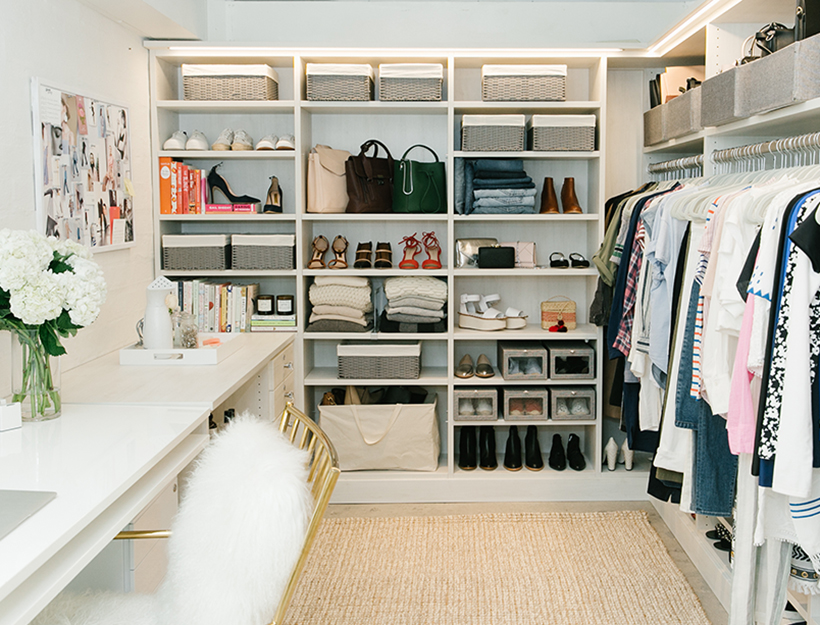 Organization Tips from the
goop Fashion Closet
In addition to—or maybe as a result of—being our ultimate voice of authority on all fashion-related topics, goop fashion director Laurie Trott is something of a genius when it comes to closet organization (see her tips for a major overhaul here). Her biggest piece of advice? The closet should be a place where you actually like to spend time: organized, well-lit, and a representation of your unique style. Admittedly, the goop fashion closet hasn't historically fit that description, so we were more than a little excited to team up with our friends at The Container Store to give it a long-overdue facelift. Below, some pictures of the gorgeous new space and custom-built closet courtesy of TCS Closets, plus Laurie's tips for general closet organization, which apply whether you've got a big, roomy walk-in or a makeshift corner in a studio apartment.
Rule #1: Size Matters

Make efficient use of your space by sorting both hanging and folding items by size. After that, sort by color: In addition to looking beautiful, this cuts down on the amount of time you spend trying to locate specific items.

Rule #2: Invest in Good Hangers Invest in uniform, velvet hangers that don't take up too much rack space. We like this Huggable version, so you can convert pants hangers to shirt hangers and vice versa. Also great: They are non-slip, so tank tops and bra straps stay put.
Rule #3: See What You're Working With

Place the staple pieces that you wear most often at eye level, so they are easy to pull out when you want to wear them, and simple to put away at the end of day, after a laundry session or trip to the dry cleaner.

Rule #4: Add Some Inspo

Your closet should be a place where you enjoy spending time—in support of that goal, add books, knick-knacks, flowers, and a few luxurious beauty products to the mix. A bulletin board with inspiration photos is useful in moments of crisis (and when you're purging items that no longer gel with your aesthetic).
Rule #5: Bag It

Save all your dustbags for shoes and handbags in one specific box or bag. Tip: Always store patent leather shoes in separate dust bags, to protect them from sticking together and scuffing one another. If you have the space, it might be worth it to save original shoe boxes (which increases re-sale value).

Rule #6: Get Your Shoes in Order Organize shoes by category; if you have space, use stackable shoeboxes. Shoe containers with a clear window (like The Container Store's Drop-Front boxes) do away with the need to open every shoe box to find the pair you're looking for when you're already supposed to be out the door—but you can also tape a digital photo (or, old-school: Polaroid) to the outside of your shoeboxes so you know what is what. Another pointer: Stuff the toes of your dressier pairs with tissue paper.
Rule #7: Be Your Own Stylist

Have a designated garment care area with a hand-held steamer, safety pins, needle and thread, topstick, low beams, a lint brush, and Shout wipes at the ready. This will make it so you rely less on the dry cleaner, and so you're better equipped to sew on a suddenly loose button at the last minute.

Rule #8: Take Better Care of Your Bags

Stuff purses with bubble wrap or the dust bags they came wrapped in. Or, if you're tight on space, use out-of-season items to fill your bags, like tights or scarves in the summer.

Rule #9: Keep Pieces of Jewelry Separate It's all too easy for delicate jewelry to end up strewn about, where it's vulnerable to getting lost or forgotten. Thin drawers with built-in separators (like The Container Store's Velvet Accessory Tray) keep tangles at bay, and ensure that you can always see everything in your collection.
Rule #10: Play Favorites Find a way to put your favorite pieces (sparkly shoes, special-occasion clutches, anything that makes you happy) on display. On the flip side, having an organized closet also makes it simpler to recognize the pieces that you've outgrown. And while spring cleaning can be a massive headache in a disorganized space, going full-on Marie Kondo is a breeze—and even fun—in right closet.
Photographer: Angi Welsch