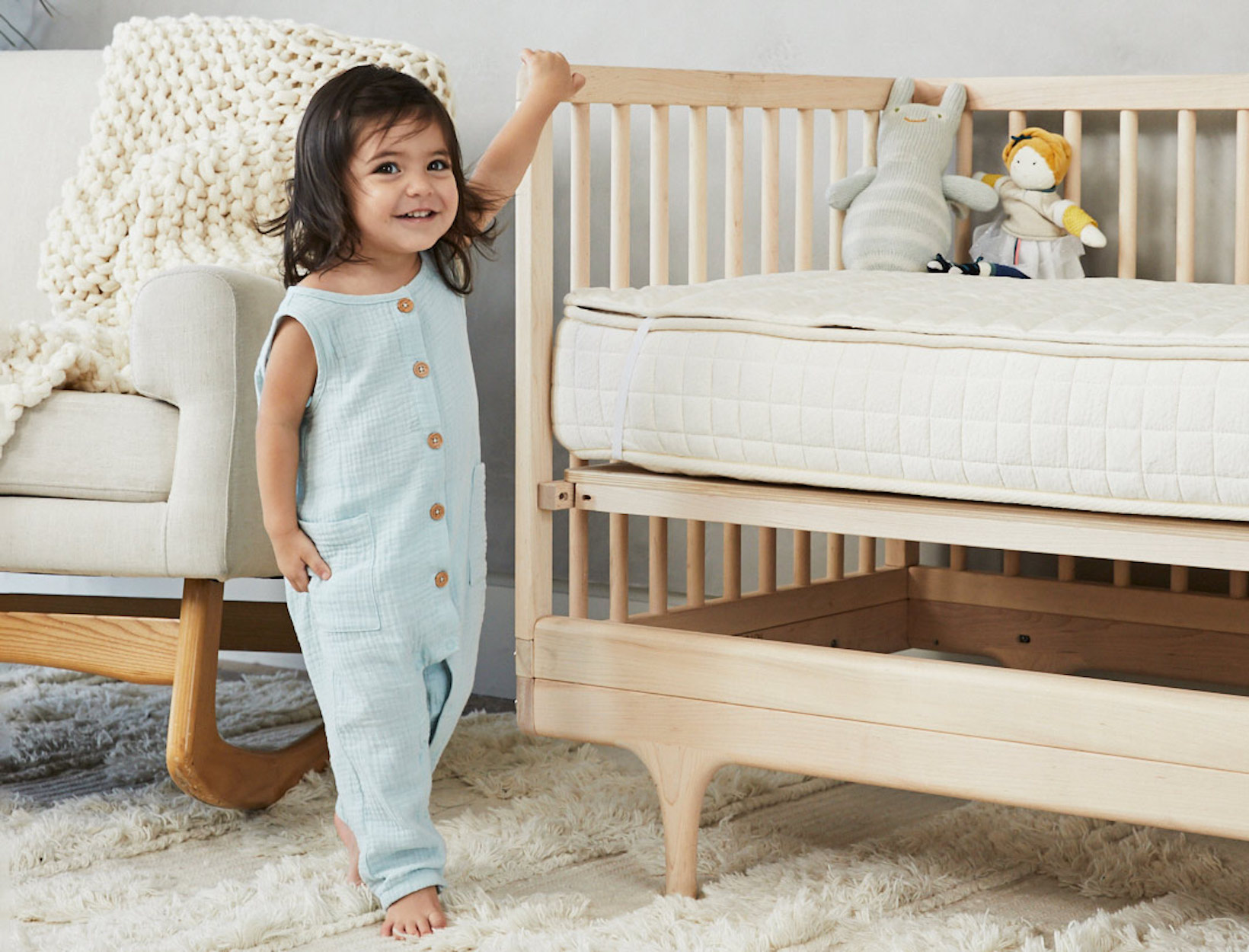 9 Essentials for a Healthy Nursery


In partnership with our friends at Avocado Green Mattress
Pale-painted walls. Stuffed animals. A rocking chair. A baby nursery should evoke ease and light, coos and soft sleeping sounds. Which is why everything that goes into it deserves the utmost scrutiny to make sure it's all clean, healthy, and efficient. And if a key element works double time—say, an indulgent organic mattress or a multifunctional nightlight—that's even better for baby (and for you).
1

Clean Sleep

The pillar of a clean, healthy bedroom is a clean, healthy mattress. Everything that goes into its making, from the materials to the intention, should be understandable, simple, and straightforward, much like our food. This we learned from Alexandra D'Andrea, a cofounder of Avocado Green Mattress, and it's a guideline we try to follow as closely as possible. For the nursery, Avocado's crib mattress meets the same strict standards its adult versions do. It is sustainably handmade with GOTS-certified cotton and wool, GOLS-certified latex, and coco fiber, so there are no harmful chemicals or endocrine-disrupting off-gassing. And then there's the brilliant two-sided design: One side—marked "infant"—is firmer to give newborns the support they need. The other side—marked "toddler"—is a little plusher, for tossing and turning toddlers.

2

Tip Top

A GOTS-certified, moisture-resistant, impeccably made crib pad to protect to protect the mattress from stains, leaks, and spills. It's helpful to keep an extra on hand in case a quick change calls.

3

right
light

Sometimes the smallest, most simple-looking things can have the greatest impact—on our sleep, mood, peace of mind. This sleek nightlight/monitor/sound machine is like a little magician pulling out endless tricks. The light is customizable, offering a range of soft hues for sleep and relaxation. It has a two-way monitor that allows you to listen in and talk to your little one. And it plays soothing sounds to help ease fussy babies and restless minds. Control whatever you need it to do from your phone—or hand off the work to Alexa, if you feel so inclined.

4

Little
Green Minds

Storytime can be inspiration for the future. A place for littles to dream, explore, and learn what's possible. A colorful, beautifully illustrated hardcover, The Little Blue Planet unpacks the hard reality of climate change in an approachable and heartfelt way, buoying kids to do their part to honor the oceans, forests, and sky. Each book is made of 100 percent renewable resources and comes with a fun poster that can serve as a continuing reminder to consider the earth. All book profits are donated to 1% for the Planet, a global environmental nonprofit. It's a heartfelt story with an honest mission.

5

So Soft

Babies' skin deserves to be pampered with the most soothing products. This Baeo kit includes all the essentials for bath time and beyond, giving sensitive, young skin the nourishment it needs to stay supple and hydrated. There's an ultragentle hair and body cleanser that won't strip; a thick, buttery cream made with olive and avocado oils; a moisturizing face stick to give tiny cheeks and chapped spots extra love; a diaper balm that's a blend of nine nurturing oils and beeswax; and a little lip balm. In addition to all the skin goods, there's a snuggly little blue bear made of GOTS-certified materials.

6

D-fense

A daily 400 IU supplement of non-GMO, organic vitamin D3, easily dispensed via a sleek dropper. The solution is free of gluten, lactose, and other common additives and allergens.

7

cuddle bug

Two plush hooded towels and two extra-fluffy washcloths—all made with GOTS-certified cotton—for ample postbath coziness. Keep one set in the in the nursery and one in the bathroom for whenever a soft towel is called for (which, with babies, seems like all the time).

8

Perfect Fit

GOTS-certified Turkish cotton. A medium-weight, super soft jersey knit. Durable stitching that withstands wash after wash. In sum: This sheet is the best companion for an organic crib mattress.

9

Body
Guard

A mother of three made this clean SPF, which explains why it works so well. It's fragrance-free, which means no icky, irritating sunscreen scent. And it's made with rose hip, sea buckthorn, and argan oils for hydration. Best of all, the non-nano zinc oxide formula glides on without any white residue—protecting skin for up to eighty minutes. Best to keep one near the door or in the diaper bag so it's always with you on the go.

10

well contained

Little ones need little things—tiny socks, mini lotions, small snacks, petite wipes—and all those little things can get scattered about and easily lost. Which is why convenient catchalls for stashing and carrying are a must. These colorful bags are made from food-grade silicone that's free of latex, PVC, and petroleum—and they're dishwasher- and microwave-safe.