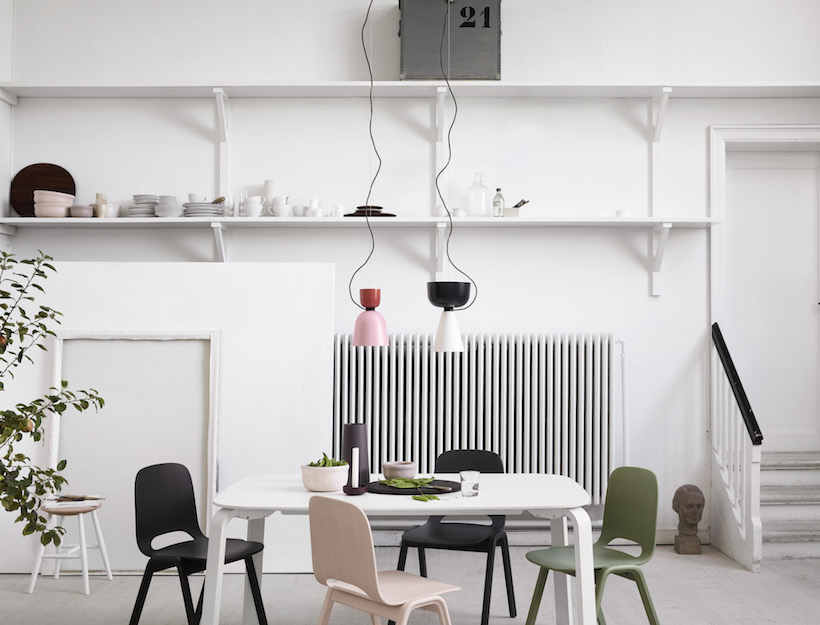 London Design Festival Highlights
While the fashion world crowds into the BFC Show Space for fashion week, design lovers are hoofing it across the city for the London Design Festival (September 19-27), which is for the most part free. Now in its teens, stores, galleries, and museums from Shoreditch, to Mayfair, to the duly named Brompton Design District all participate, featuring the most cutting-edge new voices in design. Like always, it's an exciting lineup—here are our picks for the week:
The V&A is always one of the main exhibitors and features some of the biggest names (and budgets in design), beginning with young designer Kim Thomé's Zotem—an enormous zoetrope-like sculpture boasting giant Swarovski crystals—which stands proudly at the museum entrance and cuts through six floors. Then it's off to Faye and Erica Toogood's Cloakroom, where you can pick up a sculptural coat made out of a Kvadrat's Highfield textile. Inside is Faye's own map of the museum, a scavenger hunt of her sculptures placed in hidden nooks throughout the building. There's much more, from a stunning installation of iconic designer Robin Day's lesser-known works in wood, to Mischer-Traxler's totally magical installation for Perrier-Jouët—an almost steampunk, motion-activated swarm of handmade insects caught in glass bulbs. Give yourself a good few hours here—there's a lot to cover and it's all worth it.
With Jason Goldberg (co-Founder of Fab.com) behind the business and Swedish design vet Petrus Palmér leading the creative, it's no big surprise this new furniture brand is quickly gaining traction. This week they're opening their first shop in London (open through January, if not longer), along with a slew of collaborations. There's Luca Nichetti's totally customizable lamp, and Japanese design outfit Nendo's modular bookshelves, among others. Add the big names to the convenience of infinite choice and customizability, and you have a strong player on the market.
There's a pretty powerful group of designers taking over 10 rooms at the Somerset House: Jasper Morrison and his collaboration with Punkt, Barber-Osgerby with Knoll, Faye Toogood, and new brand Hem, just to name a few. We're particularly excited to enter the space that the young design duo Patternity has created for Paperless Post (it will undoubtedly be black and white, and very graphic) and Faye Toogood's line of furniture set a "living room" that she's literally hand-sketched on the walls.
4. Shoreditch Design Triangle
Since it opened a few years ago, the Ace Hotel has been at the heart of all the LDF action each year, with smart hotel-wide collaborations with established and up-and-coming designers. Last year, it was designer Martino Gamper's doughnuts people couldn't get enough of.  This year, it will definitely be Wallpaper Magazine's nail bar, featuring nail art designs by none other than Philippe Malouin and Fabien Cappello, that will undoubtedly take the cake. Meanwhile, a few blocks away, don't miss the Mast Brothers' unveiling of their new designs inside their shop, and House of Hackney's killer new collaboration with the William Morris Foundation. If you're up for lunch, head to the always delightful Rochelle Canteen, and check out Pinch Studio's unveiling of their gorgeous new Jesmonite table—a departure for the duo—along with Irish shop Makers & Brothers teensy but beautiful "Souvenirs" show.
The Mayfair antiques dealer goes all out each LDF for contemporary design and this year brings yet another ultra-luxurious mix to the gallery. The multidisciplinary London-based designer Bodo Sperlein unveils his collaboration with Tane, the Mexican silver brand, while Pomellato reveals its newest jewelry collection. All of this with New York outfit Calico's beautiful hand-marbled wallpaper designs. Fans of the brand will be excited to know they're hosting a marbling demo in the gallery on Friday.
While the launch of six new sustainably produced sofas may sound totally unexciting in comparison to the rest of the LDF lineup, when you rattle off the names of the designers, like Michael Anastassiades, Terrence Woodgate, Matthew Hilton, Konstantin Grcic, it suddenly becomes imperative to make it over to the store. Plus, there's always a new discovery at SCP, which may explain why Sheridan Coakley's shop is celebrating its 30th anniversary this year.
Hitting the Conran Shop for design inspiration is pretty much as effective as heading into a design museum on any day—especially under the creative direction of heir to the throne Jasper Conran—but for LDF they're unveiling 10 newly commissioned designs by the likes of Patricia Urquiola, Magnus Long, and Lumio, to name a few. That's not the big news though: This week they're unveiling their first major concession at Selfridges joining HAY and Skandium on the bottom floor, which is quickly becoming a major London design destination.