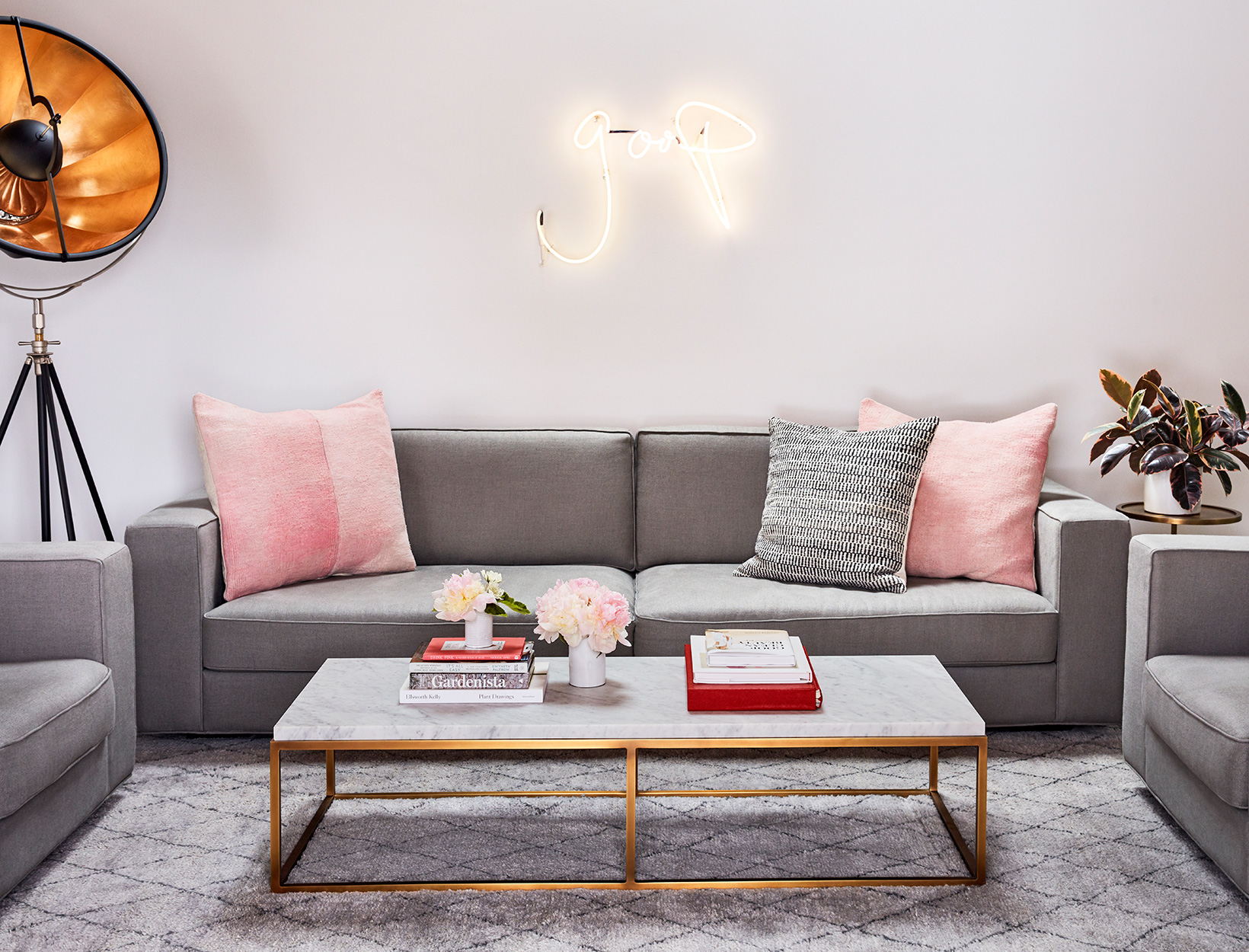 Photographs by Justin Coit
Welcome to goop HQ: RH Maddox Upholstered Sofa and Chair by Marmol Radziner; black-and-white throw pillow by Sien + Co with Identidad Argentina; pink throw pillows, stylist's own from Consort; RH Dara wool rug by Ben Soleimani; RH Modern Fortuny® Studio 76 Floor lamp (left) and RH Modern Nicholas Marble coffee table by the Van Thiels.


Inside goop HQ
We spend a lot of time on the clock, so it's only natural that we'd want our workspace to check off certain boxes: plenty of space to collaborate with our (rapidly growing) team, lots of light, a souped-up test kitchen for our food editors to play with new recipes, and an overall lived-in vibe that reflects what goop's all about. When it came to pulling it all together, our creative director, Britt Pattner, called on the best: RH and their interior design team, Sam Hamilton of MARCH and Matt Bear of Berkeley-based design firm Union Studio to help transform a sparse space (it was a chicken coop in its past life) into something warm and inviting.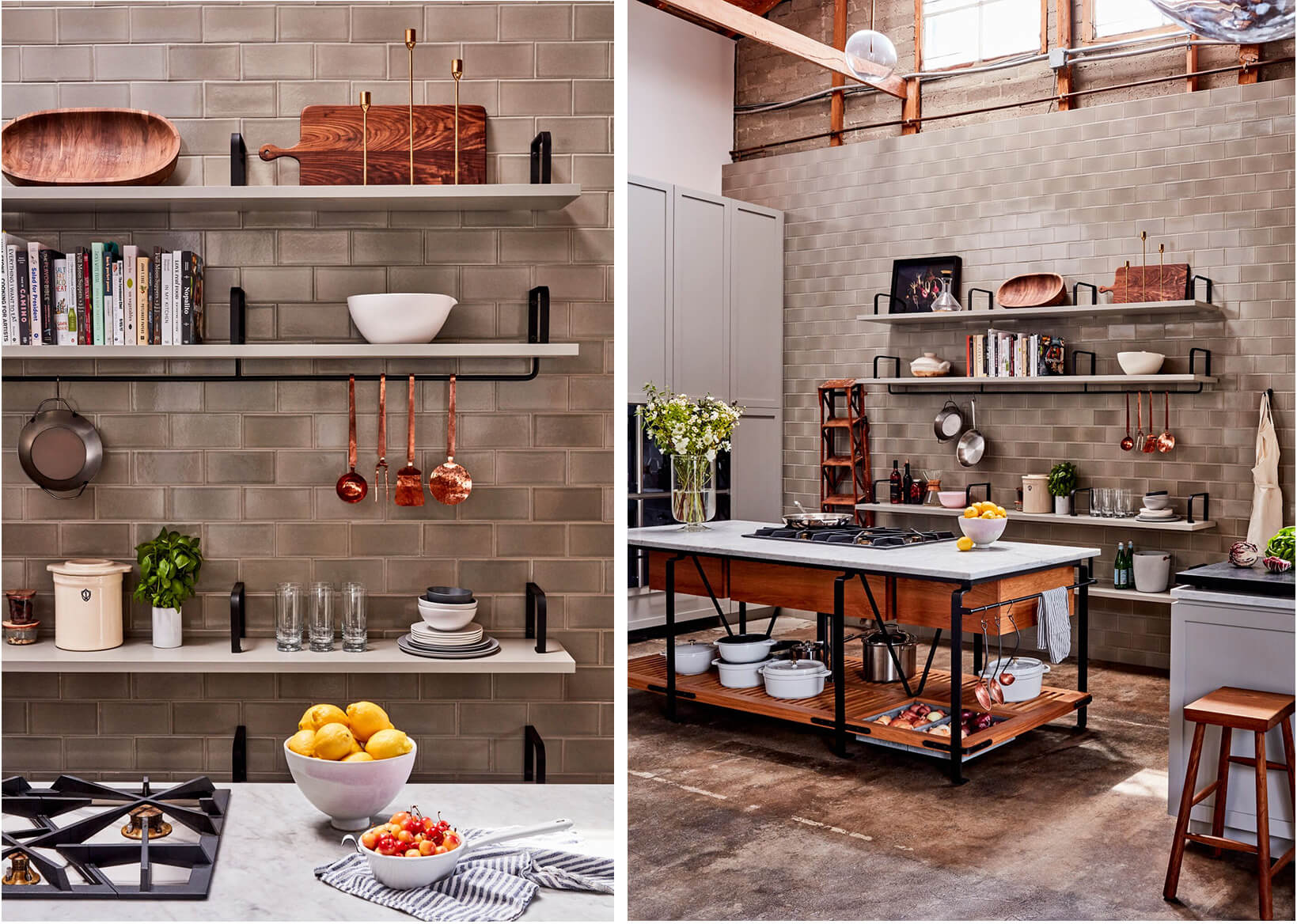 AT LEFT: Kitchen tiles by Fireclay Tile; shelving by MARCH by Union Studio. AT RIGHT: Custom designed MARCH Worktable by Union Studio topped with Carrara marble; gas hob by Electrolux Grand Cuisine; cabinet Paint by Portola Paint; cabinet Hardware by R. W. Atlas Collection for Waterworks; kitchen tiles by Fireclay Tile; stool by Blackcreek Mercantile; RH Modern Glass Globe Mobile Pendants by Rudi Nijssen and Dominique Sente hang overhead. NOT PICTURED: Kitchen sink by Franke; faucet by Dornbracht.

Staffers have been known to make casual visits to the test kitchen in hopes of scoring snacks after food editors Thea Baumann and Caitlin O'Malley wrap up. For the MARCH-designed (and Electrolux Grand Cuisine-powered) kitchen, the idea was to create an open space that was beautiful yet totally functional. (Sam even commissioned kitchen tile based on the cement brick, which was handmade in California by Fireclay Tile.) Here, the Electrolux Grand Cuisine Stand Mixer as well as the Fagor slow cooker get lots of play. Also in heavy rotation? The entire Staub line, which Thea says she can't live without.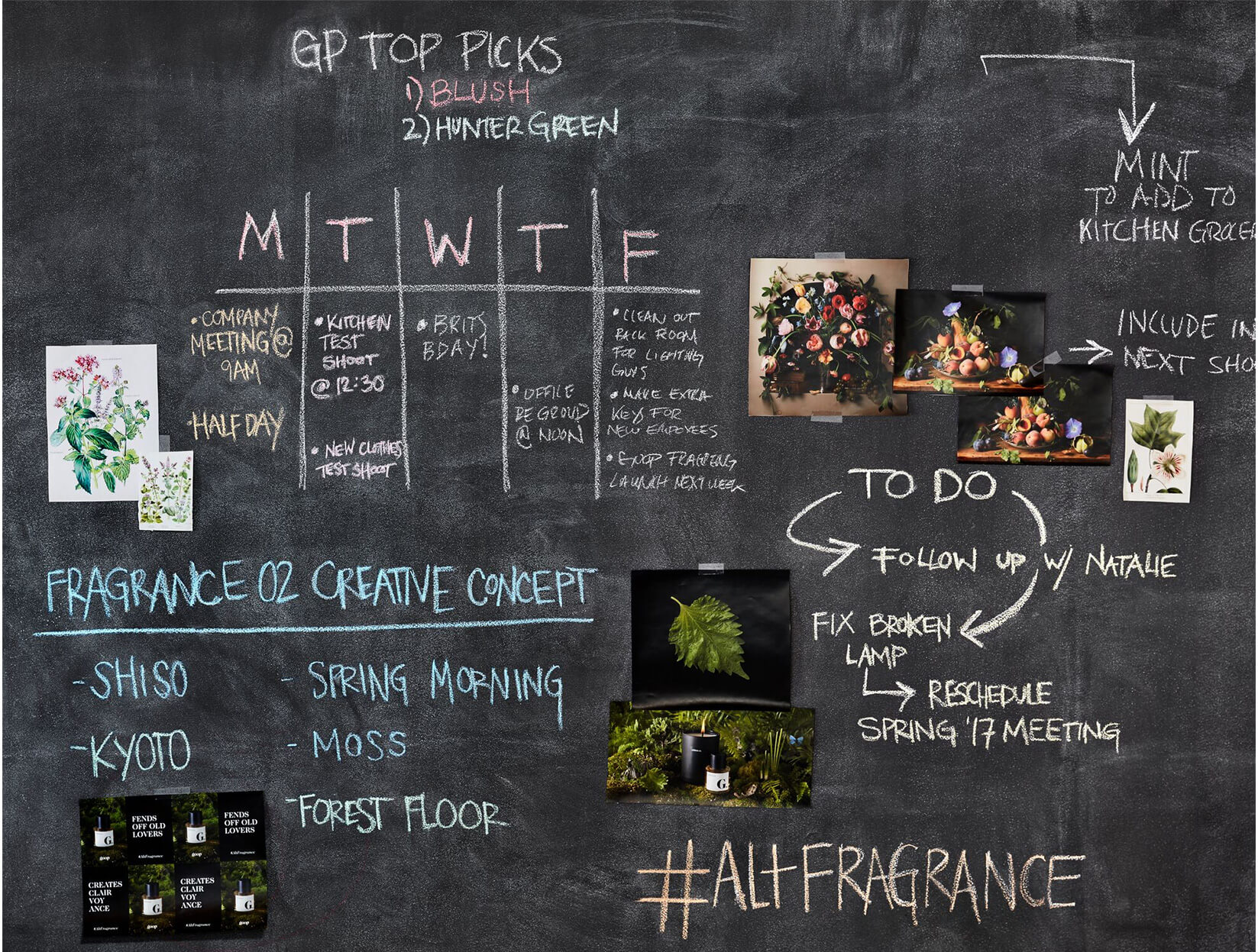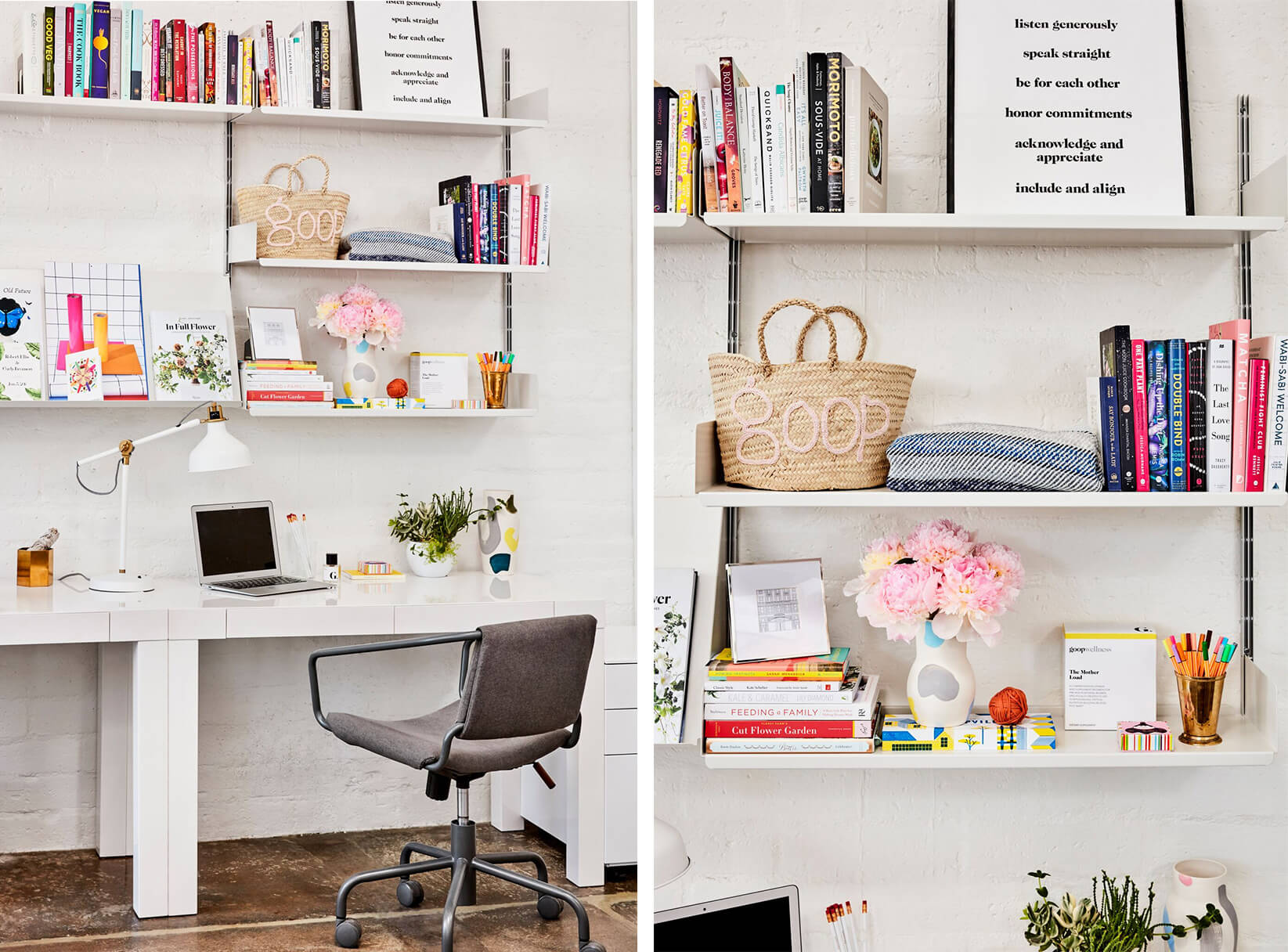 Desks by Blu Dot, shelving by Vitsoe.

An open floor plan is particularly important since we're still in start-up mode (read: must be within shouting distance of each other at all times). Here, an oversized chalkboard serves as our real-life Pinterest board for whatever we're working on. (In this case, the launch of goop Edition 02-shiso.)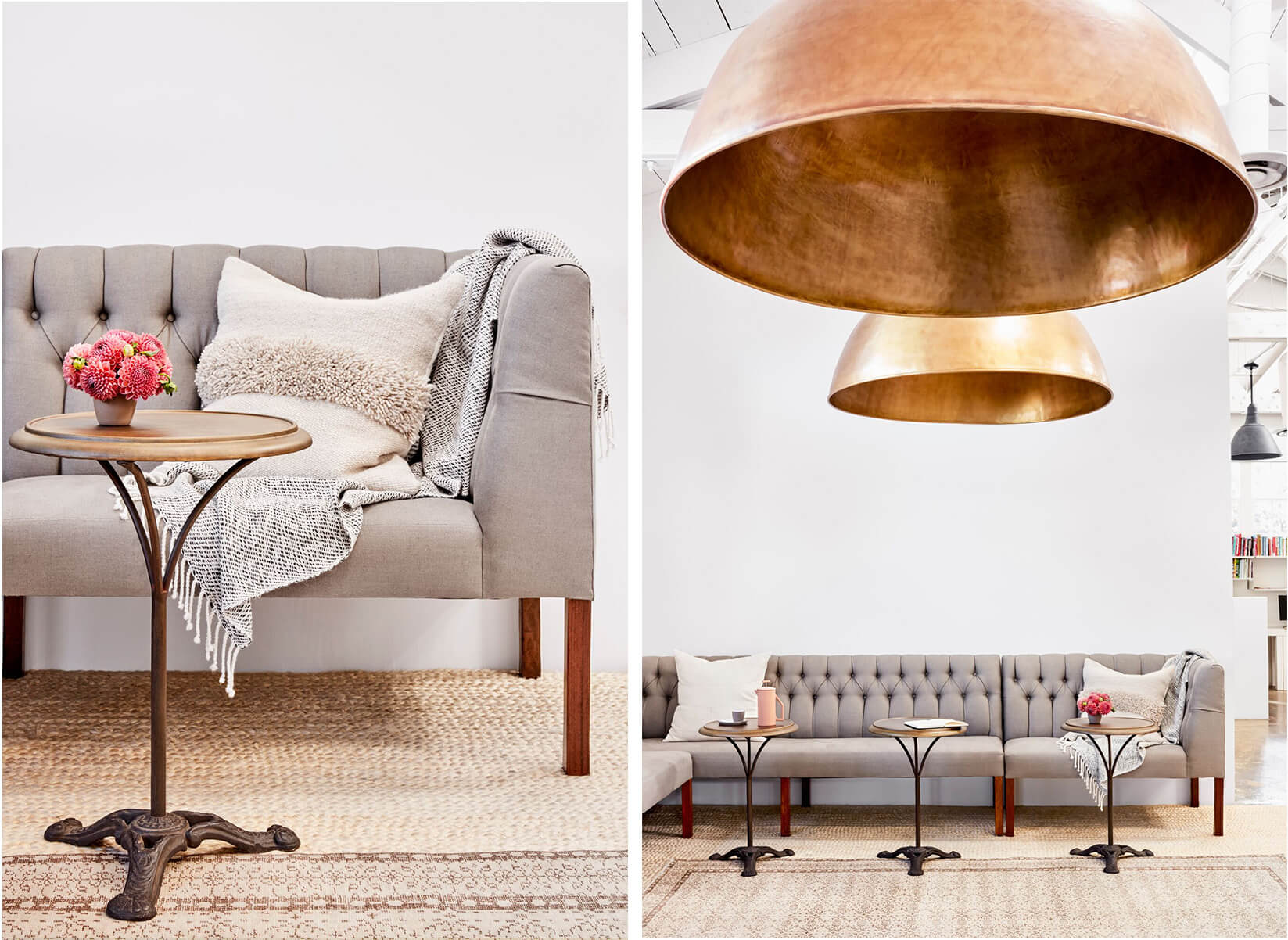 AT LEFT: On the banquette: Sien + Co Chunky Knit Square Pillow in ivory and Morrow Remi Alpaca throw. AT RIGHT: RH Brass Dome Pendant lights hang overhead; Vintage rug curated by Ben Soleimani for RH and custom banquette by Will Wick; RH Circa 1900 French Brass Brasserie Tables.

Unofficially, we refer to this meeting/brainstorm/desk-break nook as the "goop bistro".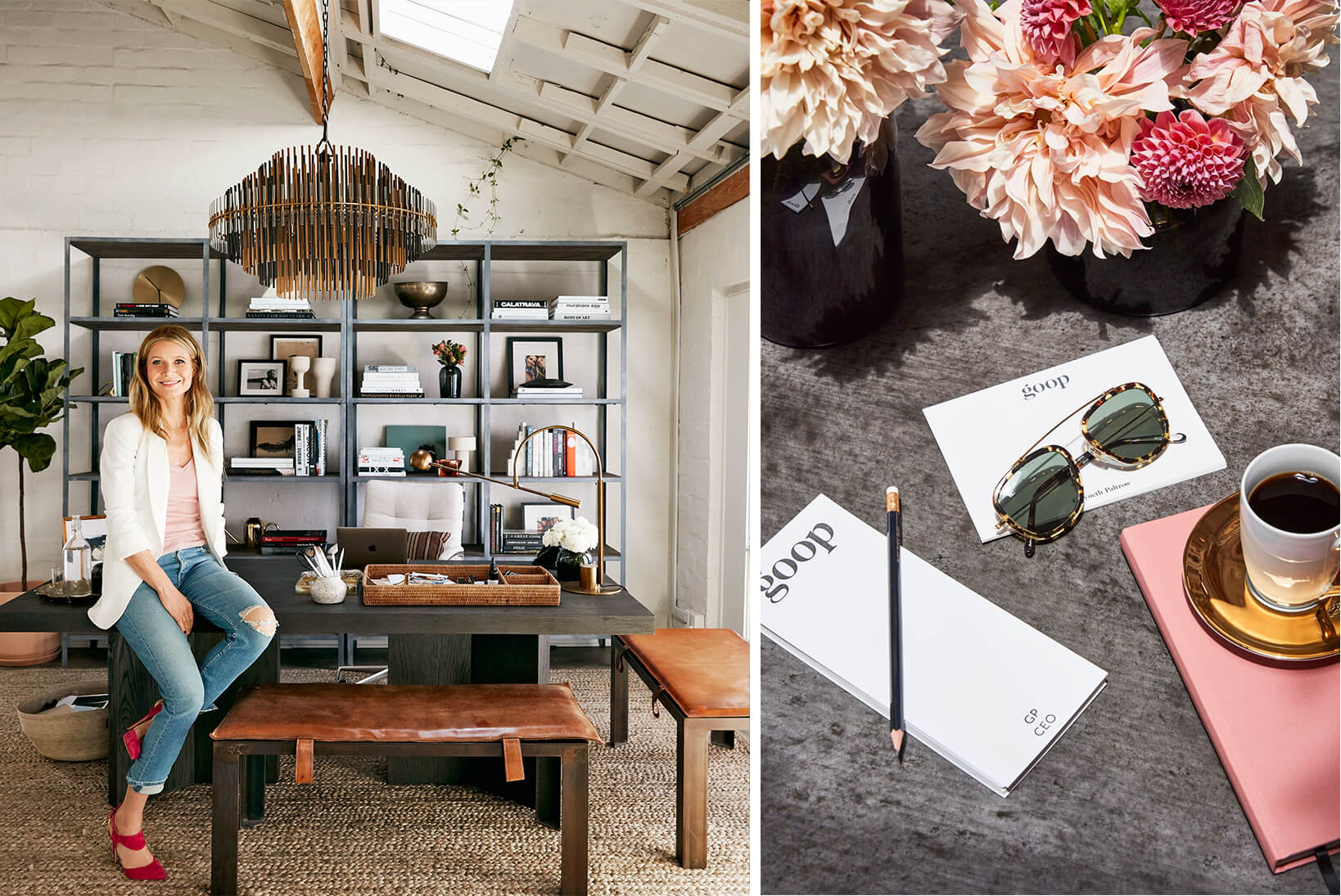 Photograph by Douglas Friedman / Architectural Digest

RH Ludlow Rectangular Dining Table by Richard Forwood (used here as a desk); RH Modern Emile Chandelier by Adam Grant; RH Modern Orbiter II Task Table Lamp by Robert Sonneman; RH Vintage Industrial Double Shelving.

GP's office, aka where it all goes down.
SHOP ALL HOME DÉCOR >>