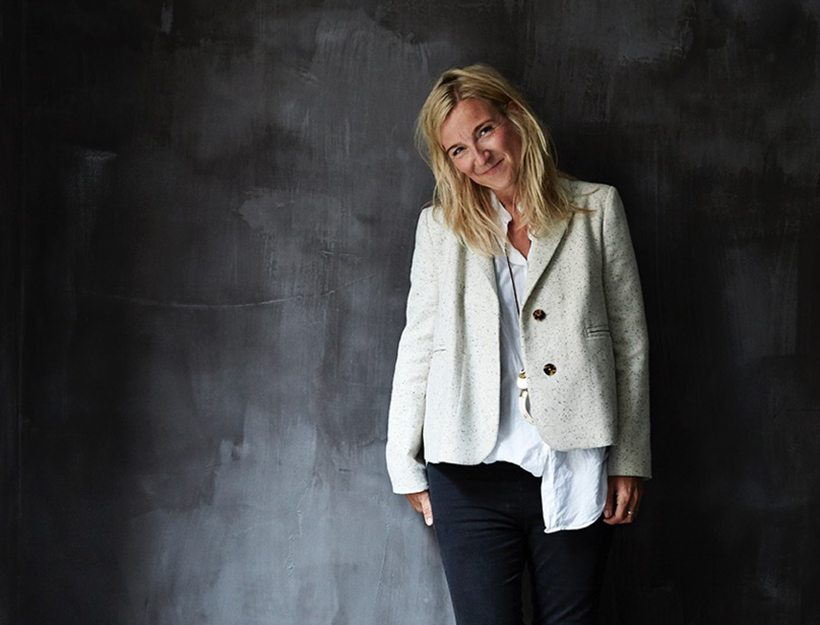 Inside a Restored Carriage House in Copenhagen
Prop stylist and set designer Christine Rudolph is the reason It's All Easy looks the way it does—which means she's responsible for everything from the color palette to every single prop you see in its pages. In other words, she knows how to create atmosphere and importantly, vibe. In fact, she's something of a legend in that department with gigs working on campaigns, books, and editorials with the likes of Vogue Living, Noma, and most recently Fritz Hansen. We were thrilled when she agreed to open the doors to her restored carriage house in central Copenhagen so that we could see how she styles her own home.
Studio
Christine's studio is a lesson in layering. Using the white walls and floorboards typical of a Danish home as a canvas, she carefully builds atmosphere through a mix of hard and soft textures and neutral hues. "I have a very tonal palette: I like colors, they just have to have a very specific tone to them… It's all in the details!"
Packed though it is with her finds from around the world, there's not a hint of clutter anywhere: Everything is right where it should be. "You might not believe this, but my place has looked like this for years. It's important to me that my stuff has a history. They are all things from my travels, or things that have a little story to them from one of the places I've lived around the world (Australia, NYC, Denmark). Also, some pieces are heirlooms from my grandparents. Of course I change the odd lamp once in a while and I have a few newer design pieces like the Series 7 chairs from Fritz Hansen."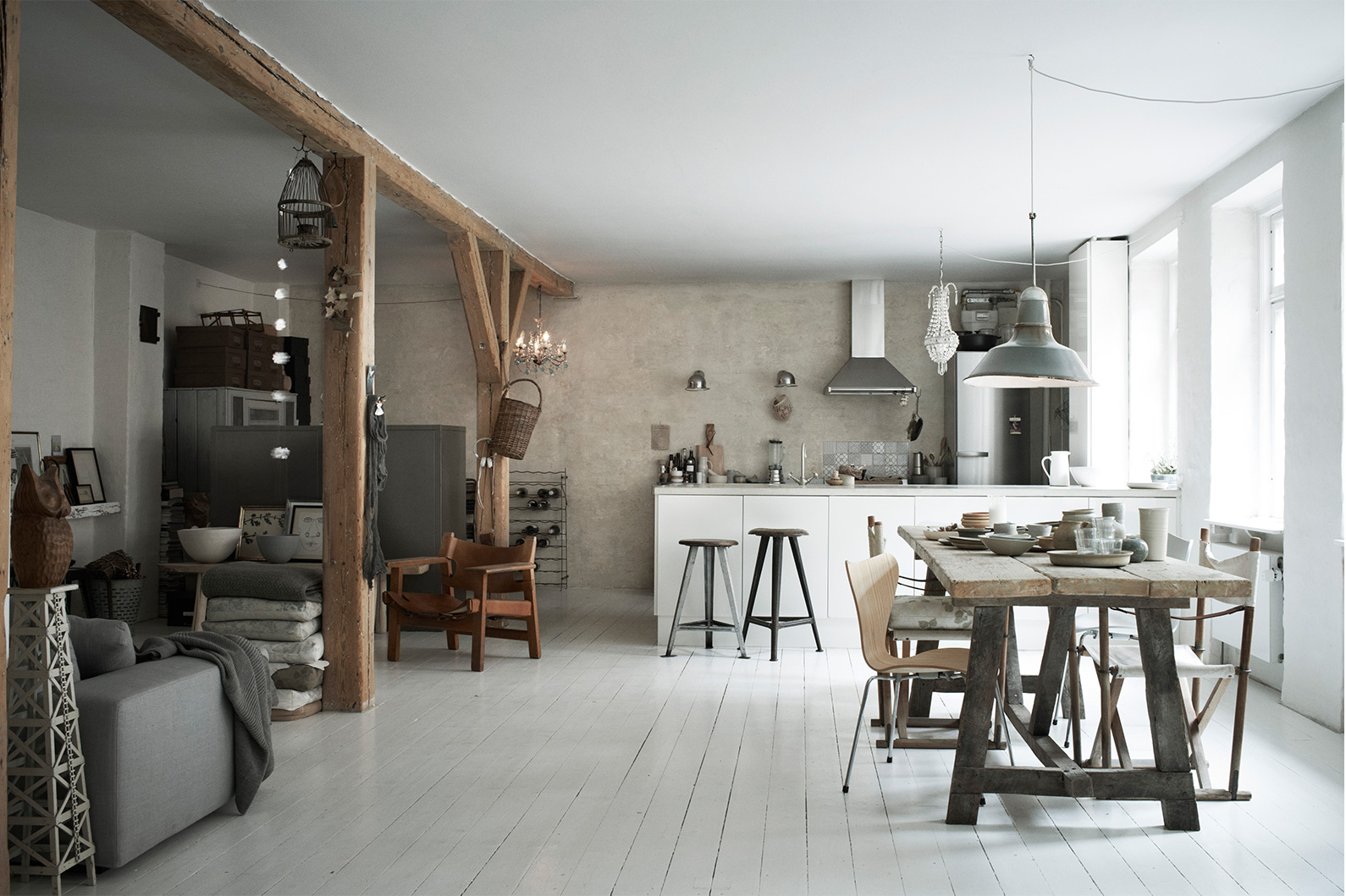 Kitchen
The open kitchen is one of Christine's favorite spaces, in part because it's home to a lot of creative activity that goes beyond cooking and entertaining. Christine will sometimes make her own props for shoots and has a line of bags and home goods she's in the midst of launching called Outside by Christine Rudolph. It's also a study in bringing a spectrum of vastly different materials together—for example, the large concrete slab on the kitchen island is a nice contrast to the steel countertop and industrial sconces opposite, all softened by a considered selection of ceramics and wooden boards. It's a sort of snapshot version of Christine's trademark mix.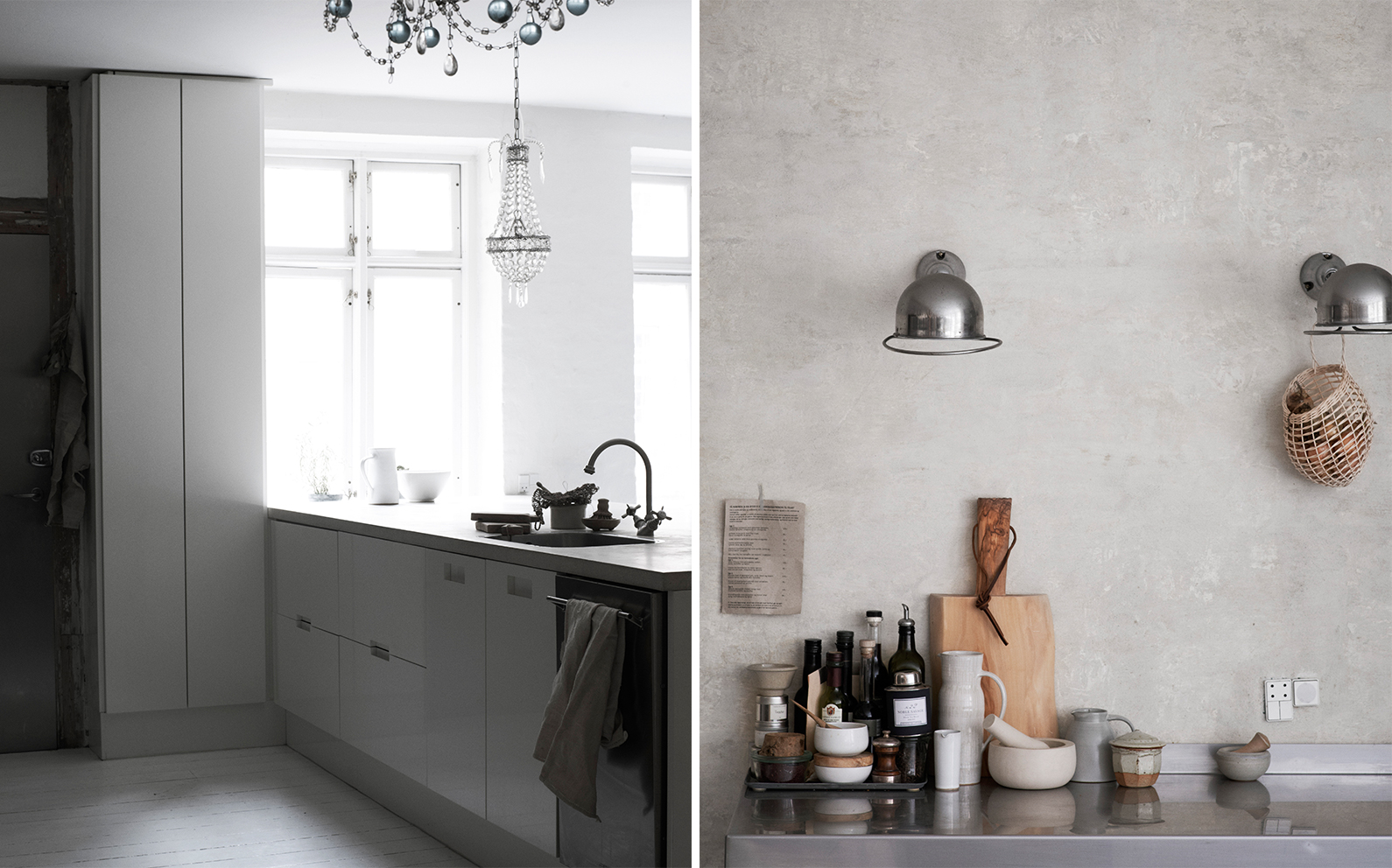 Dining Area
There's yet another artfully arranged collection on the rustic wooden dining table hand-crafted by her friend Andrea Brugi (whose beautiful cutting boards she turned us onto): Her ceramics, which are a serious passion of hers—and one which It's All Easy benefitted immensely from. Among her favorite artists are Kris Coad, whom she collaborated with many years ago in Australia, and Janaki Larsen for her use of texture and sense of color. And then there are her vintage finds, like the Royal Copenhagen Ildpot line that's now discontinued. "The tones and texture of these pieces are amazing, they're never the same even if they are the same piece. The wear and tear gives them all a sense of patina."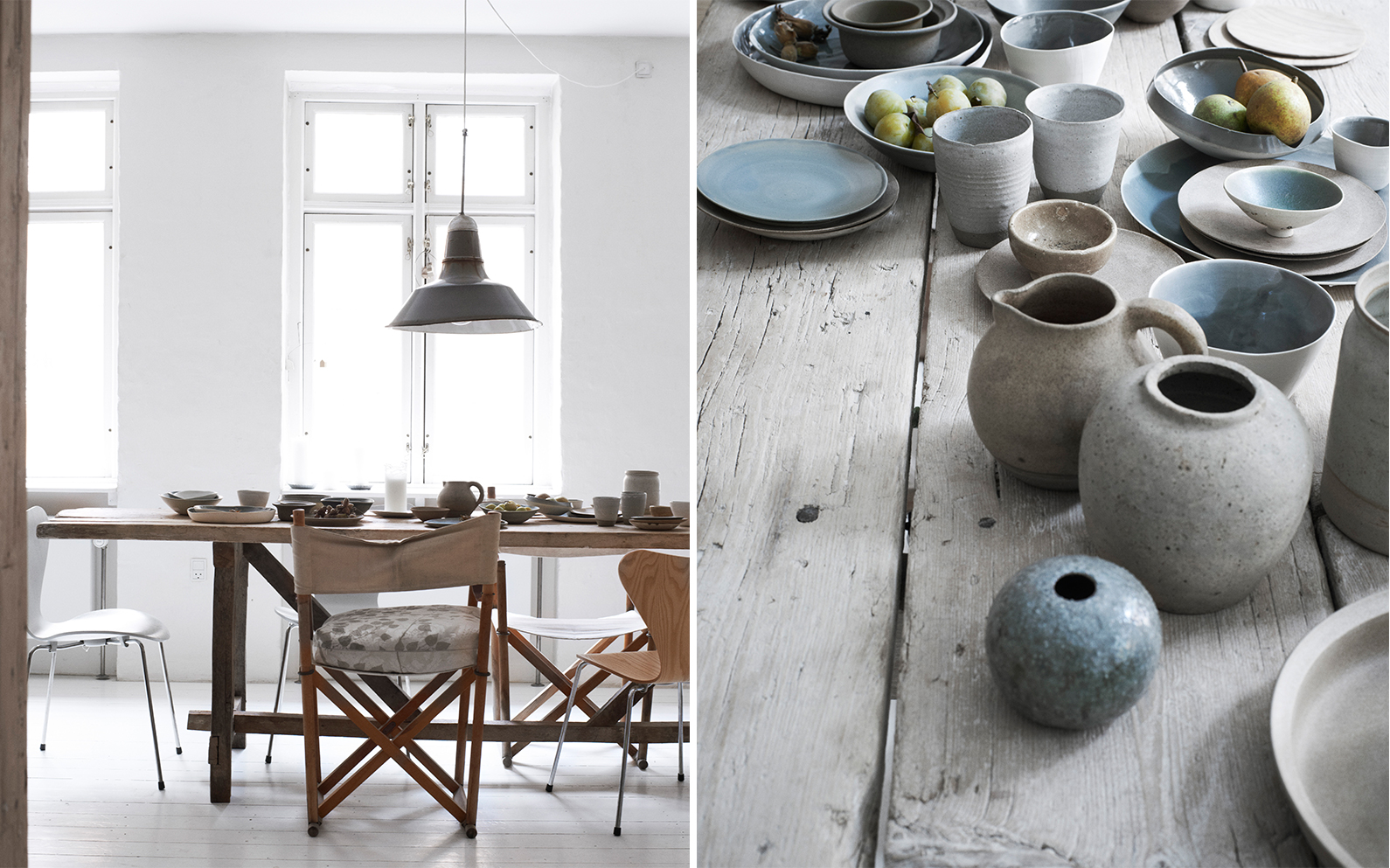 Bedroom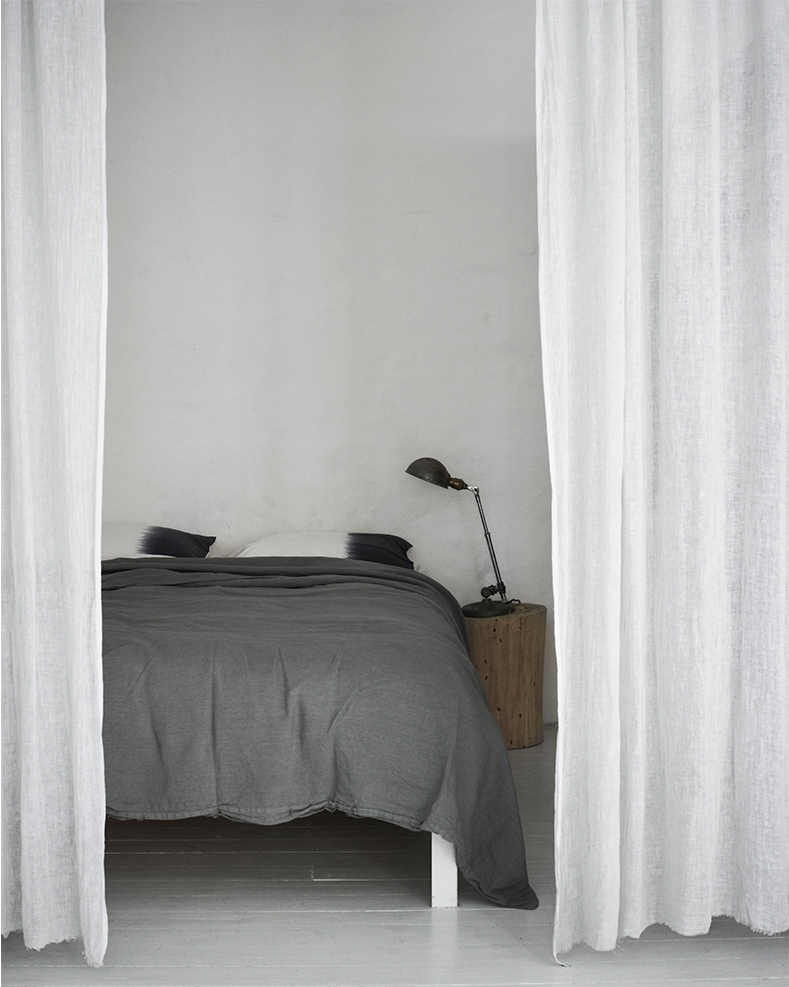 "I like my bedroom to be simple. I prefer crisp white sheets, broken up with a touch of something like these tie-dyed pillow covers. But I really think a bedroom should feel airy and fresh. I have my duvet out almost daily in the wintertime. I think the feathers need fresh air."
Vignettes
Adding to the homey ambiance are the displays of personal objects dotted around the apartment. They may seem like they just accumulated there by chance, but these vignettes are carefully crafted by Christine: "It's very important to me how things are placed. I like certain areas to be empty and free. I like things to have different heights and textures. I kind of sense how I should put things together—it's very much a feeling. It's a lot like when I create images for work, I see the picture before it's taken."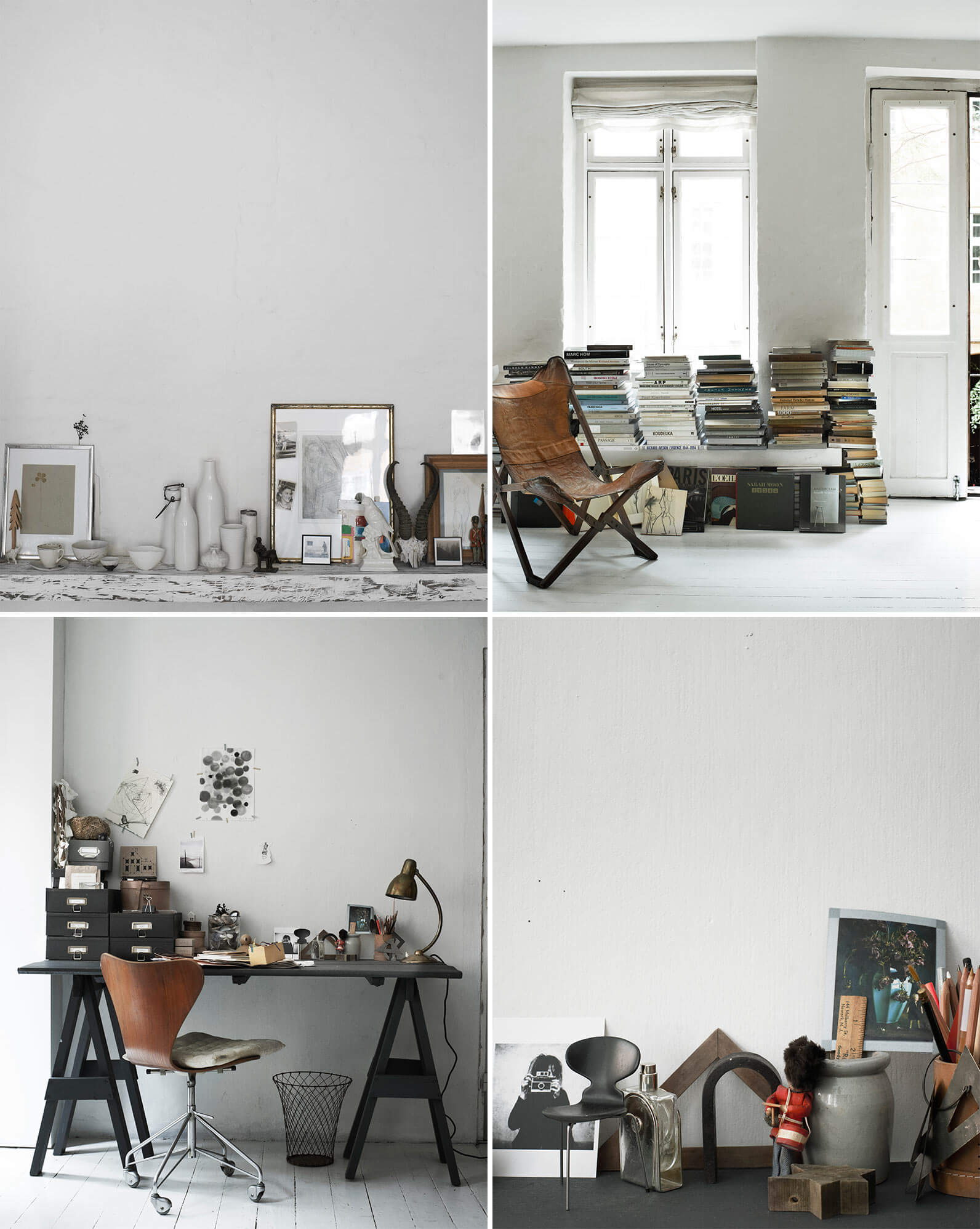 Living Area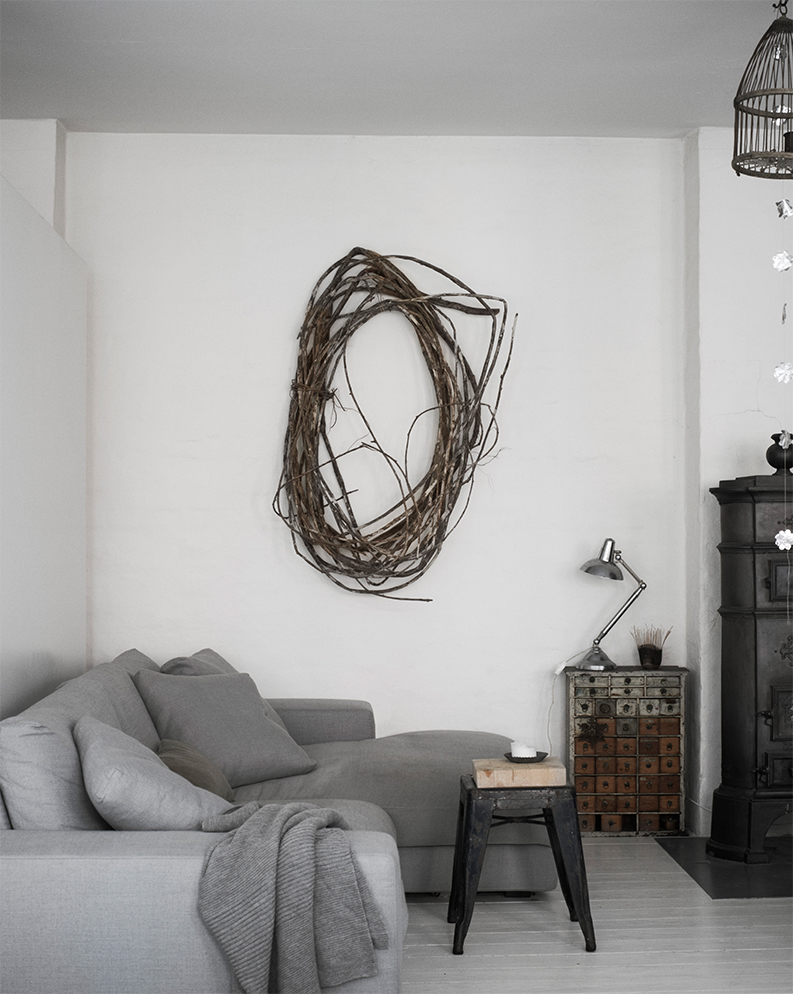 One of Christine's great obsessions is bringing a sense of the outdoors in. It can be as simple as hanging a humble bunch of branches on the wall to add some texture and interest.

Coziness is also key to Christine's aesthetic, which she brings about with a mix textiles and textures: "I think it's important to include some softness, like nice pillows and throws. Fabric mixes well with wood, concrete, and steel. I'm crazy about my friends' brand Aiayu and all their products." (We love them too.)
Photos by Ditte Isager