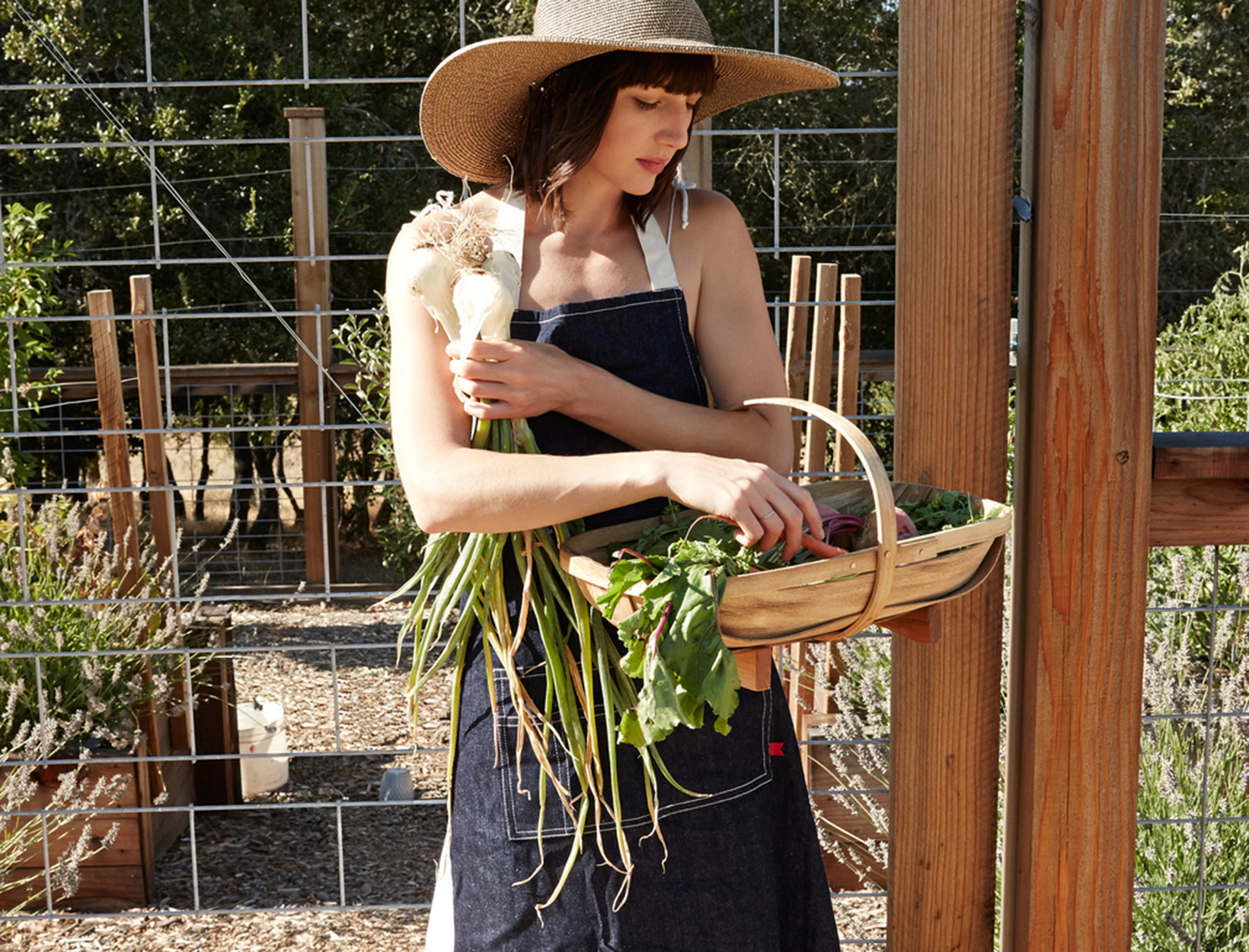 Grow Your Own:
A Spring
Garden
Quick-Start
Is there a possibility that you're feeling a little too productive? Perhaps you've run out of drawers to organize (this just happened to Elise). Or you're no longer feeling distracted by your grown-out roots (we've got products and tips for that). Now's the time to consider something a little more passive: gardening. This gentle low-stakes, high-reward hobby is one that truly allows us to slow down. Getting a few plants going—whether that's inside the house, in a window box perched on the fire escape, or out on the patio—is much more fulfilling than watching other things grow (to-do lists, general anxiety), and in most cases, the payoff is fast, pretty, and inspiring. To get you started, we pulled together a quick-and-dirty list of basic tools and ideas.
01

ADD INSTANT COLOR WITH LOW-KEY BLOOMS

If you're not looking to get your hands dirty, a setup from The Sill includes a straight-from-the-greenhouse orchid, an earthenware pot, and comforting instructions that outline the plant's stages, so you know what to expect. This pet-friendly "beginner orchid" loves bright indirect light.
02

DON'T FORGET TO WATER THE PLANTS

They're pretty enough to leave out, and we don't actually think underwatering will be an issue when you have these on hand. The mister is particularly helpful for plants that don't need much water in the first place—that's your cacti, succulents, and air plants.
03

UPGRADE YOUR INDOOR HERB GARDEN

Where do chefs from the Michelin-starred NoMad pluck fresh dill, Tom Thumb pea shoots, and micro red mustard greens? From the SproutsIO, an extremely high-tech-looking countertop-to-table hydroculture garden. After you plant the seeds, the roots grow in a basin of constantly circulating water and nutrients, and the grow light adjusts based on your garden's needs. It's also a perfect family project, and the system can be controlled with a smartphone app that also gives updates on growth cycles.
04

START COUNTERTOP COMPOSTING

Composting is its own subgenre (check out more on that here), but you don't need to till your own soil to get started. Regardless of whether you plan to use them to enrich your own garden plot, keeping your kitchen scraps in a compost bin (and out of the landfill) is a good practice. Countertop bins come in various sizes, and a coffee can or a plastic takeout container works, too.
05

INVEST IN A GOOD PAIR OF SCISSORS

Even if your harvest is only a few basil leaves or the occasional bloom, a pair of water- and rust-resistant scissors is essential. If you've gone full farmer, the harvest looks even more celebratory in a ceramic colander—and the scent of fresh-cut herbs in the kitchen is priceless.
06

GROW A VEGETABLE GARDEN FROM SCRATCH

Set veggies up for success by starting them inside before moving them outdoors. These ingenious seed starter kits have everything you need to grow right in the bag, and once they get going, you can easily transplant the plants from the bag to a large pot, to a farm box, or right into the ground.
07

TRANSFER YOUR SHOOTS INTO SOMETHING MORE SPACIOUS

Most vegetables will happily grow in a terra-cotta or ceramic pot, but if you've got a porch or a patio, this rolling box (move it in and out of the sun as needed) is about four feet by two feet—giving you plenty of room to pack in herbs, greens, and veggies for a perpetual pick-your-own-salad situation. Need it bigger? Smaller? The company that makes it can also build one to fit your space.
08

THE TOOLKIT

The trifecta of basic hand tools: a pruner (for indoor and outdoor snipping), a cultivator (for raking through rocky soil and loosening weeds), and a square hoe (for pulling out stubborn roots and breaking up tough earthen clay).
09

WHAT TO WEAR WHILE WEEDING

You certainly don't need a special outfit for gardening, but an apron is ideal for when you mindlessly wipe off your dirty gloves. And for those: This buttery-soft pair gets better as you break them in. (Though, if you're interested in a gardening look, there's always the humble jumpsuit.) What you do need is sunscreen—time can slip away when you're poking around in the garden with the warm sun on your skin, and suddenly a ten-minute session turns into an hour.
10

GET INSPIRED

This pair of motivating books—one packed with healthful ways to use your harvest, the other a photographer's behind-the-lens exploration of creative florals in unique environs—will keep your imagination (and coffee table) in bloom year-round.