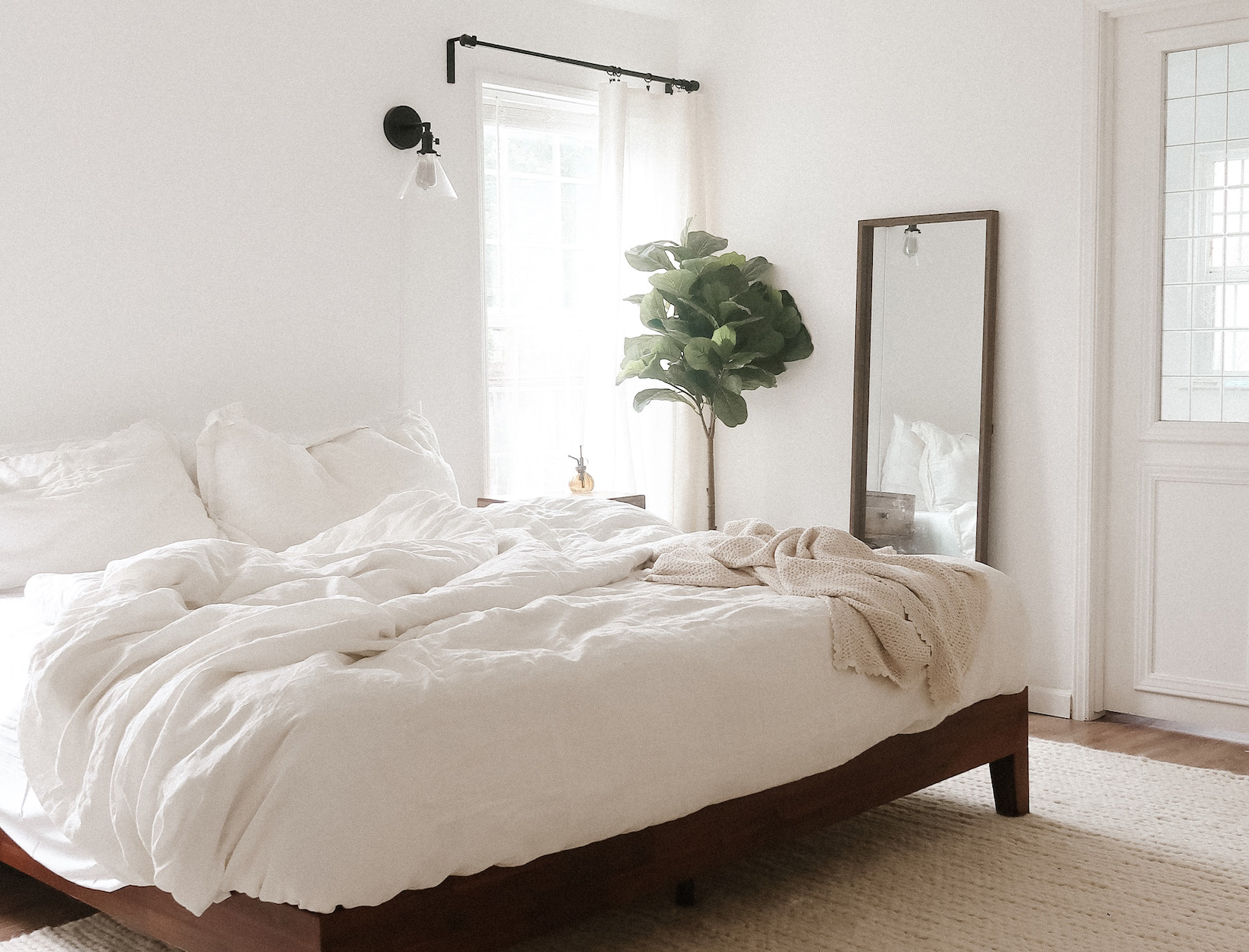 Photo courtesy of Brogan Burnside
Turning Your Bedroom into a Dreamy Oasis
In partnership with our friends at Avocado Green Mattress
The bedroom is often an afterthought compared to high-trafficked areas like the kitchen, living room, or nursery. But it's (ideally) where we spend a third of our time, sleeping, and it's the room we start and end each day in. Our private grounding zone, where we unwind and recharge. It's where we most want a sense of calm. So we want to tuck into and rise out of the softest, cleanest bed. We want our book stack sitting on a pretty (high-quality, sustainable) nightstand. And we want to make morning and nighttime rituals feel like, well, a dream.
TIP 1
ONLY BE SLEEPING IN BED
An inviting bed starts with a quality, nontoxic mattress. Then double down on the layers for maximum comfort and restorative, transporting sleep. Mixing materials and weights, like cushy pillows and a heavy blanket on top of smooth, satiny sheets, is a sensory experience and a total vibe that we are here for. For the right foundation: This reclaimed-wood bed frame gets better with time. You may never want to leave, but we've been told that sleep should be sacred, so it's best that the bed is left for cuddling and resting and dreaming.
TIP 2
KEEP THE NIGHTSTAND MINIMAL
The nightstand is prime real estate. But how quickly it becomes a catchall for books, keys, loose change, and random odds and ends that don't have a home. A low-key drawer (no knobs or handles keeps the look streamlined) neatly tucks away what you don't want to be seen, leaving room for the essentials: water, the next goop Book Club pick, an easygoing plant, and a lavender-and-chamomile-scented eye pillow that is literally easy on the eyes. (We wrote tip one, but we still read in bed.)
TIP 3
TURN YOUR DRESSER
INTO AN ALTAR
Light, scent, and sound are three key elements for creating a spiritual altar. Then you add meaningful objects—crystals, heirlooms, tools for your spiritual practice, for example. It's simply an area that expresses who you are, and one from which positive energy flows to the rest of your home. It could be a place where you turn inward, where you might practice gratitude, say a prayer, or begin a meditation. When you look at it, it gives you a sense of joy.
---
We hope you enjoy the products recommended here. Our goal is to suggest only things we love and think you might, as well. We also like transparency, so, full disclosure: We may collect a share of sales or other compensation if you purchase through the external links on this page.