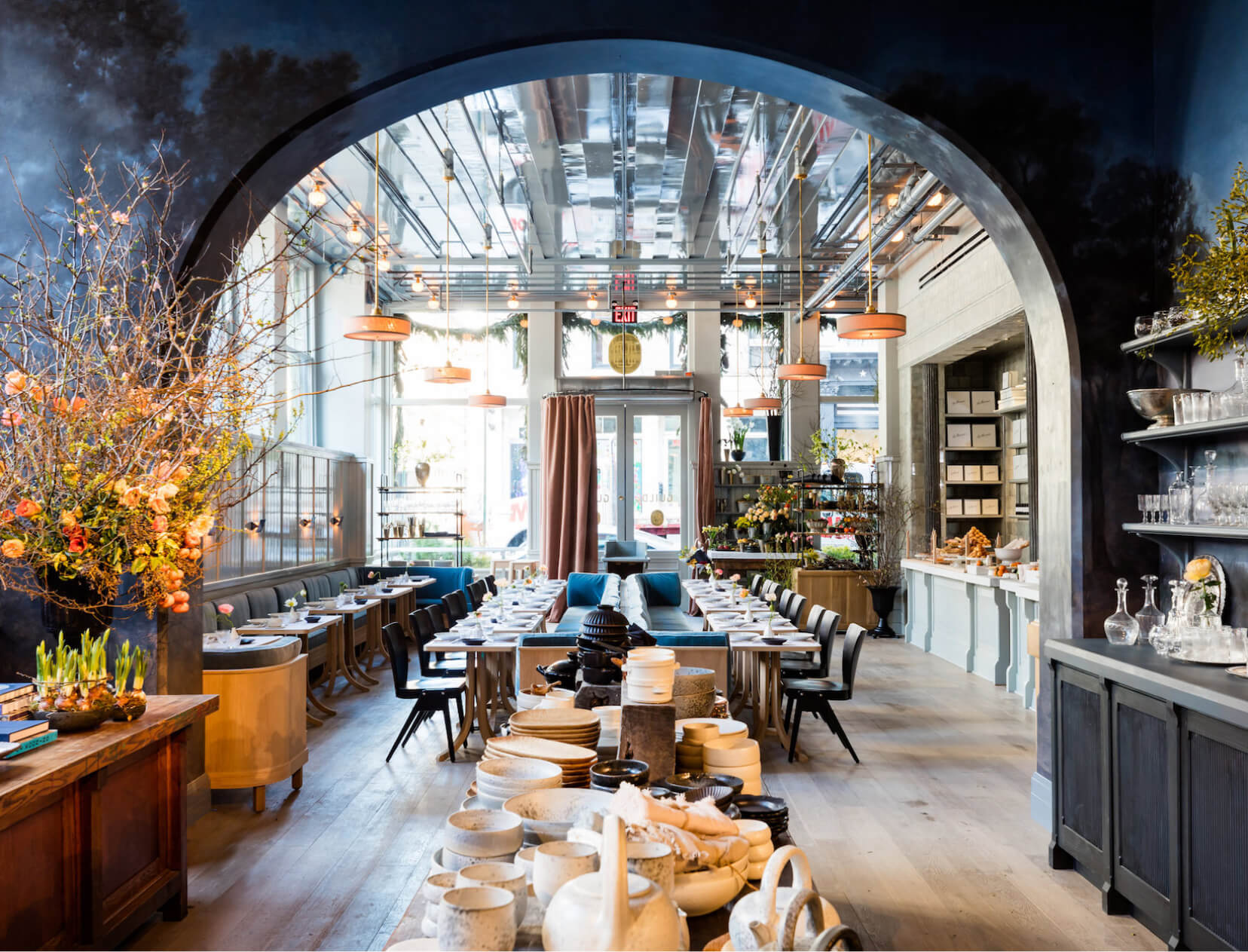 Photo courtesy of Robert Wright for Mercerie Cafe
Design We Love
How to Make a Space Feel Alive
(Like La Mercerie in New York)
One long-ago, pre-COVID afternoon, we sat laughing with Vintner's Daughter founder April Gargiulo on the steel-blue-velvet banquettes at La Mercerie in New York, the sun slanting over a table strewn with beautiful dishes of haricots verts, anchovy-vanilla-butter toast (improbably sublime), and eggs en cocotte, plus a bottle of champagne. Gargiulo, like every other design fanatic we know, always ends up at La Mercerie because it's gorgeous and delicious and there's just no place like it on earth.
Created by Roman and Williams founders and GP collaborators Robin Standefer and Stephen Alesch, it's not just a restaurant but a design store (you can buy any of the items you're eating off of or drinking out of right from your table) called the Guild, which also encompasses a stunning, inventive flower shop at the front of the space. Few restaurant designs are as 360-degree fabulous: Even during COVID, crowds of tourists still get their design fix snapping pictures of the giant deep-blue doorway artfully festooned with greenery. The basement, of all places, is one of the most drop-dead gorgeous corners of whole space—goop once threw a cozy-glamorous skin-care launch party there.
You could take inspiration from the space in a number of ways, not all of them involving a soaring archway (something Standefer and Alesch actually stumbled upon midway through the project) or a talented French chef like Marie-Aude Rose. Mixing styles, periods, and influences with confidence—easier said than done, of course, but it's one of those things you just have to do rather than theorizing or looking for a formula—is at the heart of any Roman and Williams project. "It's about finding the thread between different things," says Standefer. "And keeping an open mind about contrast. And personally, our favorite elements to contrast are nature and culture." Here, some of the design takeaways from this incredibly inspiring space.
1
Contrast nature
with culture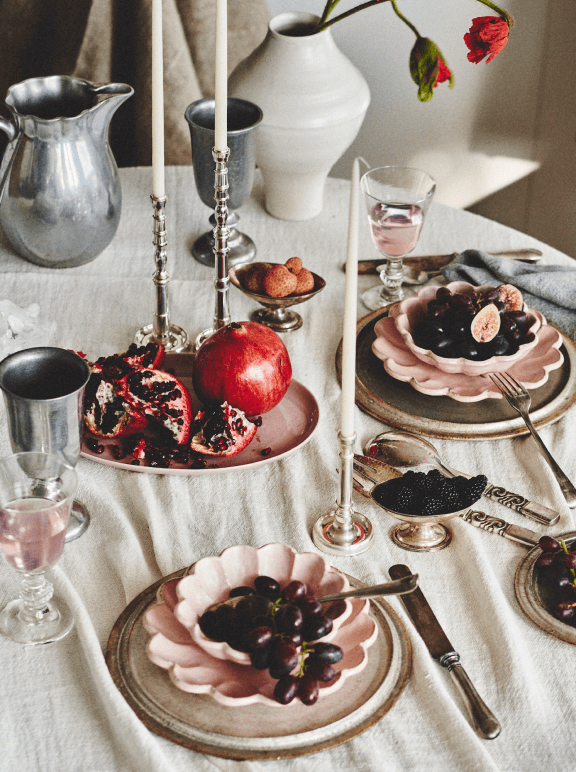 Photo courtesy of Adrian Gaut
"This is a lot of what underpins everything we do," says Standefer. "Our Reed candlesticks happened because I picked this stem I loved in the garden, and for my birthday, Stephen sculpted it for me. Combined with the idea of a classical English candlestick, the two play off of each other. Another way of doing that might be to take a piece of fine china and put a wild-looking flower in it. Nature can soften culture, and vice versa."
2
A single color can be the thread between
elements, and so can a texture or a material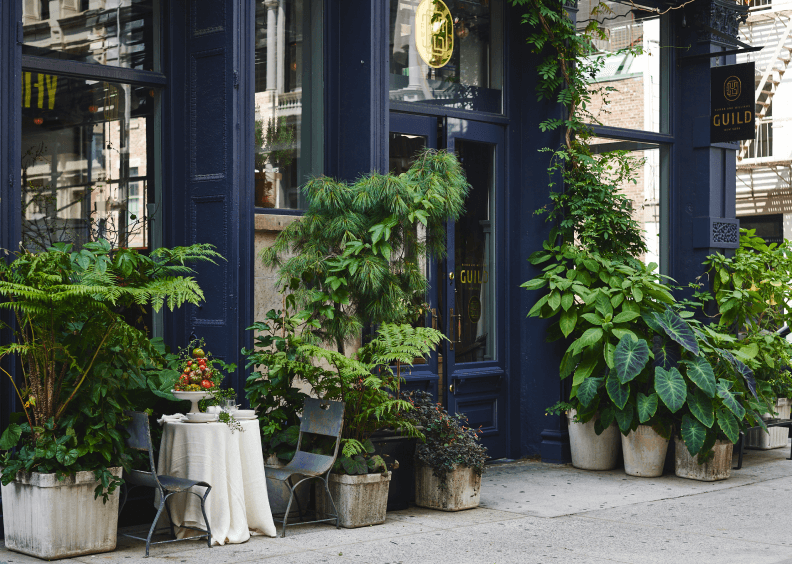 Photo courtesy of Adrian Gaut
"At La Mercerie, we have this great glossy, watery-blue door, and it opens onto an airy kitchen with a lighthearted, energetic shade of blue, and then the banquettes are another shade still," she says. "Then when you get to the Guild, it's darker and more neutral—a new space with a new mood. But the different blues tie the different parts of the room together." The same holds true for texture. "People trip out at the Guild—they'll be buying the white tablecloth and the white napkins, and we're like, 'Mix it up! Try the blue with the white, or mix in some grey,'" says Standefer. "The common texture will hold it together."
3
Modern and vintage elements
play each other up, as do
Eastern and Western, or
rough and refined ones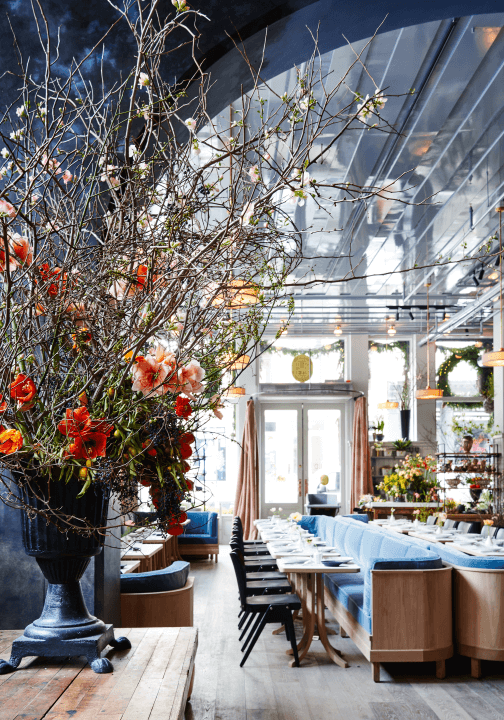 Photo courtesy of Adrian Gaut
Opposites can serve as a canvas for each other, as a pale sweater might play up gorgeous dark hair. "One thing becomes the punctuation for the other—you're giving it something to bounce off of," says Standefer. "A delicate mug is so beautiful with a rough, raw, napkin."
4
Mismatched groupings
of glasses exude a bon
vivant charm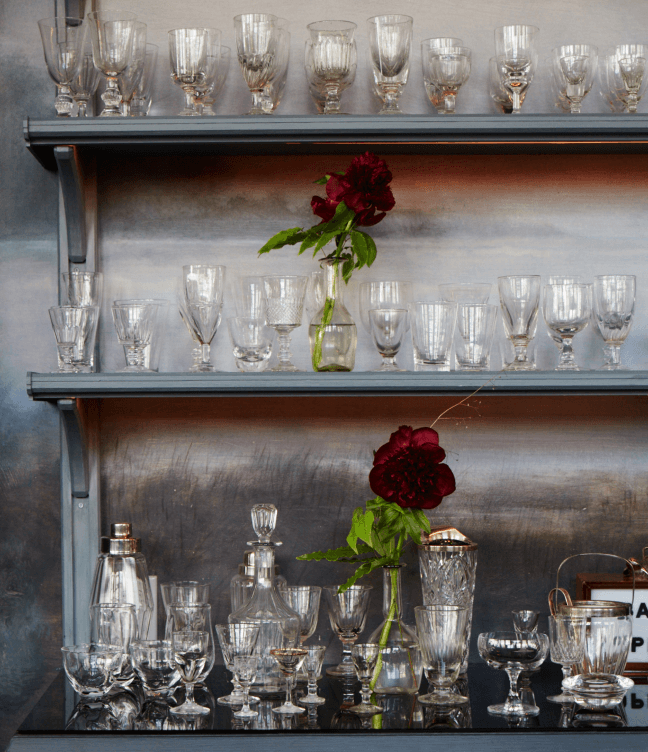 Photo courtesy of Adrian Gaut
"Nobody has some perfect set of glasses. I love the idea of many different makers, many different styles, but the fact that they're all made of glass ties them together," says Standefer. "We do it all the time on the tables at La Mercerie. Think of two different glasses as related—maybe they're a brother and a sister. You break a glass and replace it with a different one from a different company and enjoy that contrast. For Valentine's Day (the day NYC is again allowing indoor dining), we're putting these delicious Morello cherries into the champagne: It's so pretty, and it's even prettier in different-size glasses, together on the table."
5
Surround your doorway
with plants—on both sides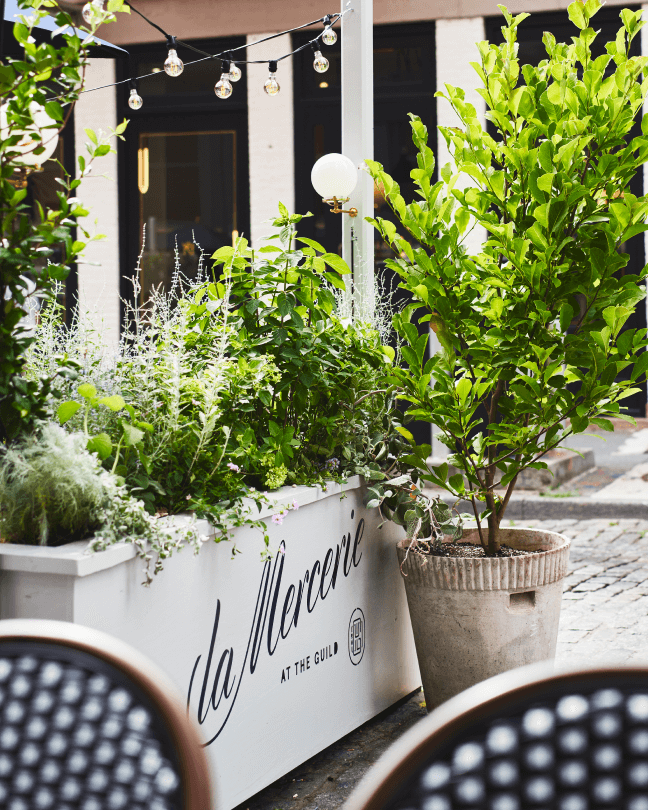 Photo courtesy of Adrian Gaut
When you walk into or out of La Mercerie, you feel embraced by a giant, just-for-you bouquet. Last summer, when outdoor dining became the only option, the designers filled planters with all manner of hydrangeas, lavender, and sage, turning the SoHo sidewalk into an almost-in-Paris tunnel of greenery. "It was about bringing nature in, about being alive," says Standefer. "For me, any design is about activating someone's senses: I want plants growing and candles burning—I want aliveness."
6
Make a meadow with
your table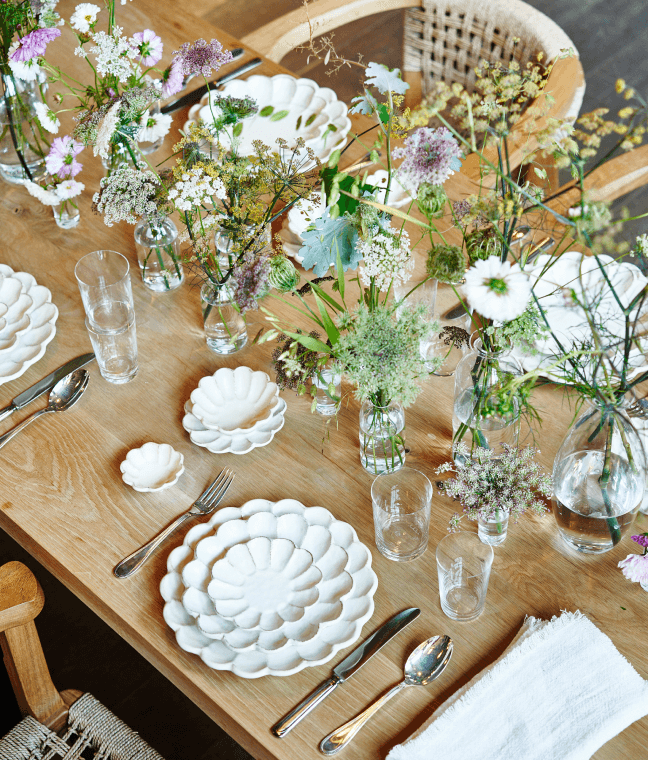 Photo courtesy of Adrian Gaut
"This is the easiest way to do flowers," says Standefer. "Find one flower you love—what's in season, what calls to you—buy a bunch, and put them into many vases. One vase gets a single stem, another gets three, one vase is tall, another is a cup you love, or a glass, and it just makes a meadow of flowers across your table."
7
Stay loose
"If something's just perfect and too on the nose, it loses some of its life," Standefer says. "The Kohyo Rinka mugs and plates—they're from Japan, but maybe you can't quite place that. And 'rinka' means 'flower,' and they're based on the shape of a flower, but it's subtle. Let each element's personality emerge, and then play it up with contrast."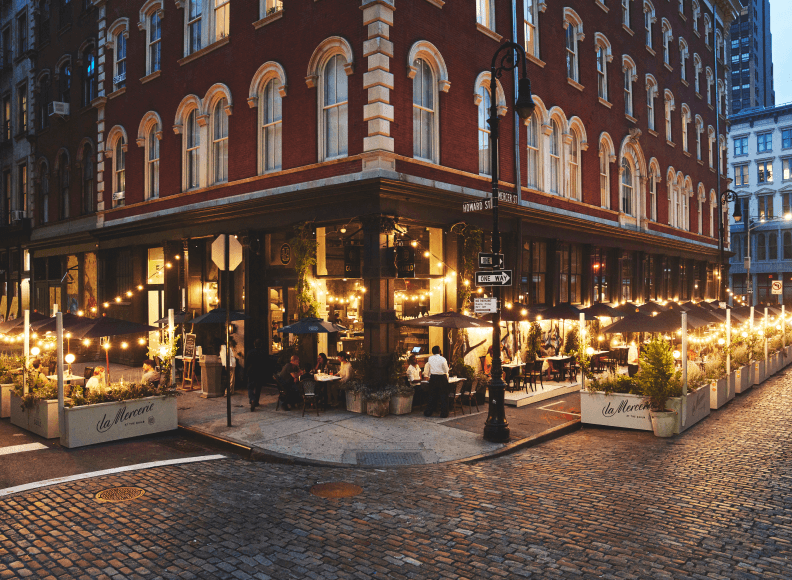 Photo courtesy of Adrian Gaut
HOW TO EAT AT LA MERCERIE: Currently, you can experience La Mercerie in person in two ways. Gather at the tables under the heat lamps inside the corridor of shrubbery that now lines the perimeter of the restaurant (we did it recently and stayed toasty-warm the entire time, despite the forty-degree day), or pick up one of the epic picnic dinners for two to bring home—the roast chicken is romantic and homey and French, and there is a new crepe-meringue confection that has to be tried to be believed. After February 14, there will be dining inside (socially distanced, of course). Either way, you can stroll through the Guild and get inspired—or buy anything from dishes and donabes to the chic synchilla-covered sofa.