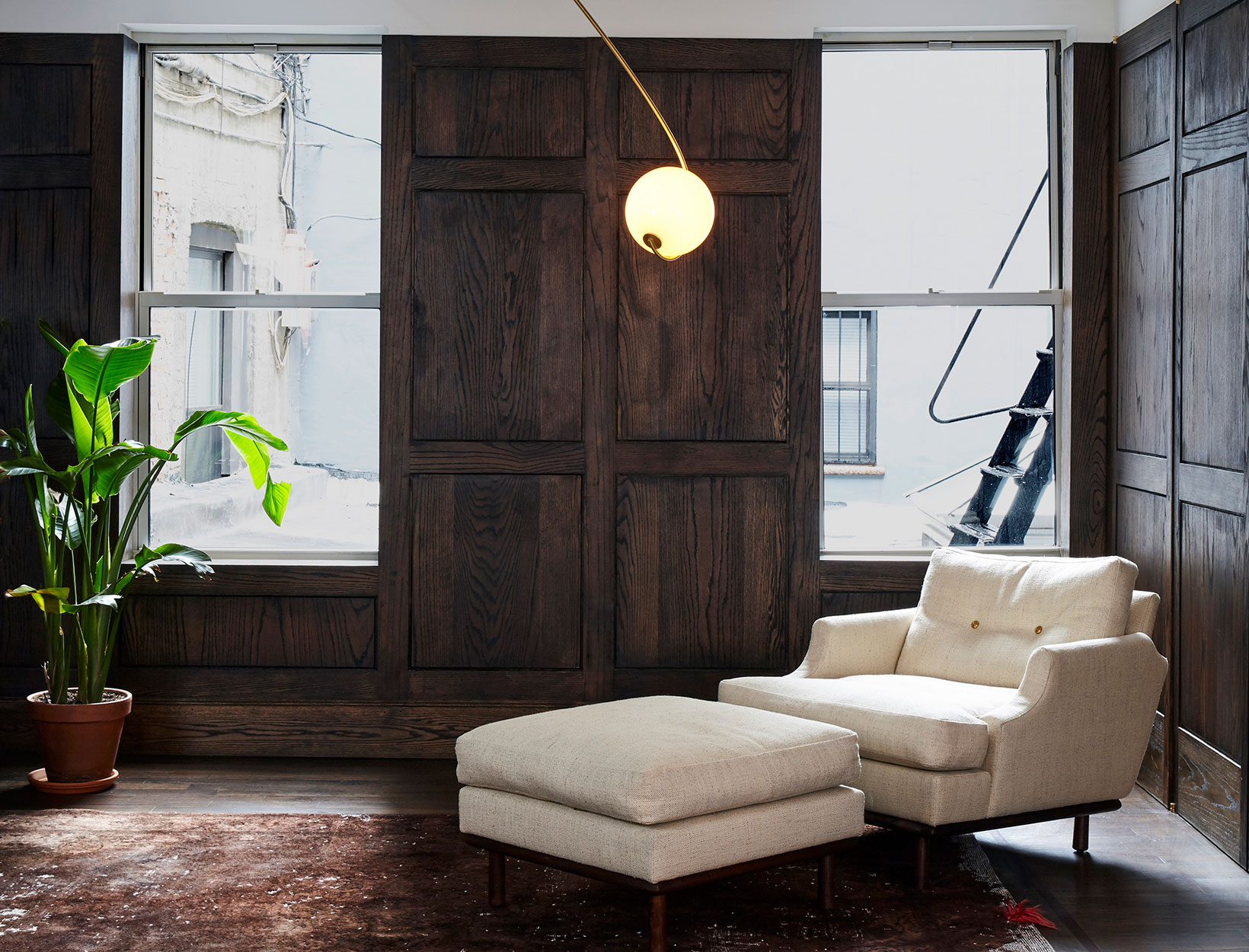 Photo courtesy of Roll & Hill
A Lighting
Designer's Advice
on
How to
Light a Room
Like so many artists, lighting designer Jason Miller takes his inspiration from Mother Nature: "When it's light outside, I want that light in my house."
But that's not to suggest that Miller discriminates. All light sources, whether powered by the sun or plugged into an outlet, are in Miller's repertoire. As the founder of lighting company Roll & Hill, Miller has been producing handcrafted light fixtures for nearly a decade. His pieces, many made in collaboration with luxury designers, are architectural, almost sculptural pieces you'd expect to see in a museum. Otherworldly, gleaming brass-and-marble sconces. Chandeliers that mimic a castle's turrets. Put a Roll & Hill fixture in an empty room and we'd want to live in it. Of course, it doesn't necessarily follow that a gorgeous fixture means perfect lighting. For that, you'll need to consider all the elements. Room size, ceiling height, placement, natural light—they all make up the soul of a room. With that in mind, we asked Miller for his advice on bringing a home to light.
TIP 1

GO BIG

With hanging lights, like pendants and chandeliers, bigger is almost always better. "You never want a hanging light that looks undersize, especially in a marquee area, like over the dining table, in a double-height stairwell, or in a grand living room," says Miller. "Things always look smaller when they are far away, so go with one that is a bit bigger than you might think you need."
TIP 2

CHECK YOUR LEVELS

For a living room, you want to have light at all levels. This could include pendants, chandeliers, and flush mounts for the high level; sconces and tall floors lamps for the middle level; and low floor lamps for the lower level. And if you want more depth, add accent lighting (picture lights, shelf lights, area lights, and spotlights).
TIP 3

BE RANDOM

"Unless you are centering a lamp above a table or have a similar setup, it can be better to be a little adventurous in placing lights, especially those at the mid-level of a room or on the floor," says Miller. He suggests finding a place for a single off-centered sconce or sticking a floor lamp in an unexpected place.

TIP 4

AND ALSO SPECIFIC

To show off a piece of art, you'll want a spotlight. They're "a great way to create drama."
The Fixtures