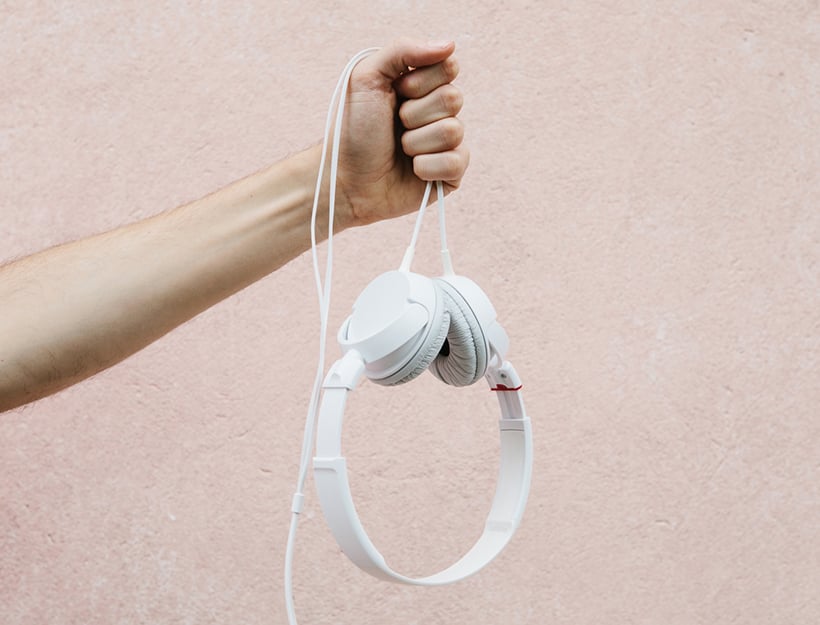 How to Find the Right Headphones
Long-time goop friend and music manager Seth Friedman spends a lot of time with headphones on. Beyond the requirements of his job, he's always on a plane (case in point: the goop classic, "Fly Better," in which he gave us some of his travel tips). Below, he assembled a mini panel of musician Natasha Bedingfield and fashion executive Clement Kwan to test-drive some of the best headphones on the market—at all different price points.
The Hunt for the Best Sound
I am by no means an expert, but my theory on headphones is pretty simple: 50% performance, 50% design. I would never wear something that is ugly, and I would never use something that sounds like sh*t. It's all about the balance. I split my headphone use pretty evenly between over-the-ear "headphones" and in-ear "earphone" or "earbud" styles. While walking around the city, especially in the warmer months, I prefer an in-ear style as they are not as hot and can easily be stowed in my pocket when I get to a meeting or a gig. I also use this style earphone on the all-too-rare occasion I make it to the gym.
There are a few key features that I look for: First, I really like to have flat, tangle-free "fettuccini"-style wires. There is nothing more annoying then spending two minutes untangling a mess of wires every time you walk out the door. I also like to have a microphone and controls that work with my iPhone. Though I don't use Siri all that often, it's nice to have that option. As far as fit goes, I have average sized ears, so fitting has never been a problem. If you have some sort of unique ear, there are a few custom options that may work great for you.
As with any technology purchase, make sure you check compatibility with your particular devices and look online. All of these products are heavily detailed on their respective websites if you want really technical data. And while most are on the higher-end of the price spectrum, I am quite sure there are some great values out there in the lower price brackets as well. Because not everyone is as average as me, I enlisted a couple of friends to help me talk about the headphone landscape:
Clement Kwan

Clement is an avid music fan and understands fashion and design better than almost anyone I know. As a fellow New Yorker—via Italy where he worked for D&G—he is now President of YOOX US and qualifies as an expert on what's cool.

Natasha Bedingfield

Natasha is a Grammy-nominated singer and songwriter with an impressive musical resume and the only thing better than incredible headphones, is listening to Natasha sing live. Also let it be known that Gwyneth does a mean cover of "Pocket Full of Sunshine" if properly coaxed.