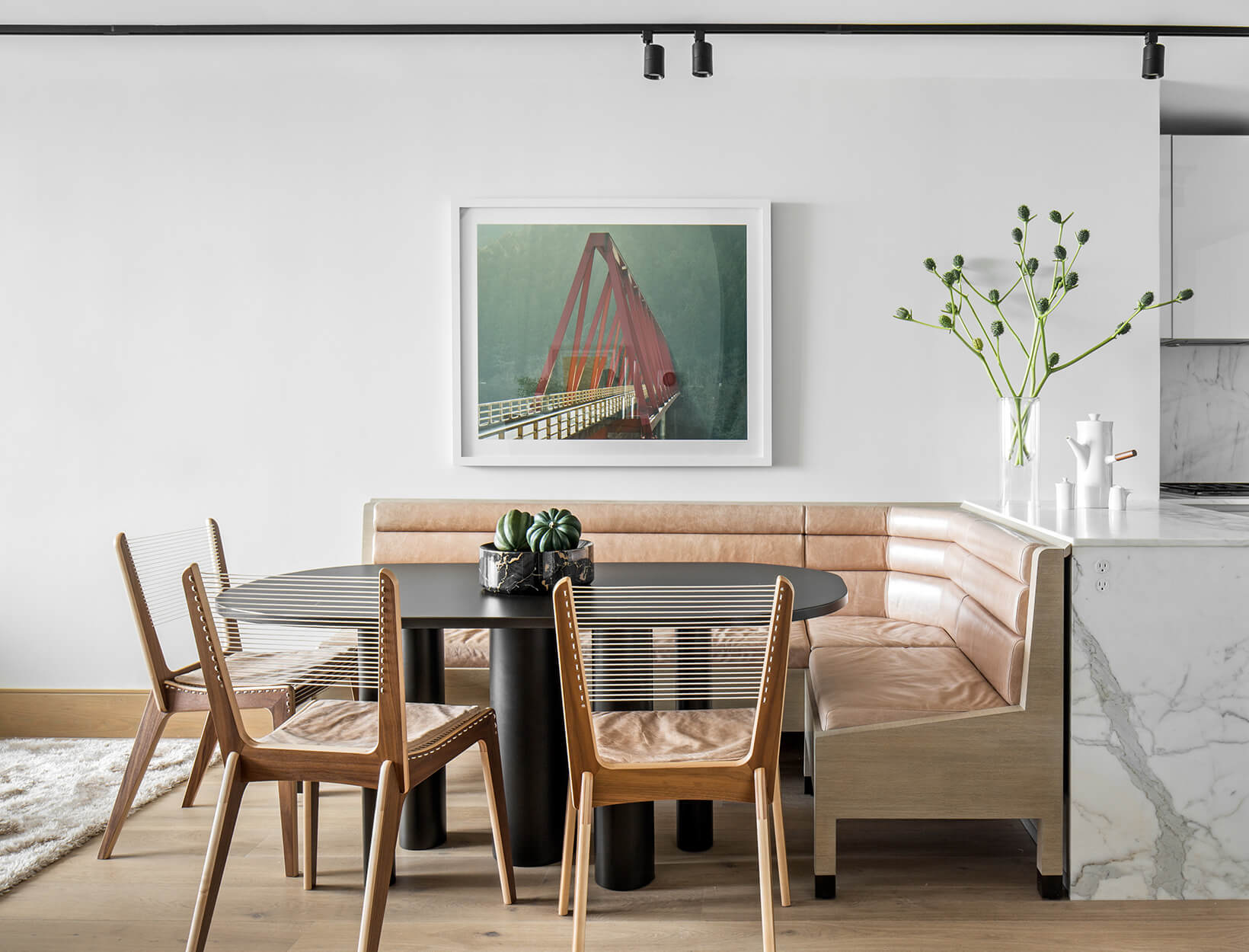 Design by Marc House. Photographed by Sean Litchfield for Homepolish.
Unexpected Ways

an Interior Designer
Can Open Your
Space—and
Your Mind
In partnership with our friends at Homepolish
Working with an interior designer is not so unlike therapy. You have to connect with the person, then you have to build trust with them, maybe expose a few areas of vulnerability. Eventually ideas come up; perceptions shift. And somewhere in the process there's a lightbulb moment. "I love when our clients say, 'My designer just helped me discover something that was always in me,'" says Lisa Wirth, the director of design services at Homepolish, a company that connects clients to highly skilled, vetted interior designers and contractors, effectively streamlining the purchasing and design process. "It becomes a personal, expressive, creative experience for a lot of people." A designer also provides a safety net. "You'll see people take bigger risks and make bolder statements," says Noa Santos, the founder and CEO of Homepolish.
As with any risk-taking endeavor, there are obstacles—often right at the beginning. Choosing between matte and gloss can be deceptively tricky if you've never really thought about it before. The same goes for deciding between an eighteenth-century highboy and a mid-century modern credenza. And there's the bigger question of where do you even begin. Wirth and Santos have a combined over three decades of experience in design, which means they've seen firsthand how a designer can not only help someone overcome aesthetic obstacles but occasionally provide counsel in some very unexpected ways.
TIP 1

See obstacles as inspiration

Limited light. A tiny kitchen. Zero storage. Every space has its hiccups, but instead of letting those hinder design dreams, have them lead, recommends Santos. "You need to build a room as you build anything, where you start with your constraints—whether it's a spatial constraint, a lighting constraint, a lifestyle constraint—and let those inform the decision-making." In this city bedroom, the designer visually opened a narrow space by painting one wall a darker graphite, a trick that gives the room a "sense of expansiveness because of the contrast between light and dark," explains Wirth.

Design by Andrea Jaramillo.
Photographed by Christian Torres for Homepolish.
TIP 2

Don't keep up with the Joneses

You know that dining room you think you need? According to the pros, you probably don't. "People get bogged down in [the idea that] they have to have this and that," says Santos, but it's wiser to design your home according to how you want to live in it. Do you want to have areas for entertaining, space to work, or a room to host out-of-town guests? These are questions to ask—because good "design creates experiences in our lives," says Wirth, who points to these two open loft interiors as examples of adaptivity. "It's about creating different engagement opportunities within the space."

Design by Kroesser + Strat.
Photographed by Sean Litchfield for Homepolish.

Design by Joe Joo. Photographed by Nick Glimenakis for Homepolish.

"It's our responsibility to help the client translate their vision and to empower to them to do things they might not otherwise have done," says Wirth.
TIP 3

Think outside the storage box

Designers see solutions to problems you didn't even know you had. "What the designer's done very successfully here is convert underutilized space," says Wirth, who notes that the bar doubles as discreet storage. The open shelving is a place to make "objects of desire easily accessible," while there's more storage inside the credenza. "It's showcasing this mix between open storage and buttoned-up, serene storage."

Design by Nina Jizhar. Photographed by Helynn Ospina for Homepolish