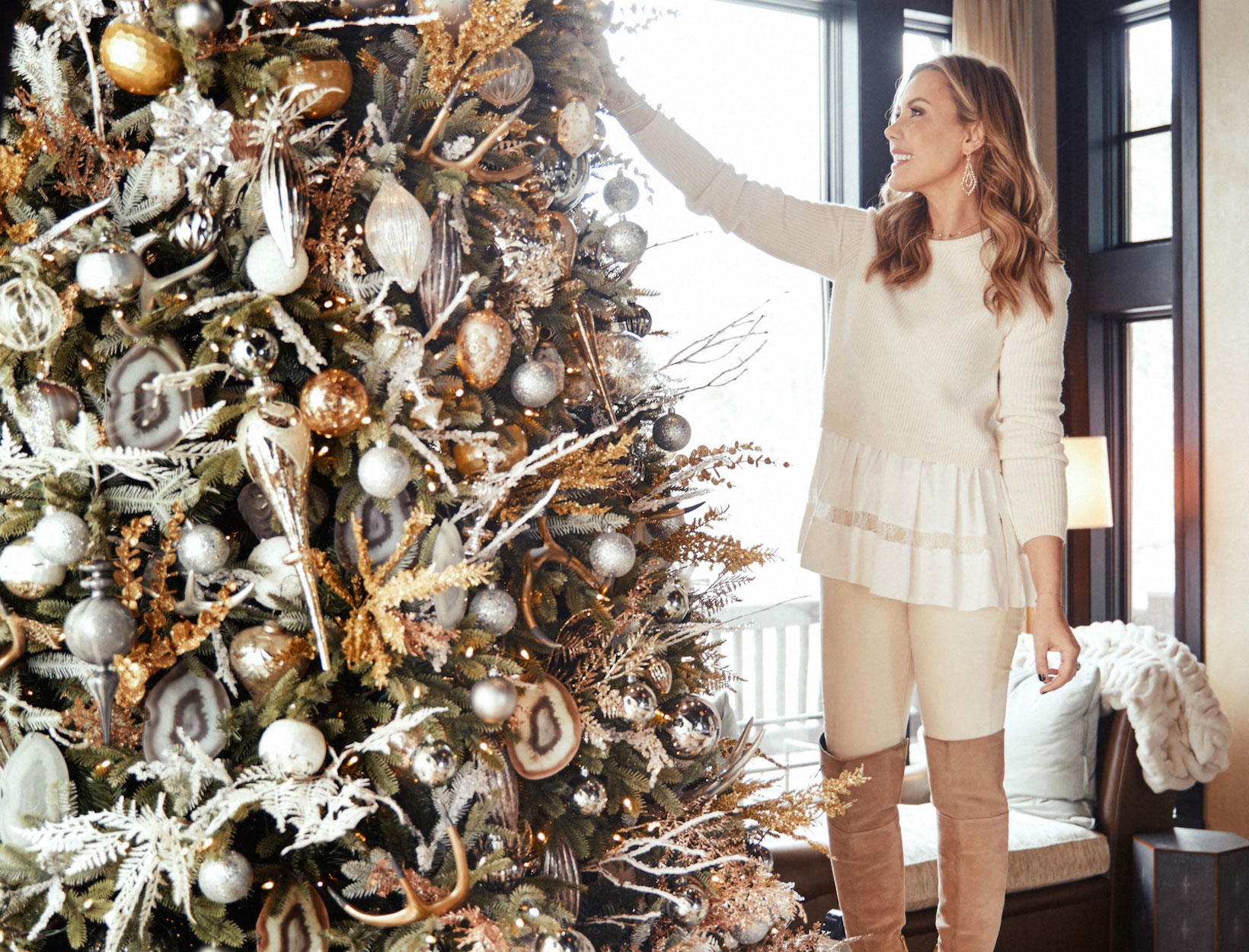 DAY IN THE LIFE
How a Jewelry Designer
Preps for the Season
In partnership with our friends at

To say that jewelry designer Kendra Scott likes to get a head start on the holidays is something of an understatement. "Christmas is my absolute favorite," says the Austin-based designer, who's known to have her Christmas trees—yes, plural—up well before the turkey goes on the Thanksgiving table.
The month leading up to Christmas break is a festive frenzy of family dinners and gatherings with friends, plus lots of holiday shopping for Scott's extended family. For the last several years, she and her three boys have thrown a big celebration complete with hot chocolate and (fake) snow—and guests all bring a gift for Operation Blue Santa, a local toy drive run by the Austin Police Department. And finally, when December 25 actually arrives, the family heads to Colorado, where they'll spend Christmas Day on the mountain, whether skiing or throwing snowballs. ("All things my teenagers will still do with their mom," she says.)
Scott breaks down a regular day in December for us—one that includes errands up and down South Congress Avenue, a few clutch hostessing shortcuts (thanks, Whole Foods), and a wine-fueled party cleanup with friends.
7AM

No matter how busy we are, we all sit down together as a family for breakfast.

9AM

My mother's recipe for peanut butter balls is a go-to of mine this time of year. It's a simple mix of cereal crisps, peanut butter, and powdered sugar as the base, but the chocolate-butterscotch coating takes a few hours to chill. I usually make these in the morning before I head out for a day of holiday errands.
"I get into Christmas…early. By Thanksgiving, the house is decorated. I'm talking multiple trees, decorations over the mantle, on the doors, on the tables. You name it."
11AM

First stop on my list is always Tyler's, a local
shop that has become iconic to Austin. If you have a teen or preteen, this place has everything you could ever need. I can usually cross my two oldest boys off the list here.
12:30PM

Time for a quick break and a pick-me-up. I have a sweet tooth, so I love stopping by Tiny Boxwoods for one of their chocolate chip cookies. (I'll grab an extra one to bring
home to my youngest son, Grey.) It's right across the street from my favorite boutique, Valentines. I'll always pop in if I need something new for a party, and they're always willing to give advice if I'm torn between outfits.

"I used to wait until the last minute to shop for gifts, but over the years I've started shopping earlier. I have a 'gift list' note on my phone, and as I hear people mention things they want, I'll jot it down. I have a big extended family and lots of friends to shop for every year, so I start my list as early as possible."
2PM

A short trip down to South Congress is perfect for those trickier people on my list. My husband, Matt, is the hardest to shop for, but with all the vintage shops and local boutiques on this block,
I can usually find something that I know he'll
love. Plus, our new Kendra Scott flagship is just
down the street, so I can swing by and pick up
jewelry for all the ladies on my list.

3PM

If there's a party on the agenda for the
evening, I head back to the house early to make sure everything is prepped. But not before stopping by the Whole Foods headquarters on my way—it has the best assortment of fresh flowers, and the bakery is amazing if I'm in need of an extra sweet to fill the dessert table.
4PM

Confession: Only a few of the dishes at my dinner parties are homemade. Don't be afraid to not do it all yourself. If a few key dishes are made from scratch, it's okay to cut corners and buy a few sides or desserts from your local market. Think of it as less stress, more time to enjoy.

Kendra's Dinner Party Go-Tos:

Wild Blackberry Crumble Tart

Mustard Chicken Breasts with
Brussels Sprouts and Potatoes
"Christmas music is on repeat at my house. The Elvis Presley Christmas album is always in the mix."
10PM

As a Midwestern gal raised in Wisconsin, I believe in everyone chipping in during cleanup. Even after a dinner party with friends, they'll follow me into the kitchen and help me tidy up. It may not be spotless, but it gets the job done. Plus, cleanup always goes by quicker with a glass of wine.
Kendra's Picks