Home Tour: GP's NYC Apartment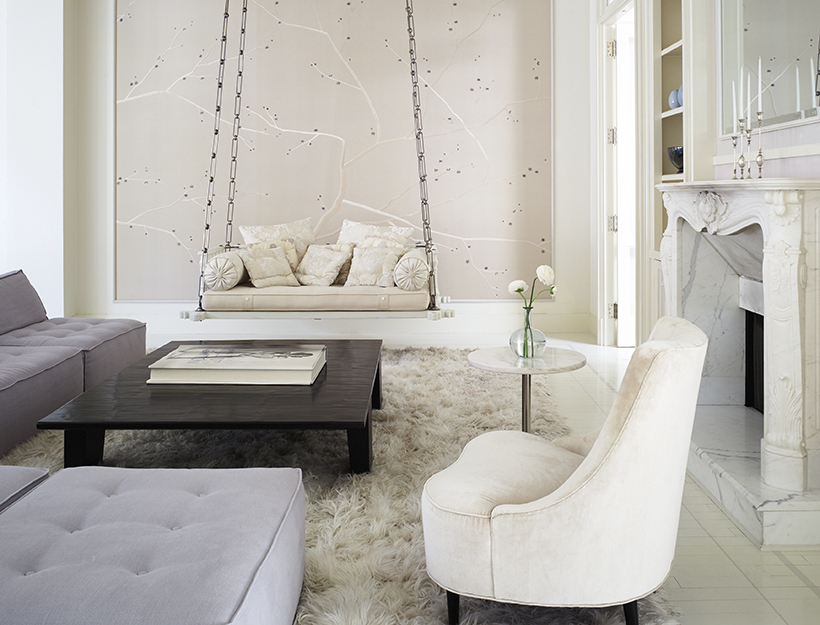 The word "artisanal" has become shorthand for rough-hewn wooden beams and exposed lightbulb filaments, so the artisanal, bespoke nature of GP's Tribeca apartment—designed in conjunction with Roman and Williams—is surprising: It floats above the cobblestone streets like a pale, dreamy cloud. Pastel silks, hand-embroidered wallpapers, and cool swaths of marble punctuate the space, which balances centuries-old techniques and antiques with a confident, breezy modernism.
The quiet attention to the well-made and hand-perfected allows for a lightness—not just in palette and texture, but in spirit. It's remained private until now because, above all, it's a family space: The swing made from an antique Indian door in the living room is for reading to and playing with kids. The gigantic bed in the master bedroom (so enormous that sheets had to be custom-made) was designed so every last family member can sit together on it, cousins and pets included. Now that the family in question is solidly based in LA, the apartment is for sale—giving us a chance to finally see it.
"Projects like this just don't come along," says Robin Standefer, principal at Roman and Williams Buildings and Interiors (The Ace Hotel, the Boom Boom Room in The Standard hotel in New York, the goop MRKT pop-up in New York's Time Warner Center, to name a few) with her husband Stephen Alesch. It was the couple's first collaboration with GP; she'd loved some of their work that she'd seen in a friend's house, so she called the office one day, out of the blue. "That kind of phone call never gets old," laughs Standefer. "It was the beginning of a wonderful relationship."
Though the design firm's best known work at the time was "dark and rich, very layered," according to Standefer, "Gwyneth saw how we could instead channel this ethereal palette: light delicate whites, palest lavenders, grays, silvers, embroidery details." The trademark Roman and Williams layering is there, but in whispers: "It's the classical marble Chesney's fireplace paired with a Venini light fixture, the hand-painted wallpaper in one room with the hand-embroidered wallpaper in the next, it's paper and fabrics and flowers. We worked carefully together on the palette and the textures to create the sense of refinement."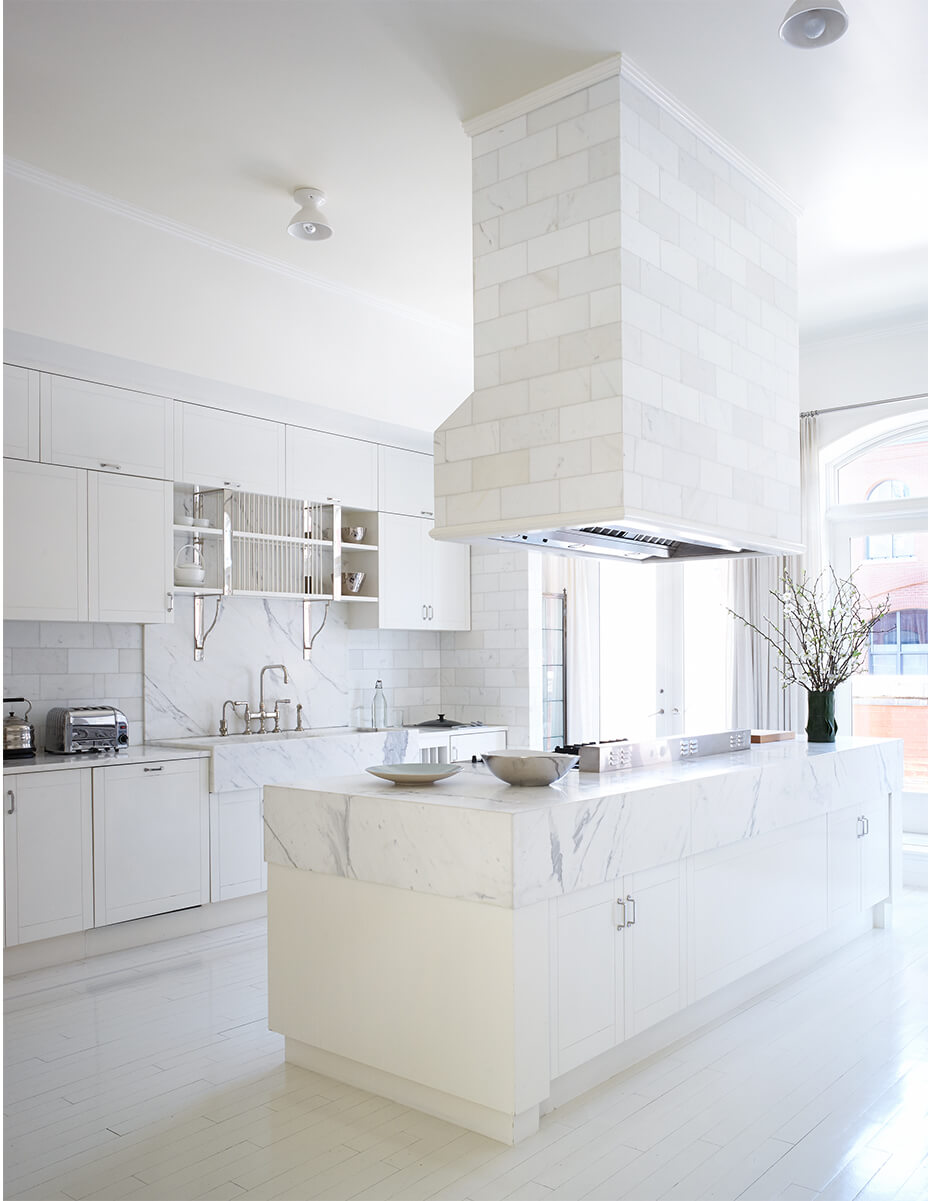 "The kitchen is so modern and so special—the marble counter is intense and strong, yet somehow it works as this sensual piece," says Standefer.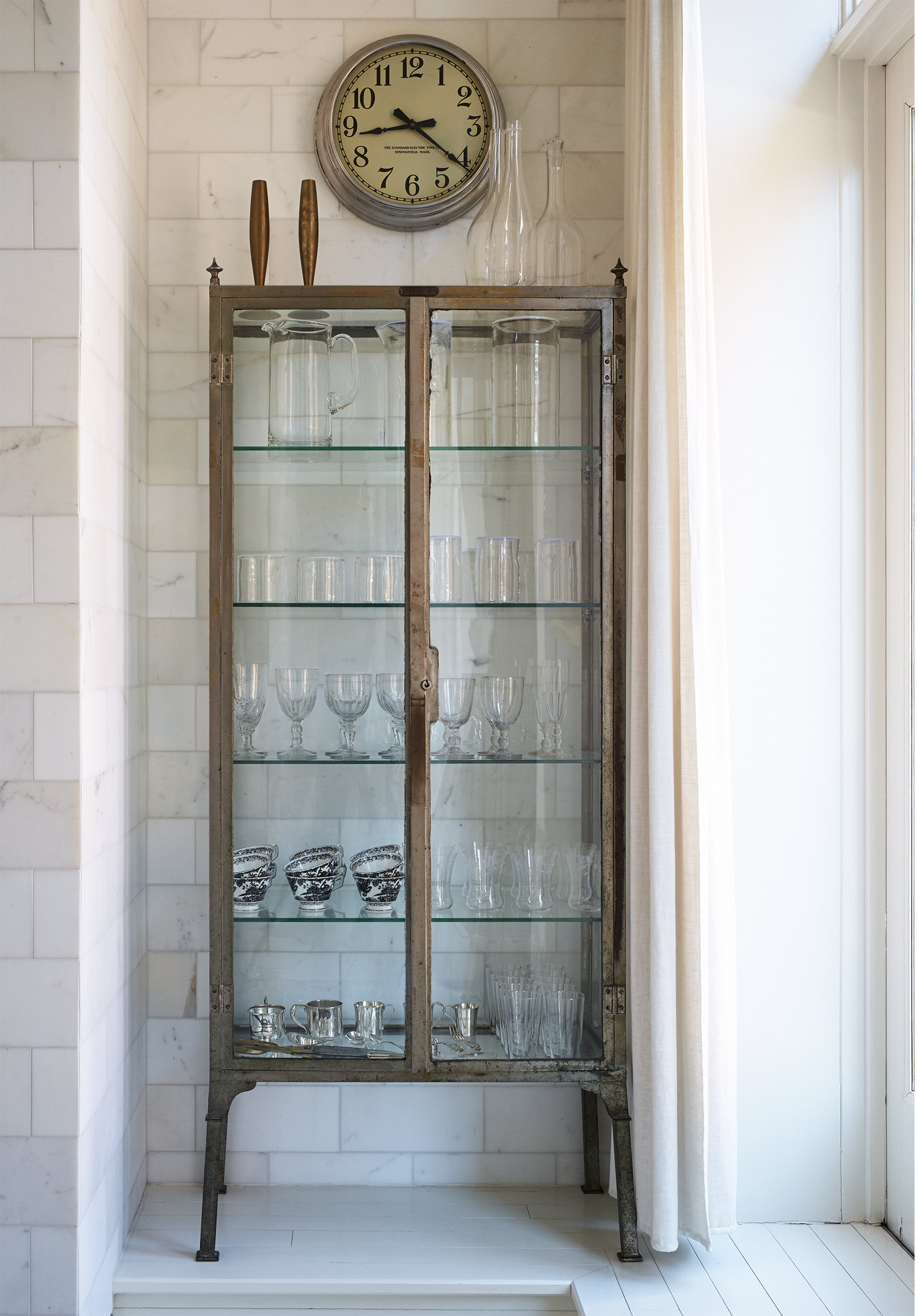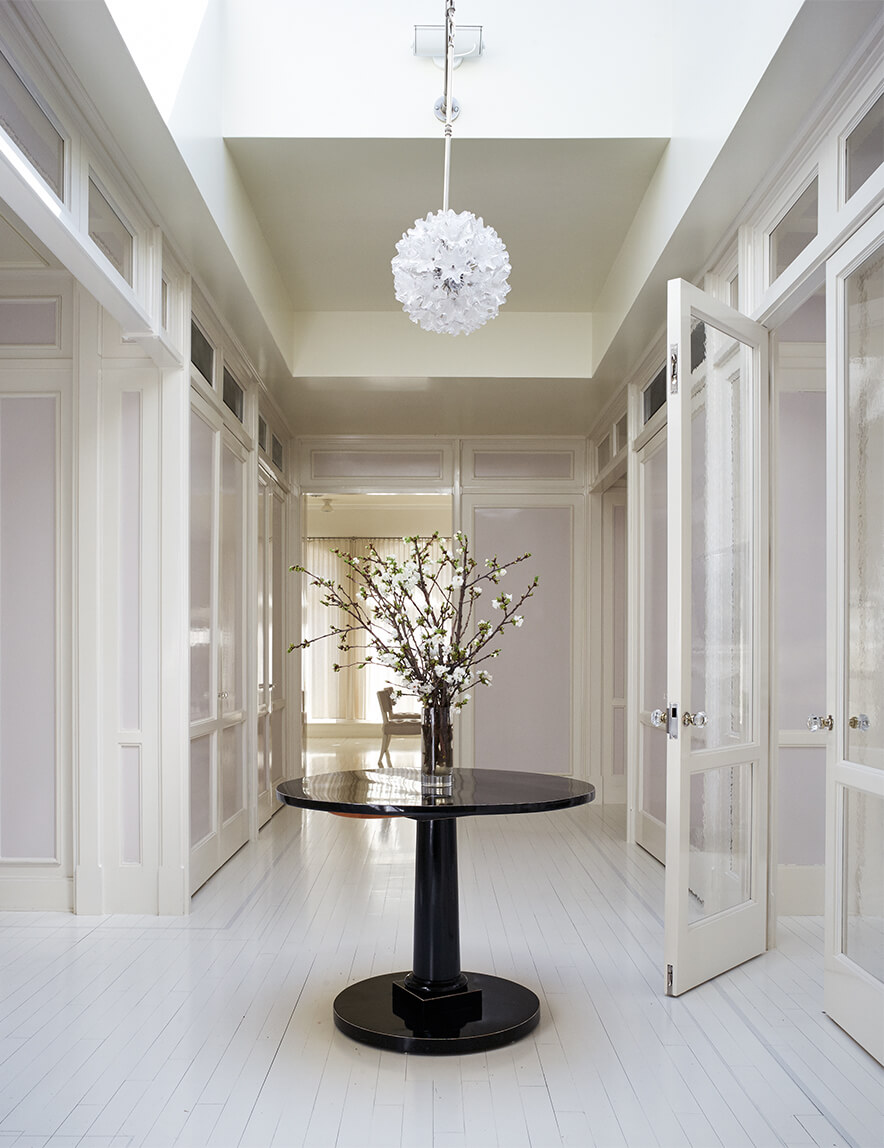 "We wanted to make the foyer this long, great room—what you'd find in a proper English home with that classical round table," says Standefer. "We played with the idea of levels of public and private."
"We wanted to go with this sort of romantic, playful vibe and Gwyneth thought of this swing where she could sit and relax with her kids. It's made from this incredible antique Indian door, painted and then topped with silk pillows."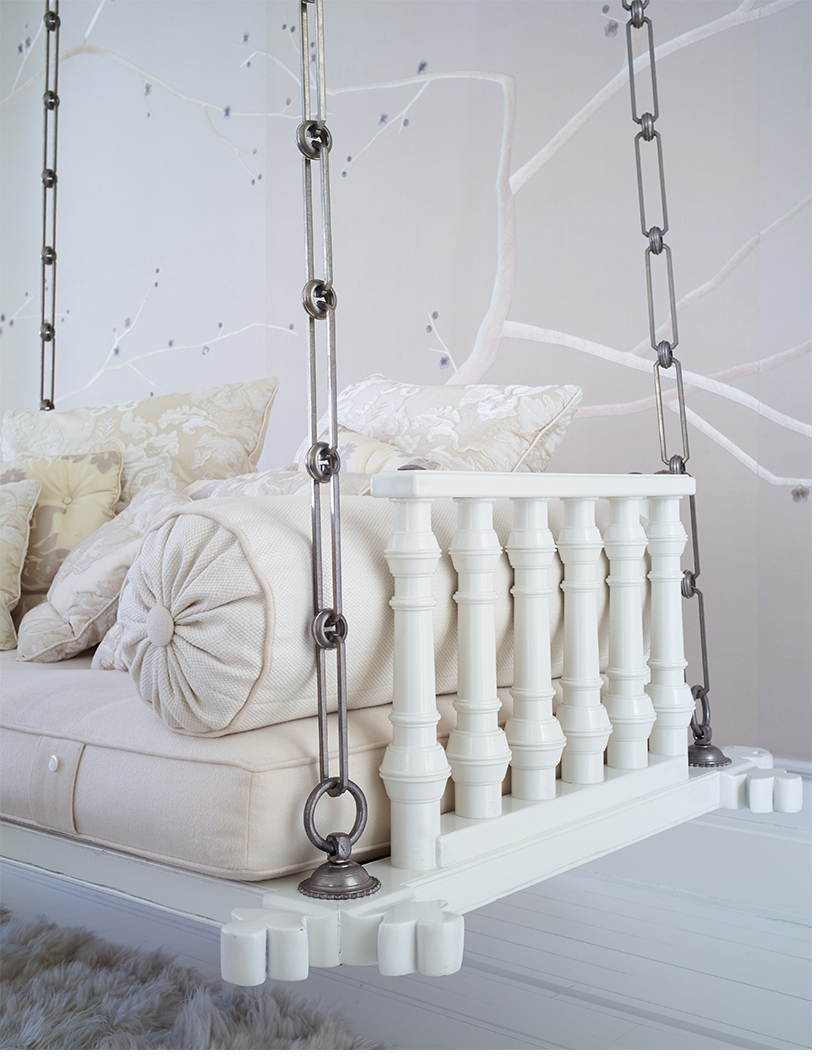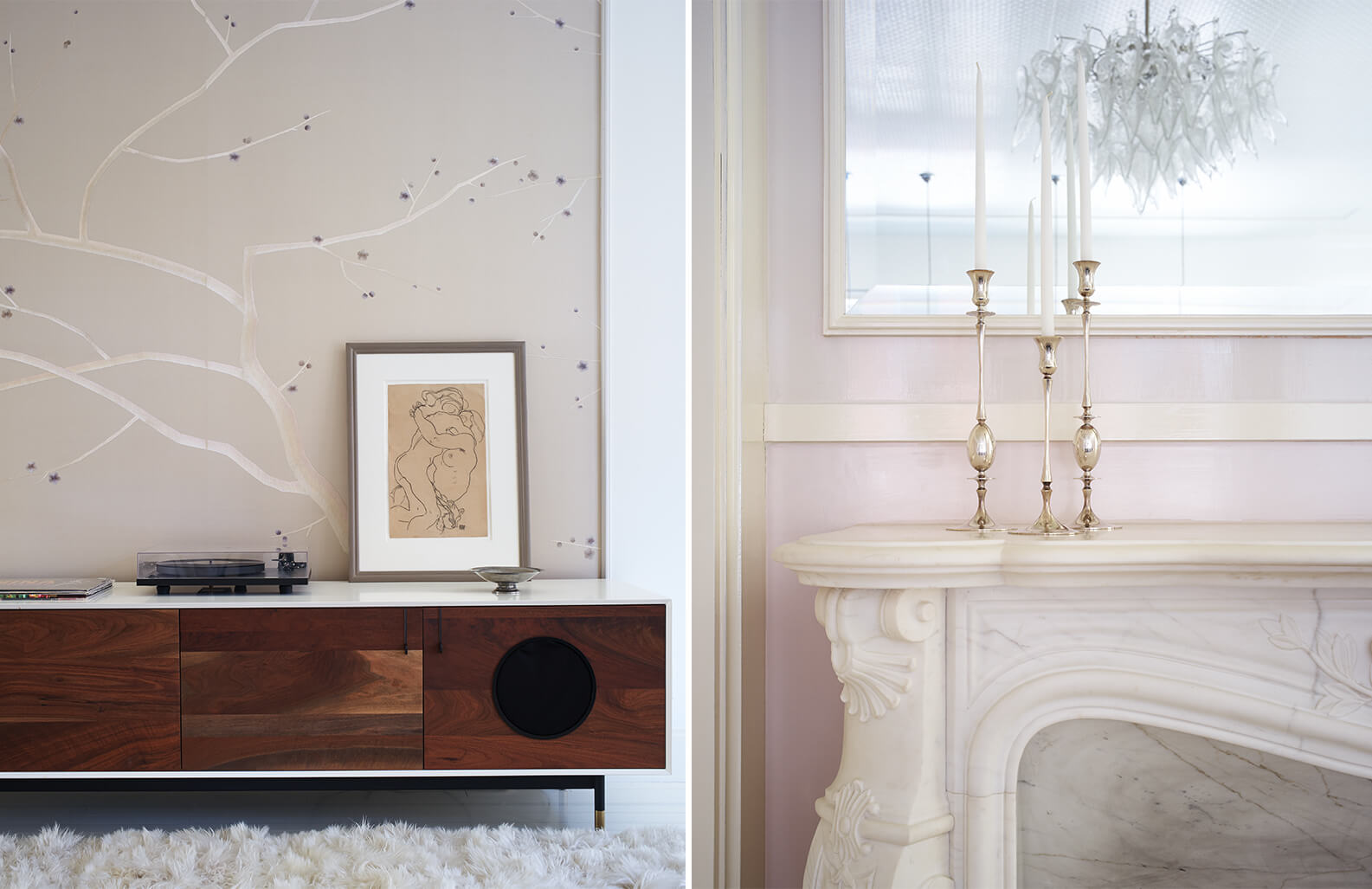 Photographer: Björn Wallander
Stylist: Christina Spates