Holiday Decorations
I went to my favorite flower shop in London, Absolute Flowers and Home, a few days ago for some tips on making holiday arrangements and displays. Hayley, the owner, is lovely and has amazing taste—she showed me how to make some home-style decorations and floral arrangements to get our homes looking ready for Christmas.
Love, gp
---
Hayley's Holiday Wreath
You'll need:
1 Pine Wreath—available at your local florist

A Selection of Glass Ball Ornaments

Moss Pins

Glue Gun

Glitter Apples

Scissors
It took Hayley and I about 30 minutes to make this wreath together. You can find most of your supplies at florists and big department stores. In the U.S., Michaels is a great source for home craft projects.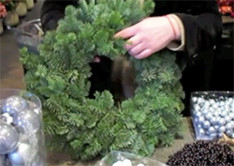 Start with a simple pine wreath like this one.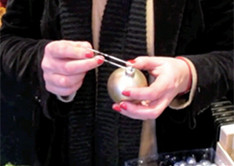 Take a moss pin and stick it through your ornament's top.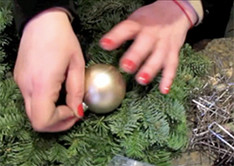 Now push the moss pin with the ornament into the wreath. Make sure it's secure. Keep doing this throughout, with the ornaments and decorations of your choice.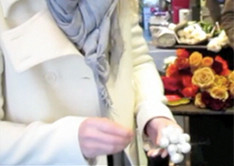 I like these little bouquets of glass balls that add a nice variety to the wreath. Hayley says you can find these in department and craft stores.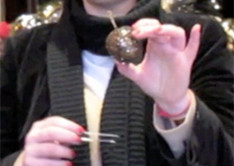 Hayley also used glitter-covered apples which you can make at home. Brush water-based glue on the fruit of your choice, then roll it in a dish full of glitter and allow it a few hours to dry completely.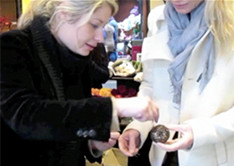 Just push the moss pin right through the apple and stick it into your wreath.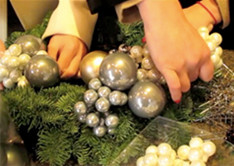 In progress…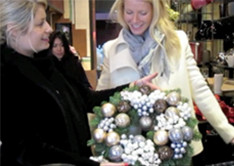 This is how your wreath will start to look.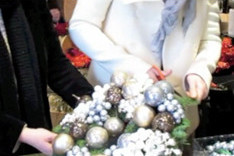 At this point, you'll want to trim off any pine that sticks out from your wreath…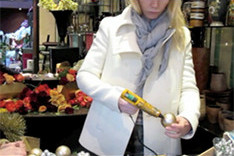 and glue ornaments into any gaps using a glue gun.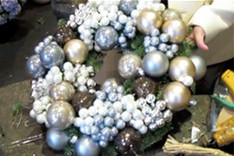 After about 30 minutes you'll be almost done.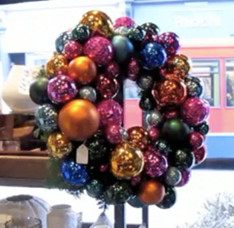 Here's a finished version that was at the shop. Keep in mind that the color scheme and kinds of ornaments you use are completely up to you.
---
A White Floral Display
You'll need:
3-4 white hydrangeas

1-2 dozen white roses

A variety of vases

4-5 tealights

String

Scissors

Acrylic display tray
What I love about Hayley's arrangements is that they never seem overdone. You can easily recreate this display with a group of vases and glasses that you have at home.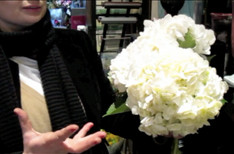 Start with three white hydrangeas.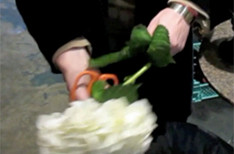 Take off any extra leaves minus the ones right under the flower. These add a nice touch of color.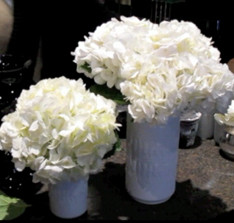 Cut the stems to the size of the vases you are going to use. Here Hayley used vintage German vases for her arrangement. Using slightly mismatched vases in different sizes and styles adds a special dimension to any arrangement.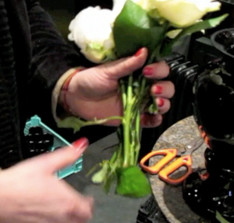 Now take a bunch of roses and remove all the leaves.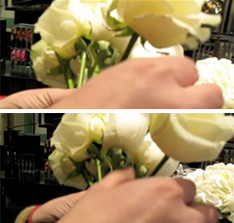 Hayley showed me a great trick: She likes to remove the leaves from right beneath the rose…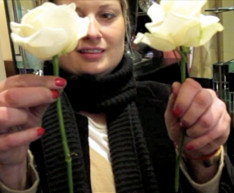 This way the rose opens up.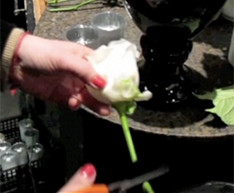 Now cut two or three roses so that they'll fit in a short glass…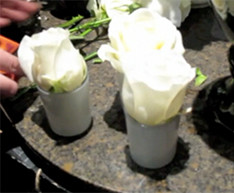 like this. Petite arrangements like these are good fillers for your display.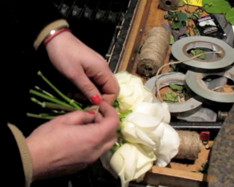 Now take about 6 or 7 roses and tie them together with twine.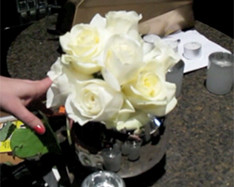 This way they'll have a rounded shape when placed in the vase you choose.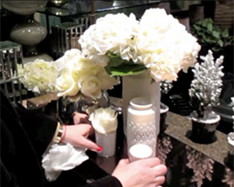 Hayley likes to place her arrangements on shiny acrylic boxes like the one shown as it acts like a frame for the display. Set your roses, hydrangeas, and tealights on a tray or acrylic box and arrange…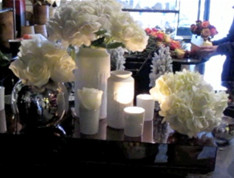 and light your tealights…
---
Absolute Flowers and Home
12-14 Clifton Rd.
London, UK
01144 207 2861155