Tour the New goop Villa in Palm Beach with Gwyneth
Created with Brizo, Monogram Appliances, and Lilly Pulitzer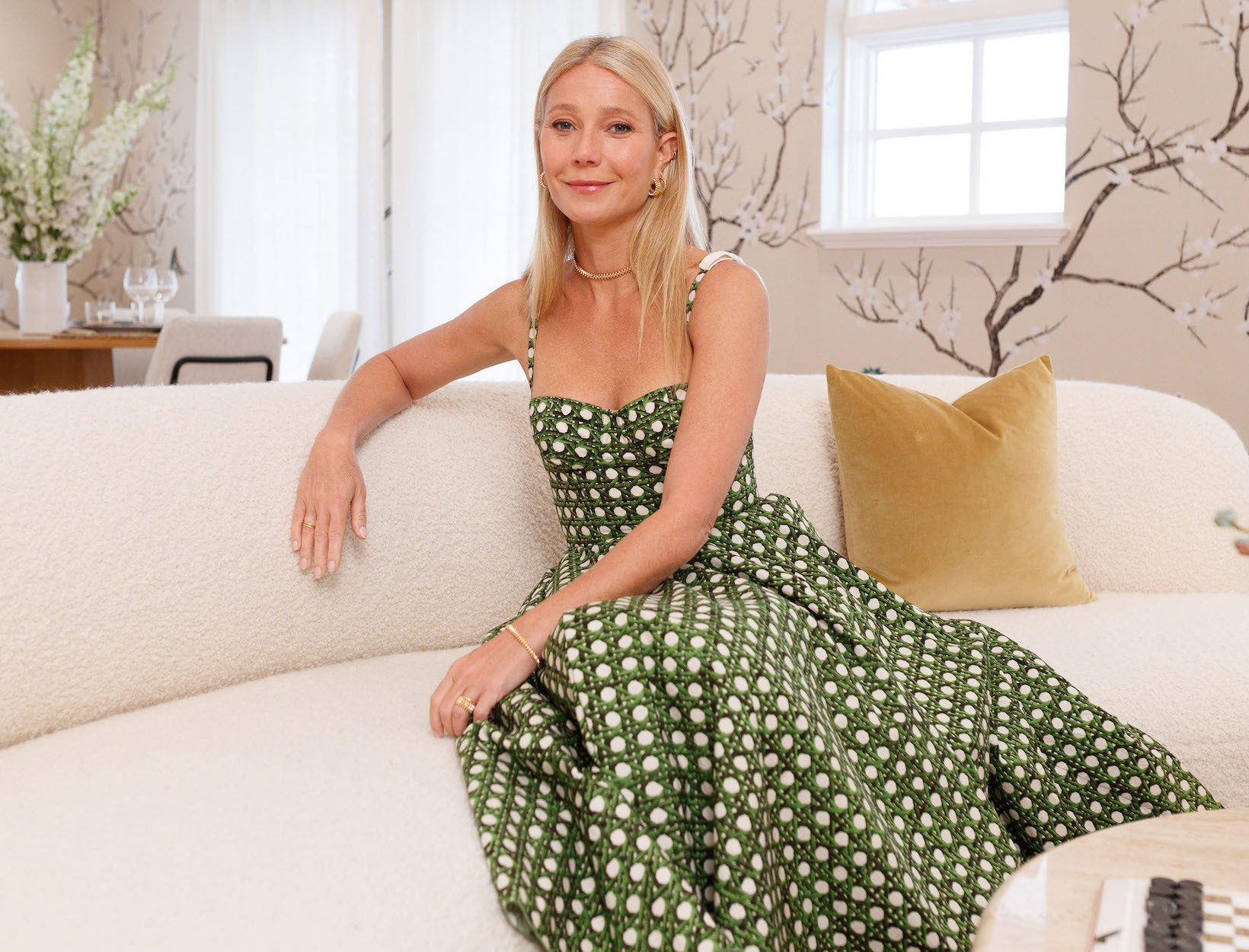 To celebrate 15 years of goop, we collaborated with the Colony, the chicest hotel in Palm Beach, to design a gorgeous, restful, airy two-bedroom villa (you can book it here). Together with New York design firm Ronen Lev, Gwyneth—who grew up going to Palm Beach with her family—created a space that's warm, luxe, supremely relaxing, and pure goop. "We wanted to create a really beautiful and unique space that our community could come to and really feel the goop aesthetic," she says. "We were so fortunate to collaborate with the Colony Hotel—an icon two blocks from the ocean, right near the center of town—and our old friends at Ronen Lev to make something really emblematic of my taste."
Gwyneth says she gets design inspiration from her travels and from Pinterest—and that she keeps a Pinterest board labeled "Future renovations" for her favorites. "I love a space to feel like it's been around for a long time, with the provenance of old material, millwork, moldings, and handsome proportions," she says. "And then I like things to feel a little more contemporary and clean and feminine."
So the space had to time-travel a bit, in a uniquely goop, uniquely Palm Beach way. "All the Paltrows have congregated in Palm Beach for decades," says Gwyneth. "I grew up staying with my grandparents here at their condominium, going for stone crabs or into town—my grandfather loved this particular cashmere store on Worth Avenue. I have amazing memories of being in the ocean with them and in the pool with all their friends (who I thought were really old but, looking back, were probably what my age is now). So it's really wonderful, actually, to be back here, leaving our stamp on such a classic, beautiful property."
THE LIVING ROOM
From the moment you step inside the villa, you feel that balance. Juxtaposed with a vintage travertine coffee table are inventive, modern pieces: "The gorgeous couch and green chair—it's feminine, comfortable, with this great heavy proportion—are from the Invisible Collection, which is one of my absolute favorite furniture stores in the world." A cushy neutral rug from Armadillo layers in comfort; a Cartier checkers set and Cartier trays deepen the sense of luxury and indulgence.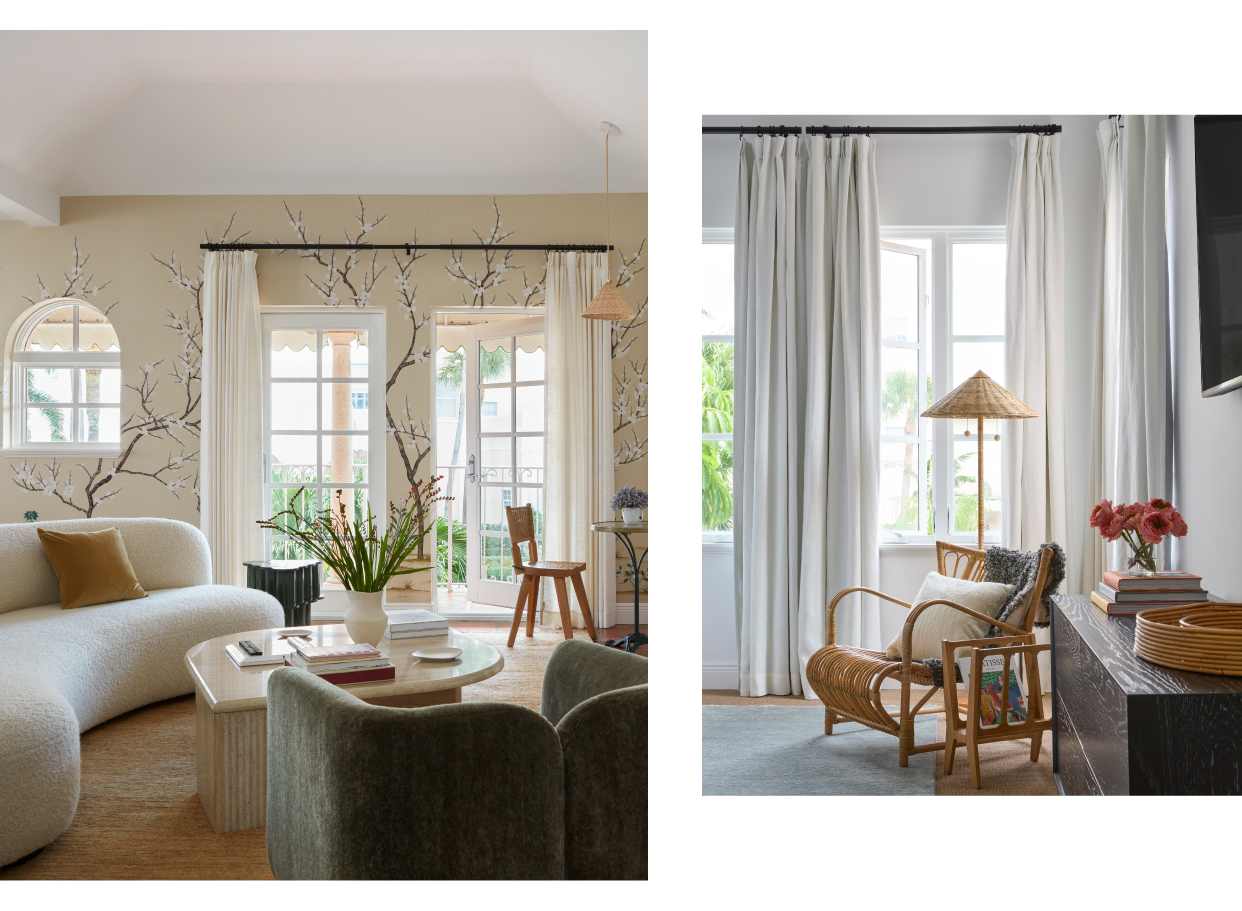 The wallpaper is from Fromental. "I've worked with them for years, and they make the most exquisite handmade wallpaper," says Gwyneth. "We actually collaborated and made a collection of dresses inspired by this chinoiserie. My friend Julia Van Nice wore one to our 15th-anniversary dinner, which I loved."
The villa is painted throughout with rich, creamy colors from Farrow & Ball, and the gorgeous art is from Tappan.
THE KITCHEN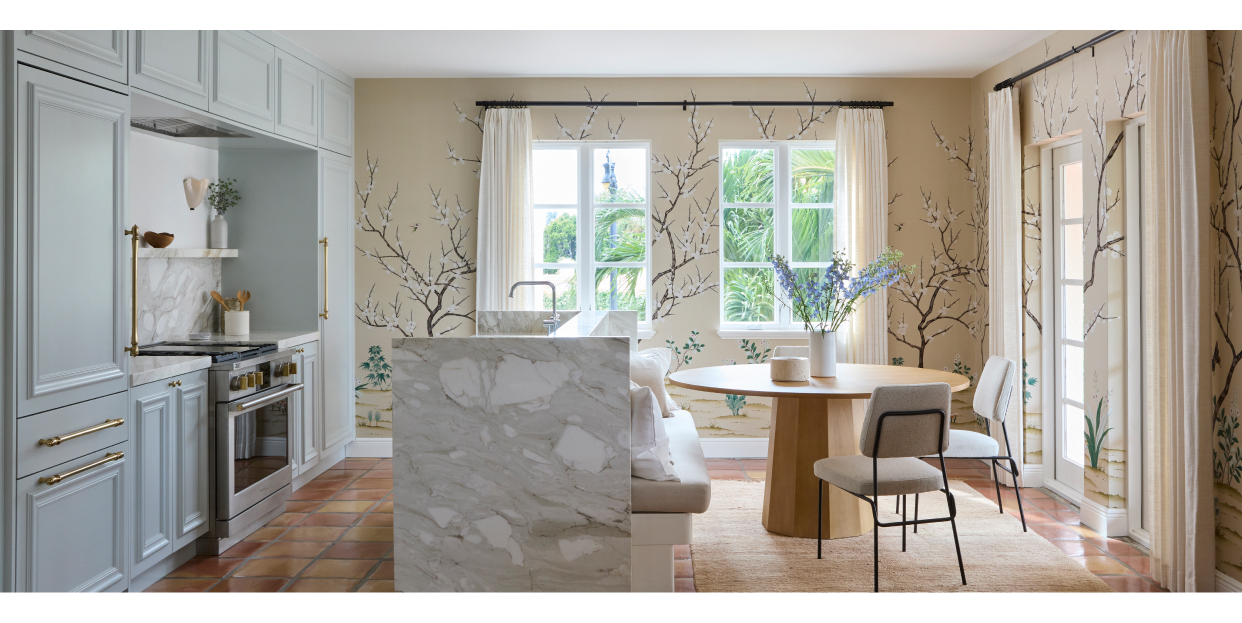 You can order a special goop smoothie and a special goop soup from room service, but the kitchen is so inviting, you may very well want to cook in it. "It's got this beautiful millwork, and the pièce de résistance: this Monogram range," says Gwyneth. "I'm obsessed with my Monogram range, so we had to have one here." The microwave, fridge, dishwasher, and delightful Forge ice press are all from Monogram, too.
"Ronen Lev did such a beautiful, clever use of space with the amazing island," she continues. "There's a gorgeous Brizo faucet, and then a banquette on the other side. I love a banquette. There's great counter space, and these chairs are just beautiful."
THE PRIMARY BEDROOM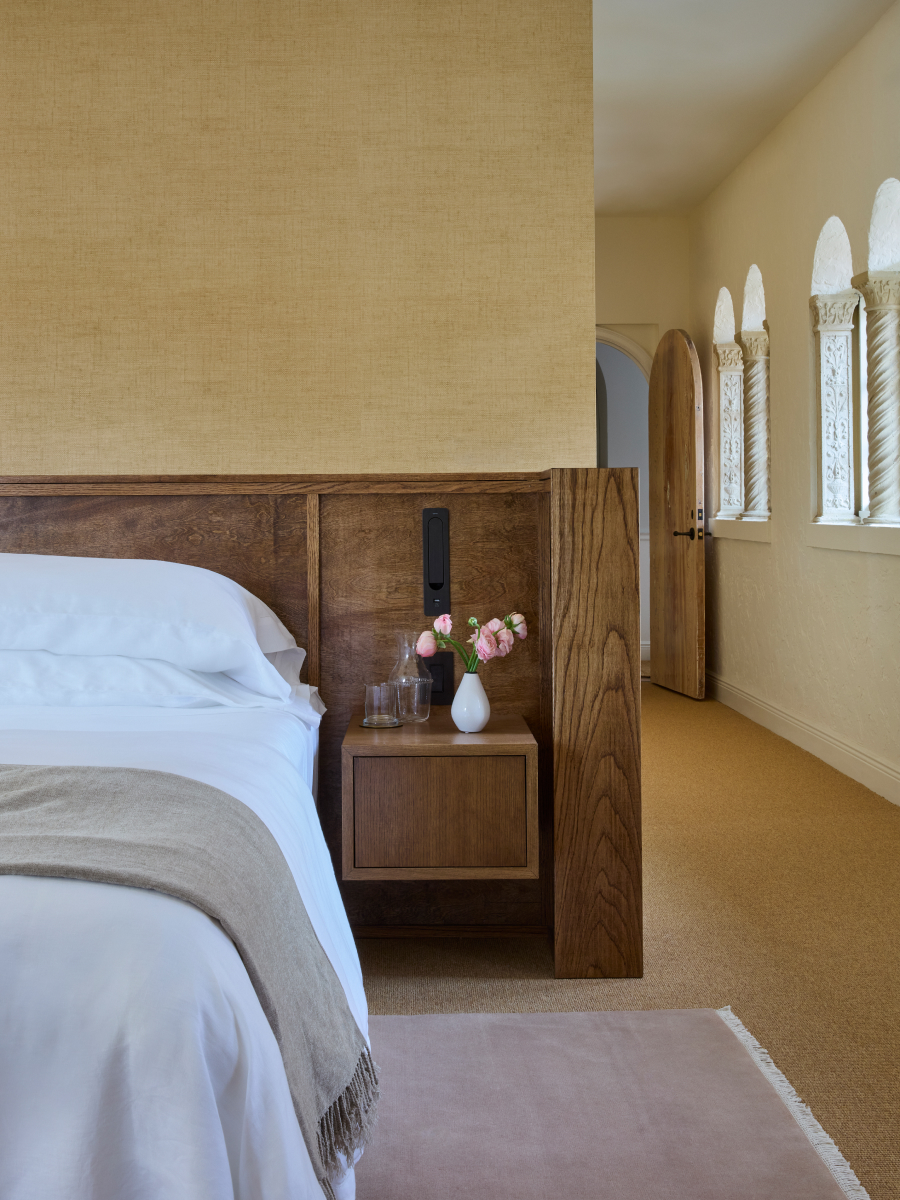 Here is a lush, cosseting, high-ceilinged oasis, complete with a cozy fireplace, a stunning wood bed, and closets that can be stocked with G. Label pieces ordered through the concierge. "You can go out from here to your Palm Beach evening in style," says Gwyneth. "The Gia sweater is perfect."
"I love a wood bed, and this one is just handsome," she says. "And we lucked out with the proportions of the ceiling." In the corner sits the bestselling Gwyneth chair from CB2, an Armadillo rug adds texture (and feels amazing on your feet), and chic, modern, simple curtains layer over original stone details.
G. Label by goop

Gia Oversize Cashmere Crewneck

goop, $595SHOP NOW
THE PRIMARY BATH
The team pulled out all the stops for the bathroom, outfitting it with polished gold Brizo faucets (the company's Invari collection echoes both Edwardian era and Machine Age styles), showerheads, shower body sprays, tub spouts, towel bars, tissue holders, and robe hooks and repeating the Fromental wallpaper. "It's gorgeous," says Gwyneth. Along with the huge tub, walk-in shower, and mini Monogram fridge, the team found an unusual, spectacular marble for the surfaces. "It's got all the great colors of Palm Beach, the pink and the green," says Gwyneth. "It very much looks like it came from somewhere near the ocean." The black-and-white tile floors are a Gwyneth classic. "I have them in my houses in Los Angeles and in Montecito," she says. "It just brings a kind of old New York City vibe that I like to bring with me everywhere I go."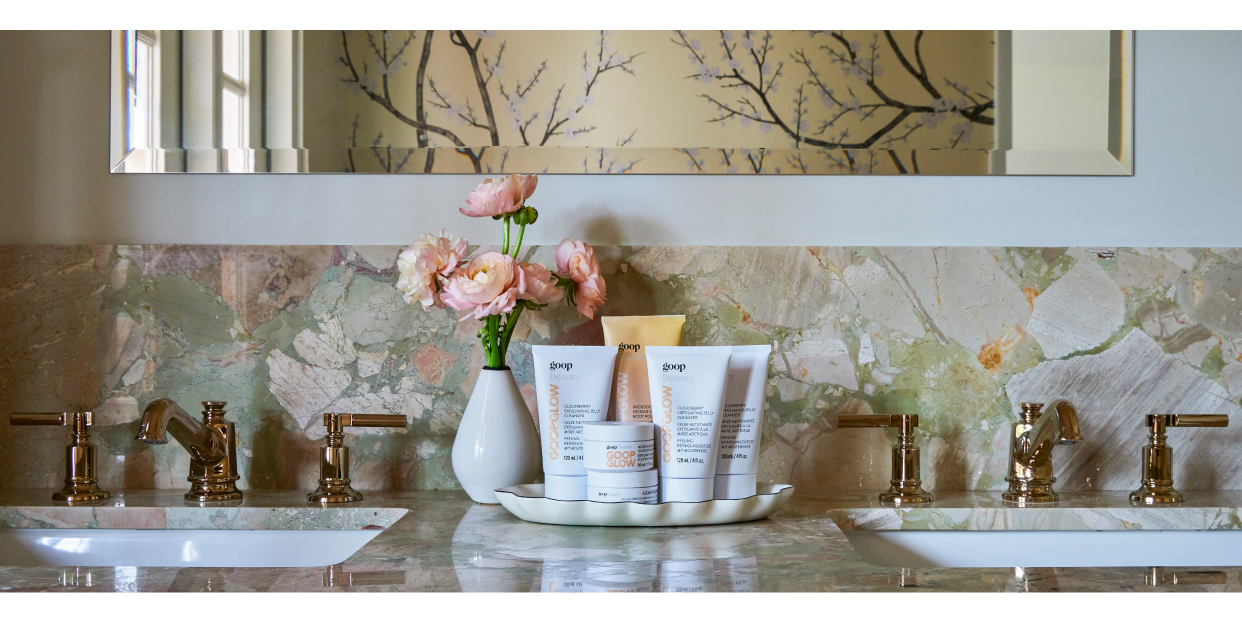 WHAT'S IN THE BATHROOM
Perhaps the most delightful aspect of the whole villa experience: the products that await in the fully stocked bathroom. "Heaven," says Gwyneth. Here's what you'll find.
THE SECOND BEDROOM
"I call this room the kids' room," says Gwyneth, "but it's great for two friends if you're having something like a bachelorette party. I really love the modern, beautiful statement of the double headboard with the two beds. Of course, we've got some Cleo Wade poetry here to lull you to sleep. And our wonderful goop pillow. In the bath, the green-and-white tile details are very chic." If you've got guests staying here, ply them with limited-edition goop bestsellers.
THE POWDER ROOM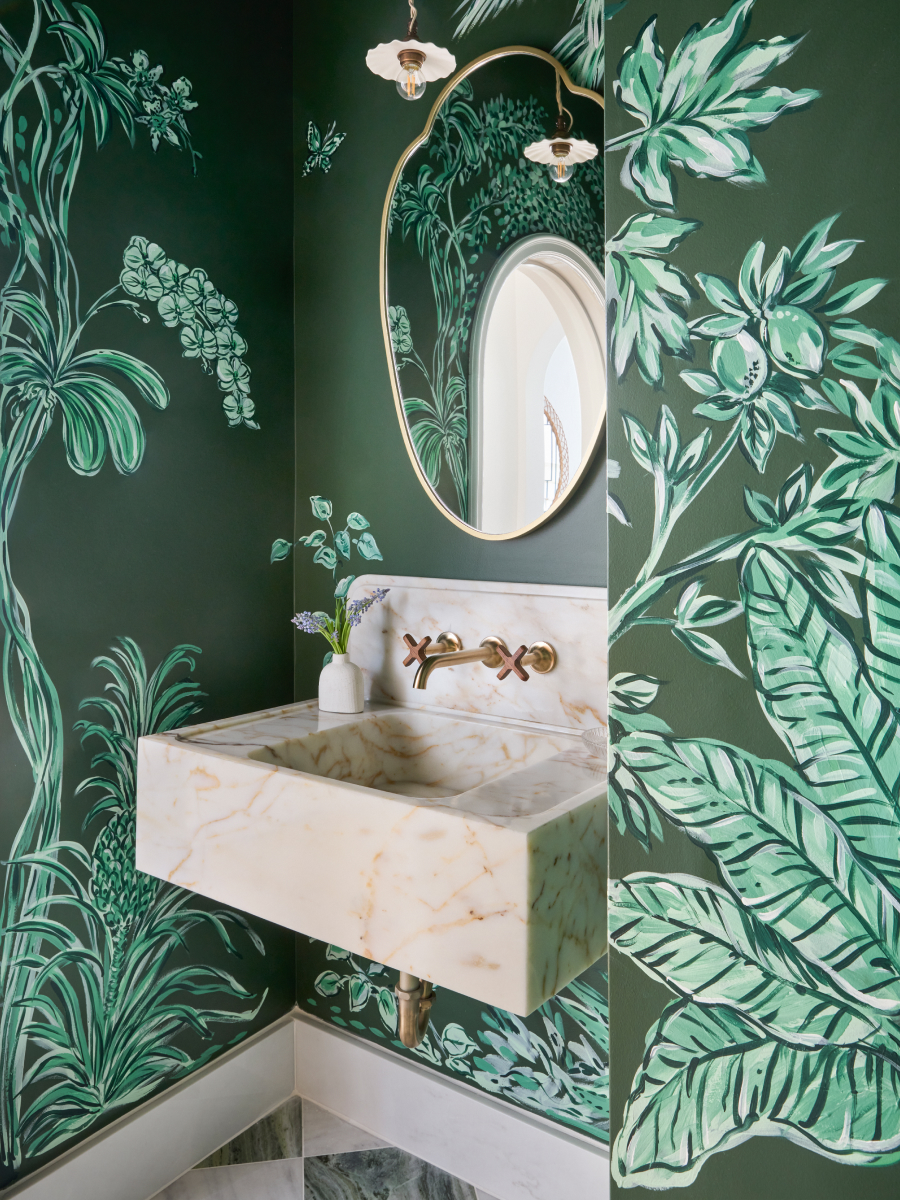 "This is a wonderful little jewel of a room with a dramatic, beautiful green hand-painted mural that Lilly Pulitzer did with us," says Gwyneth. "It's classic, bold—and, of course, Lilly Pulitzer is reminiscent of '60s Palm Beach. There's a beautiful vintage marble sink—I just love it." Add in a few indulgent beauty items just to…gild the lily.
Vintner's Daughter

Active Botanical Serum

goop, $195SHOP NOW

Augustinus Bader

The Rich Cream

goop, $290SHOP NOW

Furtuna Skin

Rinascita Delle Olive Replenishing Balm

goop, $225SHOP NOW
THE LOFT
The ultimate WFH space, this generously proportioned retreat makes it easy and comfortable to get away if you need to. "I love the unbelievably tall ceilings and the feeling that you can get away from the kids (if you bring the kids), get a bunch of work done, maybe read a novel," Gwyneth says. "We collaborated on the amazing Re-Jute rug with Ruggable, which I'm very excited about."
WATCH THE VIDEO