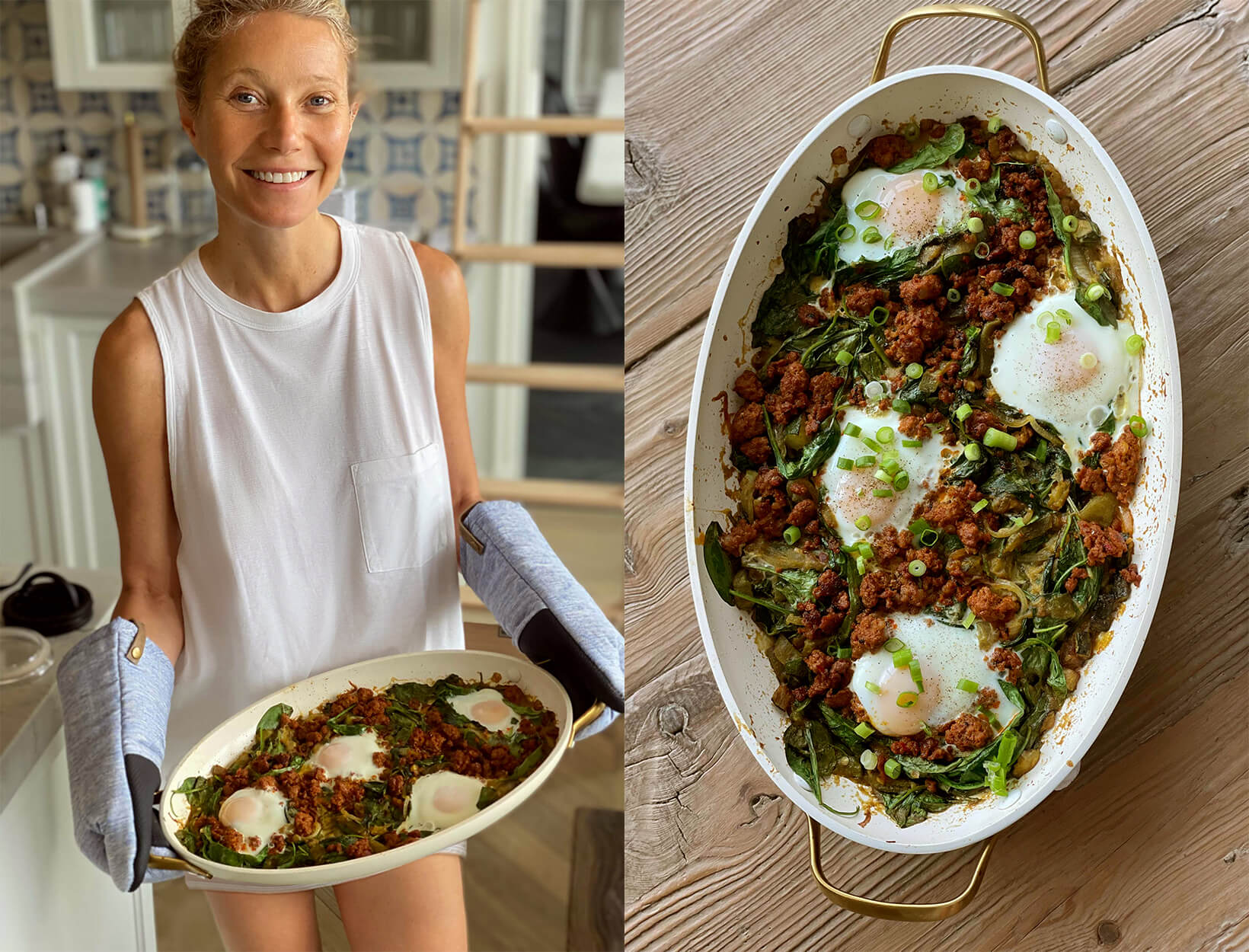 Is It Anti-Feminist to Cook for
Your Boyfriend?
Domesticity has been linked with subservience for much of history. As feminism first emerged, that link stayed firmly in place. Should a powerful, working woman be cooking for her family or partner? The answer, for a long time, for some, was no.
But those biases and assumptions need reexamining. What's actually anti-feminist, at this point, is prescribing what feminism is—including looking down on domesticity. I believe in a version of feminism where every person can express the traditionally "feminine" aspects of themselves as they see fit. It nurtures me—and nurtures many people, of all genders—to nurture.
Making food and giving through food is part of my love language. I've always cooked for my friends and my kids, and I love to do it for Brad, too, so our "boyfriend breakfasts" are something of a sacred tradition between us at this point.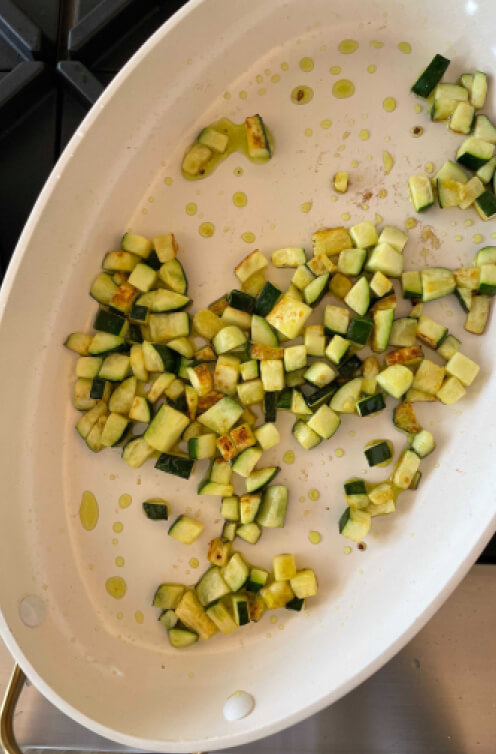 Sauté the zucchini with a little olive oil and salt to start the Green Chili Eggs (recipe below). I like to get them pretty brown to bring out that nutty sweetness.
They started when we were dating, both divorced parents. Sometimes neither of us had our kids on Saturday mornings, so it became a thing, and both of us still relish the energy it brings to our relationship. Even when I'm not eating (I like intermittent fasting some mornings), I really enjoy the act of cooking—and cooking specifically for him.
For me, it's not anti-feminist to serve; it's an act of service that's about seeing the other person and understanding their needs. It brings a particular energy and intimacy to a relationship. Cooking is also, for me—and I think many type A people—relaxing and grounding. Embracing something so traditionally feminine and old-fashioned balances the hard-driving, work side of myself. I thought a lot about that balance as we filmed the couples in Sex, Love & goop on Netflix: Shifting to a softer, regenerative aspect of yourself can change the way you relate to your partner. You access that aspect through sexuality, of course, but I find I can also access a similar kind of energetic shift through cooking.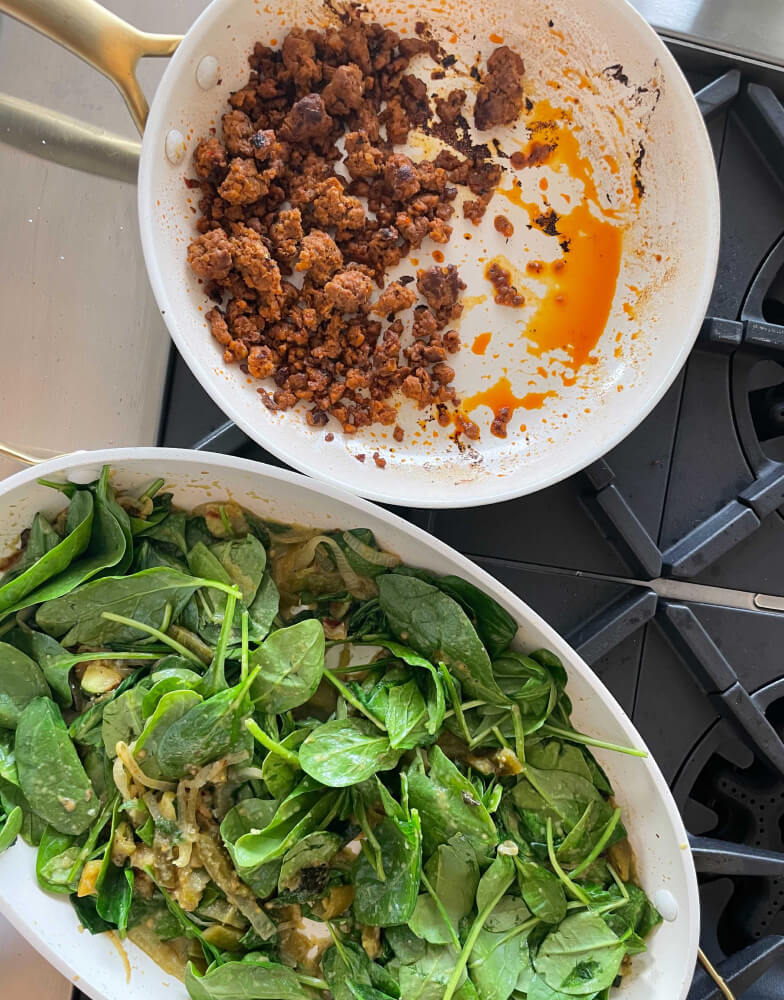 In another pan (I used the ten-inch fry pan here), crumble and cook the chorizo, getting it crispy and rendering all the flavorful fat. When the rest of the veggies and the enchilada sauce are cooked and combined in the oval roster, I add the chorizo and four eggs and bake it all together in the oven.
Food is love, food is beauty, and at a powerful level, it is wellness. It's always been an essential element here at goop: When I sent out the very first goop newsletter in 2008, my recipes for turkey ragu and banana nut muffins were the stars, and food is still an enormous part of who we are.
Caring for ourselves and the people we love also means cooking without the jaw-droppingly toxic "forever chemicals" PFAS, PFOA, lead, and cadmium that are common in nonstick cookware. That's why, when we started thinking about creating the goop Home cookware collection, GreenPan's clean, nontoxic, nonstick, dishwasher-safe Thermolon Minerals Pro technology was an absolutely essential element—table stakes in the truest sense of the term.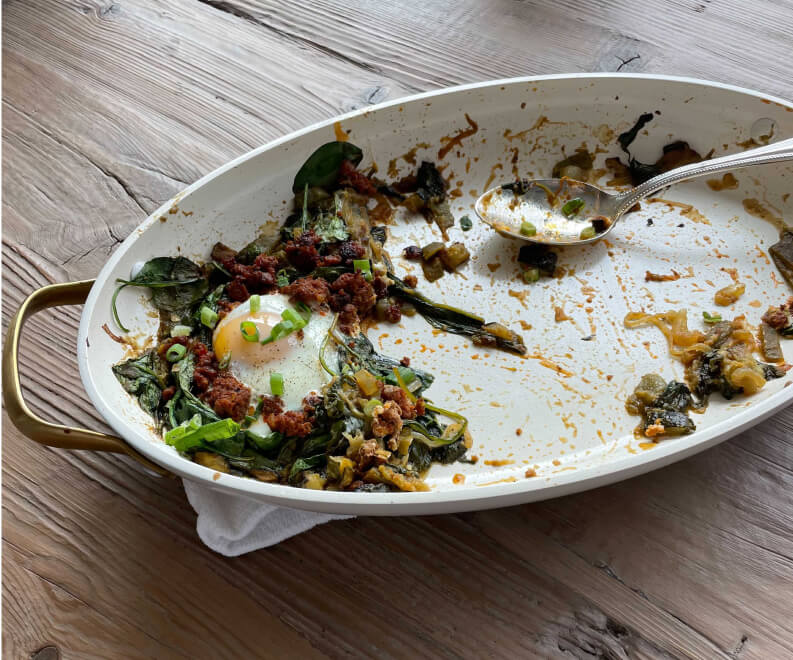 You won't have much to clean up (someone's about to grab this last bit here), but cleanup is super easy anyway because of the nontoxic, nonstick coating.
Most mornings, I serve whatever I make right in the pan, on the table. There's something so elemental about eggs still frying in ghee, or a green shakshuka still bubbling—and of course in these pans, everything looks better. (The pale cream looks so chic against the gold handles, I think. The handles also stay cool, so you don't burn your hands.)
While the pans don't last as long as a conventional nonstick pan would, they limit your exposure to persistent, powerful environmental toxins. They're made of upcycled stainless steel and aluminum to resist damage, and they never release harmful fumes, even if you accidentally overheat or thermal-shock them.
One currently very popular, paleo-friendly exception is Green Chili Eggs; here's that recipe, plus a few other favorites. These recipes are easy to expand on—we often end up cooking breakfast for the whole family or even a big bunch of friends.
Green Chili Eggs
2 tablespoons olive oil

1 zucchini, chopped

½ white onion, thinly sliced

1 clove garlic, minced

1 small can green chilies

16 ounces green chili enchilada sauce (Siete is a great healthy option)

2 big handfuls spinach

4 eggs

½ pound chorizo

coconut-flour tortillas
In an ovenproof nonstick skillet, heat about 2 tablespoons of olive oil over medium heat. Add the zucchini with a pinch of salt and cook for a while, letting it brown a bit.

Meanwhile, crumble and cook the chorizo in a separate nonstick pan.

Preheat the oven to 375°F.

Once the zucchini has browned a bit (after 8 minutes or so) add onions and garlic. Let that mixture cook together for another minute. Then add the green chili enchilada sauce and spinach and cook for another 2 minutes or so.

Once the spinach is just slightly wilted, add the cooked chorizo. Make 4 small wells in the pan and crack the eggs into them. Let the eggs cook for a couple minutes, then transfer to the oven to finish cooking through (about 6 to 10 minutes, depending on how you like your eggs). Serve with warm coconut-flour tortillas on the side.
The Boyfriend Breakfast Recipes