Arch Deluxe
Created with Kohler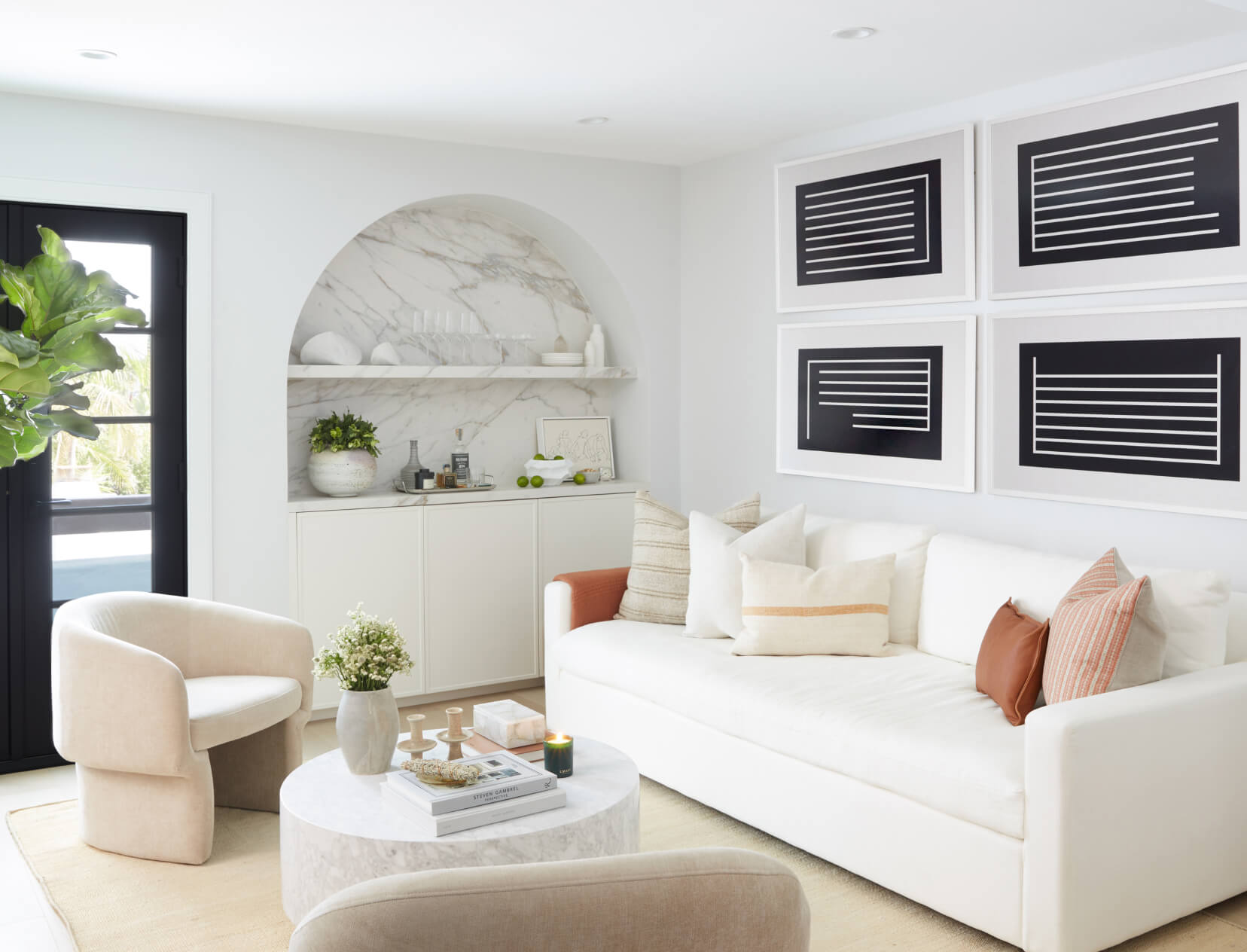 Kevin Keating was ready to, as he puts it, "step up a rung on the property ladder." He'd saved enough to buy a home and started looking in LA, sometimes with his boss, Gwyneth Paltrow, who, he says, has "amazing taste." When he fell in love with a soaring space in need of an update, she had an idea. "The place had great bones," she says.
The bones might have been hard for some to see—the place was all awkward angles—but with Keating away for a bit, Gwyneth worked with Jonathan and Drew Scott of Property Brothers and Toronto interior designer Victoria Tonelli to give Keating's new space a total makeover.
"Gwyneth knows my vibe: clean colors; a light, white palette; and hardwood floors," Keating says. "I like a hotel feel, but it should feel personal and particular at the same time."
Gwyneth collaborated with Tonelli to conjure a space that feels airy, personal, even grand. "We wanted to enhance the existing character while introducing this element of calm with the white-and-cream palette," Tonelli says. Space saving was the other priority, she continues: "Every inch counted, and reorganizing the layout, squaring off all the odd angles, helped open everything up."
THE LIVING ROOM
The building's traditional Spanish architecture involves some beautiful archways, and the team created archways here and there throughout the home, giving it an easy sense of cohesion and tying it to the building's history. Perhaps the most charming example is the sleek modernist bar in the living room. "The archway gives an older, traditional feeling, and it's that layering of old and new that we were after," says Tonelli. Artwork by Minted gives another, more modern layer to the room.
The living room fireplace was completely replastered—well worth it, as it's one of Keating's favorite elements in the whole design. "Especially in the wintertime, it's so cozy up there," he says. "You can see out both the west and east windows, so you get this airy feeling at the same time."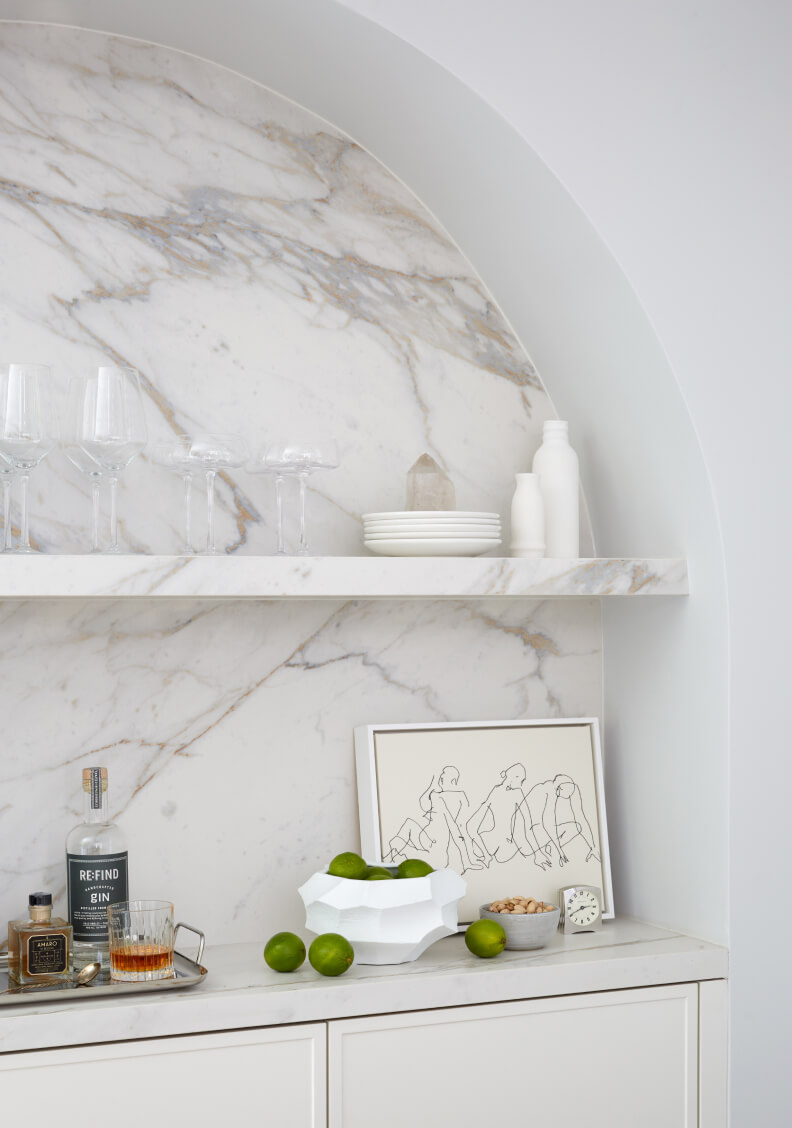 THE BEDROOM
The original space had two small bedrooms and two small bathrooms; the team reimagined it with one larger master bedroom and bath. Closet space (there were no closets) and great lighting (there was nothing but standard overhead fixtures) were key. The solution turned out to be a closet with custom cabinetry doors by Marvel that flanks either side of the entrance to the bathroom. "It melts into the walls instead of feeling like a bulky closet," says Tonelli.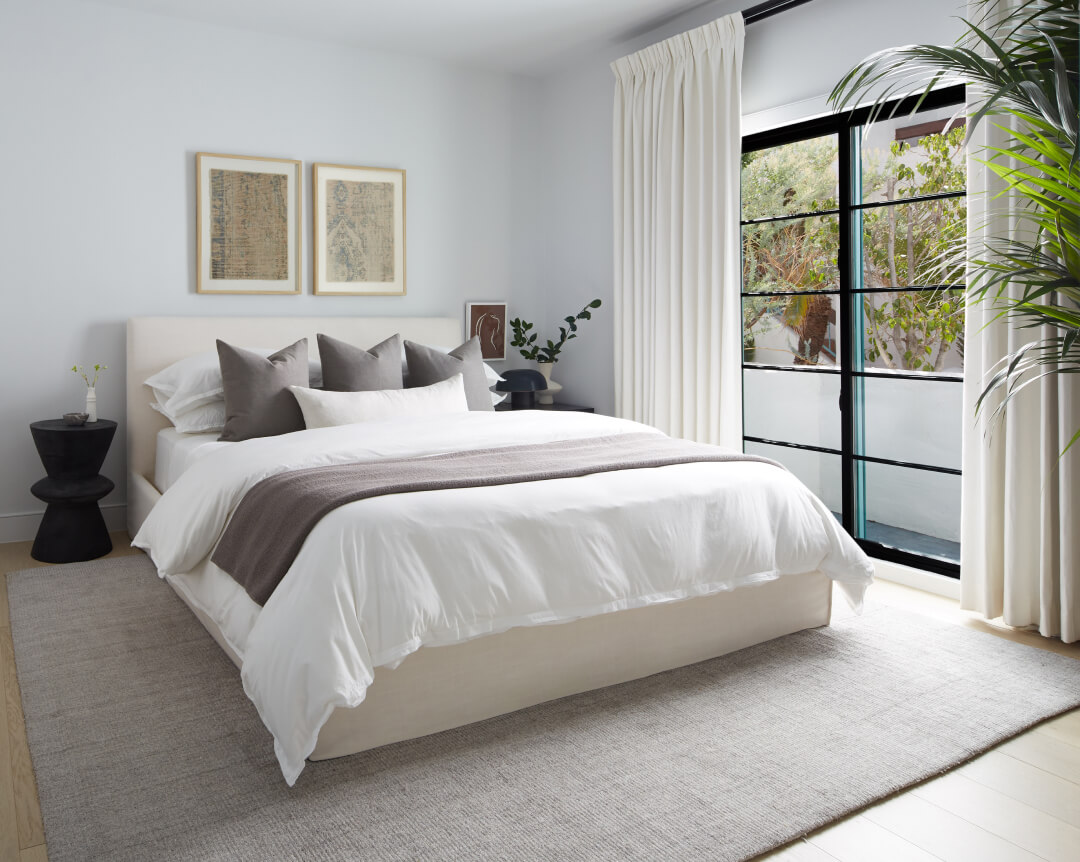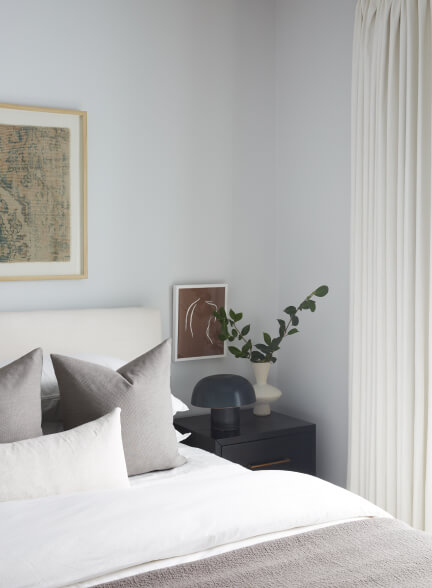 It also has a hidden mirror, which Keating adores. "Victoria came up with that pull-out mirror, and it's so great," he says. Sleek wood floors from Duchateau, Smith & Noble window treatments, HD Buttercup furnishings, and bedding from Parachute Home finish the room.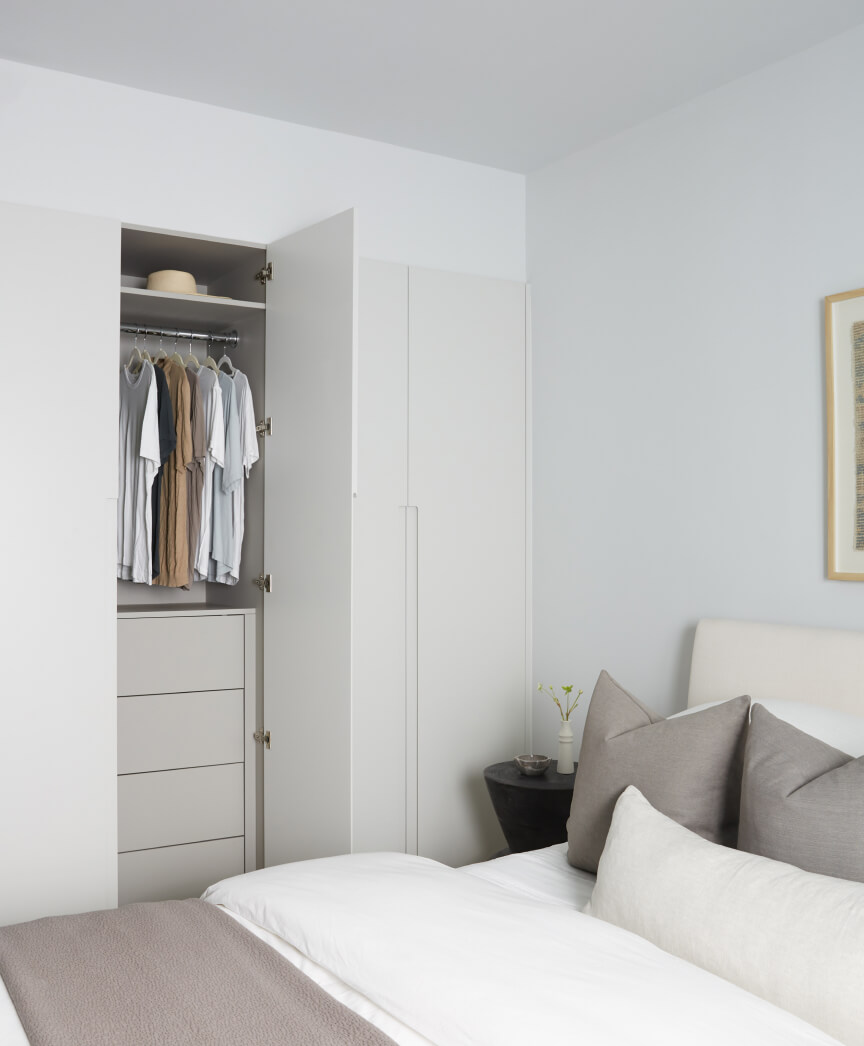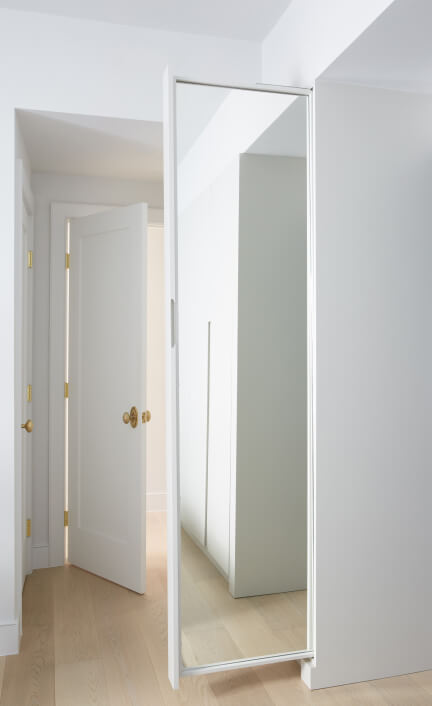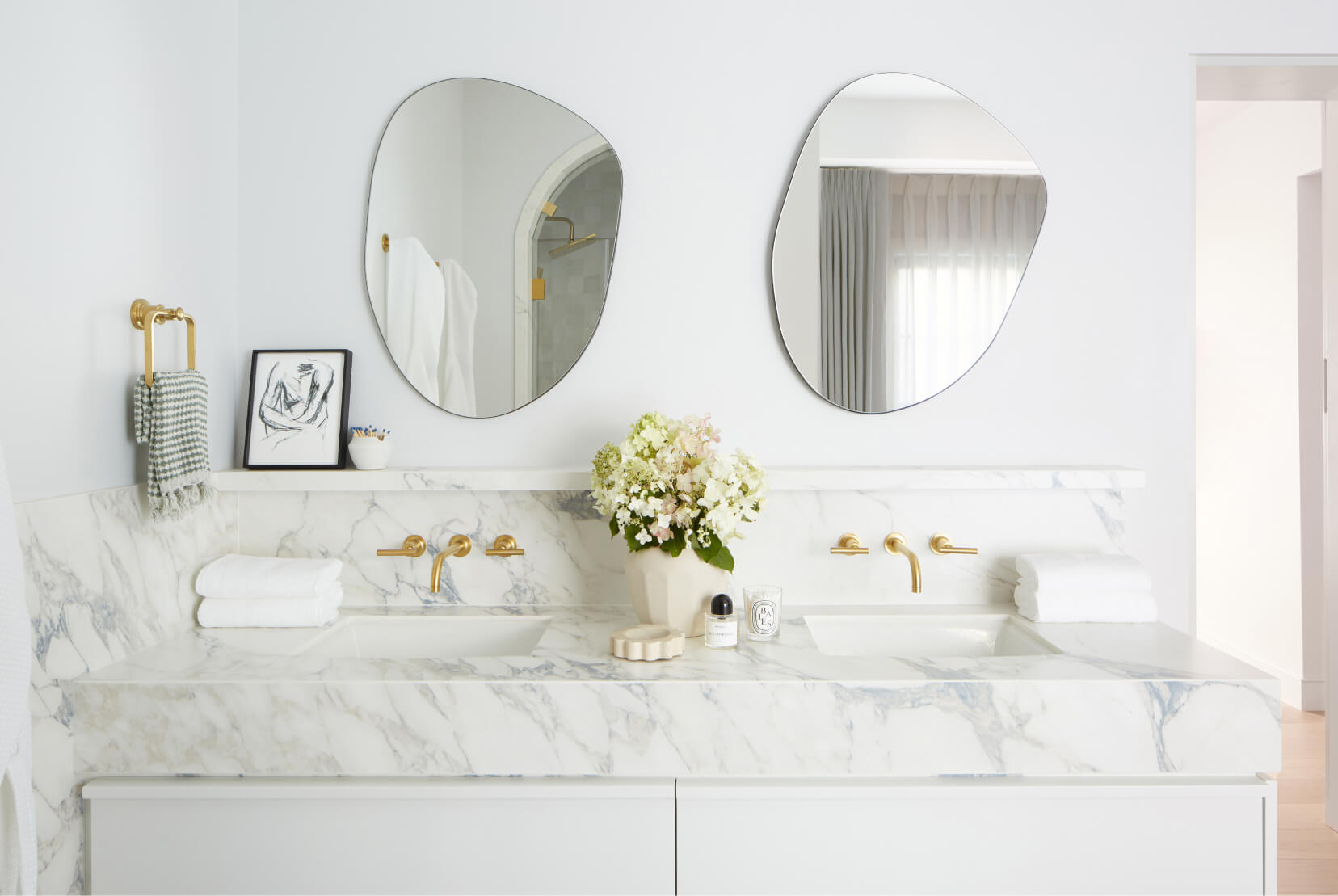 THE BATH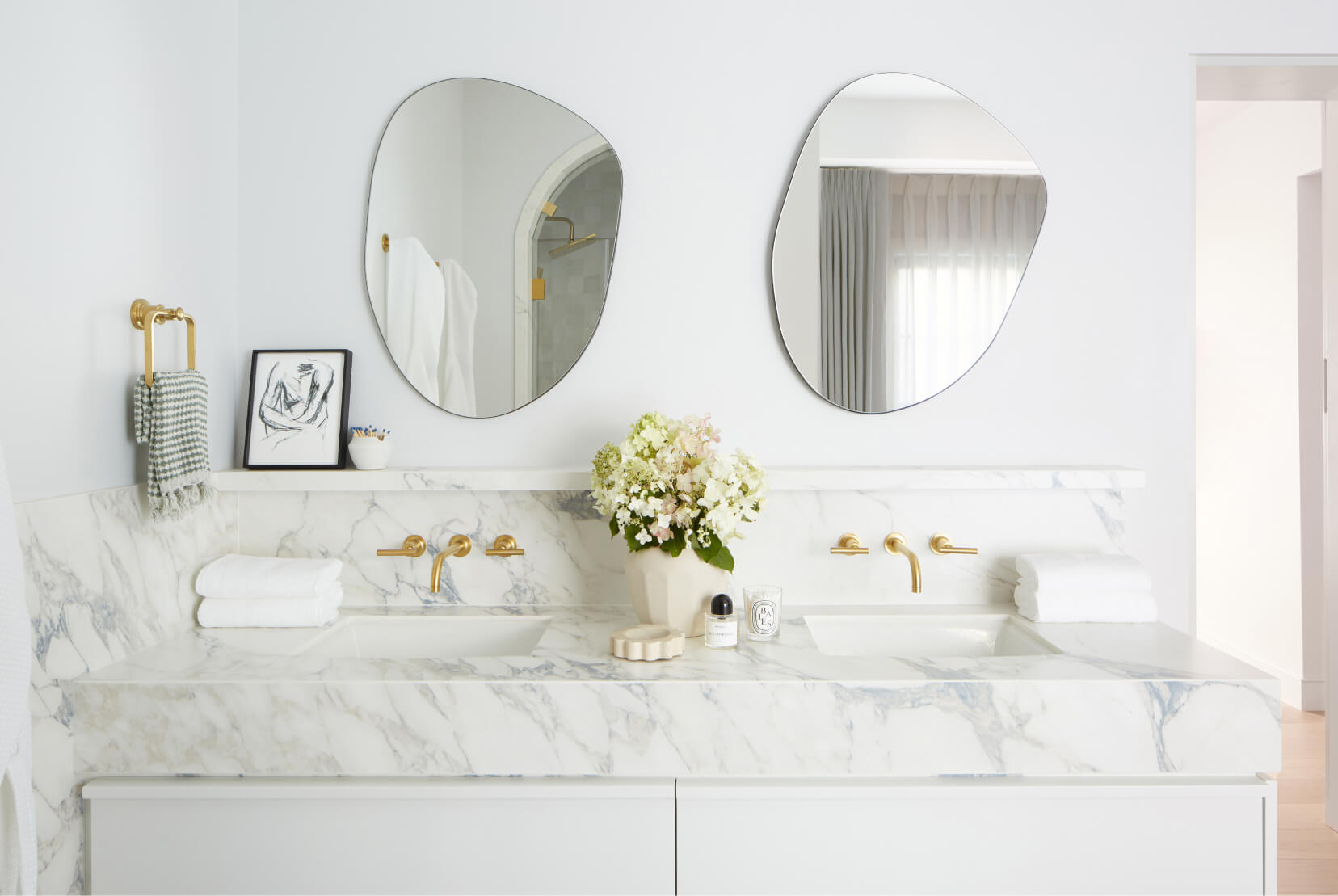 Tonelli's meticulous planning and space saving continued in the bathroom, beautifully outfitted with Kohler fittings and hardware. "To make it feel more spacious, we got rid of the door to the bathroom and just did a water closet for the toilet," she says. "We continued with the same Marvel cabinetry; we opened up a wall and found space for a closet for towels. We mixed organic tile from Zia with modern porcelain slabs from Ciot to create interest, and we built an archway into the shower, which is so charming."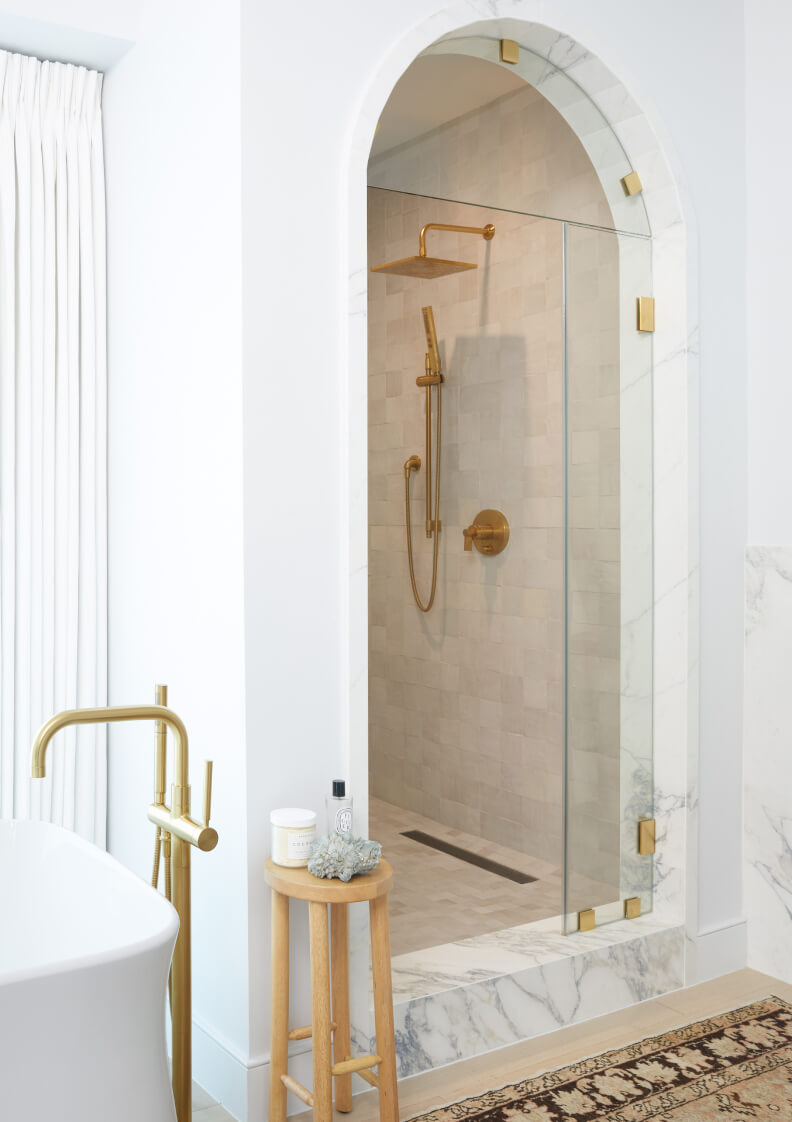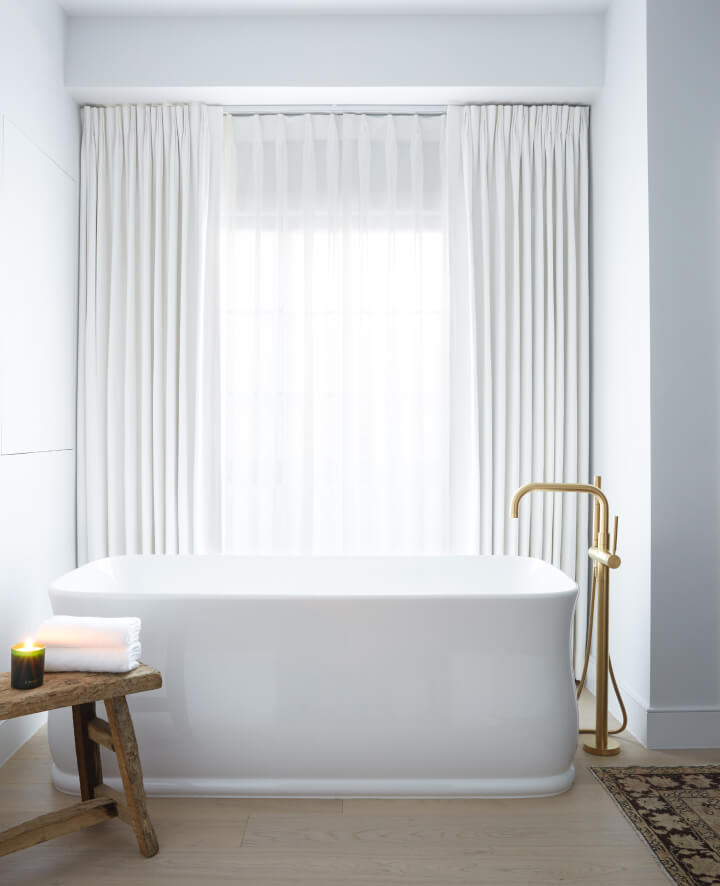 The bathroom also involved a major deal-breaker element to work around: an enormous soaking tub. "They started with a regular-size shallow tub—which made sense because the space was so tight," says Keating. "But Gwyneth knows me, and so…we went big."
Kevin's Bath Essentials
THE PATIO
The outdoor space was a huge reason Keating fell for the place originally, but he says he couldn't have imagined how well it would turn out. "It's this great place for grilling with my friends," he says. "It reminds me of my East Coast days with my mom and family." Tonelli optimized every square inch, with a sleek outdoor BarStation and BarTap from The Galley, a Marvel outdoor fridge, NatureKast cabinetry, and graphic Granada tiles. "As with the rest of the home, we were dealing with some weird angles," she says. "The patio is an example of how really good furniture and smart, great-looking storage can help you overcome a space's limitations: We went with an oversize sectional and a gorgeous FireFeatures firepit that we worried would be too big—but counterintuitively, they make the space feel bigger. Where there were odd angles, we dropped in plants. The result is the illusion of a bigger space."
It fits perfectly with the airy, eclectic feel of the entire project. "All the spaces have a different character, but we managed to tie them together mixing modern and natural elements, along with getting really creative with the storage," says Tonelli.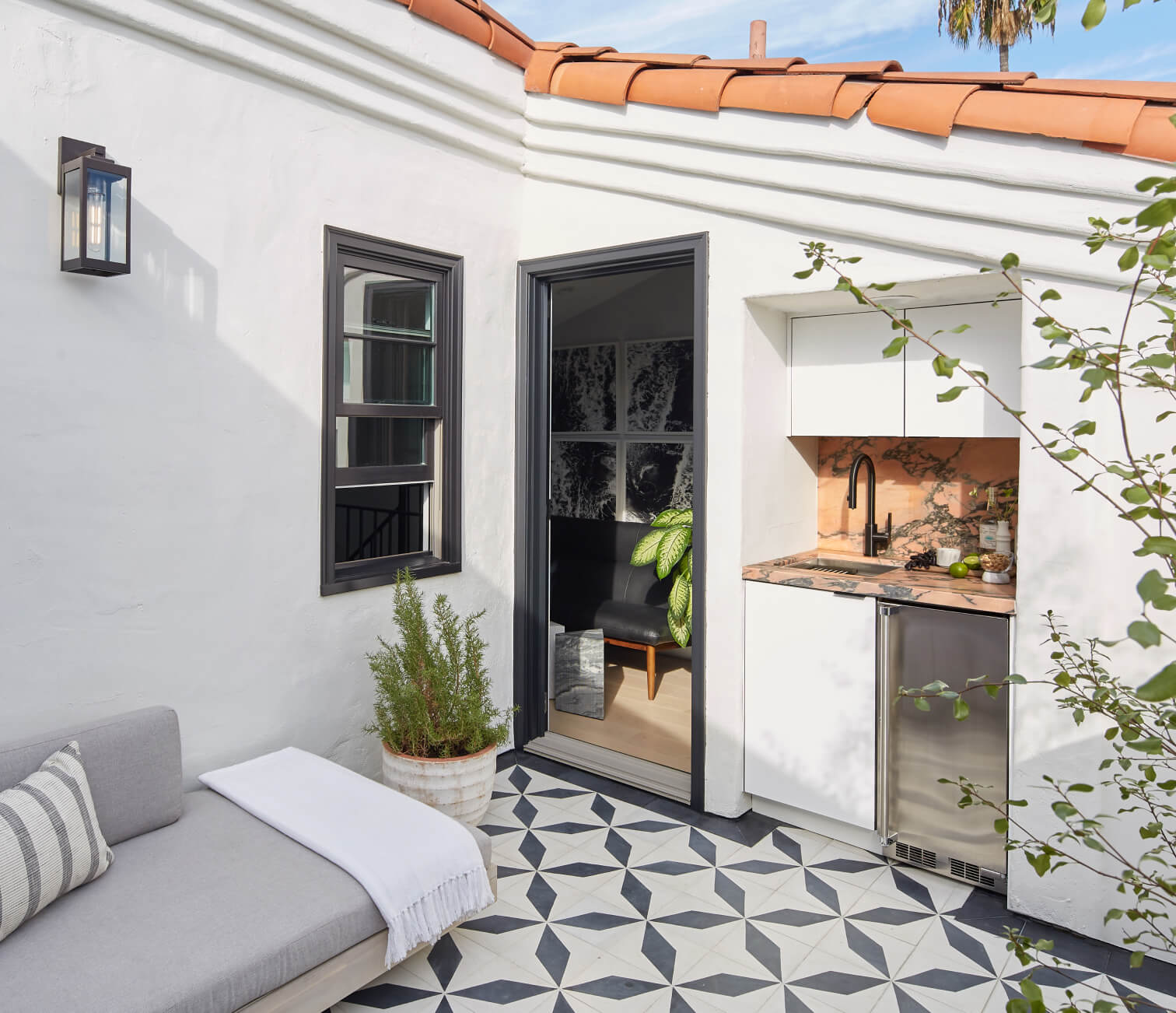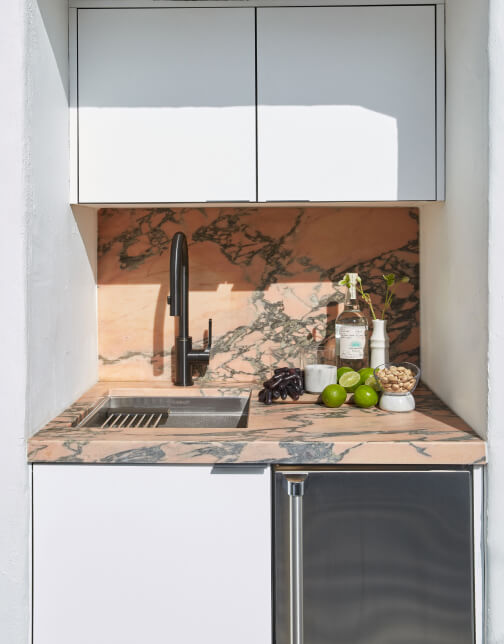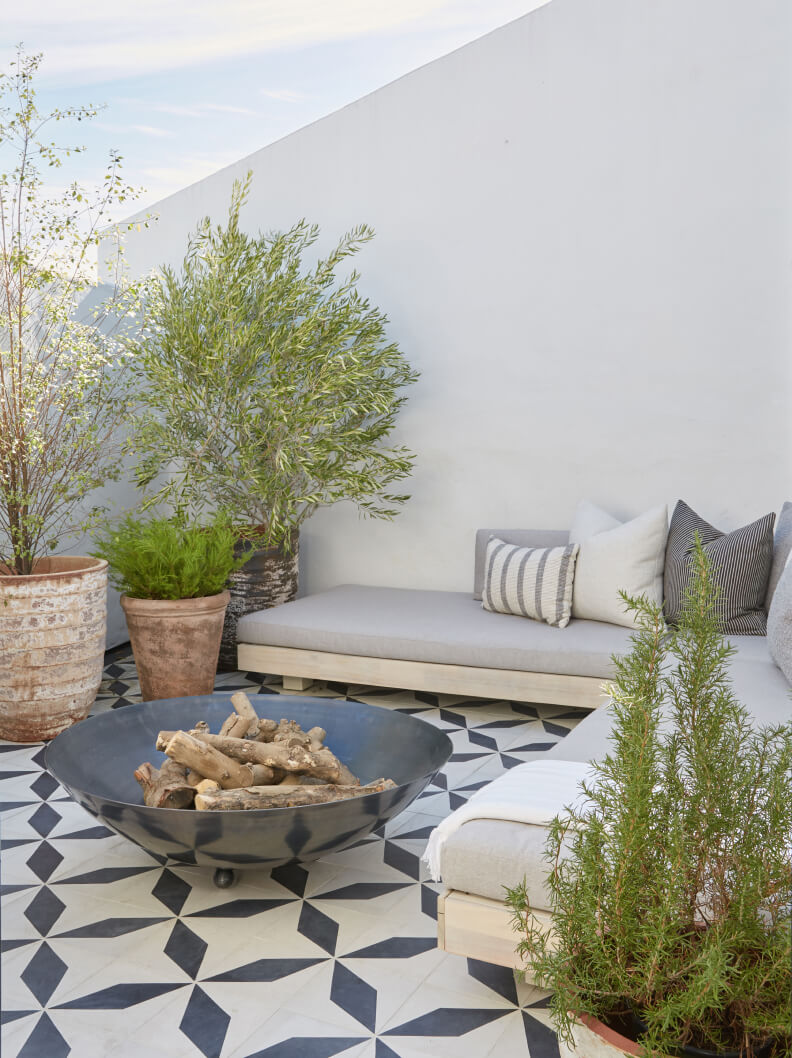 Walking into the space for the first time (watch the episode for the full reveal) was shocking, Keating says, but he immediately felt the sense of ease and the personal touch. "My boyfriend was the one to suggest we open up the space under the stairs," he says. "And there's Portuguese tile in the kitchen—I'm Portuguese, so Gwyneth knowing my story helped make the space meaningful. Reorganizing the space the way they did was incredible, but what makes home for me is all the thought that went into it. Gwyneth has known me for 13 years, and it shows."
ALL THE NITTY-GRITTY DETAILS