Gardening
Spring is springing and it's the perfect time to start planting herbs and veggies for the summer. We got a great how-to lesson from our friend José—below you will find tons of fun ideas on how to plant a spring garden of your own, even in a New York City apartment.
Our Vegetable Patch
Here are a few of the herbs and vegetables we like to plant each year:
• Mint

• Oregano

• Marjoram

• Sage (we've got four varieties going this year!)

• Chives

• Kale (ours is a bit overgrown this year and even has yellow blossoms)

• Thyme

• Basil

• Parsley
---
Our friends at Beekman Farm sent us a set of 10 Heirloom Vegetables from D. Landreth Seed Co. to plant. José Marqués, our resident gardening expert, suggested we plant several of them in a mini-greenhouse so that the warm, humid air would prompt the seeds to germinate. Here's how to plant your seeds: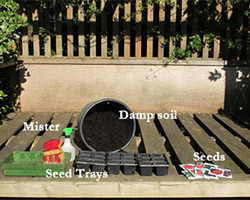 All you need are seed trays, moist, nutrient-rich soil, gloves (optional), and a mister.
First José fills the trays to ¾ with soil, making sure to remove any rocks and big chunks. He then pours in about 4-5 seeds per pod. Bigger seeds go in bigger pods.
Worms, he points out, are a bonus, as they oxygenate the soil.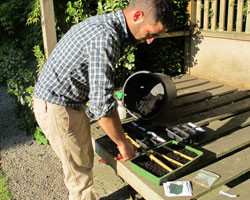 He came up with a genius idea to create partitions in the larger trays, cutting up bamboo sticks from the backyard to size.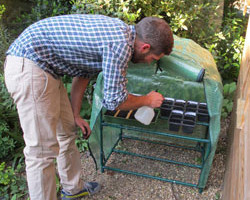 We sprayed the plants generously with a gentle mist of water.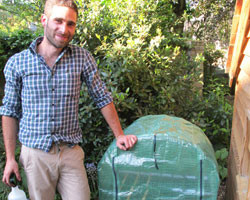 Then, we zipped up the mini-greenhouse (which you can find at any big home warehouse store) to create a warm, even, and moist climate for the seeds to grow. We will mist twice a week.
José Marqués[email protected]You can buy your own Beekman 1802 Heritage Vegetable Seeds at your local Williams Sonoma or order online.
---
Products and Services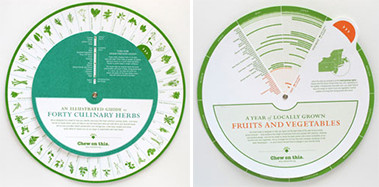 Chew on This
---
A friend of mine sent me these Food and Herb Wheels, which are so useful (and so pretty) for the kitchen. The Herb Wheel shows you which herbs go with what foods, and the NY area Food Wheel shows you what to plant when. The website, run by locavores Carlin Greenstein and Annie Stranger, supports local eating and gardening with tips, information, and recipes.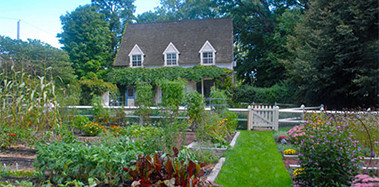 The Organic Gardener
---
For those of you who live in the Chicago area and are interested in growing an organic garden, Jeanne Pinsof Nolan, the director of The Edible Gardens at the Lincoln Park Zoo, runs The Organic Gardener, a full service landscaping design business that consults with you to install and maintain a functional organic garden for your space. Here's one picture of just one of her amazing gardens.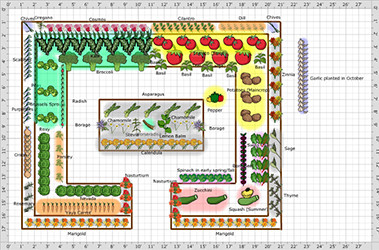 GrowVeg
---
Download this tool to make a sketch of your ideal garden, complete with icons for all the fruits and veggies you'd like to plant. The tool gives you handy information about what you plan on growing, including seasonality, water, sun needs, etc. GrowVeg will send you an email letting you know when to plant and when to sow. Click here for a free 30 day trial.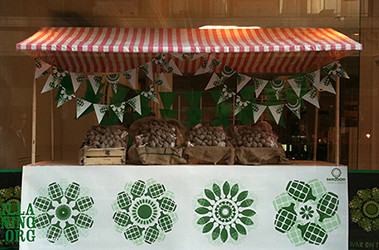 Selfridges Grow!
---
In London, we were inspired by Selfridges GROW! windows and Wonder Room. They teamed up with Guerilla Gardening to curate a selection of ingenious garden products for budding horticulturists including Kabloom's seedboms, which you throw into any barren urban patch to start a spontaneous garden.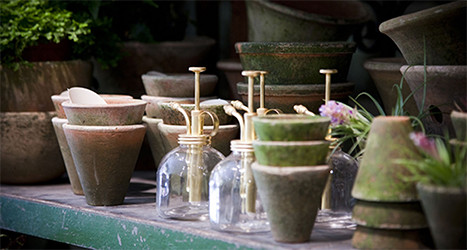 GRDN Brooklyn
---
Park Slope, Brooklyn's townhouse scene, is a locus of gardening in New York, with garden stores popping up right and left. GRDN is one of the very first that comes to mind, with its almost sparse elegance and beautifully selected indoor and outdoor garden materials, both functional and decorative. GRDN is also a florist in the same simple and elegant vein.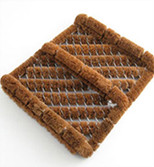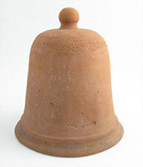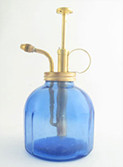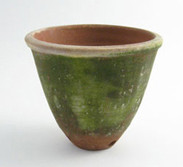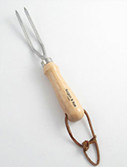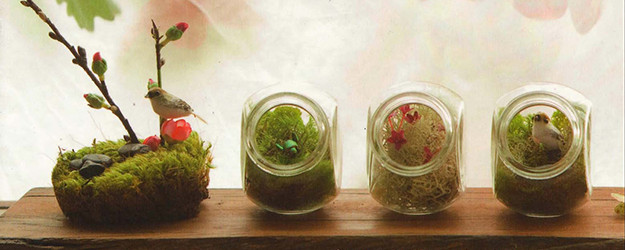 Paxton Gate
---
This Valencia St store in San Francisco's trendy Mission district brings taxidermy, terrariums, carnivorous plants, vintage oddities, and curious garden objects together into this cabinet of curiosities. It's definitely worth a visit just to take in the owner's very particular aesthetic. And if you fall in love enough with it, inquire about their design and build services in the San Francisco area.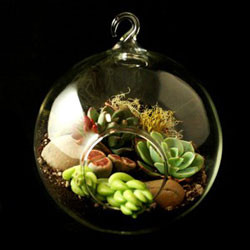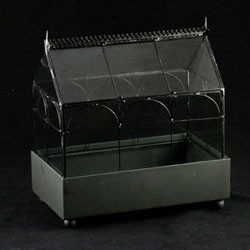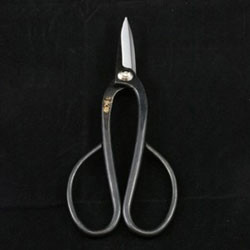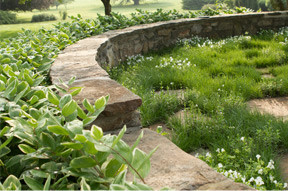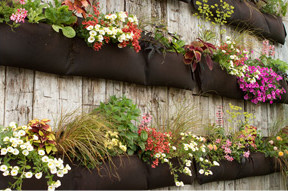 Terrain at Styer's
---
Terrain at Styer's opened in the spring of 2008, having bought the historic Franklin J. Styer plant nursery. Today it continues to operate as a nursery, and now a café and store with a huge and well-curated selection of decorative outdoor gear (It's actually part of the Anthro family). Landscaping services are also available. Their online store is just as well-stocked, with the biggest selection of garden goods out there. Here are some favorites: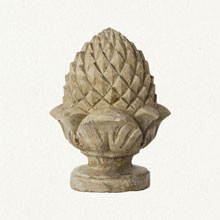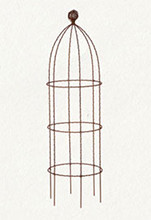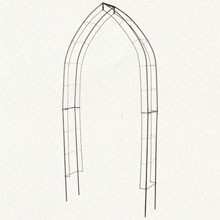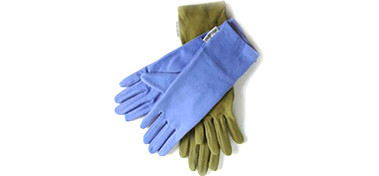 Ashblue
---
My favorite Nashville home store also has an extensive garden supply, and it's an excellent source of all kinds of Mother's Day gifts, including what appear to be the most comfortable gardening gloves.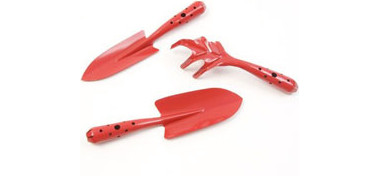 Kiosk
---
Kiosk is one of the most compelling shops in New York, specializing in super cool everyday goods. The owners travel the world shopping every country for gorgeously designed and unexpected objects that are super mundane—but exotic out of context. We love this bright Swedish garden tool set.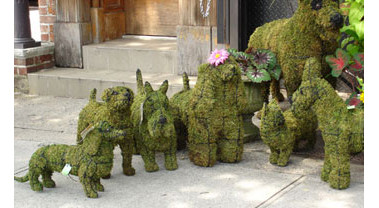 Dig
---
Another Brooklyn gardening institution, Dig, opened 6 years ago. Chuck and Maggie, a husband and wife team, run a full-service landscaping service and sell their cutest finds, including these ridiculously sweet dog and cat topiaries. Prices run from 150 for small breeds to 250 for larger.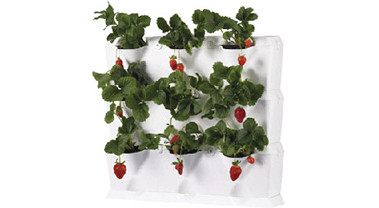 Earthbox
---
This is just great for the kitchen, a vertical MiniGarden that you can keep your cooking herbs on for a quick grab while cooking.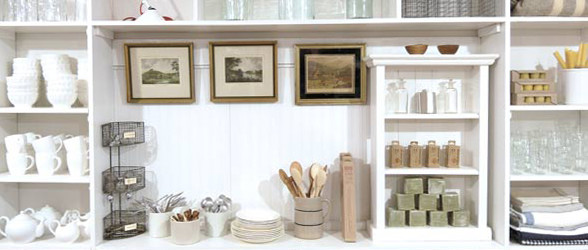 Brook Farm General Store
---
Founded by husband and wife team Christopher and Philippa, this Williamsburg, Brooklyn store stocks beautifully selected home goods. They have a few great garden goods that are well-crafted, beautiful to look at, and made to last. They also take care to source as directly as possible from the original producers. Also, check out their Tourne line, minimal white tableware that Christopher and Philippa design themselves.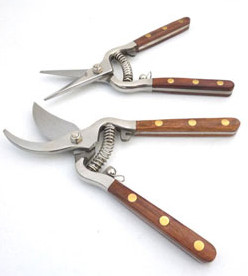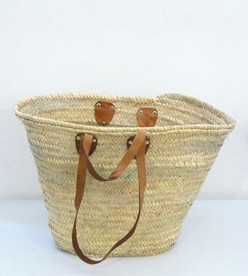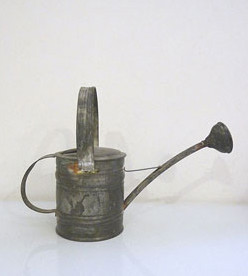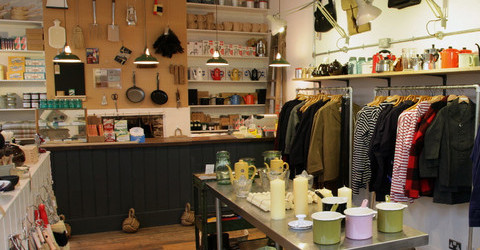 Labour & Wait
---
Functionality, simplicity, craft, and good design seem to be the keywords for anything that enters this store. Located in Shoreditch, it's a wonderful place to find a gift: Home goods, lots of tools, minimal clothing, and the prettiest cleaning supplies you've ever seen.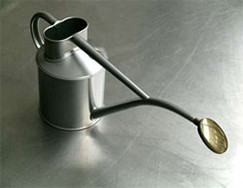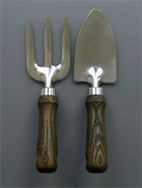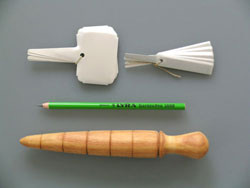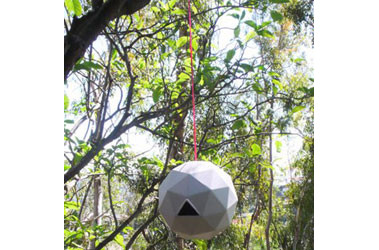 Areaware
---
For the architects and modernists in the family, Areaware sells Kelly Lamb's geodesic dome inspired birdhouse.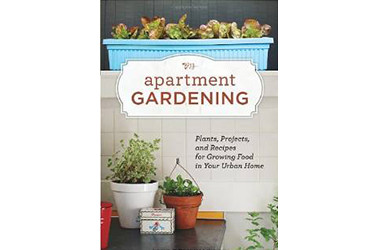 Apartment Gardening
---
A favorite cookbook author, Amy Pennington has written an incredibly handy manual full of information on how to grow plants in small spaces. The book is full of wonderful tips, recipes, and information on all the best things to grow in your home.