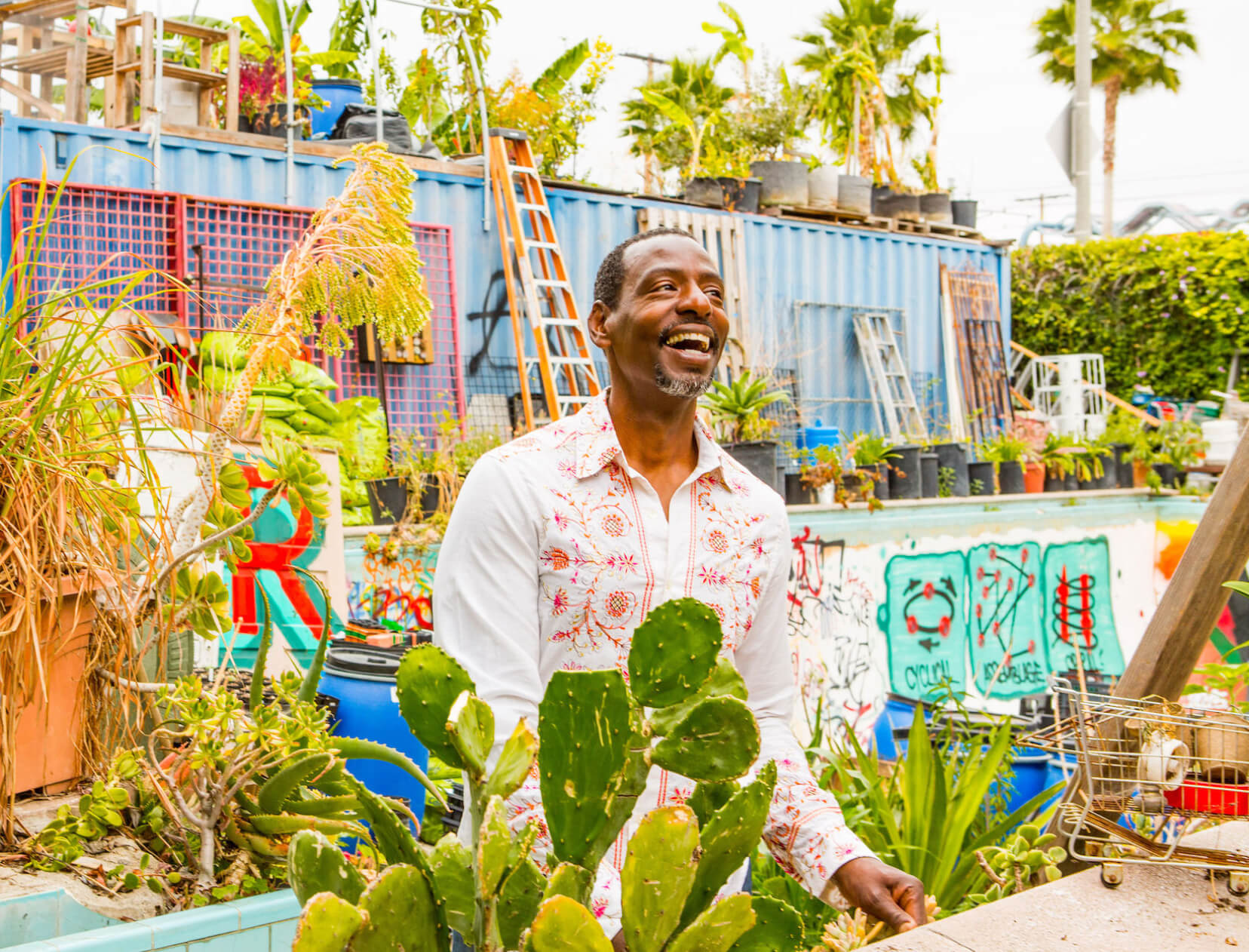 Turn Over a New Leaf—Inside and Out—
with the Gangsta Gardener
Even if you're one of those people who has trouble keeping a cactus alive, Ron Finley can turn you (quickly) into a green thumb. "Gardening is one hell of a drug," says the founder of the Ron Finley Project, a South Central Los Angeles–based organization that teaches food-desert communities (locally and around the world) how to grow their own food and take their health into their own hands. Finley calls himself the Gangsta Gardener. "When I was growing up, 'gangsta' meant 'fly' in respect to someone's car or outfit or style. It became centered around being drunk and high and misogynist, and I wanted to change it back, away from the negative tinge," says Finley, who has supercharged the gardening world. Today, when he's not teaching people how to grow their own food, he's giving TED Talks and leading a MasterClass series, writing a book, and developing a TV series—all on how we can easily nurture our own green spaces. "Soil is gangsta. Air is gangsta. Knowing how to grow your own food is gangsta. Kids in India send me pictures of themselves propagating plants, and they're calling themselves little Gangsta Gardeners. It doesn't get any more gangsta than that."
Finley grew up in a food desert in South Central and fell in love with healthy food with the help of his hippie-ish uncles, who shopped at health food stores, and his brother, who sold spirulina plankton powder. His activism—and the Ron Finley Project—started years later, in 2010, after Finley was cited by the City of Los Angeles for planting vegetables in his neighborhood's curbside dirt patches. Finley started a petition to garden legally in the public spaces in his area—and won. "Growing plants is freedom," he says. "We're taught that money is the resource, but what if you taught your kid that a teensy-ass seed she can hold in her hand can give her a whole tree that bears a ton of fruit, and that all those fruits have seeds in them, too."

He continues: "A thousand seeds from one seed. It sounds like magic, but it's real. Growing shouldn't be something exclusive for special people; it's for all of us." Finley's "office" is an empty swimming pool that's overrun with tropical taro plants, lemon trees, arugula, sugarcane (he's enamored of how nutrient-rich the juice is), and banana trees with enormous leaves that cast a considerable shadow on a sunny day.
It's easier than most people think to make things flourish, Finley says: "Just don't let your shit die. Plant what you want and use your common sense. It's simple. Being around plants is what we all need to get back to; at the very least, they make your space feel good."
6
Spritz yourself with
clean bug spray
"Bugs are a pain in the ass," says Finley, who makes his own bug repellent from organic extracts. We love this chic lemongrass-clove-vanilla solution that's a mosquito-repelling dream.
7
Help end
food deserts
You can learn more about food deserts in this interview with Stacy Mitchell, a codirector of the Institute for Local Self-Reliance. Mitchell says that there are roughly 20 million Americans who live in food deserts and that a disproportionate amount have been created in small rural towns and low-income urban neighborhoods, particularly neighborhoods with significant Black populations. To help support the Ron Finley Project's work in food desert communities, you can make a donation here.