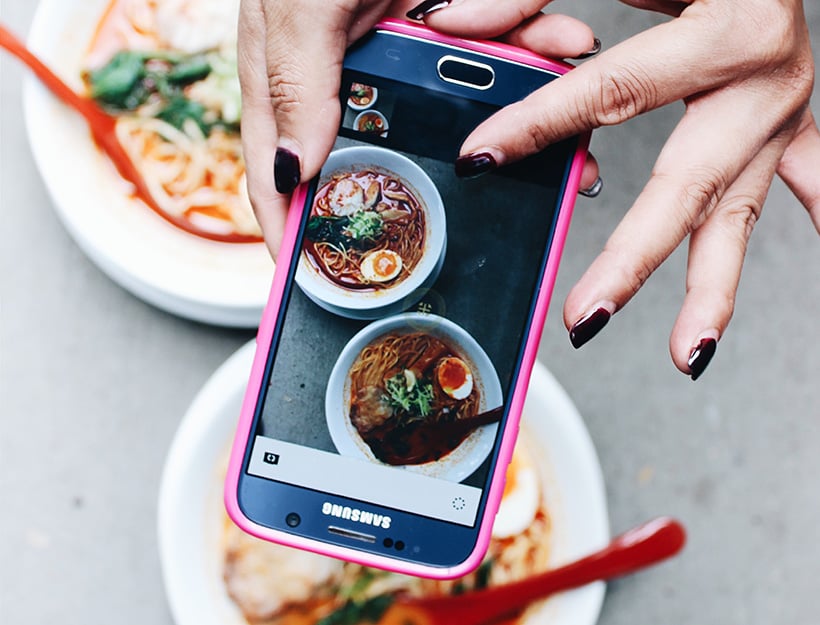 Five Tips for Taking a Good Food Photo on Your Phone (Plus, a Bruschetta Recipe)
Until recently, food photography was reserved for professionals shooting in studios with staged lighting, stylists, and props for added production value. Then social media and smart phones happened, paving the way for "phone photographers" to hone their craft. Portland-based Kari Young—we know and love her as @meatballssmama on Instagram—is a shining example: She populates her feed with vibrant, instantly recognizable, editorial-quality photos armed with nothing but her Samsung Galaxy; no fancy equipment or elaborate styling aids in sight. Granted, she's a social media consultant, stylist, and photographer by trade, meaning she speaks fluent social and has an eye for composition, though the success of her feed can only be chalked up to pure talent. She's also a restaurant industry veteran, so her cooking skills are on point (see: the most photogenic and delicious bruschetta recipe ever). Here, we asked her to school us on what it takes to get the perfect shot.
Kari's Smartphone Photography Tips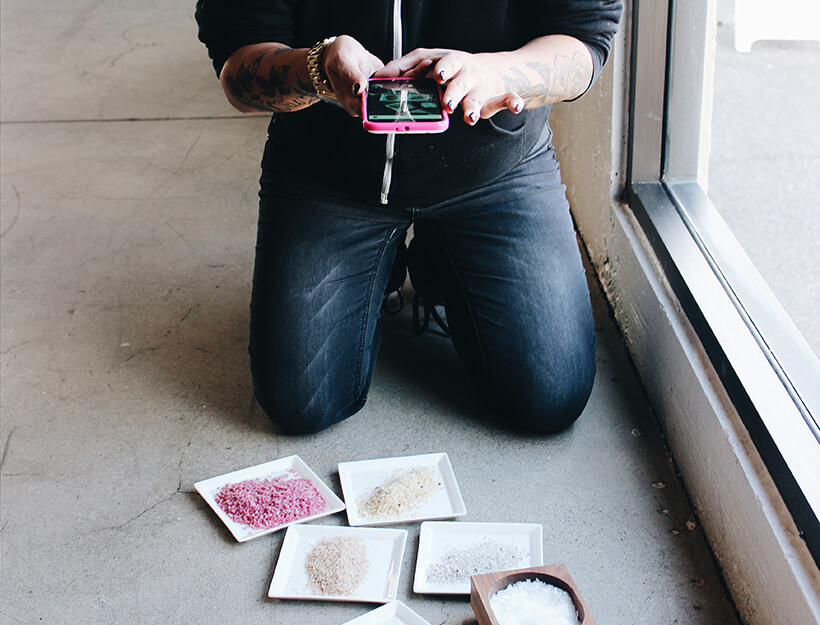 1. Natural Light
Making the most of any natural light that is available is priority #1. Indoors, some of the best spots are next to a window, on the ground near a floor-to-ceiling window, and in the garage with the door open. Avoid overhead light. If you're shooting in a kitchen, find a windowsill to shoot your food, and if you're in a restaurant and getting to a window isn't an option, try moving your dish to the edge of the table and shooting with any light that isn't overhead. Outdoors, when it's sunny, the direct sunlight can be too harsh, so take your dish to a shaded area. Play around with the light and shadows.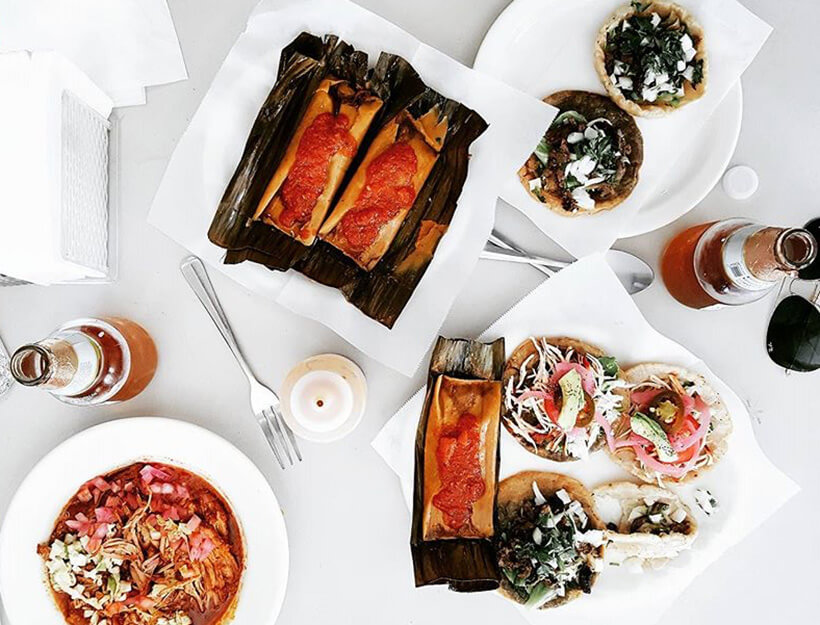 2. Composition
When I'm styling or just shooting in a restaurant, I will move dishes and items around to either fill the space or to create negative space. Reorganizing the scene also includes designing a landscape: sometimes the shapes of food will pop out on different surfaces and serveware. It's also important to incorporate and play with flatware and tableware to create a landscape around your food items.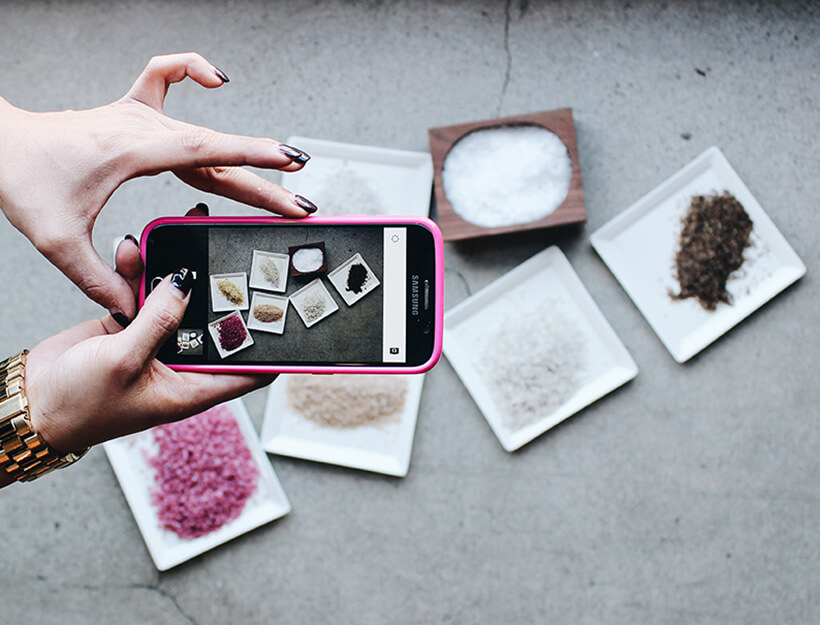 3. Multiple Shots
One of the most important things to remember: like any kind of photography, it takes multiple shots to land on the ideal one. Sometimes your hands won't be steady, or you'll pull the phone away too fast, so the shot could be blurry or slightly out of focus. Also, like I mentioned under Composition, you'll see that when you take multiple shots you'll have a better selection to choose from. When you take different angles or change the distance of your phone, the photo changes—maybe you'll see more plates in the frame, or the corner of a glass, or some messy flatware—and these additions create an even richer image. Try shooting your food items on different surfaces, too.
4. Editing
While it is almost impossible to edit a bad photo into a good one, it's important to edit a good photo into a great one. Treat editing like you would makeup: It's not meant to transform the photo entirely, but rather to enhance it. One of the things that's often overlooked is the orientation of a photo. By rotating your shot a full 360 degrees, you can see four different points of view; more often than not, you will spot the one with the most visual impact as you change the angle. The editing app I use is VSCO, whose downloadable templates (most are free) give the user a foolproof way to edit photos, with all the essential tools to adjust your contrast, exposure, saturation, warmth, sharpness, and tint.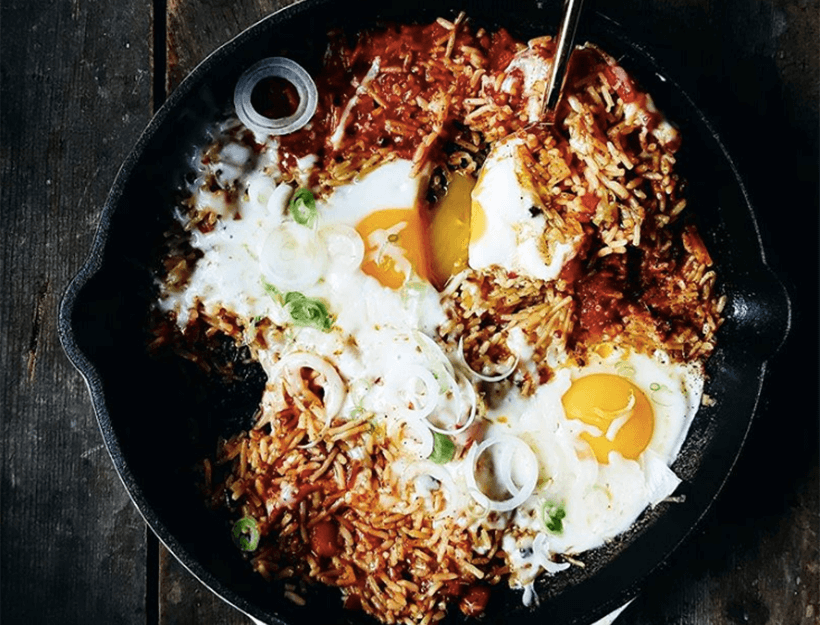 5. Imperfection
Leave picture-perfect, cookbook-worthy, over-styled photos to professional photo shoots and magazines. Nothing is more interesting, soulful, or relatable than an imperfect shot. These steps help to improve phone photos, but the heart behind it all is to stay true to your personal style and to share a story. These tips are to help anyone use their phone as a tool to do just that. A crumbled napkin, lipstick on the coffee mug, a wrapper, spilled sauce, a hand in the shot—these are all elements that add texture and bring life into photos.
Lastly, always wipe the lens so it is clean before you snap any pictures. Focus on the subject. And don't be afraid to try different techniques!
The best part about this recipe is that there are no rules with the topping combinations. These are ideas. Use whatever herbs you have available or find items that are seasonal and fresh in your local market.