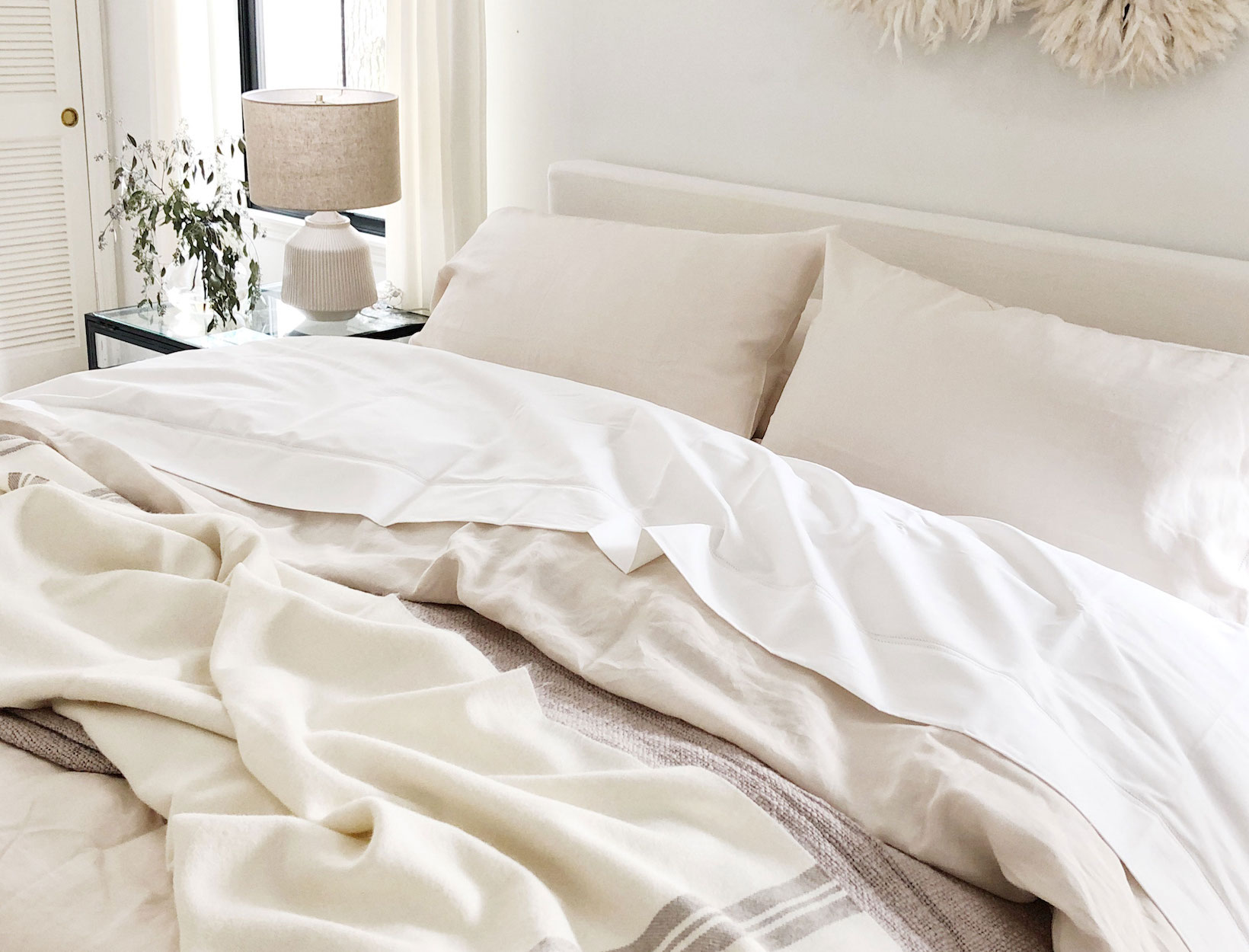 Photo courtesy of HOUSE SEVEN design+build.
Bedding by The Company Store.
All the
Elements for the
Dreamiest Bed
In partnership with our friends at Avocado Green Mattress
We spend a quarter of our life there. Or if we're lucky, closer to half. So it stands to reason that a bed should offer both respite and relief, be both inviting and indulgent. It's also "the centerpiece of the most personal room in a house," says interior designer Jessica Schuster, which makes it an incredibly intimate item to decorate. All great beds, she says, "should be as calming as possible." Which is why we asked Schuster to break it down for us.
01

A QUALITY MATTRESS

A mattress is a totally personal decision. "Think about what will work best for you," says Schuster. And "whenever possible, go sustainable and organic." Avocado Green Mattress is made of natural materials (100% organic certified wool and latex rubber and GOTS-certified organic cotton) and free of fire retardants and toxic foams, which means it's not off-gassing while you sleep. Or any other time for that matter.

AVOCADO GREEN MATTRESS, Avocado Green Mattress, starting at $959
02

SOFT, ORGANIC SHEETS

Because bedsheets cover almost "every inch of your body," it's essential to choose ones that are nontoxic, says Schuster. "It's also important to remember that how something feels is just as crucial as the visual, so pay close attention to the quality of the fabrics. Organic cottons of high thread counts really do make a difference to how restful a bed can be." Go for solid white to play up the feeling that your bed is a cloud.
03

CLOUDLIKE PILLOWS

The right pillow can mean the difference between a great night's sleep and a night of tossing and turning and watching the clock. Go for pillows of the highest, cushiest quality—no one ever regretted investing in a great pillow. Take your bed to the next level by creating depth and texture: "Add larger shams behind the standard pillows to add height," says Schuster. It also creates the feeling that your bed is even more expansive.

AVOCADO GREEN PILLOW, Avocado Green Mattress, starting at $79
04

A FEW MORE LAYERS

Add textures and personal touches with a cushy comforter, maybe a throw, and a couple of accent pillows. This is the stuff that makes a bed feel like a lot more than just a place to sleep. (If you want to add color, this is your moment.)
05

SENSUAL ACCENTS

"Don't forget about fragrance, whether it's a scented candle on your nightstand or a bowl of amber on your dresser," says Schuster, who is a firm believer in the luxury of smelling "your favorite scent in a big, beautiful bed."