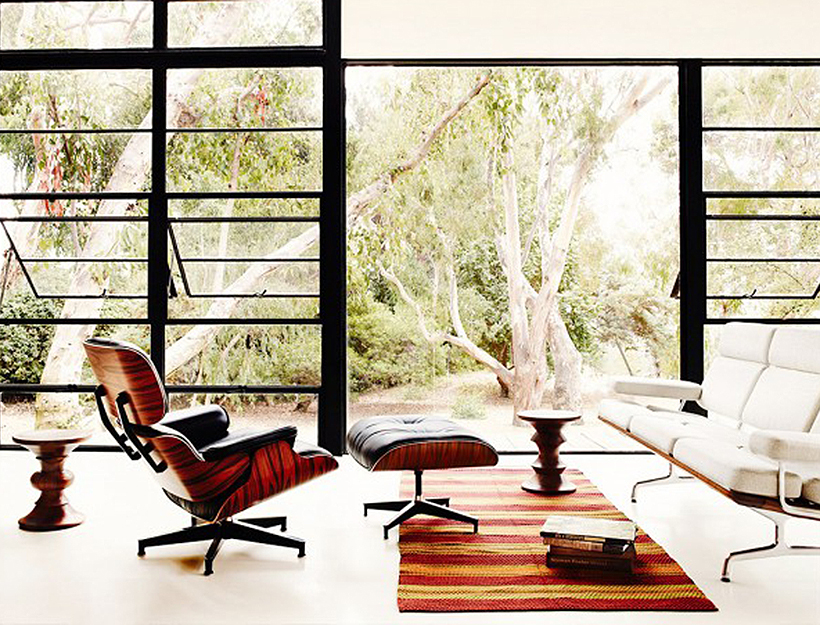 Photo Credit: Herman Miller
Design Classics to Invest in—and Why It's a Bad Idea to Buy Fakes
When decorating a house, it's easy to get sucked in by knockoffs. After all, they're rampant in the marketplace—even at big-name stores you wouldn't expect—and tend to cost hundreds and even thousands less than the originals. Besides losing out on integrity and in most cases, quality, buying fakes compromises the design industry in general—and Be Original Americas, an association of design businesses, institutions, and organizations is actively working now to protect the original work of the design community. In fact, companies like Herman Miller, Flos, Vitra, and more have joined the ranks in the hopes of educating consumers on the perils of copycat design. Below we ask Sam Grawe, President of Be Original Americas and Global Brand Director for Herman Miller, and Caroline Baumann, director of the Cooper Hewitt, Smithsonian Design Museum, about what makes good design, why it can be so expensive, and what Be Original Americas is doing to foster creativity in the future. Plus, we've put together a panel of design heavyweights on the pieces they deem worthy of investing in—or at least dreaming of.
A Q&A with Sam Grawe & Caroline Baumann
Q
What are the characteristics of a classic piece of design that will withstand the test of time (and changing tastes)?
A
Caroline Baumann: Cooper Hewitt, Smithsonian Design Museum is all about original design, and has been since the start with Sarah and Eleanor Hewitt, the granddaughters of industrialist Peter Cooper and founders of our collection. In their efforts to collect the best in design, they purchased works of technical and artistic merit from dealers and at auctions both in the United States and abroad, and acquired works from great French design houses, manufacturers, and designers. They judged an item not only for its beauty, but for the quality of workmanship and level of innovation it represented. These same criteria still resonate today. Objects now entering Cooper Hewitt's permanent collection are distinguished by their design, technological innovations, and use of materials, such as the recently acquired Aurora sidewall, a digital print of a hand-dyed linen fabric, designed by Calico Wallpaper.


Sam Grawe: There's not a formula per sé—but when a designer works hard to create a form and aesthetic that is more universal, with proportions that are relatable, it gives the piece a chance at a longer life span. Materials can acquire a patina and become more beautiful over time. This helps as well.
Q
What are we missing out on when we buy knockoffs?
A
SG: The real story. Quality. Intent. Decency.


Today's Top Designers on the Design Classics they Love
Michael Anastassiades
Designer and founder of eponymous design studio, which is especially well known for its lighting.
---
Marcel Wanders
Product and interior designer, founder and art director at Moooi, which has recently opened up new showrooms/brand stores in New York and London.
---
Sandy Chilewich
Founder and Creative Director of Chilewich.
---
Steven Volpe
San Francisco based interior designer whom we worked with recently to launch our San Francisco MRKT in an original Frank Lloyd Wright space.
---
George Yabu & Glenn Pushelberg
Co-founders of design firm Yabu Pushelberg, famous for their retail, home, restaurant, and hospitality design around the world.
---
Aric Chen
Curator, Design & Architecture at M+, a new museum of visual culture opening in Hong Kong in 2018.
---
Monica Khemsurov
Journalist, curator and co-founder of Sight Unseen, an online design magazine.
---
Nickey Kehoe
Todd Nickey and Amy Kehoe are interior designers whose namesake shop in LA houses their growing collection of eponymous designs. They collaborated with us on our first ever goop MRKT.
---
Richard Shapiro
Interior designer and dealer who has recently opened Studiolo, a gallery of his rare and unique finds in LA.
---
Max Fraser
Design writer, consultant, and curator of the London Design Festival. Editor of the London Design Guide.
---
Petrus Palmér
Founder & CEO of Hem.
---
Joe Gebbia
Co-founder of Airbnb.
---
Jon Marshall
Design Director at MAP, a London-based industrial design firm.
---
Alison Palevsky
Interior designer whose showroom and shop, Palevsky, has recently opened in LA.
---
Mat Sanders and Brandon Quattrone
Co-founders of Consort, an LA-based interior design firm.
---
Lindsey Adelman