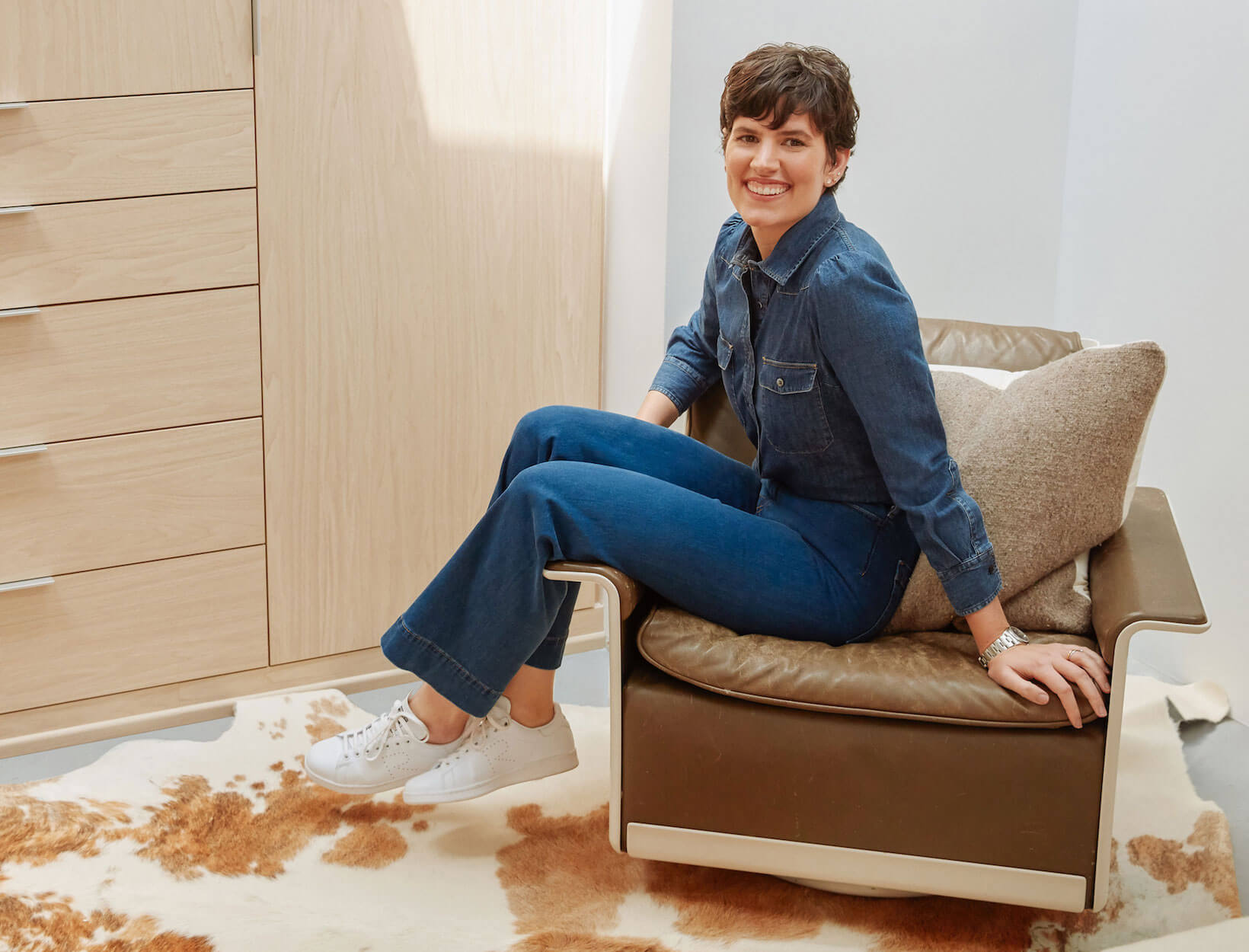 Upgrade Your Closet,
Minimize Your Stress
In partnership with our friends at California Closets
Anyone who has ever lived in a college dorm or a walk-up on the Lower East Side knows how important closet space is. And recently, our chief content officer, Elise Loehnen, realized that her own could stand an upgrade.
Her house, a midcentury A. Quincy Jones–designed home in the hills of Brentwood in Los Angeles, didn't have a lot storage space. And over the years, her bedroom closet had become a catch-all—a suitcase there, a jumpsuit back there, even a small trampoline in the corner. So she and her husband, Rob, wanted to reimagine the space with the help of California Closets and design consultant Katharine Mills-Tierney. The goal was to turn a chaotic situation into a sleek, clean space while maintaining the design, soul, and aesthetic of their historic home. The outcome is as beautiful as it is useful. We talked to Elise about how it all went down.
The Before
When Elise and her husband moved into their house, they knew that storage would be an issue. In general, there are very few closets in the house—these homes were built for middle-class families during WWII. "They were made as a type of case study with very little built-in storage," says Elise. "When we bought the house, there was no functional way to store anything."
Elise's bedroom closet turned into a "just close the door and forget about it" situation. It was a reach-in closet with a sliding door, which made it hard to access areas that could have been used as prime storage real estate.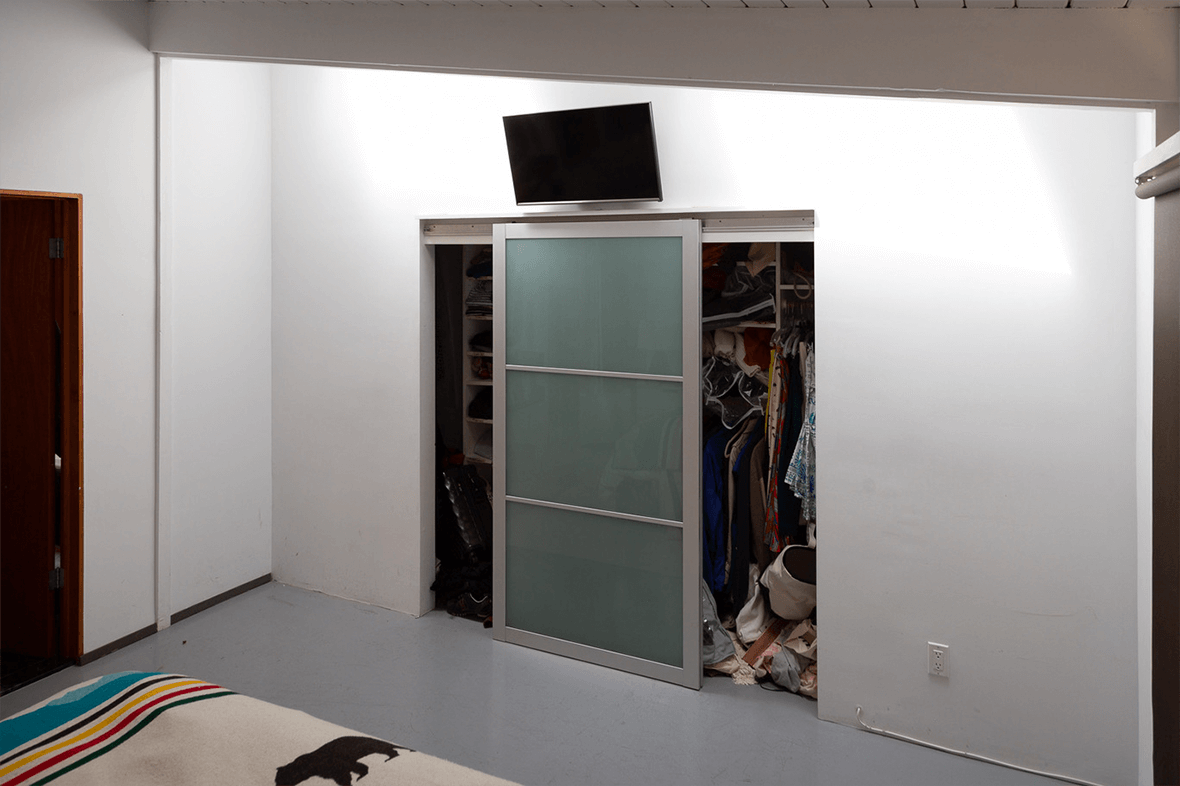 "When you have too many things, you don't use what you have."
Corners of the closet became a dark abyss of dead space. "I didn't know what was in there. I had to dig it all out," Elise says. Mostly, she disliked how the closet seemed to create more clutter: "It was a dysfunctional reach-in. It felt like an excuse to hoard."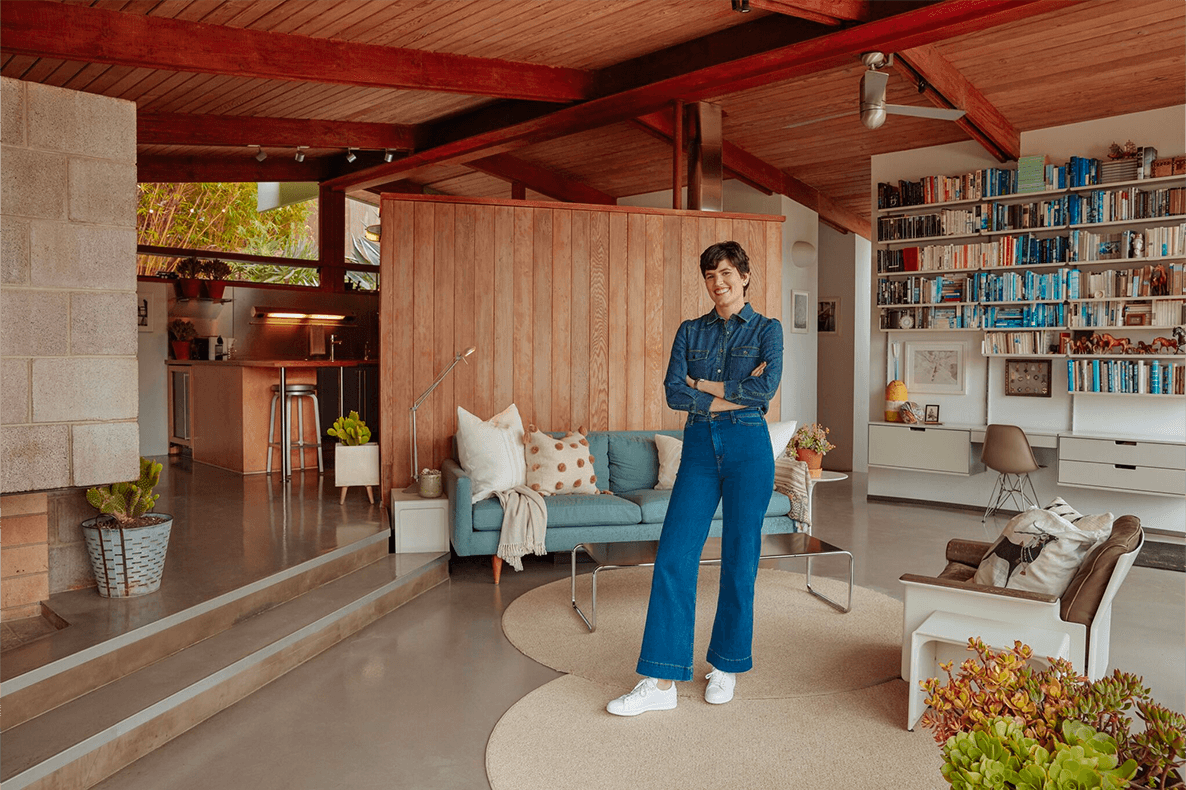 "The spirit of the house is to be clean and not to be overstuffed with things."
Elise had a clear vision of what she needed: a well-designed closet that maximized the space in a quiet, seamless way and complemented her midcentury home: "I don't want a ton of storage. I just want it to be functional, and I want to be able to put things away easily." Her top priority is having less stuff. And she wanted to use every corner of her home for purposes other than for storage. "It's energetically healthy," she says. "The spirit of the house is to be clean and not to be overstuffed with things."
THE AFTER
To create a completely custom built-in, designers at California Closets consider every detail, from the layout to hardware to lighting. Then they measure, take inventory of your items, and plan around your wardrobe so there's enough space to fit what you already have. "It's a great service," says Elise.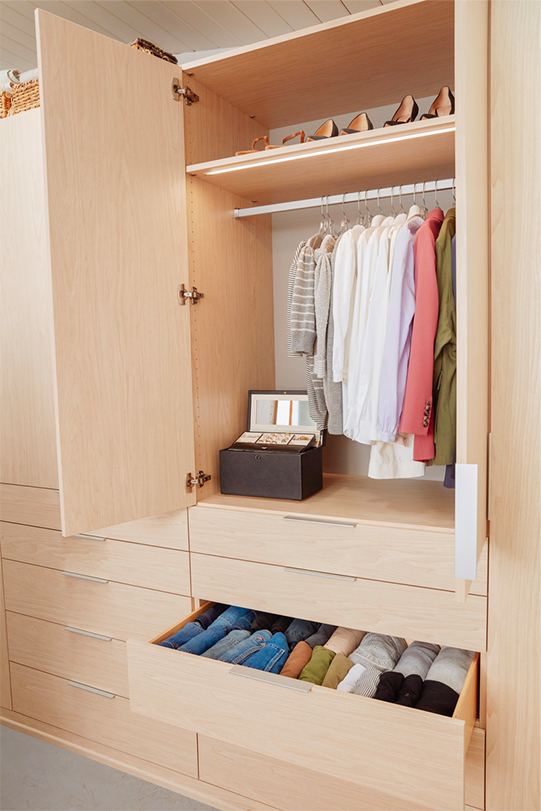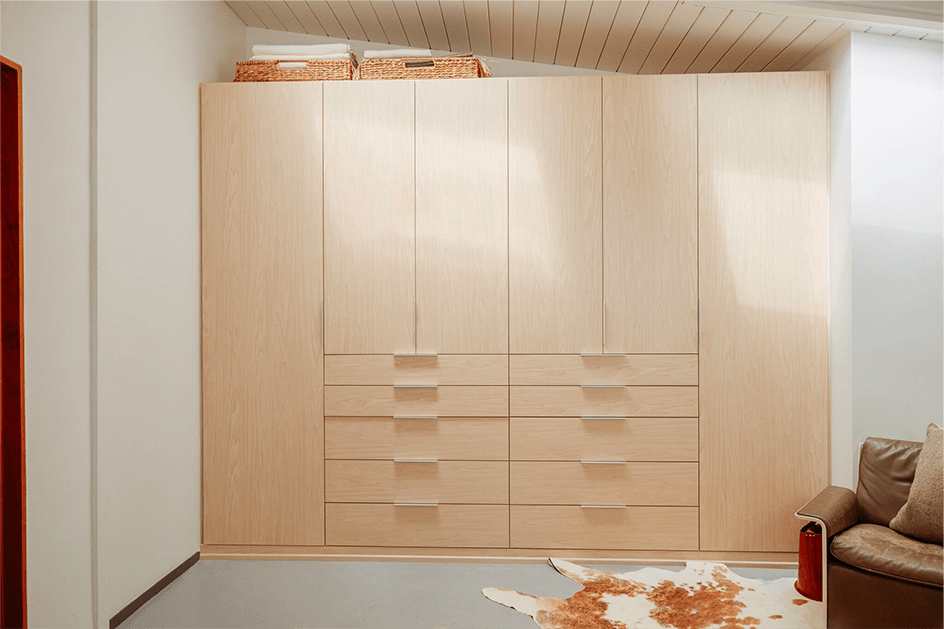 "It's like a forced reckoning. I know exactly what I have and exactly how much I can have. There are no places for me to hide things."
What was ultimately important to Elise was maintaining a level of minimalism. To her, that means having a closet that's not totally filled to the brim. "You can't live in a house like this and have a ton of unnecessary stuff," she says.
"When you have too many things, you don't use what you have," says Elise, who makes the case for a lean closet. Any streamlined closet begins with getting rid of clutter. Even more than you think you need to get rid of. Paring down her belongings, Elise said, gave her a clear picture of what she had and made it easier to organize her wardrobe based on type and function. Sorting items by size maximizes the space, and arranging by color can help you find specific pieces faster.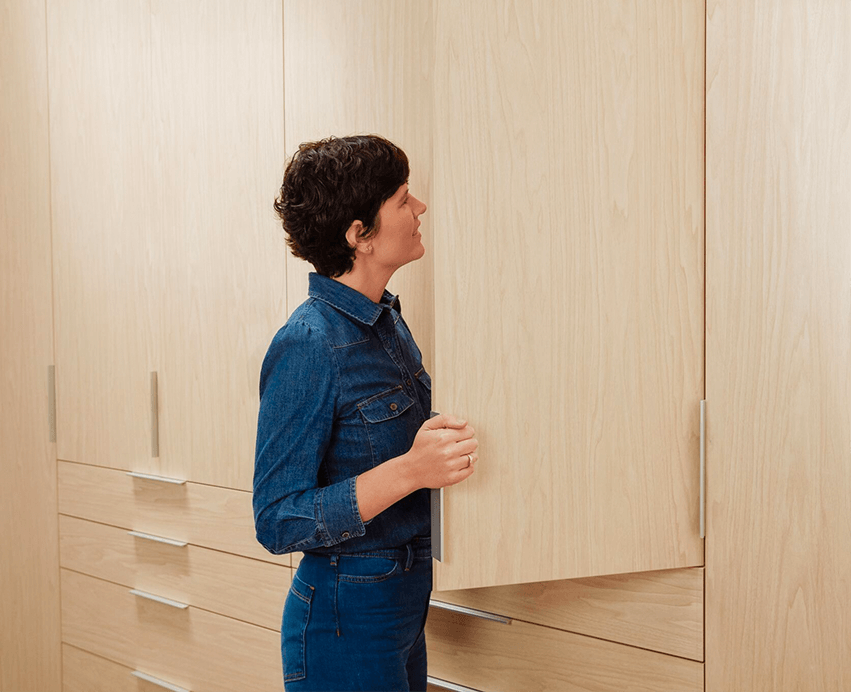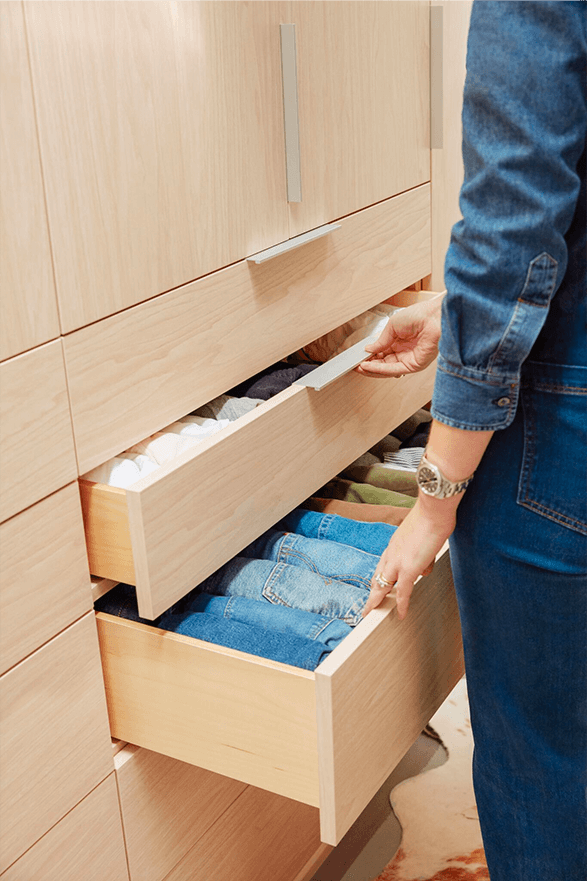 "It was a dysfunctional reach-in. It felt like an excuse to hoard."
A tranquil closet also has uniformity. Folding clothes in the same direction is a no-brainer. And though it sounds weird, experts advise rolling jeans and T-shirts to maximize space, just as you would in a suitcase. And the value of matching hangers and a sleek accessories case—like this one from the new California Closets Essentials line—can't be overstated. It not only looks better; it makes the closet more efficient and user-friendly.
Elise loves the new closet and how she can see everything she owns organized in a space that truly feels reflective of her home's style. But mostly, she loves that she's not shoving things behind the door anymore. "It's like a forced reckoning," she says. "I know exactly what I have and exactly how much I can have. There are no places for me to hide things."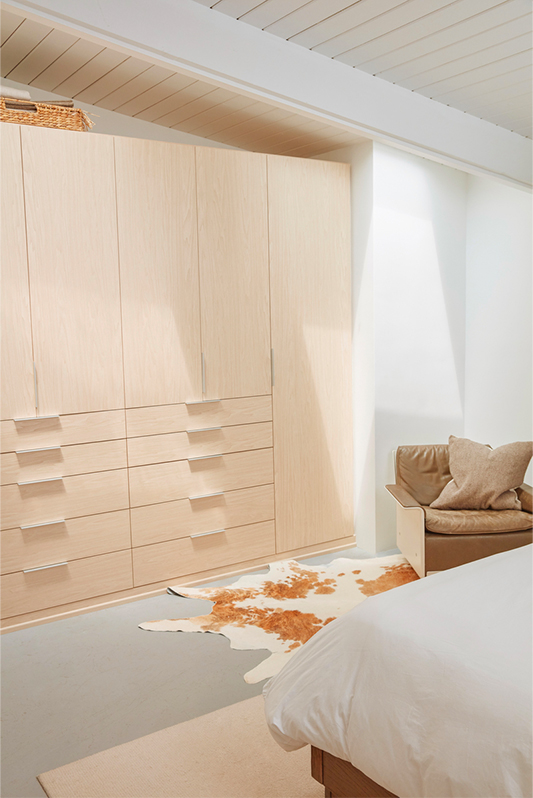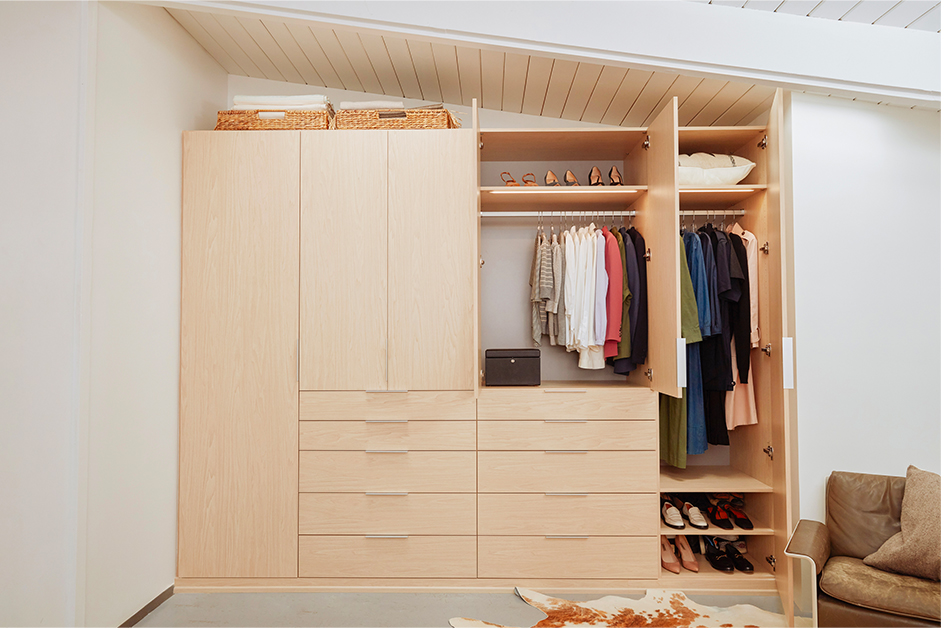 SHOP THE STORY