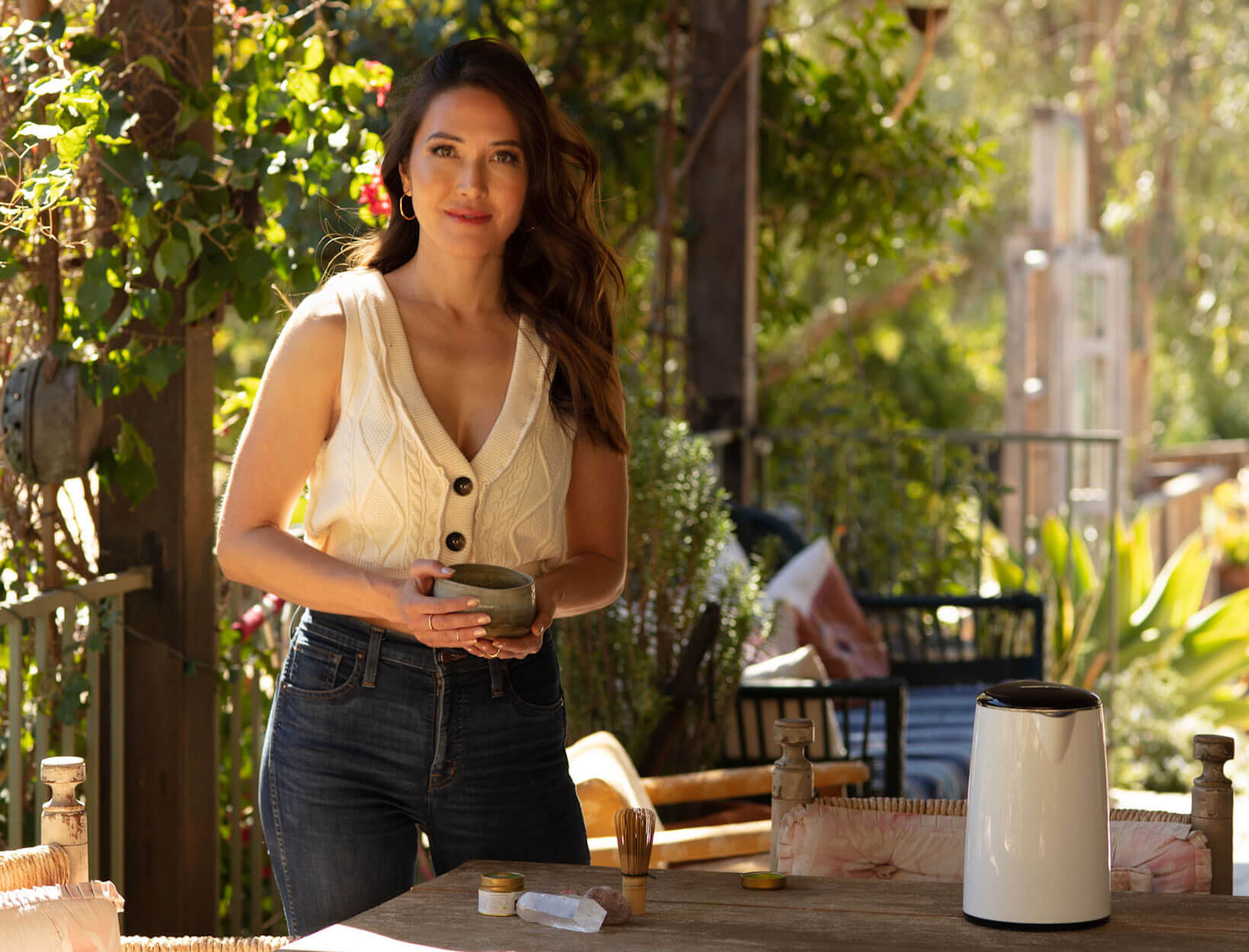 Photo courtesy of Kyle Jackson
My Kitchen Essentials: Easy Rules to
Live By from Chef Candice Kumai
Candice Kumai has held almost every job possible in the food world. The author of six books has been a line cook, a food editor, a contestant on Top Chef, and a judge on Iron Chef, and last year, she taught Selena Gomez how to cook ramen on the singer's quarantine cooking show. Kumai's food career started at age five, she says, when she first visited her grandparents in Japan. "We had miso soup for breakfast—and my head basically exploded," says Kumai. "My baachan, which is grandmother in Japanese, taught my sister and I how to cook washoku, traditional Japanese food, at home. It's not fancy food, but it is certainly delicious and simple and very clean."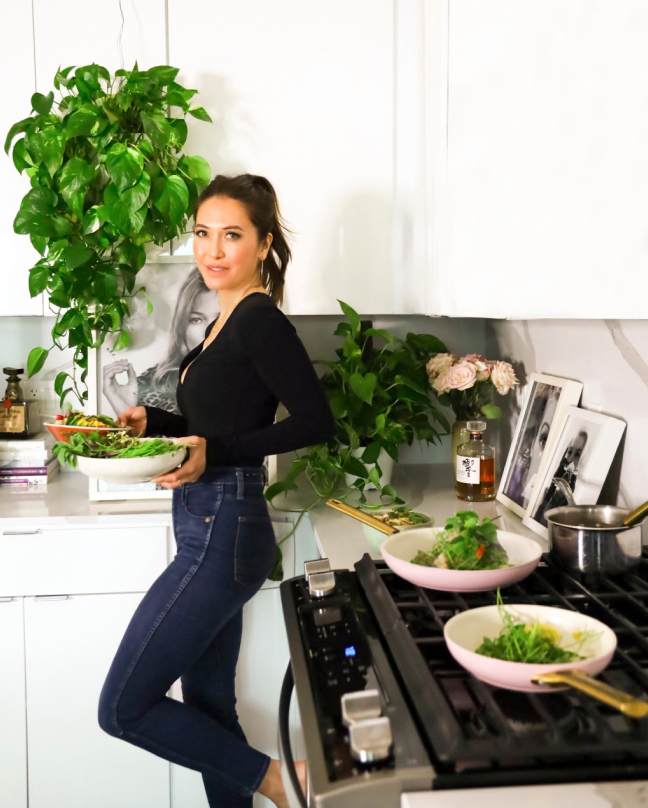 Photo courtesy of Julia Liebowitz
Kumai kept her family's legacy, values, and recipes close as she navigated first culinary school and then the male-dominated food world. "I stayed mindful, and I was graceful," she says. "I had this Scottie Pippen mentality of never getting paid what I was actually worth but knowing how innately talented I was deep inside. And that the right people at the right time would find me and say, 'It's your time—go ride this wave right now because you've earned it.'"
Now Kumai, who's a guest contributor for the Today show, just wrote, directed, and produced a new documentary series, Kintsugi Wellness, based on her last book. "Kintsugi is the Japanese practice of repairing broken vessels by sealing the cracks with lacquer and dusting them with gold powder," says Kumai. The book, which is part memoir, part delicious Japanese cookbook, expands on the idea that your broken places make you stronger and better than you were before. Kumai is using her multiple platforms to raise awareness about the AAPI community. "People have to educate themselves on Asia and the beautiful diversity of the countries in it," says Kumai. One place to start: "Buy books written by Asians," she says. "There's finally this opportunity for everyone to reeducate themselves on this problem that's never been addressed."
Kumai, whose clean style of cooking was inspired all those years ago, is full of tips to make your kitchen a happier, healthier, more sustainable place.
Chefs (Like Me) Love Ceramic Pans
I've used these pans for over a decade, and they work. I used to sell them when I was a host on the Home Shopping Network in my twenties! They're good for the environment. You also use less butter or oil while cooking and still get a really beautiful color and finish on produce or fish. And they're ceramic, so they last; they don't peel or fall apart like cheap nonstick pans. Every good cook should invest in high-quality pans—they're investment pieces that give back to you over time.
Everything Tastes Better Sliced
I've been using this Japanese mandoline my entire culinary career—on the line in restaurants and even at culinary school, we all had it. I use it for things like fennel, beets, thinly sliced potatoes, or French fries or to thinly slice radish. It works better than your typical American mandoline. Be very careful—practice really does make perfect. And make sure that you use the safety slicer and check to see how thin or thick it is.
Use Bowls That Make You Smile
When I wrote my first book, Pretty Delicious, in my early twenties, we used these bowls from Mosser Glass, which is an American company that creates beautiful marble and milk-glass pieces. There's something about the way these look and feel that makes cooking so much more feminine and fun. I bake almost every other day: mochi bars or matcha chocolate chip cookies. I love to send them as presents, especially during COVID. The bowls also make a nice table centerpiece if you're putting out a big quinoa, kimchi, or macrobiotic salad. They hold a lot of weight. You can put lemons or fresh fruit in them. They have multiple uses.
Being Precise Can Also Look Cute
Precision in baking is important—it is an exact science—which is why you need a great set of measuring spoons. If the recipe you're following is written well, your baking should come out spot-on as long as you remember to use precise measurements. And these are just cute and fun and cool. It's nice to have little details in your kitchen that make cooking feel a little bit special while also being very useful.
There Is a Mercedes-Benz of Blenders
For Clean Green Drinks, my book on juices and smoothies, we thoroughly tested every blender on the market. We called the Vitamix the Mercedes-Benz of blenders: It blends the best. And it makes the best dressings and marinades, too, matcha lattes, vegan banana ice cream… The best strawberry sorbet with yogurt I ever had was straight out of a Vitamix. I've used it in every professional kitchen I've worked in.
Give Your Guests the Leftovers
Working in restaurants and going to culinary school, I saw so much waste. It really upset me. I believe in everyone doing their little part, which is why reusable bags are important to me. These are great for treats, storage, having a picnic, going on a hike, going to your girlfriend's house for a birthday celebration and putting cookies in. I like to share my leftovers with my guests. Instead of giving them something cheap that's going to end up in a landfill, I put it in this and say bring it back next time. They're high-quality and good for the environment. It's smart to start investing in reusables. And as mindful chefs, it's important for us to share the fact that most of us prefer to reuse most of the items in our kitchen.
Make More One-Pot Meals
I used to teach cooking classes in LA and also at the Brooklyn Kitchen, and my favorite thing to teach people was how to make a one-pot meal. French ovens are so versatile for one-pot meals: You can make French onion soup or a one-pot chili. Selena and I made ramen in one of these. You can bake a clafoutis, which is a baked French dessert with fruit, or a frittata. You could make mac 'n' cheese then bake it in this if you wanted to. Sourdough, cornbread, so many things. Just make sure you invest in good oven mitts. Don't make that mistake.
---
We hope you enjoy the products recommended here. Our goal is to suggest only things we love and think you might, as well. We also like transparency, so, full disclosure: We may collect a share of sales or other compensation if you purchase through the external links on this page (including links to Amazon).