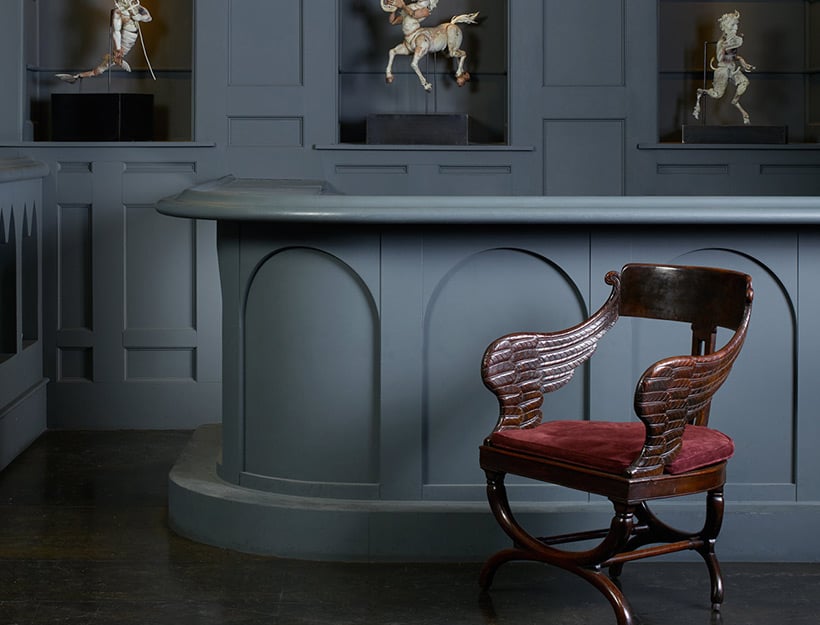 Blackman Cruz at Auction
Walk into the Blackman Cruz showroom in LA and you're in for a visual feast of beautifully merchandised curios, design ephemera, and antiques from far-flung corners of the globe. Over the past 20 odd years, dealers David Cruz and Adam Blackman haven't just made a name for finding treasures in Mexico, Parma, and Brimfield—they've become famous for a shared aesthetic that's uniquely their own. As Adam explains, "It's not about the country of origin, the pedigree, the label, or who designed it, it's about the style and how the things work together." So it's not surprising that Chicago's Wright auction house approached them for its first ever "style" sale (rather than period or theme) and has given them free reign to curate 200 items for an auction on April 21st. Many of these pieces have never seen a shop floor before: There's a special preview of the items at both Blackman Cruz in LA (starting tomorrow) and Wright's gallery in New York. (A few highlights are below.)
When asked what the best investments a collector can make now, Adam mentions early Modern pieces like Mies van der Rohe's Barcelona chairs and daybed for Knoll and the Eames 670 and 671 Lounge Chair and Ottoman in black leather and rosewood. But ultimately: "Beautiful is beautiful. If you like to live with these things, then it's always worth having them around."
Carlo Bugatti 1 + 2

Carlo Bugatti 1 + 2
Coincidentally, both David and Adam brought in a Carlo Bugatti chair from home for the sale.

Al Capone

Al Capone
This pair of  chairs once decorated Al Capone's Wisconsin retreat, "The Hideout." Adam picked these up at the estate sale of one of Capone's cronies.

Dog Collars

Dog Collars
These 18th and 19th Century dog collars are also one of the things that Adam collects.

Armoire

Armoire
David, who spends a lot of his time traveling to Italy and Mexico, bought this Italian, late 17th Century armoire, which caught his eye for the unintentional humor of its pajama-like pattern.

Angelo Lelli

Angelo Lelli
Adam says lighting from the Italian company Arredoluce, like this Angelo Lelli lamp from the 60's, makes a great investment as the designs are "so experimental, still" even by today's standards.

Sugar Skull

Sugar Skull
David hails from Mexico, where he also spends a lot of time collecting everything from modern furniture, to everyday curiosities like this traditional sugar skull.
Paul Frankl

Paul Frankl
This pair of orange leather Paul Frankl chairs came from Adam's home, where they'd been set against an orange wall painted especially for them.

Barbells

Barbells
Adam amassed this collection of early 20th century barbells over the last eight or so years. Of the two of them, he admits that he's the collector.

Lika Moore

Lika Moore
Lika Moore, the design director at Blackman Cruz, designed this pair of one-of-a-kind Leonine consoles for Blackman Cruz Workshop. They're featured exclusively at the sale.

Clarke & Reilly

Clarke & Reilly
David is the US dealer for English design duo Clarke & Reilly's revisited antiques and found furniture.

Studded safe

Studded safe
The New York preview features several of the more dramatic items from the sale, including this 18th-century studded safe.