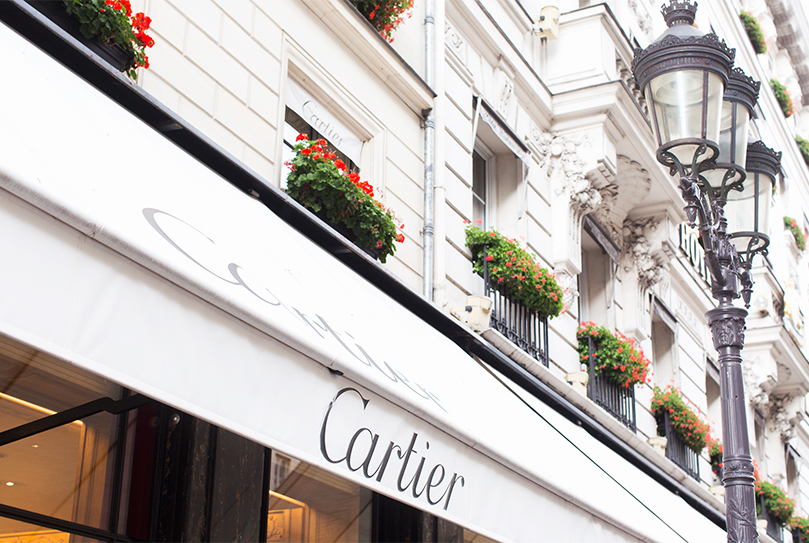 Behind the House: A Tour of Cartier's Secret Archives
In partnership with our friends at Cartier
Cartier has occupied its gorgeously-appointed flagship atelier in Paris since 1899, but the real magic is upstairs in the Cartier archives, a carefully guarded space that documents centuries worth of iconic designs. This is why it was a big deal when we convinced the house to let a Cartier historian give us a tour—and let us see the sketches—and even a few major sales receipts—that have defined the iconic jeweler. To round out the priceless experience, we asked Cartier's Style and Heritage Director, Pierre Rainero, to drop some of his knowledge about diamonds—most notably, how to pick one (apparently, there's a lot more to it than the 4 C's). Below, some of the highlights of the day.
The Paris archives contain perfectly preserved records of past commissions and designs, some dating back to 1856.

This is an archival photograph of a pineapple motif diamond Aigrette headpiece from 1913.

Handle with care.

>A single "Book of Inspiration" might hold the sketches, notes, and designs of multiple designers—as well as notes from Louis Cartier himself.

The Taylor-Burton diamond was the first diamond to sell for over 1 million dollars at auction.

The house started photographing all designs, to scale, in 1901.

The design process for the Queen of Belgium's tiara was meticulously documented from its inception in 1910 to completion in 1912.

This is the Maharaja of Patiala' Deco-inspired ceremonial necklace commissioned in 1928. It has over 1,000 carats and boasts a 234-carat yellow diamond the Maharaja brought to Cartier from his personal collection.

A collection of articles pertaining to the sale of the Cartier 69-carat Taylor-Burton diamond. Fun fact: Elizabeth Taylor had three bodyguards protecting it when she wore it in Monaco.

The Maharaja's necklace is now part of the Cartier Collection.

The très plush interior of the maison at 13 Rue de la Paix.

A diamond studded Love bangle, plus two Juste un Clou bracelets.

Cartier diamonds.

Framed illustrations of past Cartier creations.

A Sooky Panther ring with pink sapphire and emeralds.

A classic engagement ring.

Some of Cartier's more iconic pieces: A Juste un Clou bracelet, a Panthère de Cartier bangle, a tiger bracelet and the Trinity de Cartier ring.
Q&A with Cartier's Style and Heritage Director, Pierre Rainero
Q
What are the qualities of a perfect diamond—and more importantly, what differentiates a Cartier diamond?
A
It is a very personal thing. Diamonds, unlike all other stones, are framed by so-called criteria of quality: clarity, cut, color, and carat. But I think those criteria are not enough, because the emotion you feel from a stone is very different from mathematics or chemical composition. That's what makes the stones special.
At Cartier what makes a diamond very "Cartier" is a sense of proportion. It's not necessarily according to the criteria mentioned—something perfect—though of course, we like perfection. Diamonds that fit the criteria perfectly can absolutely be a source of emotion.
But in some cases, your emotion comes from other criteria, or a combination of all those criteria, because every cut is different: You have different pear shapes with different proportions and depending on weight, even if the cut is similar, you may have a different perception of the diamond. That's why the perfection of a diamond is a very delicate topic—it's more about your own taste.
At Cartier, we have our own taste in terms of diamonds. In some cases the objective criteria (cut, color, clarity, carat) might all be there, but it's still not enough for us to choose that stone. It doesn't have that sense of proportion we look for. When you choose to purchase a stone from Cartier you know that it corresponds to the "Cartier Eye"—the four C's, the proportions, the way it plays with light, and of course, the emotion.
On the contrary, one specific criterion is enough for us to refuse a stone. For example: a stone with too few facets of light or a cut that doesn't respect the material won't make it.
It's interesting to see that generation after generation the "Cartier Eye" has become a part of our culture. You don't come here with an eye, it's something you acquire gradually with experience and by spending time within the culture of the company. This is why we value having young people working alongside more experienced pros, whether it's in the design department or in the ateliers.
Q
Has Cartier ever recut or mounted any famous diamonds?
A
There's an almost 40-carat Pacha diamond, which was the property of Barbara Hutton. It was set in a necklace and she asked us to make it into a ring and recut the stone into a round shape, something we didn't really want to do—to cut a stone is almost like a crime: You not only lose carats, but also the spirit of the original. But of course we did it.
At the time, it was the biggest round-shaped diamond ever seen. Since then, bigger diamonds have come on the market. In many books you'll see references to this diamond being the biggest, but it's no longer true.
Q
How do you think popular culture has changed in terms of actually wearing serious diamonds?
A
I think it can be a paradox to some extent. There are actually more opportunities to wear diamonds today, in different circumstances. For many years diamonds were not seen as appropriate to wear until after the late afternoon. Now that's no longer true—you can go to the office wearing diamonds. Of course it depends on the type of piece and how you wear it, but things have shifted to a more open culture in terms of wearing diamonds.
According to lore, The Duchess of Windsor used to say, "Gold is fine, but after five just platinum." It was another way of saying that diamonds were only allowed after 5pm. This is actually a reference to Cartier because most of our diamonds were mounted in platinum as we introduced and imposed the use of platinum in jewelry in the early 20th-century.
In my opinion, this notion of strictly relegating diamonds for nighttime is no longer true, because the role of women in society has changed considerably. In general women have more freedom, and the same goes for the way they dress and behave. The so-called codes may not have disappeared completely, but now they are a basis to play with rather than a rule. At the time, the Duchess herself was already playing with the codes. For instance, she was a pioneer of wearing figurative jewelry. She was the first to wear panther, tiger, and big-cat jewelry in the 40's.
In a way she went beyond the traditional codes because for women in society it was impossible to express their own character through their choice in jewelry. It was a revolution for her to wear a panther! The association of the wearer with the character of a panther was so obvious.
Q
Speaking of animals, what's the significance of animals in your jewelry—and in jewelry in general?
A
Animals in jewelry have been around since antiquity—ancient Greece, the Roman world, and many ancient civilizations. Animals represent values like strength, courage, and intelligence. For women, specifically, the panther has always been seen as a very elegant animal. For men, it's traditionally been the lion since it represents strength. But this distinction isn't the rule—the treasure of Philip of Macedonia for example, includes gold jewelry for men with many different animal motifs like, birds, insects, snakes, and panthers.
At Cartier, the end of the '40s saw a huge surge in big-cat jewelry. These women felt directly connected to the elegance, strength, and independence of these animals. It was also daring because at the time, to see such a voluminous, shapely piece of jewelry was totally new. In 1948, we made the first 3D panther for the Duchess of Windsor—it was a yellow gold panther sitting on top of a cabochon-cut emerald. The following year, we made a brooch of a platinum-and-diamonds panther that sat on top of a 154-carat cabochon-cut sapphire. It was actually very daring on our part to set such a creative piece on such an important stone.
Q
Who are the jewelry code-breakers today?
A
I think many codes have been broken already, I don't know if there are any more codes that still need breaking! But everything is possible today, which is great because it's all linked to the pioneering attitude of the previous generations of women.
Q
How have diamond trends changed over the years?
A
You really never know. There were years when the emerald cut was what everyone wanted, then all of a sudden it was the brilliant cut. It's an endless cycle, so I advise anyone looking to buy a diamond to trust their own taste and nothing else—it all goes back to emotion. It's also important to keep in mind the composition: the design of the piece has to be harmonious with the main stone.
The one cut that is more difficult than any other is the heart shape. The depth and the proportions are a challenge to accommodate in terms of composition.
Q
What are the classic Cartier cuts?
A
Though we can't confirm it, it is said that Cartier invented the baguette cut. It became very popular in the 30's but it's seen much earlier than that in our designs. The way we play with the emerald cut, by placing baguettes on the sides, is also something we are known for.
Q
What's a great starter diamond?
A
The one you like—there is no set rule. This is part of our job, the skill of our sales associate is to understand the taste of the client, to help them clarify what they like while never imposing anything on them. The client has to feel it's her or his choice.
Q
How do you properly care for a diamond?
A
Very easy: Soap and water. The real enemy of the diamond is dropping it. A fall can scratch the sides of a stone. We say that diamonds are the hardest stones, but they can suffer from the shock of a fall. You should really never cook while wearing diamonds, it's the perfect opportunity to shock the diamond, or worse, forget it on the sink.
Q
Is there a particularly popular engagement ring style?
A
We offer a wide choice but I like the ones where the creative design is an added value. Even if the shape of the main stone is simple, we work hard to achieve the right proportions: the position of the stone on the mounting, the weight and shape of the cut in reference to the prongs. The goal is for the main diamond to be enhanced by the rest of the design, like an emerald cut with baguettes on the sides or a pavé ring, where the smaller stones reflect light onto the main diamond.
The majority of people want a white diamond for an engagement ring, though in French culture, blue sapphires are very important to traditional families since blue is symbolic of blue skies, blue oceans, and open spaces—it's another symbol of purity.
Q
Do you have any preferences on gold versus platinum for diamonds?
A
In the late '30s and through the '40s and '50s, yellow gold was used to bring warmth to the pieces. Then in the '80s platinum was once again in favor. Today, we've seen some requests for rose gold and yellow gold, it's not exactly a trend yet, but it is an option.
Q
What else should we know about finding the perfect diamond?
A
It is always better to come to a reputable Maison for a diamond. Cartier will always provide quality in terms of sourcing and craftsmanship, which is why each diamond has a certificate. We're here to bring trust—it is very important to us, and since we've been around for over a century and plan on being here for a long, long time, we can offer a level of confidence to anyone who owns a Cartier diamond. Plus, the signature red box is a must for some people!
goop's Favorite Pieces from Rue de La Paix
Photos by Carin Olsson.