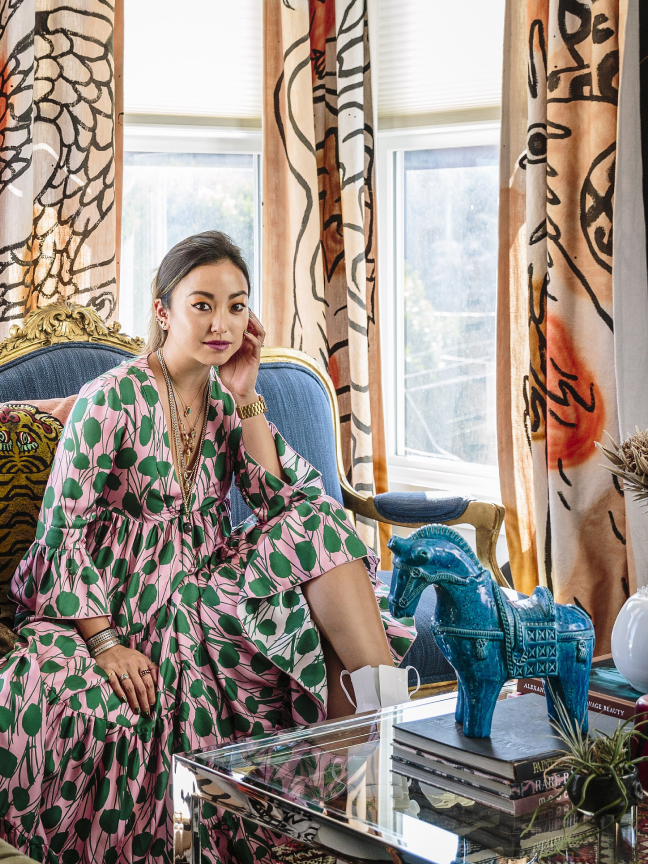 She's famous for eclectic, life-changing interiors that make big statements, but San Francisco–based designer Noz Nozawa believes details are everything. Case in point: "How often do you wash your hands in a day?" she asks. "How about your face?" Focusing on the rituals you repeat day in and day out can help shape your design in a way that constantly delights you, insists Nozawa, whose work you can see in Architectural Digest, Luxe, House Beautiful, the Wall Street Journal, Rue Magazine, Sunset magazine, HGTV Magazine, and ELLE Decor.
Nozawa's firm has always designed around the idea that our homes affect our mental health and happiness in profound ways. Accordingly, her mantra is: Take care of yourself first. "People tend to give their guests the really nice stuff and think about how the design is going to make other people feel but rarely consider themselves," she says. "What if you gave yourself the best bathroom?"
With that question in mind, Nozawa likes to start with the details that mean the most to the person she's designing for. "You always end up falling in love with something, whether it's the tiles, the tub, a piece of marble, or the faucets—the finish or the shape or the handles. Some small detail is usually what everything else works around," she says.
Whether you're doing a to-the-studs renovation or an accessories refresh, Nozawa suggests looking at the sink first: "The real luxury moment is the one that you return to multiple times a day: washing your face and your hands. I think people underestimate the power of those moments. So slow down and find something like a really gorgeous faucet that's going to delight you every time you use it." If you're not doing a full-on renovation, look at deck-mounted faucets and handles. "Wall mounts require ripping into the wall, but deck-mounted ones are easy to switch out and can change the look of your bathroom without a big hassle," she says.
Her favorites are often by Brizo. "I'm a huge fan," she says. "They of course make a fabulous fixture that works beautifully, works ergonomically, feels great in the hand, and is of the highest quality, but what I love and why I keep going back to them is that stylistically, they make things that stay relevant rather than simply being trends. And I love that they achieve this great balance between masculine and feminine with their designs. I've been specifying them for years, and even in older projects, the look has stayed relevant to the way we live."
The Allaria Bath Collection / Image courtesy of Brizo.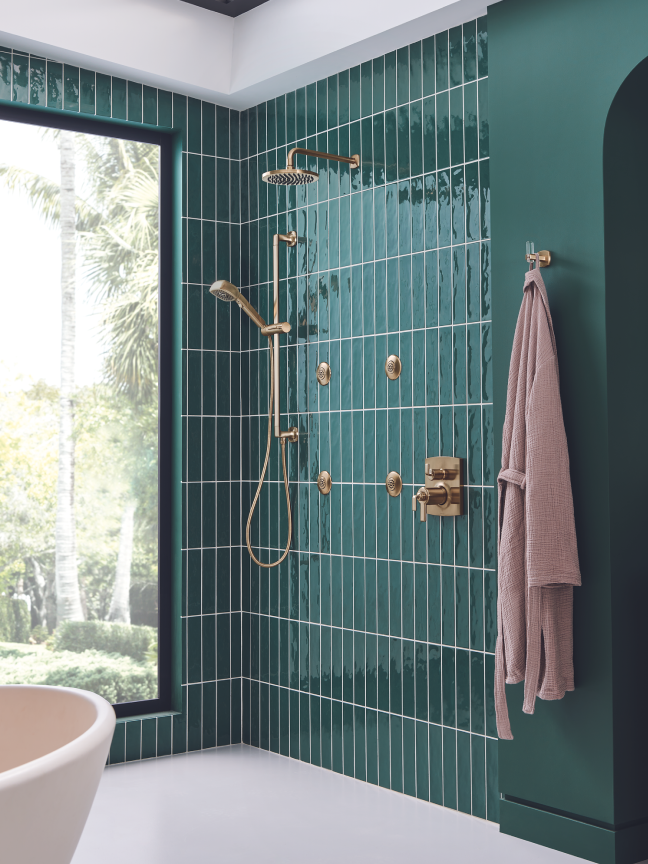 "Really focus on the faucet and other hardware elements you love: What do the handles feel like? Are they easy?" she continues. "The hardware is really my favorite element of any bathroom—they bring it to life and give you this reprieve in the middle of the day." Nozawa doesn't stop at the faucet, regardless. "Get really nice hand soap and be present with it every time you wash your hands," she says. "And is there a great lotion you love?" Scent is a huge piece of it, so make sure you love the smell—and really, splurge on what you really like. A $50 hand soap is pretty much the price of three cocktails. Live a little!"
Cedar, Sandalwood, and Bergamot

Sangre de Fruta

Garden of Earthly Delights Botanical Hand Soap

goop, $48SHOP NOW

Geranium, Grapefruit, and Cypress

COMMUNE

Seymour Hand Cream and Reusable Pump

goop, $88SHOP NOW

Chamomile and Rose

Grown Alchemist

Body Cleanser: Chamomile, Bergamot, Rose

goop, $44SHOP NOW
Nozawa's last bathroom-sink tip: Burn a candle while you wash your face in the mornings or evenings. "It turns a chore into this great ritual," she says. "Get nice matches—I love the smell of a burning match—in a pretty box."
FRANKINCENSE AND EUCALYPTUS

The Maker

Spiritus Candle

goop, $80SHOP NOW

Sandalwood, Vetiver, Cedar, and Nutmeg

Maison Louis Marie

No.04 Bois de Balincourt Candle

goop, $38SHOP NOW
Furtuna Skin

Rinascita Delle Olive Replenishing Balm

goop, $225SHOP NOW
Packaging is no small factor, she adds. "I could be biased because I started in package design, but I think these details can really make you feel differently," she says. "Be intentional about everything you're going to see or be interacting with." This limited-edition version of the much-obsessed-over blue Furtuna Skin balm, for instance, elevates any counter.
If you don't love the look of a particular product in your routine, Nozawa encourages decanting it into a plain glass or aluminum bottle. "Sometimes you love a product but hate the package," she says. "Easy fix."
Depending on the client, Nozawa sometimes starts with the shower or tub. "It all depends," she says. "If the moments you love are taking a bath or escaping into the shower while your partner's got the kids, by all means, start there. Get a great steam shower or a beautiful tub and outfit them with incredible hardware. The custom Brizo shower systems (like the new Mystix Steam System) are incredible—my clients love them."
Nozawa doesn't mind mixing and matching hardware finishes in a bathroom. "Gold, silver, bronze—to me, they can all work fine together," she says. "I focus less on the finish on hardware (including towel bars, towel rings, and other accessories like them) but on the quality of the finish and the shape of the accessory."
Nozawa loves a towel refresh: "I went out a few weeks ago and got new dark-orange towels for one of my bathrooms, and it's kind of changed my life," she says. "Everything should be delightful. If you don't have built-in storage, I'm a big fan of Container Store, Pottery Barn, and IKEA baskets. Installing little curtains under a pedestal sink is a traditional aesthetic, but it can look so chic, even in a modern space." And yes, you need tissue-box covers. "Bless Kleenex's heart for trying, but no," says Nozawa. "Get a cover—it seems like this stupid little thing, but you'll use it forever. I really like what CB2's been doing with their bath accessories."
Levoir Bath Collection / Image courtesy of Brizo.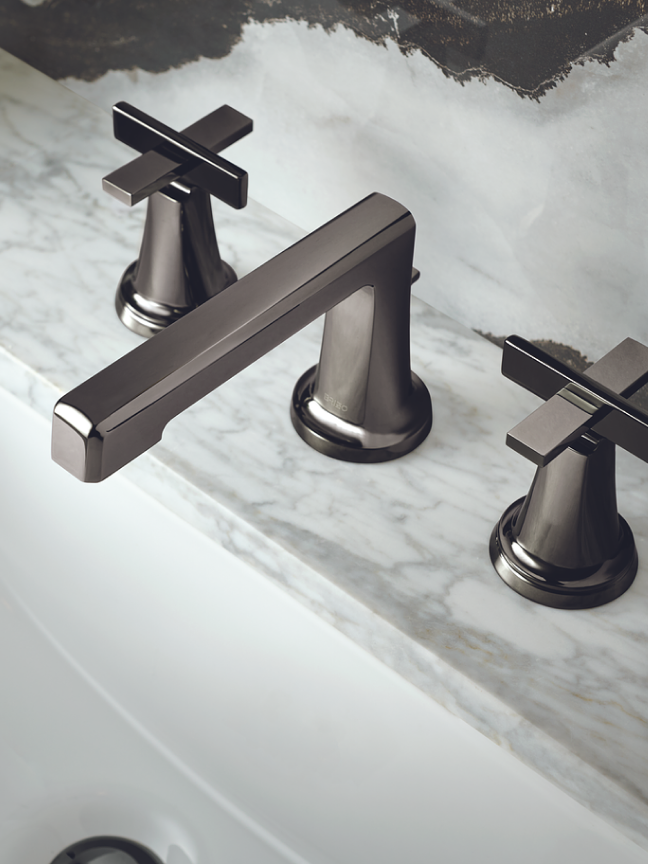 The ultimate detail: TP. "Buy the most luxurious toilet paper you can," says Nozawa. "Go to Costco and treat yourself—your bathroom should be your favorite place to use a toilet. Bidets and washlets are even better."
When there's space, Nozawa says that many of her clients request seating—sofas, chaises, or chairs—in their bathrooms. "I love it, even for a small bathroom," she says. "If you have limited space, realistically someone's not going to sit in the chair, so instead of pretending they are, put a great plant on it or a little tree. When you put it on a chair, you get the extra height with a littler plant."