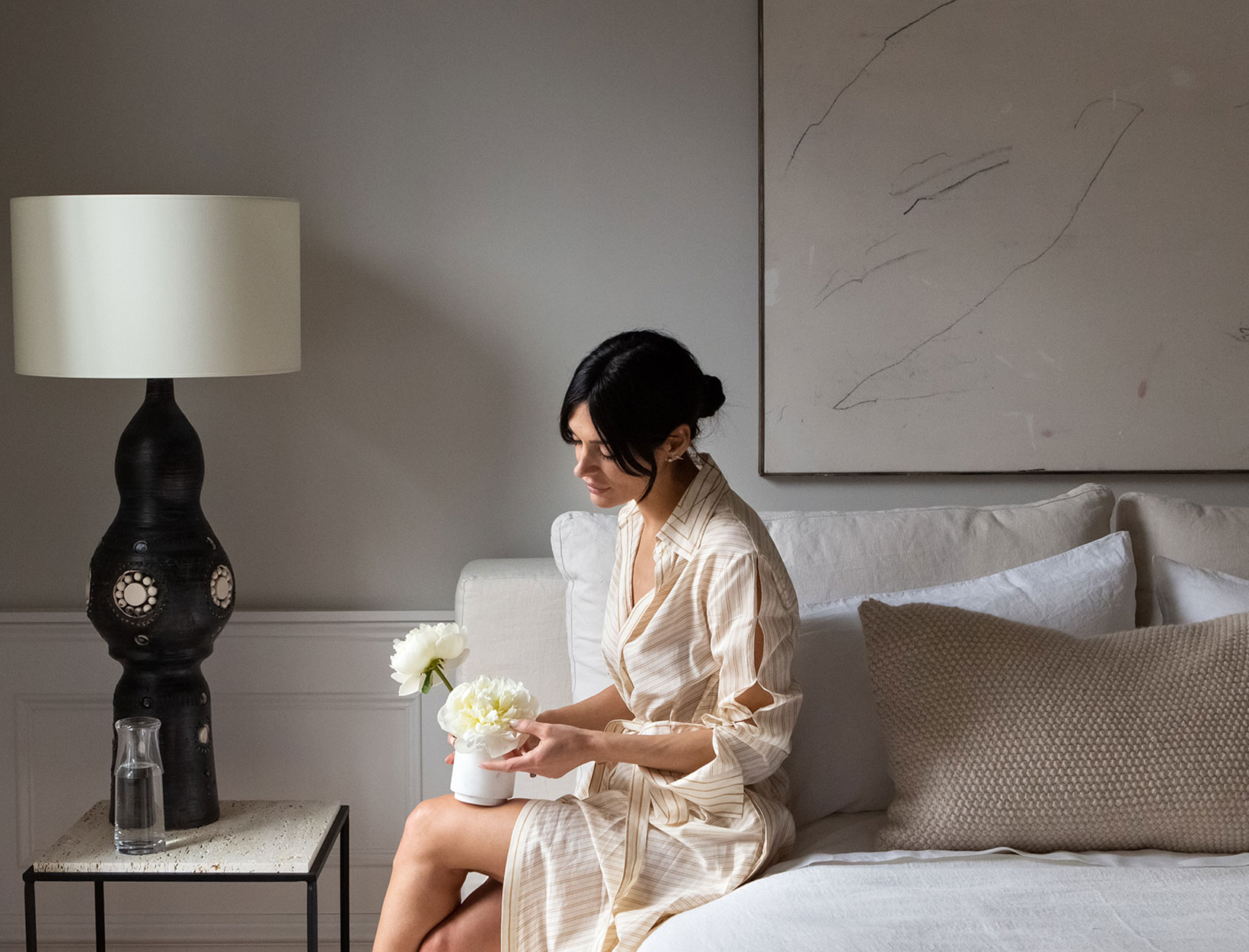 Creative styling by Athena Calderone;
photos by Sarah Elliott.
GOOP X CB2 CARAFE, goop, $25; GOOP X CB2 GLASS, goop, $10; AIAYU WOOL PILLOW, goop, $325
Athena Calderone's Secrets for Creating
the Warmest, Coziest, Most Inviting
Guest Room Ever
Athena Calderone's guest room will make you feel like the most welcome, and possibly the most Zen, person on earth. There are the naturally scented candle and the water-filled carafe on the nightstand. There are fresh flowers. The room is dreamy and warm and full of high thread counts. But then there's the step-beyond stuff: a small care package of essential oils and tarot cards. A meditation kit and a meditation pillow. A book of poetry.
"I strive to make my family and friends super cozy," says Calderone, the interior designer, stylist, author, and chef behind the lifestyle site EyeSwoon. "After all, they are not staying in a hotel, and you want them to feel welcomed and cared for."
A quick spin through her hosting tips, recipes, and interiors makes it apparent that Calderone knows how to make her guests feel like they've just stepped into luxury retreat on mindfulness—a vibe that's very much in sync with the rhythm of her home. And no detail is too small: the scent of the room, the preferred temperature of her guests (she puts extra blankets by the bed), the Wi-Fi password on the nightstand.
She even does a dress rehearsal. "Make sure you sleep in the bed to ensure your guests have a great night's sleep," says Calderone, who picked up this trick from "a consummate proper British host."
That was "her number one bit of advice," she says. "I am paying it forward."