At Home with Roman & Williams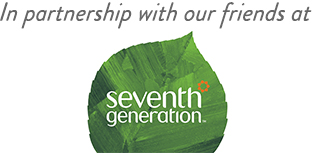 How to Create Sustainable Style—and Visual Splendor
A long, railroad apartment in New York City's NoHo is the incubator for some of the most influential interiors in America. "It was a rabbit warren of drywall and old boxes when we got it in 1997," says Stephen Alesch, principal with his wife Robin Standefer in Roman & Williams Buildings and Interiors, the firm that famously started an irresistible, can't-put-a-finger-on-what-it-is style that's a combination of louche and livable.
Today, the former set designers' work is all over the world, in spaces that range from restaurants and nightclubs like The Boom-Boom Room in New York's Standard Hotel and The Ace Hotel in New York City, to private homes. As long-time friends and collaborators with GP, it only made sense to tap them to help us bring NYC's goop mrkt, our fourth pop-up, to life.
The idea of visual splendor comes through in all of their projects, public or private. "It's funny, when you're designing a hotel or a restaurant, you think of entertaining a guest, but the home should be the same—the people living there should be entertained, too," says Stephen. "Everybody needs a bit of spectacle. Think of yourself as the guest." To that end, they don't only focus on the big moments: Their hardware and tile collections regularly sell out at Waterworks, and for goop mrkt, they've sourced heirloom-worthy tabletop items and designed stand-alone furniture pieces to sell, too.
Sustainability—in terms of ecologically responsible materials like reclaimed wood, but also in terms of style—is the other key to pulling a room together. "Is that look going to work for you over time, are you going to be able to build on it, evolve it?" asks Robin. The couple often talks about not leaving a time stamp on interiors. "You want something that in five years is not going to look so-five-years-ago," Stephen smiles.
Letting the space itself dictate the design is crucial to sustainability, they say. The result is that no Roman & Williams project (they named their firm for their grandfathers) looks the same. The two insist on spontaneity in interiors, on building on what's there, rather than imposing a single aesthetic on everything they touch. "A lot of designers pick a horse," says Robin. "If you look at our book, Things We Made, turn to page 20 and then to page 50—it's totally different. We love spaces where the design sort of disappears—it's about the narrative of the space, not about a particular style stamped all over it."
With its multiple discrete spaces punctuated by Edward-Hopper-esque pools of lamplight, their apartment does contain many of the ideas that carry through their projects today. ""It's evolved, and it is a total laboratory," says Stephen. While their approach is the opposite of prescriptive, we managed to pick up some lessons.
"There's a thing with design, and even with people," says Stephen. "We call it closing the file: It's when you're like, I get it. I know exactly what this style is, or who this person is. I like a space to be more like a detective novel, where you're a little confused and a little intrigued. An interior that you just can't put a stamp on. The same with people: The urge is to put this stamp on them about who they are. We like the idea of never closing the file on a person. We'll say it to each other sometimes: 'Don't close my file!'"
The electricity between the couple—married 10 years—is palpable. "When we first met and went over to each other's houses, we knew," says Stephen. "He had all these flowers and plants," says Robin. "That moved me."
Rule #1: Make the Style Sustainable

"The kitchen is the heart of the home, and it's more permanent architecture, so people have trouble," says Robin. "You need some bravery, but also to think about sustainability—not just in terms of materials, but in terms of the style. Is that look going to work for you over time, can you evolve it?"

Food is the foundation of everything Roman & Williams does, in some sense, she continues: "We grow it, we cook it, we make restaurants…"

"We are crazy wild cooks," says Stephen. "Robin is the head of procurement, and making the cold items like the salad, and she's a good executive chef, she picks which country we're going to be inspired by for the meal. I'm the head of the hot items!" The two are currently hard at work on the Bourdain Market in New York, which promises to bring a whole new level of internationalism to the world of food in New York.

The kitchen is also a beautiful place to break rules, says Robin: "I love door hardware on cabinets—that's another rebellion thing, like, why can't you?" Small, almost feminine lamps that might normally go in a bedroom perch on the countertops next to rough-hewn chopping blocks and industrial kitchen knives. A map of New York is drawn (by Stephen) in pencil on the cover of an electrical panel, with important phone numbers scratched on the side.

Rule #2: Layer and Evolve

The living room has elements that remain from the day Ace founder Alex Calderwood sat down it and exclaimed, "I want this!," but it evolves constantly. "We literally rigged up the bed covered with exotic rugs for Indian musicians to sit on when we were throwing this party, and then we just kept it," says Stephen.

The round coffee table started out seeming too small, but the couple lived with it and now deem it perfect. "It gives everybody room to move, to sit, or to serve, say some tea or some drinks," says Stephen. The round shape is crucial, says Robin: "Everybody feels comfortable sitting around it. The roundness makes all the difference." As the night goes on, Robin observes, it encourages a secondary level of seating: "People come down from the chairs and the sofas, sit on the floor, get comfortable."

The colors evolve, too: "We're disciplined about palette control," says Stephen. "We like to let the color be the people, the flowers, and the candles." The masses of drippy red candles are 100% beeswax, from a San Diego company called Knorr. "You can order them in whatever shape and color you want," says Robin. "The beeswax makes this incredible smell, and incredible light—there's nothing like it."

Vegetable dyes make a huge difference colorwise, she notes: "It makes a wild patterned or fringed thing look folk instead of over-the-top. We love folk. We love nature. We love fringe!"

Rule #3: Adjust Until You Love It

"I love the idea of syncopation between objects." says Stephen. "You adjust something gently, move it a little, and suddenly it sings."

Rule #4: Have Fun

Their most recent acquisition is this lacquer box of wooden chess pieces. "We had this early dinner the other day, and we didn't know what to do after, so we went into one of those chess halls—10 bucks to play for a few hours and we played and had such a great time. So then we saw this and had to get it," says Stephen. "I'm going to make the board for it this weekend."

Rule #5: Incorporate Nature

"We spend a lot of time gardening at our house in Montauk, and we grow a lot of vegetables—we like to leave them out where we can see them, celebrate them," says Stephen. Here, garlic bulbs are collected in one vase, berries in another.

Rule #6: Use It Until It's Dead

"People call us nostalgic, but we are heartless with antiques: Meaning we use them, we wear them out, we paint them," says Stephen. "If there's a martini shaker, we shake martinis in it. Use it til it's dead." Robin adds, "That's some of our rebellion—using those things you're supposed to treat as precious," says Robin. "Along similar lines," she explains, "people are often shocked when we do something like a pure-white floor (as in goop mrkt and GP's kitchen): "They say, 'Won't that show the dirt?' Scandanavians have know for years, you get this great white floor and it encourages you to take care of it. You clean it and cherish it and it makes you happy."

Rule #7: Add Some Black

It's been said that Roman & Williams does black like nobody else. "Black puts a little Snoopy in your life, gives a little edge, a little voltage," says Stephen. "When we first put black cabinets into a space, people were horrified. But black cabinets are like perfect black pants. There's serious visual splendor in black." Robin smiles and lowers her voice to a stage whisper: "If you're going to splurge, Fine Paints of Europe 5900."

Rule #8: Be Brave with Your Juxtapositions

According to Robin, the juxtaposition between rough and refined keeps the energy in a space. The whole apartment bursts with contrasts, like this rusted industrial-steel bowl overflowing with brilliant, frilly orange roses. There are giant bowls of persimmons here, containers of onions there, thickets of branches, mason jars containing every sort of possible kitchen item from popcorn to silver dragees.

"If an object's evocative to you, work with it," she continues. "It's about confidence and loving whatever that object is. One way to make things go together is to link them by material—beautiful old ironstone pieces make sense with modern Japanese pottery, because they're both ceramic. Or I put a big African bowl with an old-Americana cutting board. The common material gives them a relationship."

Rule #9: Rebel with Your Grandpa Side to Create Permanence

In the couple's shared workspace, they paint, rearrange, and dream. "Everybody's got a little grandpa side to them, a crafty side," says Stephen. "You can fix things up how you like them." He applies this side to spaces devoid of personality: "The '80s and '90s were the worst time in the construction of buildings and interiors—they created all these drywall boxes, so anonymous, stripped of anything. The furniture has nothing to talk to, those spaces can feel so temporary. You have to feel free to go to the lumber store, pick up some thin stock moldings, and throw them up with a glue gun. Or staple-gun some fabric to the walls. Who says you can't?"

When the couple bought their house in Montauk, it was pure '80s drywall, recalls Robin. "We tacked up plywood in certain rooms, just to give it some character—in others, we just ripped out the walls to expose the pipes and the structure."

Rule #10: Avoid the Time Stamp

"We have clients who call up and say, 'Time for a change!,'" says Robin. "We don't think that way. We're always looking for what's there that we can work with, what we love about a space from the start."

Letting things evolve takes some patience, the two admit. "You know, there's always this awkward moment when something's three-years-old—like pants, even, a pair of pants. All of a sudden they're three-years-old and you think, I hate these pants! Then if you throw them away, once five years are past, you're missing those pants, and if you'd kept them they'd be so great now…you have to get past the three-year doldrums with anything. You forget that the world's going to change around you, so you don't have to go in and switch up everything in order to have change."
9 Simple Ways to Green Your Home
Redecorating is one of the most convenient times to reduce your home's impact on the environment. Bonus: Most of these tips trigger serious cost-savings.
Install a hot water circulation system.

If your house has old-school plumbing, you probably waste gallons of water every month waiting for your shower and sinks to get to the right temperature. As an antidote, you can install a hot water circulation pump, which loops hot water so it won't get cold sitting in your pipes. Just be sure to install an on-demand system (as opposed to a time-and-temperature or thermosyphon), to ensure that your water savings don't also lead to a higher energy bill. While advanced DIY-ers can pull off an installation, any competent plumber can easily put one in. For bonus points, consider a rainwater catchment system to harvest your own water at your house.

Outfit your roof with solar panels.

Check out Solarcity's surprisingly user-friendly website to rent or lease solar panels for your roof. Their high-tech Tesla batteries store energy for nights and cloudy days (you can even use a smartphone to check the charge), and if there's a surplus of energy, you can sell it back to the grid.

Choose sustainable hardwoods.

If you're investing in hardwood floors, consider using wood that's been reclaimed from barns or demolished homes in your area. If the rustic look isn't part of your design plan, make sure to protect forests by choosing new wood that's FSC-certified.

Switch to a smart thermostat.

Smart thermostats pay for themselves in energy savings by learning your schedule and automatically programming temperature levels based on your habits. You can also adjust them remotely (meaning you can turn the air conditioning off from the car if you have to leave the house in a rush).

Energy efficient bulbs.

Replacing your standard-issue light bulbs with efficient CFLS is the easiest, most straightforward thing you can do to reduce your energy use. On average, CFLs are 70% more efficient than old-school incandescent bulbs—if you do nothing else, executing this switch is as easy as one trip to the hardware store.

Source vintage furniture.

The furniture that's easiest on the planet is the furniture that doesn't have to be made in the first place. Take some tips from Roman & Williams, and source originals and antiques (there's a lot that can be accomplished with a great re-upholsterer and restorer).

Reduce landfill waste.

Laminate a copy of your municipality's recycling chart (or check out ours as an across-the-board reference) and put it in a place that's easy for everyone in the family to see. Remember that all products need to be thoroughly rinsed before they go in the bin.

Compost organic waste.

Organic waste that ends up in a landfill will off-put methane (a more powerful greenhouse gas than carbon dioxide), so it's best to compost it—even if you're not a gardener. If your municipality doesn't support composting, it's easy to do it yourself (see our guide here), or have it picked up by a community organization.

Clean up your cleaners.

Make sure the products you're using to clean your kitchen, your bathroom, your clothes, and even your hands are free of toxic and carcinogenic chemicals. Check out our guide to cleaners and switch out anything toxic for safe, effective options like Seventh Generation's laundry detergent and hand wash.
Photos by Christopher Sturman