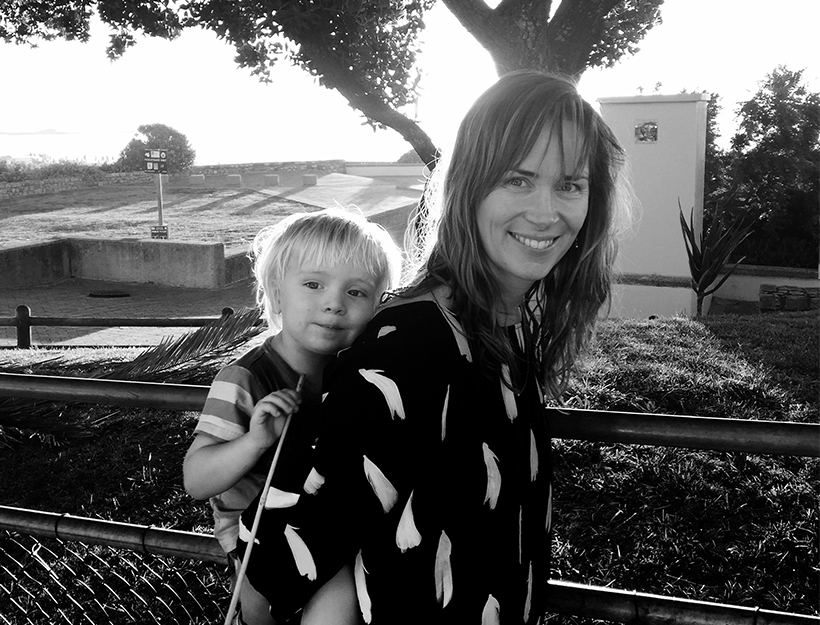 At Home With One of the World's Most Compelling Photographers
It's easy to fall in love with Danish photographer Ditte Isager's work—we certainly have. Ditte shot both It's All Good and It's All Easy, as she has a pretty incredible way with light—all of her photographs, whether of food, homes, or people, retain a peaceful stillness and beauty. We were more than a little curious to peek inside her own home, so we asked her to turn the lens on herself and shoot her home in Copenhagen, which she shares with her husband, Christian, and their three-year-old son, Wilder. Ditte takes us on a tour of her house below: Not only is it a lesson in lighting and family living, but it also satisfies our enduring obsession with Nordic style.
Dining Room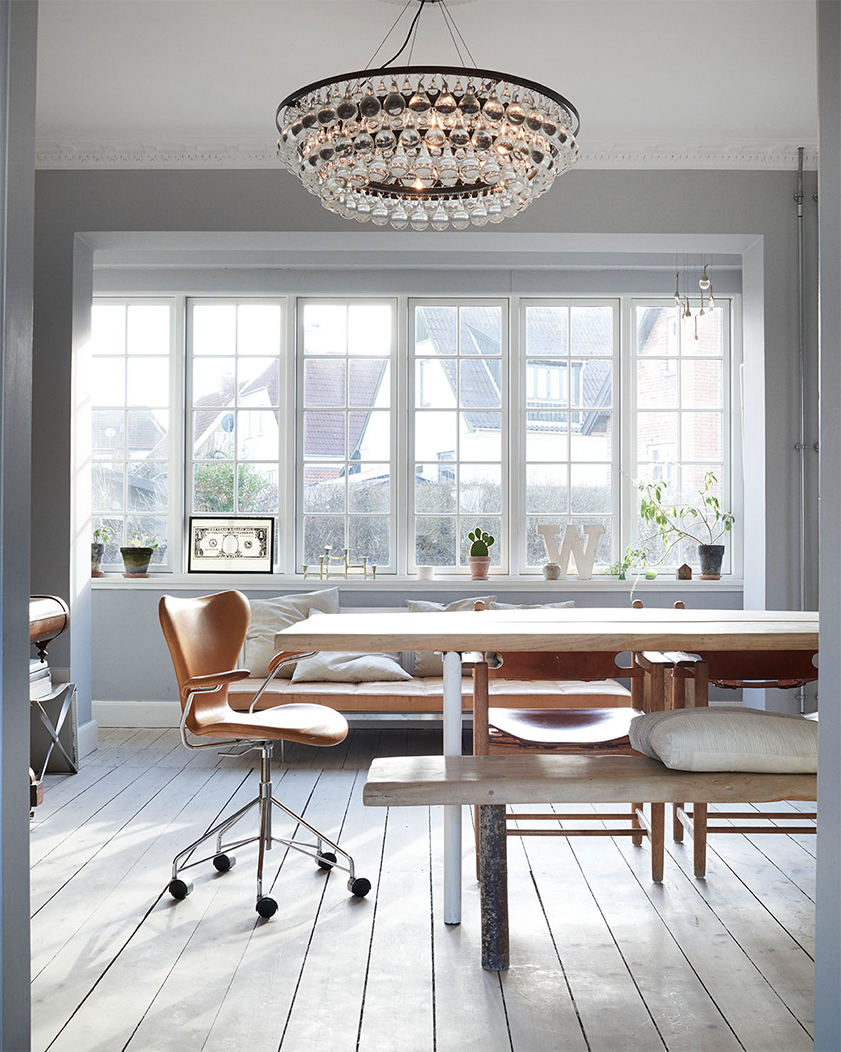 The house's downstairs is dominated by a sprawling living/dining room and kitchen, which they knocked down a wall to create. As Ditte explains, the Danish spend a lot of time at home and favor entertaining over going out, so they created an open space where they could spend most of their time. "We have a piano, a fireplace, a day bed, our dining table, and the kitchen in one room. I like that I can be part of the action when I'm cooking: I can still talk to our guests, or play with my son."
A mix between Christian's more minimal taste and Ditte's love for collecting beautiful things, the dining area, like the rest of the house, is a real mishmash of Danish modernism, flea market finds, and special pieces from abroad. Ditte lives for Ochre (for whom she's also photographed campaigns), and the lamp over the dining room table is one of the pieces she treasures most. In perfect contrast are the sleek, Danish classics, such as the Arne Jacobsen Butterfly chair at the end of the table, the Børge Mogensen safari chairs she found second-hand, and the Poul Kjærholm daybed near the window.
Kitchen
The kitchen looks more like an artist's studio than a spot for serious food prep—a clever trick on Ditte and Christian's part. With custom cabinets made by Blendwerk to hide all the clutter, and industrial moments such as the white flea market lamp on the counter, the kitchen area blends into the rest of the room.
Another major unifier for the space is the lack of curtains. In fact, there are pretty much no curtains anywhere in the house, another Danish quirk that creates a continuous, light-filled space. "I've never really had curtains. There is such little light in the wintertime that you want to have all the light you can get."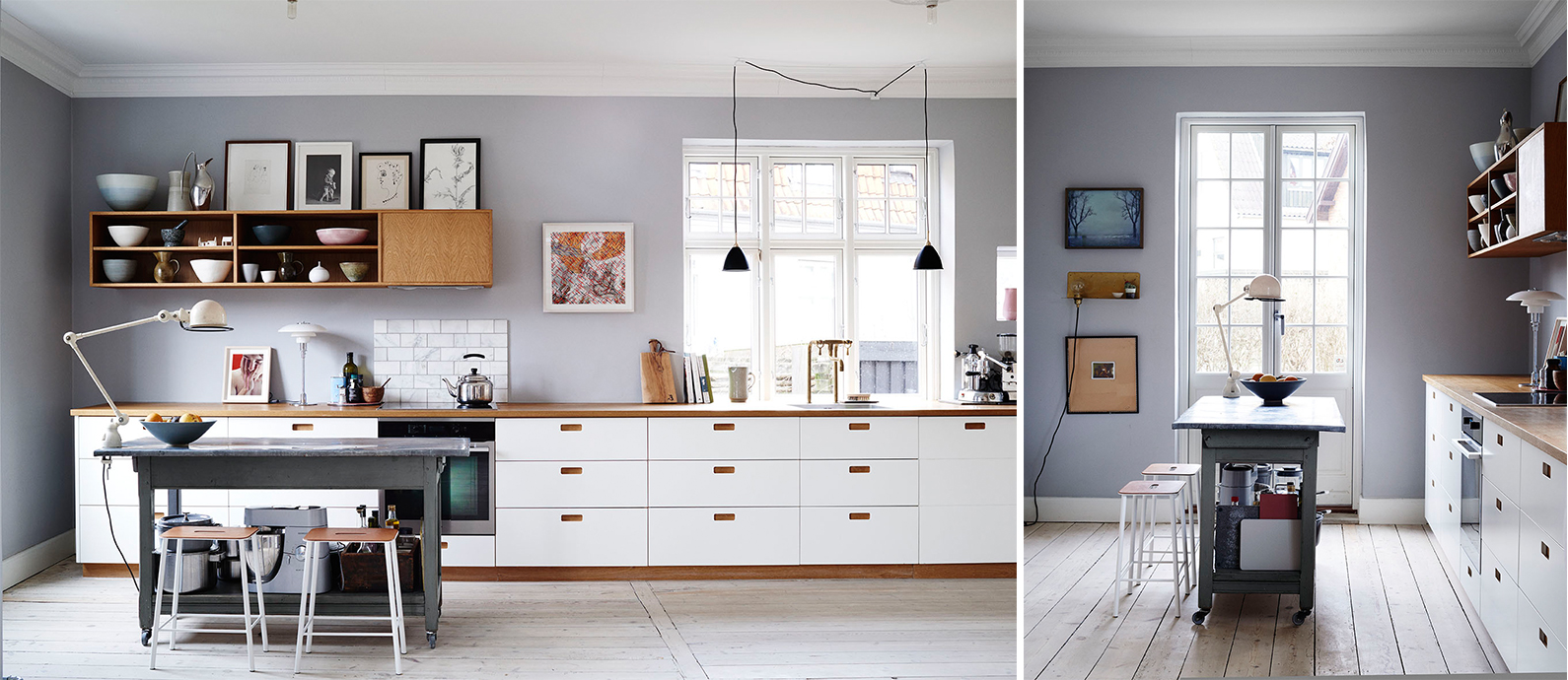 Living Room
In the living room, Ditte splashed out on color, painting the walls a deep sea green by Farrow & Ball. "Our previous homes have been all white as most people have, but when we were decorating this house we were both ready for some color. As a photographer I'm obsessed with light—I love watching it throughout the day, seeing how it creates shadows and highlights on the wall. These things get emphasized on a colored wall. I use lots of grey, green, and blue tones in my work and think the color on the wall makes a great contrast to the white mouldings." Not only do they really pop, but so do the custom Blendwerk shelves, and the couple's quirky, anything goes approach to hanging art, pretty much anywhere and everywhere.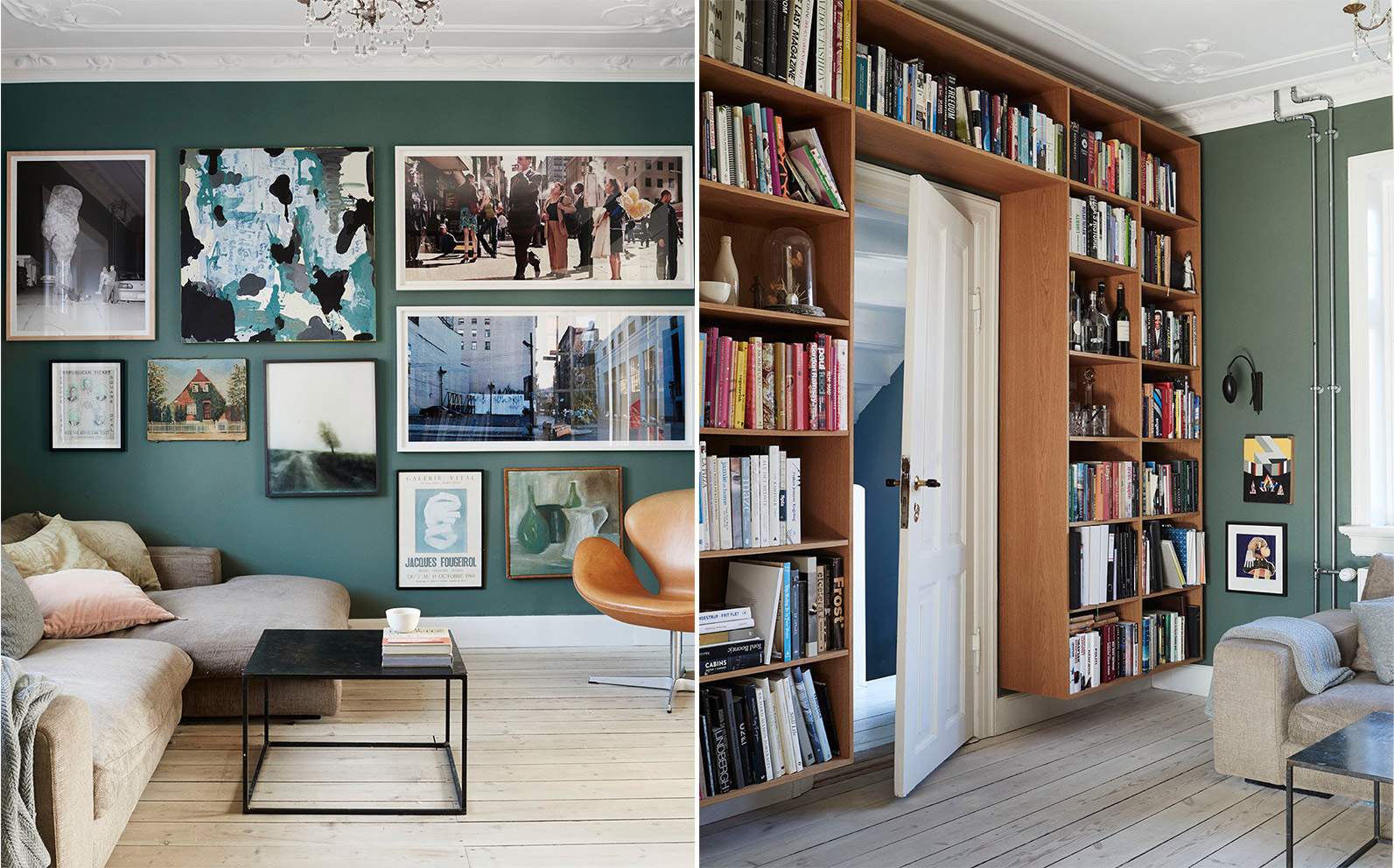 Bathroom
With a Gubi desk lamp on the ledge and various odds and ends, even the bathroom doesn't feel quite like a bathroom, but rather like another light-filled living area that's integrated with the rest of the house's narrative. Ditte and Christian had to start the bathroom from scratch so they had a lot of fun specifying each detail: "The upstairs is small and has lots of light coming in from a big window, so we had a wall made with glass in it so the light would come into the hallway, too."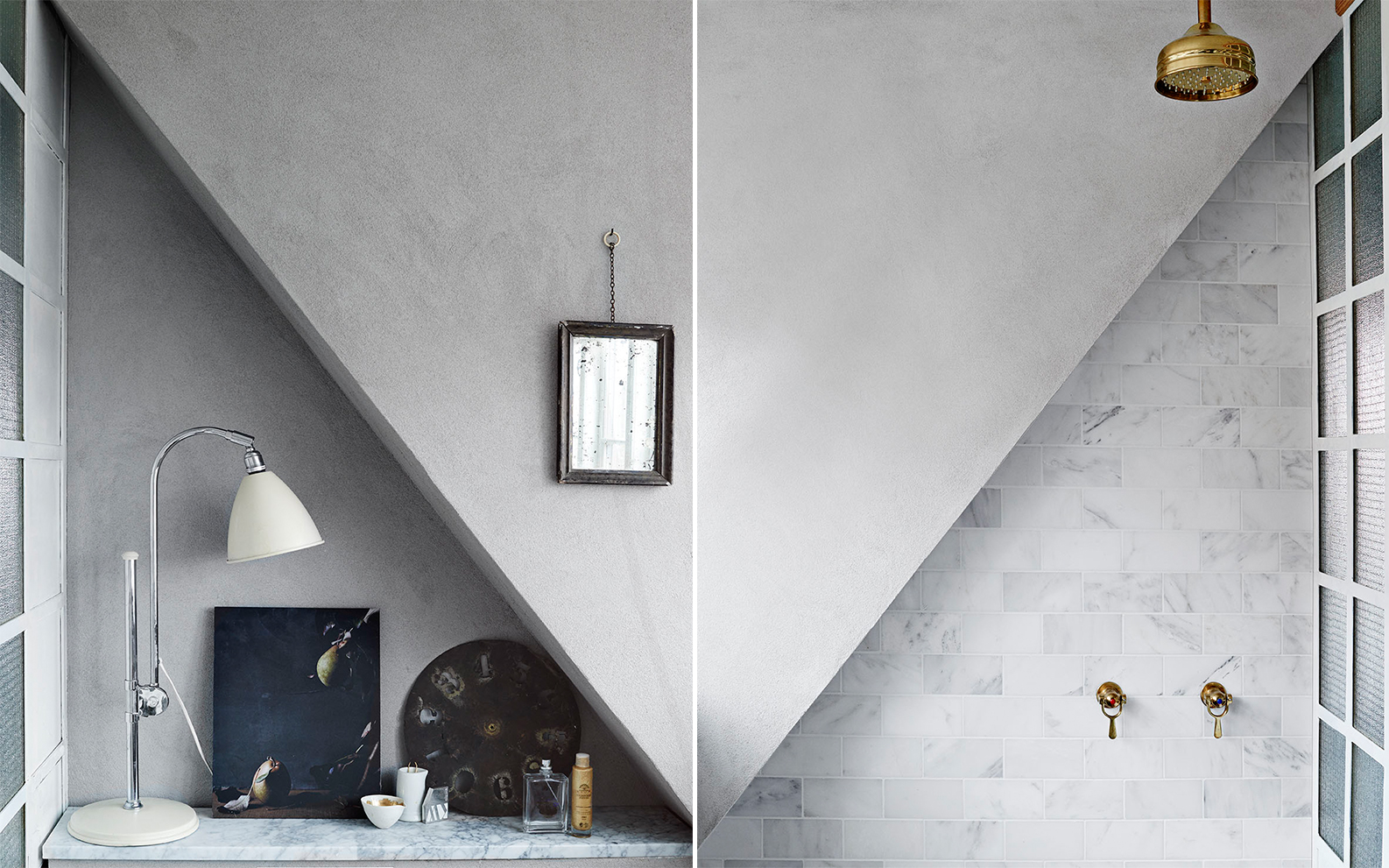 Bedroom
Painted in a rich blue—Farrow & Ball Cook's Blue, to be precise—the bedroom is completely serene. It's another part of the house that Ditte enjoys most for its light: "The bedroom is pretty small, and it's basically just our bed, but I love that room: It's north-facing so we get a nice soft light all day. Our house is at the end of a road and from this window you can see all the way down the street. I can nearly see my sister's house from here."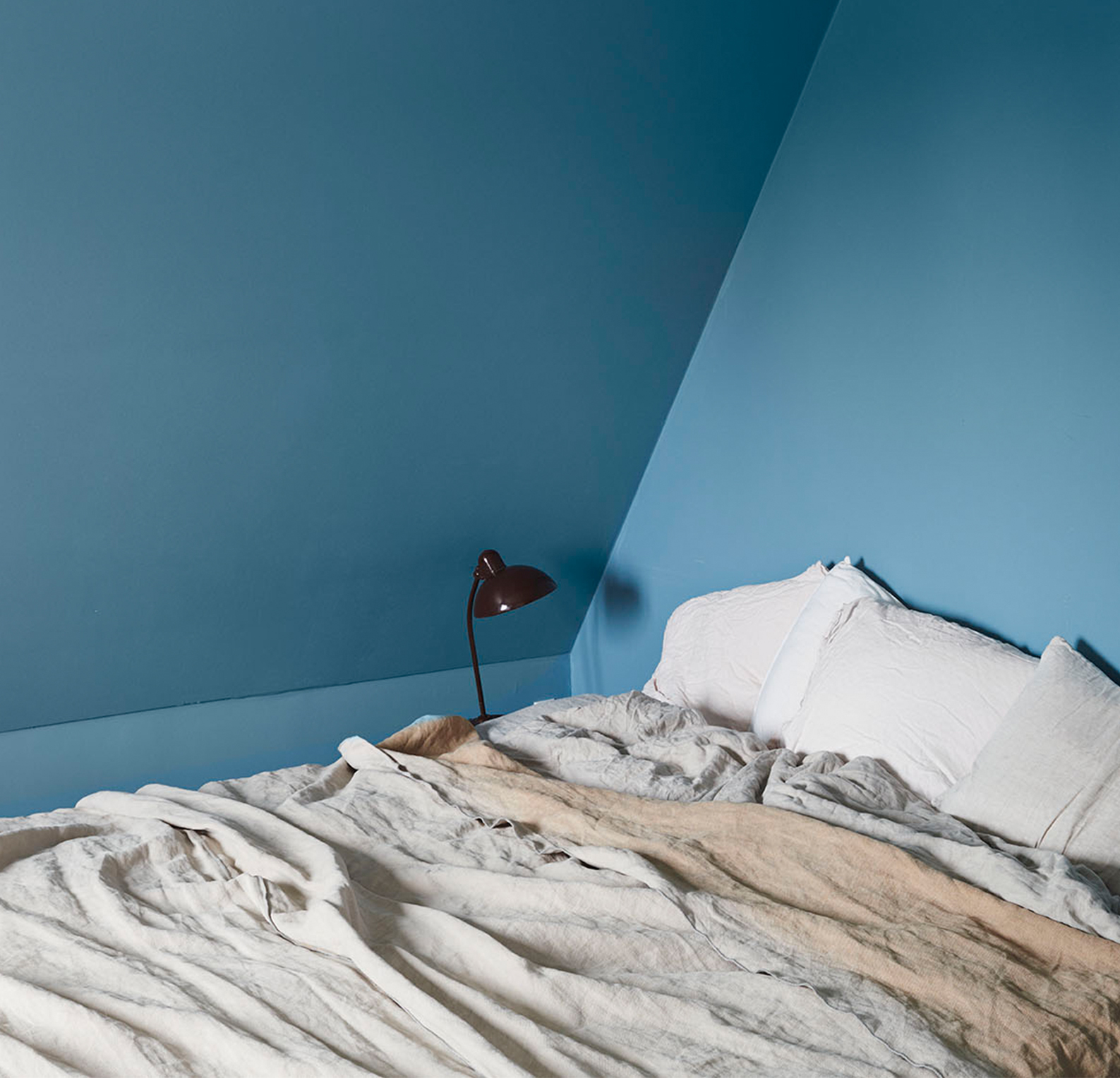 Studio
The most recent addition is Ditte's studio, which is connected to the house by an old re-purposed staircase from the living room to the garden. Covered from floor-to-ceiling in wooden planks of Dinesen's Douglas Pine (yet another fantastic Danish brand), the studio feels like a cocoon, miles away from the house next door. "We wanted to make a little wooden box, without trying to make it look like the original house, but as a nice contrast to it—the modern and the new melting together." And, like the open living area next door, Ditte also carved out a living area upstairs for relaxing, playing with Wilder, or having friends and family come and stay.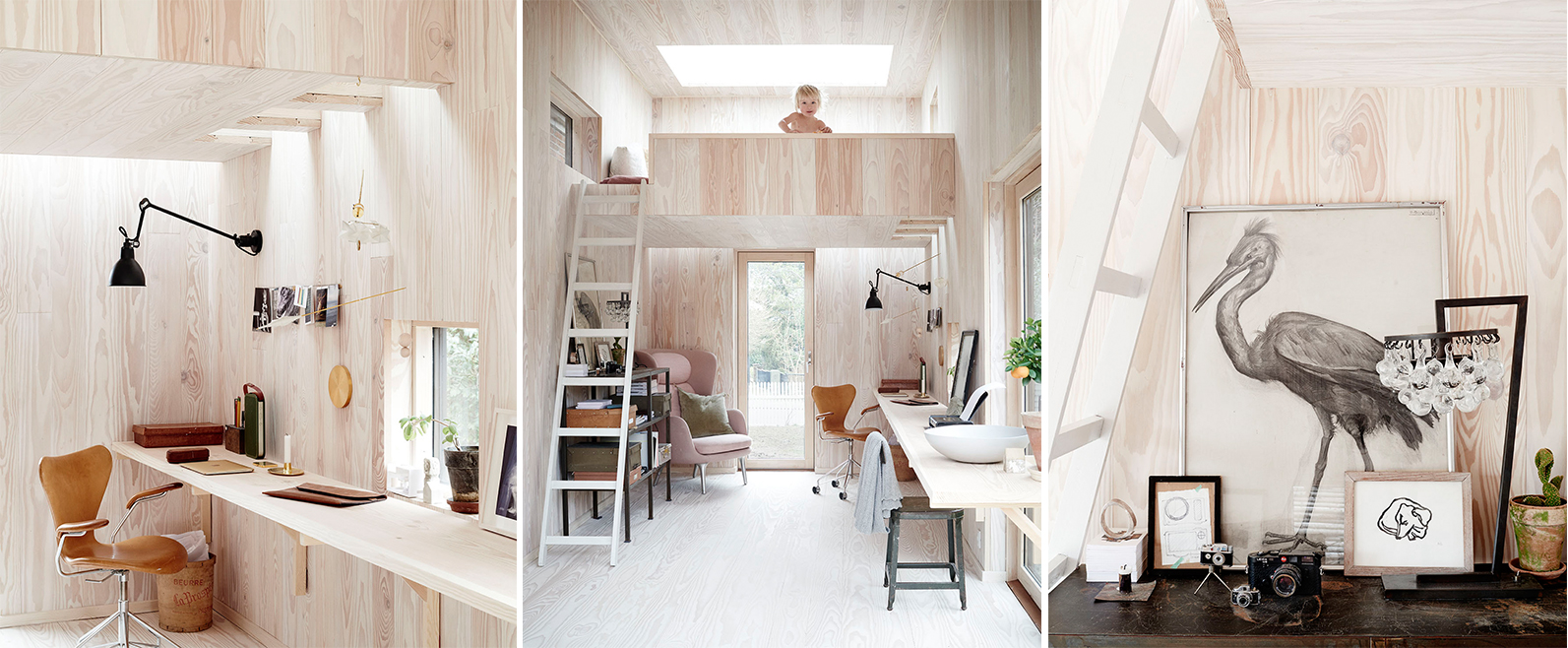 Photography by Ditte Isager